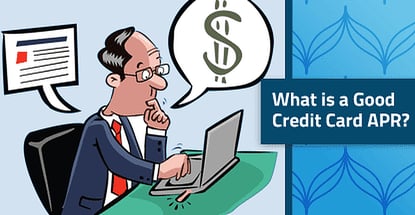 While credit cards are popular among consumers for their perks and convenience, it's easy to forget that credit cards aren't only popular with consumers; the card issuers and banks love them too — but for different reasons. For instance, credit cards are a consistent (and abundant) source of income.
In fact, according to the Federal Reserve, credit card interest fees account for nearly 10% of the income of credit card banks, and almost 3% of the income for the average commercial bank.
With so much money on the line, consumers, quite rightly, often look to get the lowest APR they can. But what is a good credit card APR — or a really bad one? As with many things in life, the answer to that question is: It's relative.
APRs Explained | Best APR Deals
Your Card's Interest Rate Depends on Your Credit Score
For the most part, the quality of a particular APR will depend more on your credit history than any hard-and-fast numbers. That said, a few generalizations can be made, starting with the fact that a lower APR is always better — and a zero APR is the best. On the other end of the range, double-digit APRs are common for credit cards, but an APR over 30% is always bad.
Outside those broad lines, whether a specific APR is a good APR will depend on both the card and your personal creditworthiness. Nearly all open-loop credit cards will have a range of possible APRs (e.g., 14.99% – 19.99%), typically spanning five to 10 percentage points. This range is determined by issuers based on their risk tolerance and the potential risk of the card's intended audience.
The APR you are offered when you apply for a particular credit card will come from the predetermined range, but the exact number will depend on your individual creditworthiness. Lower-risk applicants — those with well-established credit profiles and high credit scores — will be offered an APR from the lower end of the range. Higher-risk applicants with lower credit scores will receive an APR from the higher end of the range.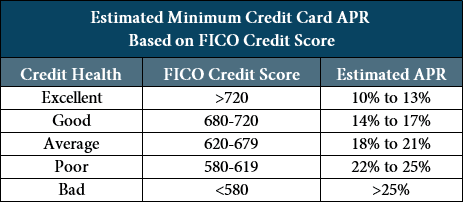 Along these lines, a specific interest rate can be good for one card and applicant, but poor for another. For example, consider two credit cards, Card A and Card B, with APR ranges of 11% to 16% and 15% to 20%, respectively. Suppose Hypothetical Henry applies for both cards and is offered a 15% interest rate by both issuers. Relative to the possible rates for Card A, Henry's 15% APR isn't very good. For Card B, however, the 15% APR is the best possible rate.
The Best Low-Interest Credit Card Deals
In general, the only effective way to influence the APR you receive when you are approved for a particular credit card — other than improving your credit — is to be discerning during the card selection process. If you choose to apply for a credit card with a low APR range, then you are essentially guaranteed to get a low APR if you are approved.
Of course, it's important to apply for a card for which you are actually likely to be approved, no matter how tempting the APR range of out-of-reach cards. If you have poor credit, for instance, you are likely to be rejected for a prime credit card with a low APR range and may need to settle for a card with a higher APR. Since each application will result in a hard credit inquiry, don't apply for cards well outside your credit score's reach.
Low Ongoing APR | 0% New Purchases | 0% Balance Transfers | Fair Credit | Bad Credit
Best Cards with "Low Ongoing" APRs
Although most of us know it's best to avoid carrying a credit card balance because of the fees, sometimes — life happens. With a credit card that always has a low APR, you can avoid paying an arm and a leg — or any other body part — to your credit card issuer and ensure that life's little problems don't turn into big expenses. Our top-rated picks for low ongoing APRs offer rates as low as 11.99% to qualified applicants.
+See more Low Ongoing APR Cards
If you have made significant credit score improvements since you obtained your current card, you may be able to request an APR reduction from your issuer. Few issuers will grant decreases outside the advertised APR range, so check your card's range to get an idea of what rate to ask for based on your credit profile.
Best Cards for "New Purchase" Intro 0% APR
Credit cards are an amazingly convenient way to make all kinds of purchases, especially large purchases that would be a hassle to make with cash. At the same time, the typical double-digit APR can make that purchase a whole lot less convenient.
Cards offering an introductory 0% APR deal are great for financing large purchases you may need a little time to pay off. The best cards, including our favorites, provide introductory periods of 12 months or more. Look for a card with bonus rewards for your purchase category to maximize your potential savings.
+See More New Purchase Intro APR Cards
When taking advantage of introductory APR deals, remember that introductory basically means temporary in this case. After your intro period ends, you'll be charged the default purchase APR on your remaining balance and new purchases. To avoid sudden interest fees, be sure to pay off your balance before your terms expire.
Best Cards for "Balance Transfer" Intro 0% APR
It's all well and good to get a new credit card with a low (or 0%) APR for new purchases, but what about the balance you're already being charged double-digit interest on? That's where the balance transfer card offer comes in. These introductory credit card offers provide 0% APR on transferred balances and more than 12 months to pay them off. The balance transfer options on our list won't even charge an annual fee.
+See More Balance Transfer Intro APR Cards
Before transferring your balance, check to see if your new card charges a balance transfer fee (hint: most cards do). Typically 3% to 5% of the transferred balance, these fees are often worth the cost to those currently being charged a 20%-plus APR. Depending on your credit, you may be able to avoid a fee, as a handful of cards, including the popular Chase Slate, offer fee-free balance transfers.
Best Low-APR Cards for "Fair" Credit
Although the exact credit score range will vary by model, those with scores in the mid-600s tend to be described as having "fair" credit. These consumers are often building (or rebuilding) their credit, which equates to a fairly substantial credit risk to an issuer — and, thus, relatively high APRs.
Overall, fair-credit consumers will generally be offered an APR at the high end of the range for prime cards, but may qualify for the low end of the range with a subprime card. On the plus side, those with fair credit can still find quality cards, even some that offer purchase rewards, such as some of our expert-rated options below.
+See More Cards for Fair Credit
A good way to ensure your new card helps build your credit profile in a positive way is to pay your balance on time every month, perhaps by setting up automatic payments. Since your payment history is 35% of your FICO score calculation, late or missed payments can sabotage any progress you've made on your rebuilding journey.
Best Low-APR Cards for "Bad" Credit
If there's anything that scares a prime credit card issuer, it's a bad credit score (typically defined as a FICO score below 580). As a result, these high-risk consumers instead need to focus on secured credit cards — which require a deposit — or unsecured subprime credit cards. Our list of bad-credit card options includes both secured and unsecured cards to get your search started off right.
+See More Cards for Bad Credit
Many consumers avoid secured credit cards because of the initial deposit, but they may be more affordable than most people think. Not only can you add to your deposit over time if you can't afford a large deposit upfront, but that deposit is completely refundable. Many unsecured credit cards require several hundred dollars worth of fees just to open the account, making unsecured cards more costly for some consumers.
Earn Better APRs As Your Credit Improves
Every year, large credit card companies and commercial banks rake in hundreds of millions of dollars' worth of interest fees from cardholders around the world. Consumers can do their part to fight back against interest fees by keeping their credit card balances paid off every month and using low-interest credit card deals. Paying off your balance each month is also an important factor in maintaining a healthy credit score because this is one of the main areas credit bureaus look at when determining your score.
If you're not happy with the high APRs you're currently being charged, the best solution is to improve your credit. Overall, the higher your credit score rises, the lower the APRs you'll be charged for credit cards — or any other credit product. With a little research and some diligent credit building, nearly anyone can reduce or eliminate interest fees, keeping their hard-earned money out of the banks' voracious vaults and in their own pockets.
Advertiser Disclosure
CardRates.com is a free online resource that offers valuable content and comparison services to users. To keep this resource 100% free, we receive compensation from many of the offers listed on the site. Along with key review factors, this compensation may impact how and where products appear across the site (including, for example, the order in which they appear). CardRates.com does not include the entire universe of available offers. Editorial opinions expressed on the site are strictly our own and are not provided, endorsed, or approved by advertisers.