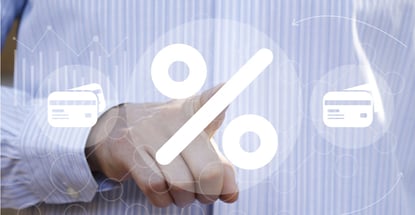 Low APR credit cards for bad credit are a real thing. We've identified the best secured and unsecured cards offering reasonable interest rates even when your credit score is subpar.
If you tend to stretch out your payments over several months, one of these cards may be perfect for you.
Best Cards for Bad Credit With a Low Ongoing APR
These seven reviewed cards have low regular APRs, separate and distinct from any 0% intro APR promotions for new cardholders. That makes these cards good long-term acquisitions, at least until you can improve your credit score and qualify for better cards.
These cards are ranked in order of lowest APR to highest, and all approve applicants with poor credit scores.
Better than Prepaid...Go with a Secured Card! Load One Time - Keep On Using
Absolutely No Credit Check or Minimum Credit Score Required
Automatic Reporting to All Three National Credit Bureaus
9.99% Low Fixed APR - Your Rate Won't Go Up Even if You Are Late
Activate Today with a $200 Minimum Deposit - Maximum $1,000.
Increase Your Credit Limit up to $5,000 by Adding Additional Deposits Anytime
| | | | | |
| --- | --- | --- | --- | --- |
| | | | | Poor/Fair/Limited/Damaged |
You can be approved for the Applied Bank® Secured Visa® Gold Preferred® Credit Card in 60 seconds no matter how low your credit score. The APR for this secured card is quite low, and there is no penalty APR if your payment is late. You can manage your account online or through its mobile banking app.
One way this card can deliver its low APR is that it doesn't provide a grace period — your purchases begin accruing interest on the day of the transaction. You can avoid the interest charge if you make a same-day payment to cover your purchases. Same-day payments are free when you make them online or via the mobile app but will cost you a fee if you arrange them by a telephone call with the assistance of a customer service representative.
Earn Flexpoints Rewards - 1 point for every $1 spent
Competitive low rate
Use the card responsibly and you can be automatically graduated to a Platinum Rewards Credit Card
Visa card benefits like Roadside Dispatch, a pay-per-use roadside assistance program
25-day grace period on purchases
Ability to join SDFCU and apply at the same time
The name of the card, Savings Secured Platinum Rewards Credit Card from State Department Federal Credit Union (SDFCU), says it all — a secured card that earns points on all purchases. Your SDFCU savings account of $250 or more secures your credit card, and you may be automatically upgraded to an unsecured card after a period of responsible use.
The card offers a competitive APR and is free of balance transfer and foreign transaction fees. The grace period on purchases is 25 days. Card benefits include travel and emergency assistance services along with lost luggage reimbursement.
3. Credit One Bank® Unsecured Visa® with Cash Back Rewards
This card is currently not available.
The Credit One Bank® Unsecured Visa® with Cash Back Rewards offers a good variable APR for an unsecured card plus cash back rewards on eligible purchases and a 24-day grace period. The card charges an annual fee and a higher APR for cash advances. Other fees include those for late or returned payments, foreign transactions, and authorized user requests.
The card comes with many perks, including free access to Experian IdentityWorksSM Plus and the More Cash Back Rewards Program, your choice of payment date, $0 fraud liability, and insurance for travel and auto rental collisions. Balance transfers are not supported by this card.
4. Citi® Secured Mastercard®
This card is currently not available.
Additional Disclosure: Citi is a CardRates advertiser.
The Citi® Secured Mastercard® offers customers a moderate variable APR but few other perks. While there are no rewards for purchases nor introductory 0% APR programs, you can use the card to rebuild your credit at all three of the major credit bureaus (Experian, Equifax, and TransUnion). The card can impose a high penalty APR for late or returned payments and has a grace period for payments under the Citi Flex Plan.
The card doesn't charge an annual fee but does impose fees for balance transfers, cash advances, late or returned payments, and foreign transactions. The minimum credit line is secured by your minimum required deposit into a collateral holding account. You can't receive a card if you've had any bankruptcy history over the last two years.
5. BankAmericard® Secured Credit Card
This card is currently not available.
The BankAmericard® Secured Credit Card offers a moderate variable APR and is designed for consumers with bad or limited credit. The card charges no annual fee nor penalty APR, and it has a 25-day grace period. Charges do apply to cash advances, balance transfers, foreign transactions, wire transfers from non-financial institutions, and late or returned payments.
The card offers no rewards, but it does come with a few benefits. These include free access to your FICO score, the possible return of your security deposit, account alerts, and $0 liability protection. You can get overdraft protection when you link the card to your Bank of America checking account, and the card works with digital wallets and the bank's mobile app.
6. Bank of America® Customized Cash Rewards Secured Credit Card
This card is currently not available.
The Bank of America® Customized Cash Rewards Secured Credit Card has a slightly higher APR than its BankAmericard sibling, but it provides tiered cash back rewards not available from the BankAmericard. A penalty APR is triggered by a late payment on this 25-day-grace-period card. Fees are charged for balance transfers, cash advances, wire transfers from non-financial institutions, foreign transactions, and late or returned payments.
Your account gives you free online access to your FICO score, and you can manage your account using an approved mobile app. Other perks include $0 liability protection and available overdraft protection. This balance transfer credit card charges no annual fee.
at Indigo® Mastercard®'ssecure website
Pre-qualify for a card today and it will not impact your credit score
Less than perfect credit is okay
Mobile account access at any time
Fraud protection for stolen or lost cards
Account history is reported to the three major credit bureaus in the U.S.
If you have poor credit, the Indigo® Mastercard® for Less than Perfect Credit is designed for you. The card, from Celtic Bank, has a moderate APR and higher penalty APR triggered by late payments. The grace period for this card is 25 days, and it charges no annual fee.
There are fees for cash advances, foreign transactions, late or returned payments, and over limit balances. The credit limit on this card is $300 with little chance of an increase. You can prequalify for this card without a hard credit check that could hurt your FICO score.
What is Considered a Low Interest Credit Card?
The following chart shows the estimated APR ranges for unsecured credit cards:
As you can see, the APRs for bad credit exceeds 25%, which means that any APR on an unsecured card that is below 25% should be considered low. All the unsecured cards in this review pass this test.
Secured cards have APRs in the 10% to 21% range — rates typically granted to consumers with good to excellent credit. Those secured card APRs are possible because your cash deposit should remove much of your perceived risk, even though you have a poor credit score.
Several of the secured cards on this list meet this criterion, but all have APR ranges that are below the average set by unsecured cards.
We often point out that any credit card can provide a 0% APR — just pay the full balance each month. However, the Applied Bank® Secured Visa® Gold Preferred® Credit Card makes this approach harder than the rest, since it offers no grace period — the period between the end of the billing cycle and the payment due date. The card requires you to make your payment on the same day as the purchase or you'll be charged interest, a feature we don't like at all.
The other six cards have grace periods greater than three weeks. It certainly behooves you to pay the full balance within the grace period, as it will sidestep interest charges plus help boost your credit score over time. All these cards report your payments to the three major credit bureaus, so timely payments can help lift your score.
Even if you don't pay the full balance each month, you can improve your credit score by making at least the minimum payment within the grace period. However, by paying off as much as you can in each billing cycle, you can reduce your credit utilization ratio (i.e., total credit used divided by total credit available).
A CUR above 30% can hurt your score, but a ratio below 20% can improve it.
It's the regular purchase APR that's serving as the focus of this article. But there are other APRs, including those for balance transfers, cash advances, introductory promotions, and penalties. A balance transfer card frequently has an APR that matches the one for purchasing as well as a balance transfer fee.
However, cash advances often have a higher APR (and they never have a grace period), and penalty APRs, when present, are always the highest APRs charged by the card.
A penalty APR can be triggered by late or returned payments. It surprises some consumers to learn that there is no rule governing how long the penalty APR will remain in effect.
If you run afoul of the penalty APR, we suggest you speak to a card representative to negotiate its swift removal. Failing that, you may want to apply for a card from a different issuer. If you get a different card, do not cancel the old credit card account, as this can hurt your credit score by increasing your credit utilization ratio.
How Can I Get a Credit Card With a Low APR?
If you want a card with a comparatively low APR right away, apply for a secured credit card. A low credit score won't prevent you from getting a secured card. This kind of card has a relatively low APR because you deposit cash into a collateral account that secures your credit line.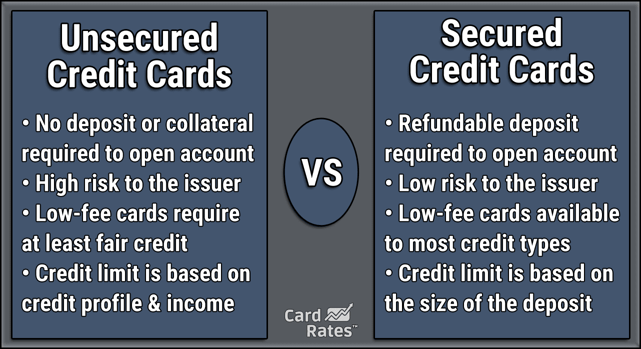 The secured cards in this review all offer below-average APRs for consumers with bad credit. After reading the summaries, select one and click the link — you'll be transferred to the card's landing page where you can review all the card's rates and terms. Fill out and submit the application form, including information about your checking account to submit your security deposit.
In virtually all cases, your application will be approved, and you'll be instructed on how to fund the collateral account. Once the account is funded, the issuer will send you your card, which should arrive in seven to 10 days. Upon receipt, follow the instructions to activate the card.
We've also included a couple of low-APR unsecured credit cards in this review. There is no guarantee that the issuer will approve your application, but if it does, you will get the card without having to cough up a cash deposit.
You should think of secured credit cards as a temporary measure until you can qualify for an unsecured one. You can improve your access to an unsecured credit card in several ways:
Improve your credit score: The higher your score, the better the card and the lower the APR you'll be able to get. The most direct ways to improve your score are to fix your credit reports, pay down your existing debts, and always pay your bills on time. Fixing your credit reports means removing inaccurate and incomplete information from all three reports (Equifax, TransUnion, and Experian). You can do it yourself by getting free copies of each report from AnnualCreditReport.com, the sole source of free credit reports authorized by federal law. You can then dispute incorrect information online with each of the three credit bureaus. If you prefer, you can hire a credit repair company to do the work for you. Typically, you subscribe for about six months during which time the company aggressively challenges questionable information on your credit reports. Whichever method you choose, removing inaccurate negative information from your credit reports should quickly boost your credit scores.
Become an authorized user: You can become a credit card authorized user via an invitation from a cardholder, typically someone possessing a good credit score and a card with a low APR. As an authorized user, you get a copy of the credit card with your name on it. You can use the card to make purchases, and your activity is recorded by the credit bureaus. Both you and the primary cardholder will have your payment activity recorded by a credit bureau, which means you can boost your credit score through timely payments. Technically, only the card owner is responsible for payments, but you should, of course, follow through on whatever arrangements you make with the owner. If you can raise your credit score into the fair credit or better range, you're much more likely to qualify for a low-APR credit card of your own.
Recruit a cosigner: A cosigner shares a credit card account with you and potentially steps in if you miss payments. Otherwise, you are the person who uses the credit card and makes the payments. By choosing a cosigner with a good credit score, you can qualify for a high quality, low-APR credit card. Assuming you make your payments on time and keep your debt levels relatively low, you can build or rebuild your credit score. Eventually, you can drop the cosigner from the account and/or apply for a new card with a lower APR.
In general, we recommend you start your search for a bad credit credit card by reading the reviews we publish at CardRates.com. We evaluate cards based on their features, reputations, and external ratings. We list APRs for each card we review, making it easier for you to select cards with relatively low interest rates.
Who Has the Lowest APR Credit Card For Bad Credit?
The winner in this review for the lowest APR is the Applied Bank® Secured Visa® Gold Preferred® Credit Card. It is a secured card that you can get with any credit score, and it charges a very low APR. The only downside is that the card does not provide you with a grace period for purchases — you are charged interest starting from the transaction date, not the payment date.
Better than Prepaid...Go with a Secured Card! Load One Time - Keep On Using
Absolutely No Credit Check or Minimum Credit Score Required
Automatic Reporting to All Three National Credit Bureaus
9.99% Low Fixed APR - Your Rate Won't Go Up Even if You Are Late
Activate Today with a $200 Minimum Deposit - Maximum $1,000.
Increase Your Credit Limit up to $5,000 by Adding Additional Deposits Anytime
| | | | | |
| --- | --- | --- | --- | --- |
| | | | | Poor/Fair/Limited/Damaged |
If you prefer secured credit cards with grace periods as nature intended, consider the Savings Secured Platinum Rewards Credit Card. Its APR is a couple of points higher than that of the Applied Bank® Secured Visa® Gold Preferred® Credit Card, but you get a 25-day grace period on purchases. We think that is a worthwhile tradeoff for members of the SDFCU credit union — folks affiliated with the State Department directly or through associated memberships or family relationships.
If you prefer an unsecured card, our choice is the Credit One Bank® Unsecured Visa® with Cash Back Rewards. It has a lower APR range than the other unsecured cards in this review and is available to folks with bad credit scores. Realistically, a low credit score will consign you to the higher APR within the card's interest rate range, but that rate is not bad.
The other unsecured card included in this review is the Indigo® Mastercard® for Less than Perfect Credit. It offers a purchase APR that is a little higher than the top APR on the Credit One card. Be aware that the cash advance APR is appreciably higher, as is the penalty APR.
Is a 24.99% APR Bad?
We'd call a 24.99% APR "meh" — it's neither great nor terrible if you have bad credit. The APR graphic above shows that the estimated card APR for folks with bad credit scores (i.e., below 580 on the FICO scoring system) is greater than 25%. An APR of 24.99% is a hair better, so it's not bad, but it's no great shakes either — it's meh!
The APRs in the graphic apply to purchases — balance transfers and cash advances may have higher APRs, and a penalty APR, if present, will be the highest APR charged by the card. For all credit ratings better than bad, estimated APRs are given in 3% ranges starting at 10% to 13% for excellent credit.
If you are on a quest to obtain the lowest credit card APR possible, then your mission is clear — improve your credit score until it's excellent.
Getting your score from bad to excellent is no easy feat, but it is possible. As we repeatedly advise, you can start boosting your credit score by paying your bills on time and reducing your credit utilization ratio below 20%. But the most important advice is to be patient because your bad credit score almost certainly stems from some negative items in your credit history.
Negative items include too many credit requests, late payments, collections, written-off accounts, bankruptcies, foreclosures, liens, and court judgments, among other things. Your credit reports retain these items for a period of from two to 10 years, depending on severity.
Fortunately, the impact on your credit score begins to recede after one to three years, and your creditworthy behavior will help your score after any negative event.
Can a Credit Card APR Be Negotiated?
If you're up for it, you can call your credit card issuer to request a lower interest rate on your existing card. Even if negotiating is an activity at the limits of your comfort zone, it can be well worth the effort. According to CNBC, your chances are 4 out of 5 that the issuer will accede to your request — those are good odds!
You can request a lower APR by calling a customer representative at the credit card company. Here is a partial list of relevant phone numbers: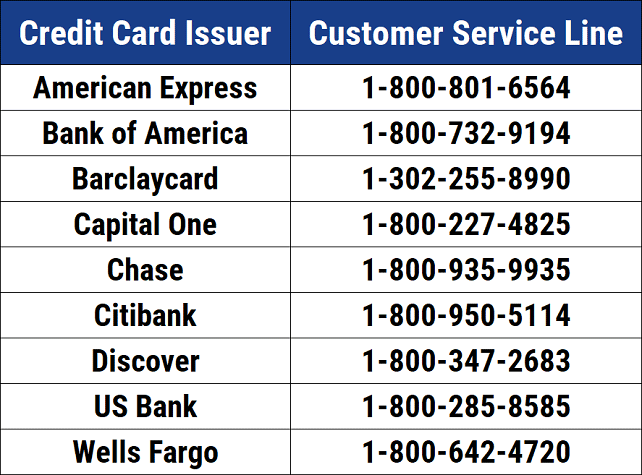 But before you start dialing, er, tapping out the phone number, do a little preparation first. You should first fix any problems on your credit reports, as we discussed earlier. If you do successfully dispute items on your reports, wait a couple of months for your score to rebound.
In any event, you need to know your actual FICO score, not a score from a wannabe credit scoring system. Your card may be able to provide you with your score or you may have to shell out a few dollars to learn what it is. Check your current APR against your credit score as shown in the APR ranges above to see whether your desired APR makes sense.
All credit cards must reveal the range of their possible APRs in their Schumer Boxes, a summary of important rates and terms. They reveal the best APR you can achieve, and you can verify it is better than your current rate to make the effort worthwhile. APRs are typically variable rates, based on an increment added to the prime rate.
The rate increment that will apply to you is based on the amount of risk you represent to the card issuer. Since the issuer has devoted much research to establishing its APR range, you would do well to ask for a new rate that falls within that range.
As a concrete example, suppose your card lists its APR range of 14.99% to 24.99%. Your credit score would have to be excellent to earn the lowest rate. Tailor your request to a reasonable APR given your credit score, and don't request an APR lower than what's offered.
You can, of course, pursue another credit card with a lower range of APRs, but there may be good reasons to first try to get an APR reduction on your current card. For example, your credit card may be a travel card with point or mile rewards that you want to continue to accumulate. Perhaps you can get another card from the same issuer that allows you to transfer your cash back/points/miles to your new card.
Naturally, if you receive (or pretend to receive) an offer from another card with a better APR, you have a hand that strengthens your negotiating position. Most card issuers want to retain their customers, so there's a good chance they'll be ready to negotiate with you. Remember to be unfailingly polite — the customer rep is human and probably will not react positively to verbal abuse.
If you can't get what you want from the first rep, you can try speaking to a supervisor, maintaining a gracious tone throughout. Whether you succeed or fail, you probably shouldn't ask again for at least a year — the issuer keeps track of all this and won't appreciate being bothered too often.
What Are the Different Credit Card APRs?
Credit cards can have up to five different APRs:
Purchase APR: This is the annual percentage rate on purchases financed over more than one billing period. You can avoid paying this APR by not carrying a balance over multiple billing cycles. Beware of credit cards like Applied Bank® Secured Visa® Gold Preferred® Credit Card that charge interest starting on the transaction date — they have no interest-free grace period between the end of the billing and the payment due date.
Balance transfer APR: This rate applies to balances transferred from other credit cards. Not every card is a balance transfer card, and a balance transfer credit card may use a different APR for transfers and purchases. A balance transfer fee may apply, and interest accrues from the transaction date (unless the card features a 0% APR for transfers).
Introductory APR: Credit cards often feature promotions, including a low introductory APR (often 0%) that extends for at least six months after the account opening date, to attract new cardholders. The intro APR can apply to purchases, balance transfers, or both. Promotion periods of 12 to 18 months are common, after which the regular APR applies.
Cash advance APR: A cash advance is a short-term loan charged against a card's credit limit. This APR is often higher than the purchase APR, and there is no interest-free grace period for cash advances. While a cash advance is a convenient way to get an immediate short-term loan, it is an expensive alternative compared to the rates charged for personal loans.
Penalty APR: This is a high APR that kicks in when you are late making a payment, which means you did not make the minimum payment by the due date. Once initiated, this APR may apply to your account indefinitely. Not all credit cards have a penalty APR, but most have fees for late or returned payments.
You can view all the APRs a credit card charges in the Schumer Box portion of its mandatory rates and terms disclosures.
How Can I Use My Card to Build Credit?
Millions of Americans know that emergencies can disrupt your finances, sometimes so severely that your credit score suffers. Your credit card can be a valuable tool when you need to rebuild your credit rating after a financial reversal. Here are five ways you can use your bad credit credit card to improve your credit.
Never Miss a Payment
Thirty-five percent of your FICO credit score stems from your credit history, and a late or missed payment can stain your credit report for up to seven years. When you have credit card debt, you are obliged to pay at least the specified minimum amount by the due date. If you are 30 or more days late, the card issuer will inform one or more credit bureaus, thereby crushing your credit score.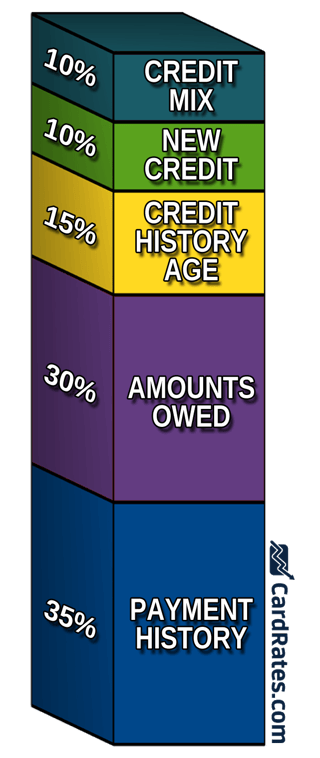 Credit cards are very flexible in that they let you make very modest minimum payments. Generally, that's not a good financial habit, but it can come in handy during periods of distress. You may think there is little difference in skipping a payment versus paying a, say, $15 minimum payment, but the former will hurt your score much more than the latter.
Sometimes, the problem is that you simply forget to make a credit card payment. This can be a real problem when you use multiple credit cards, each with different due dates. At the very least, you should set alerts in your calendar to remind you when to pay each credit card's monthly bill.
You also may consider shifting multiple credit card debts to a balance transfer card. This will make it easier to manage the single monthly bill payment and should reduce your total minimum required payment amount each month.
Pay Down Your Debt
In the FICO scoring system, 30% of your score is tied to the amounts you owe using a metric called credit utilization ratio. The credit used and credit available are the sums of your card balances and credit limits, respectively.
CUR values above 30% hurt your score, whereas you can improve your score by reducing your CUR below 20%.
The best tool for reducing your debt is to create and follow a budget that allocates a consistent monthly amount toward paying down your debt. However, this only makes sense if you refrain from using your credit cards until you meet your paydown targets. During the paydown period, you can instead use cash, a debit card, or a prepaid card, thereby avoiding increasing your debt at the same time you are working to pay it off.
Don't Cancel Old Credit Cards
Over time, you may replace some credit cards with new ones. It's a good idea not to cancel your old cards because you risk increasing your credit utilization ratio by eliminating available credit.
To keep a card active, use it at least once a year. Even if you don't cancel it, a dormancy period over a year can cause the credit bureaus to treat the account as inactive and lower your score accordingly. Some issuers may in fact cancel a card you don't use for too long a period.
Keep a Mix of Account Types
Many younger consumers are shy about using credit, a result of growing up during the Great Recession. Yet many do have student loans and may also have auto or home loans. It may help your credit score to obtain at least one credit card because 10% of your score is based on your mix of credit accounts.
A well-managed mix of credit accounts may also include a personal loan, a business credit card, and a home equity line of credit, among others. Credit bureaus treat your ability to successfully juggle multiple debt accounts as a creditworthy trait that can improve your score. At least one low APR credit card should be part of your credit mix.
Control Hard Credit Inquiries
A hard inquiry occurs when you apply for new credit. A creditor can perform a hard inquiry — that is, retrieve a copy of your credit report from a credit bureau — only when you authorize it, and most credit accounts require a hard inquiry as part of the account application process. Too many hard inquiries within a short period can hurt your score, typically reducing it by five to 10 points per inquiry.
Your credit report keeps track of hard inquiries for two years, but the impact on your score lasts only during the first year. You'll want to wait about six months between new card applications to minimize damage to your score.
Note that soft credit inquiries (for things like employment verification) don't hurt your credit score.
How Does My APR Affect My Monthly Payment?
Every month, your credit card balance can consist of several components:
Purchases
Balance transfers
Cash advances
Previous balances
If you pay your full purchase and balance transfer amounts each month, you won't be charged any interest on these. Cash advances accrue interest daily at their designated APR. Previous balances occur when you've paid less than the full amount in the previous month and include the interest that accrued on the unpaid amount.
Your monthly payment must cover the minimum billed amount, as specified in your credit card agreement. You can also make excess payments (i.e., payments above the minimum). Typically, the minimum payment is first applied to your lowest-interest balance. Any excess payment is applied to the portion of your remaining balance associated with the highest APR, followed by other balances in descending APR order.
Thus, APR impacts your monthly payment in two ways:
Amount of interest accrued: For previous balances and cash advances, interest is charged at the appropriate APR. Obviously, the higher the APR, the more interest you'll be charged.
Order of payment application: The APR associated with each portion of your balance determines the order in which your payment is applied to that portion.
If a portion of your balance is associated with a 0% introductory offer, your payment will be applied to that portion first. Otherwise, your payment first goes to the portion with the lowest APR. The remaining portions are paid in order from highest to lowest APR.
All things being equal, getting a low APR credit card will allow more of your payments to pay down principal, since there will be less interest accrued compared with interest accrued on a high-APR card.
What is the Lowest Interest Rate You Can Get On a Card?
The rock-bottom interest rate of 0% is available on cards with introductory offers for purchases and/or balance transfers. Once the introductory period ends, the normal purchase APR applies. Beware of deferred 0% interest offers because if you don't pay the full amount before the promotion period expires, you'll owe regular accrued interest on the full amount financed, not just the remaining balance amount.
If you miss a payment during a 0% APR promotion, the issuer may cancel the promotion and bump up your APR. The new APR may be the regular one or, if applicable, a penalty APR that is typically several points higher than the regular APR.
Beyond introductory offers, the lowest rates will usually be found on secured credit cards. The Applied Bank® Secured Visa® Gold Preferred® Credit Card has the lowest APR among the cards included in this review, although it has no grace period. APRs generally range between 10% to 30%, but outliers certainly exist.
What is a Bad APR For a Credit Card?
We consider credit card APRs above 24.99% to be unattractive, suitable only for consumers with bad credit. APRs above 30% are usually reserved for consumers with truly terrible credit, which we'd define as scores below 500.
If you can only qualify for a bad credit card APR, consider a secured credit card instead — it will certainly have a lower APR.
Is there a Difference Between APR and Interest?
Interest is the cost of borrowing money. It can be calculated in numerous ways depending on the context.
APR, which stands for annual percentage rate, is the standard method to calculate credit card interest. It is formed as an annualized percentage, meaning the amount of interest you would pay on a balance is applied as if you owed for one year.
For example, a 29.9% APR on $1,000 would generate $290.90 of interest in one year. What makes APR different from interest is that, in some contexts, it includes certain fees, such as lender's fees for a home mortgage. However, a credit card APR does not include fees.
Therefore, credit card APR equals annualized interest based on either a 360- or 365-day year. You'll see your APR quoted on your monthly billing statement, rounded to two decimal places.
Research Low APR Credit Cards For Bad Credit
In this review of low APR credit cards for bad credit, we've identified seven cards that charge less than a 25% APR on purchases. We do not consider APRs above 25% to be low. However, if you have really bad credit, you may have to settle for APRs as high as 35% for an unsecured card.
You can obtain a lower APR through a secured credit card because your cash deposit serves as collateral that reduces the risks of the card issuer losing money. Our review highlights five secured cards and two unsecured ones. We advise you to read all the card descriptions and then click on the link to apply for the card that most closely matches your unique needs.
Advertiser Disclosure
CardRates.com is a free online resource that offers valuable content and comparison services to users. To keep this resource 100% free, we receive compensation for referrals for many of the offers listed on the site. Along with key review factors, this compensation may impact how and where products appear across CardRates.com (including, for example, the order in which they appear). CardRates.com does not include the entire universe of available offers. Editorial opinions expressed on the site are strictly our own and are not provided, endorsed, or approved by advertisers.