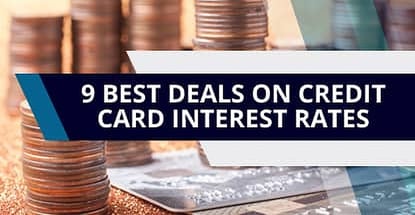 Although intimidating to some novice cardholders, credit card interest rates isn't a particularly complicated concept to understand — and it's certainly worth whatever time it takes to learn. Once you know how credit card interest works, you can find ways to not only minimize the interest you incur on your credit card balances, but how to avoid paying interest fees altogether.
For example, when you understand how your credit card's grace period operates, you can enjoy interest-free credit card purchases indefinitely, as you'll know exactly when to pay your balance to avoid racking up fees.
Furthermore, with a bit of credit education, you can even avoid paying fees on your new and existing revolving balances. Indeed, with the proper use of introductory and ongoing interest rate offers, you can score zero-interest and low-interest deals perfect for any balance you need to carry from month to month — or already carry. In the following article, we'll take a look at some of our top picks for the best credit cards available today with 0% introductory rates on purchases, 0% introductory rates on balance transfers, and ongoing low APRs.
0% Intro (Purchases) | 0% Intro (Balance Transfer) | Low Ongoing APRs
Best "0% Intro Rate on Purchases" Credit Cards
Whether you've planned your purchase or are making an impulse buy, putting a few thousand dollars (or more) on your credit card can be a big mistake if you carry the balance for long. That's because interest fees don't take long to add up, and while that 19% APR didn't seem like a big deal at first, it'll cost you around $1,000 a year to carry a $5,000 balance at that rate — enough to turn your bargain bedroom set into a full-price faux pas.
However, that's not to say you have no other options; for those purchases that you simply can't pay off at once, you may still be able to use a card to cover the cost — you simply need to select the right card. Specifically, those with good credit can find introductory APR deals offering 0% APR on new purchases made with your card for the length of the offer. Our top-rated deals provide 0% interest on new purchases for 14 months or more.
+See More 0% APR Purchase Offers
Another great benefit to a card offering an introductory 0% APR for new purchases is that you can typically still earn rewards on those purchases during the interest-free period. Since interest fees can be a major reward killer, this can be a great benefit, especially when trying to reach spending requirements for a juicy signup bonus.
Of course, when comparing introductory interest offers be sure to look at more than the length of the offer and the rewards you'll earn. You also need to look carefully at the default purchase APR you'll see when your offer terms end, as this will likely be a standard purchase APR in the 12% to 25% range (depending on your individual creditworthiness).
Best "0% Balance Transfer Intro Rate" Credit Cards
As awesome as 0% APR offers are for new purchases, they only work for, well, new purchases, and only new purchases made with that particular card. These offers will do little good for those already carrying a balance on their existing cards; no, that's when you need 0% APR balance transfer offers, which are good on any existing balance that you transfer to your new card.
For the most part, a balance transfer works exactly as it sounds — you transfer your existing balance from one card to another card. Ideally, the new card has a lower interest rate than the first, reducing your fees and monthly payments. Our top balance transfer offers provide 0% APR on transferred balances for up to 18 months.
+See More 0% APR Balance Transfer Offers
As with most good things in life, balance transfers do have a catch: balance transfer fees. Typically 2% to 4% of your transferred balance, these fees can eat into the savings you achieve by lowering your interest rate, so keep it in mind when considering a transfer.
Furthermore, introductory balance transfer deals will have the same limitation as new purchase offers, due to the temporary nature of the deal. After the introductory period on your balance transfer offer ends, your interest rate will revert to the default rate and you'll start being charged interest on your transferred balance. Since the average credit card interest rate in the US is around 17%, the new rate can get expensive — fast.
Best "Ongoing Low Interest Rate" Credit Cards
If the introductory offer has a particular weakness, it is the fact that it is introductory. No matter how great the offer, it must come to an end eventually. At that point, the default APR of your credit card becomes remarkably important. The best way to avoid nasty interest rate surprises at the end of your introductory term — or in general — is to find a card that offers a low ongoing APR.
While the exact interest rate you are charged will depend primarily on your individual credit, you can take some of the chance out of the equation with careful card selection. All credit cards will have a designated range of potential interest rates specific to that card, and the range determines the minimum and maximum APR an applicant can receive. The top-rated cards on our list have APR ranges starting as low as 11.99% for qualified cardholders.
+See More Ongoing Low APR Offers
Even with the lowest possible ongoing APR, you can still find yourself paying higher interest fees than you are comfortable with. One easy way to reduce the amount of interest you pay is to make multiple payments throughout the month. This is because interest is compounded daily, based on your average daily balance. Making more frequent payments decreases your average daily balance and, thus, decreases your total interest.
If you are unsure of the exact APR charged by your new (or old) credit card, you can find it listed in your cardholder agreement. Make sure you look at the correct APR for your transaction type, however. New purchases, transferred balances, and cash advances can all have different APRs. Additionally, your card may have a penalty APR that applies if you miss a credit card payment.
Save Big By Lowering Your Credit Card Interest Rates
For all that credit cards are a secure and convenient way to buy, the high interest rates charged for the pleasure of purchasing with plastic can be a pain — an expensive pain. Even the most qualified applicants can be stuck paying interest rates of 14% or more, and as your credit score goes down, your interest rates head in the opposite direction. Be sure to check your credit report at least once a year, if not more often, to make sure there are no mistakes or erroneous information dragging your score down. Many credit cards even come with free credit monitoring these days.
Luckily, with a little knowledge (and the right deal) you can take the sting out of your interest payments, or even eliminate them altogether. Quality low-interest and no-interest credit card offers can be an easy way to decrease the cost of your debt and make it easier to repay your existing balances.
Advertiser Disclosure
CardRates.com is a free online resource that offers valuable content and comparison services to users. To keep this resource 100% free, we receive compensation for referrals for many of the offers listed on the site. Along with key review factors, this compensation may impact how and where products appear across CardRates.com (including, for example, the order in which they appear). CardRates.com does not include the entire universe of available offers. Editorial opinions expressed on the site are strictly our own and are not provided, endorsed, or approved by advertisers.