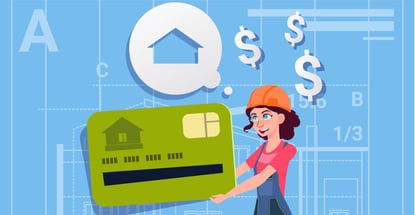 Prepaid cards that build credit don't really exist if you're thinking in terms of a prepaid debit card that you load funds onto for everyday use. But prepaid credit cards are often referred to as secured credit cards and can certainly help you build credit.
We'll look at both secured cards and prepaid cards and explain the differences between the two so you can decide which is the right addition to your wallet.
Secured Cards | Prepaid Cards | FAQs
Prepaid Cards That Build Credit Are Secured Cards
Secured credit cards are one of the best options to rebuild your credit or establish a positive credit history if you have a thin credit profile. With secured cards, you pay a security deposit which then becomes the credit limit that you can borrow against when you charge your card.
Each month, you'll need to pay your secured credit card bill on time and the payments should be reported to the major credit bureaus to improve your score.
The Capital One Quicksilver Secured Cash Rewards Credit Card is our top-rated secured card. It is one of the best credit cards for earning rewards and building credit history.
Consistently paying your bill on time will help your score improve, and it will help you qualify for a higher credit limit, too. If you prefer a smaller initial deposit, check out the next card.
No annual or hidden fees. See if you're approved in seconds
Building your credit? Using the Capital One Platinum Secured card responsibly could help
Put down a refundable security deposit starting at $49 to get a $200 initial credit line
You could earn back your security deposit as a statement credit when you use your card responsibly, like making payments on time
Be automatically considered for a higher credit line in as little as 6 months with no additional deposit needed
Enjoy peace of mind with $0 Fraud Liability so that you won't be responsible for unauthorized charges
The Capital One Platinum Secured Credit Card is one of the best prepaid credit card options to consider if you're looking for no annual fees. As you use your card wisely and make on-time payments, you will help build your personal credit score, and Capital One will return your security deposit as a statement credit. In as little as six months, you could be automatically approved for a credit limit increase as well.
As with all Capital One Cards, the Capital One Platinum Secured Credit Card also comes with features like $0 fraud liability (if your card gets lost or stolen), CreditWise credit score updates through TransUnion or Experian, and no foreign transaction fees.
The Discover it® Secured Credit Card has no annual fee and can help you establish your credit after you make a refundable security deposit. You can choose the deposit amount that will set your initial credit limit. Discover does consider your credit and income when applying for this card.
The Discover it® Secured Credit Card also provides you with a free FICO score and the opportunity to earn cash back rewards. Discover will automatically review your account to see whether you qualify to switch to an unsecured credit card. If approved, your security deposit will be refunded to you and you can continue using it as an unsecured credit card to build and maintain good credit
4. Bank of America® Customized Cash Rewards Secured Credit Card
This card is currently not available.
The Bank of America® Customized Cash Rewards Secured Credit Card looks and works just like any other traditional credit card. While you will need to put down a security deposit to open your account and receive your credit limit, this secured card also allows you to earn rewards for your spending.
Cash back can be redeemed as a statement credit, a deposit into your Bank of America checking or savings account, or even a contribution to a qualifying 529 account. As you continue to pay your credit card bill on time each month, Bank of America will review your account and may qualify you to have your security deposit returned.
5. Citi® Secured Mastercard®
This card is currently not available.
Additional Disclosure: Citi is a CardRates advertiser.
The Citi® Secured Mastercard® has no annual fee and allows you to start with a low secured deposit to open your account. This card is ideal for someone with no credit or a very limited credit history since all payments are reported to the three major credit bureaus and will help you build your credit score.
Citi also allows cardholders to choose their own payment date so they can decide whether they want to pay their credit card bill at the beginning, middle, or end of the month. The Citi Secured Mastercard also provides free FICO score updates, fraud alerts, and $0 liability on unauthorized charges.
at Capital Bank N.A.'ssecure website
No credit check to apply and find out instantly if you are approved
OpenSky gives everyone an opportunity to improve their credit with an 85% average approval rate for the past 5 years
Get considered for a credit line increase after 6 months, with no additional deposit required
You could be eligible for the OpenSky Gold Unsecured Card after as few as 6 months
Reports to all 3 major credit bureaus monthly, unlike a prepaid or debit card
View your FICO® Score through your OpenSky account, an easy way to stay on top of your credit
The OpenSky® Secured Visa® Credit Card is best for anyone looking to repair their credit or start establishing a credit history. Open Sky won't check your credit when you apply for its prepaid card, so everyone is given a fair opportunity. Instead, you'll just choose a line of credit and secure it by making a one-time refundable deposit. Your deposit is held in an FDIC-insured account, and the full amount (minus any amounts or fees owed) will be returned to you after your card is closed.
You can use the OpenSky® Secured Visa® Credit Card on everyday purchases at any retailer that accepts Visa. Just submit at least your minimum payment due on time each month, and your positive payment history will be reported to Equifax, Experian, and TransUnion to help improve your credit score.
The Savings Secured Platinum Rewards Credit Card is offered through the State Department Federal Credit Union, and it's a little different from many of the other cards on this list. This secured credit card actually uses funds from your savings account to secure the deposit and activate your credit limit. You can use the Savings Secured Platinum Rewards Credit Card just like any other credit card, and you'll earn rewards points for every dollar spent.
Flexpoints Rewards can be used to buy gift cards and merchandise and save on hotel stays and airline tickets, among other options. This card also has no annual fee, no foreign transaction fee, and provides you with a free credit score so you can monitor your credit month after month. As you use your secured credit card responsibly, you can be automatically upgraded to an unsecured platinum rewards credit card.
Prepaid Cards That Do Not Build Credit
Keep in mind that some prepaid cards do not build credit. These are not secured credit cards or charge cards, so you'll use them more like a debit card and load your own funds to make purchases. Using a prepaid debit card can still be beneficial since your funds can be FDIC-insured, and some prepaid cards still offer rewards.
Below are five prepaid cards that do not build credit but can help you make purchases that require a card.
at The Bancorp Bank'ssecure website
Move money from your PayPal account to fund your prepaid card account.
Earn cash back and personalized offers, just for using your card.
With Direct Deposit, you can get paid faster than a paper check.
Card issued by The Bancorp Bank, Member FDIC. Card may be used everywhere Debit Mastercard is accepted.
Click PayPal Prepaid Mastercard® for additional features & program details, and to request a Card.
The PayPal Prepaid Mastercard® is accepted wherever Mastercard is accepted and allows you to load money onto your card at no cost. This card does come with a small monthly fee but loading money onto your card is easier than ever, especially if you already have a PayPal account.
You can set up direct deposit, transfer money from your PayPal account to your prepaid card, or load cash or checks in person at any of the 130,000 reload stations across the U.S.
NetSpend has been around for over 20 years and the NetSpend® Visa® Prepaid Card is one of the most popular options for prepaid debit cards. There is no credit check required to apply for a prepaid card and most cardholders can expect their paycheck at least two days early once they set up direct deposit.
You can now also receive cash back for qualifying purchases and there is no overdraft fee on purchases. Purchase Cushion is a feature that allows NetSpend to cover up to $10 if you happen to spend slightly more than what's available on your card. The money will later be deducted from your balance the next time you load your card.
NetSpend offers a mobile banking app that you can use to check your account balance and see your transaction history. You can also use this app for mobile check deposits, and you are protected against unauthorized purchases with zero liability protection.
With the Brinks Prepaid Mastercard, you can reduce your monthly maintenance fee by setting up direct deposit of at least $500 per month. There is a high foreign transaction fee with this card, so you should avoid using it outside of the country or with foreign merchants for online purchases. There are also a few other fees to watch out for with this card, like if you choose to load it with funds at a NetSpend Reload Network Location.
However, when you do set up direct deposit, you can expect to get paid two days earlier and you'll also get rewards with cash back offers for eligible purchases. Like the NetSpend® Visa® Prepaid Card, the Brinks Prepaid Mastercard allows you to receive a $10 Purchase Cushion if you happen to slightly go over the amount you have loaded onto the card.
The Serve® American Express® Prepaid Debit Account offers many of the same features you'd get with a bank card. Along with free early direct deposit and free online bill pay, you can reload your card for free at thousands of locations including CVS, Dollar General, Family Dollar, and Walmart.
You can waive the monthly fee for this card by setting up monthly direct deposits of at least $500. Overall, the Serve® American Express® Prepaid Debit Account has very few fees and no hidden fees.
The Walmart MoneyCard® is a reloadable prepaid card that pays cash back rewards on eligible purchases made at Walmart stores, Walmart.com, and Walmart fuel stations.
You'll also get optional overdraft protection and early deposit of your paychecks if you set up direct deposit to the card account, which will also qualify you to pay no monthly fee. You can add up to four authorized users to your account so the whole family can save on Walmart purchases.
What is a Prepaid Card?
A prepaid debit card is similar to a gift card but provides many extra features and benefits. You can only spend the amount that you loaded onto the card. Prepaid debit cards can be used for in-store shopping, online purchases, and to pay bills. You may even have access to make mobile check deposits and view your transaction history through an app.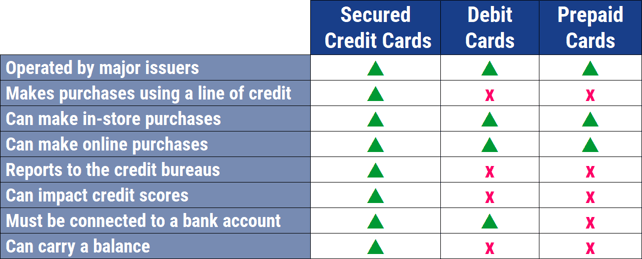 However, prepaid cards are not connected to a bank account like a debit card is.
The downside is that prepaid cards don't help you build credit as a credit card would, and they still do come with some fees like monthly maintenance fees and withdrawal fees. Still, storing your money on a prepaid card can be safer than carrying around cash.
Most prepaid cards are FDIC-insured and many provide zero fraud liability benefits in the event that your card gets stolen and someone uses it to make an unauthorized purchase. Plus, some prepaid cards are now even offering transaction alerts and mobile account features through an app as well as cash back rewards on everyday spending.
Can I Build Credit With a Prepaid Card?
Prepaid cards do not help you build credit. Prepaid cards function very similar to debit cards and allow you to load funds that you wish to spend either via direct deposit transfers or another way.
In short, you only spend the money you put on a prepaid card, while with a credit card, you can borrow against a fixed credit limit. With a credit card, you make monthly payments that are then reported to the three major credit bureaus.
If you have a thin credit history or are looking to rebuild your credit, secured credit cards are the best option to consider. Prepaid cards, on the other hand, often don't require a credit check, and there are no interest or minimum monthly payment charges.
How Do I Get a Prepaid Card?
There are several ways to get a prepaid card. You can buy them at retail locations like grocery stores and drug stores. But one of the most common ways is to order a prepaid cash card online from a prepaid card issuer for free.
You can visit the website for any of the prepaid cards we listed above to order your card. It may take a few business days for your card to arrive in the mail. You'll need to provide personal information that includes your Social Security number to verify your identity.
Are Prepaid Cards Good For Building Credit?
Prepaid debit cards are not good for building credit. The only prepaid cards that build credit are secured credit cards.
Secured credit cards provide one of the best opportunities to build your credit over time. Secured credit cards are often considered prepaid cards because you have to put a deposit down first that you can then borrow against.
Paying your bill on time each month is the key to building your credit with a secured card. Secured credit card companies report your payment history to all three major credit bureaus. You want them to report a positive payment history so you can demonstrate to future lenders that you are a responsible borrower.
Set reminders to pay at least your minimum monthly payment each month or more. You can also set up automatic payments so when your statement cycle ends and your bill is due, the payment is instantly transferred from your checking account. Paying your secured credit card bill late could damage your credit and you could also receive a late fee.
Another way that prepaid secured credit cards help you build your credit is by keeping a line of credit open long-term. The age of your accounts is an important factor that impacts your credit score and credit report. So, while you can build credit with a credit builder loan from your bank, for example, once that loan is paid off, that account will close, and the positive payment history will no longer be reported.
With a secured credit card, you have the potential to keep the card open for several years and even upgrade to an unsecured version of your credit card. Keeping your credit card accounts open, even if you only use the card occasionally, will help you increase the length of your overall credit history, which can have a positive impact on your score.
How is a Secured Card Different From a Traditional Credit Card?
A secured credit card is different from a traditional credit card because, like with any secured debt or loan, you have to put some collateral up. In this case, the collateral is the deposit you make, which creates your credit limit.
With a regular credit card, if you are approved, you receive a credit limit that you can borrow against each time you swipe this card. This credit limit is unsecured, which means you don't have to make any deposits or put anything up for collateral.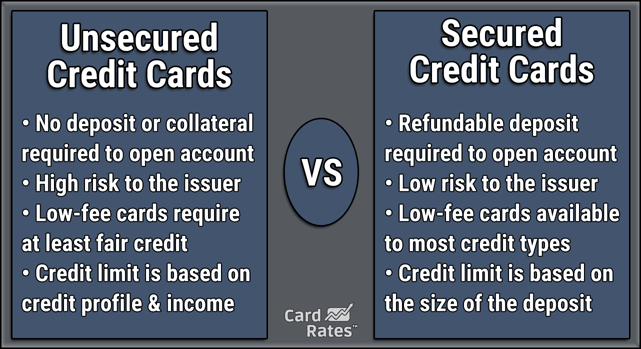 Since traditional credit cards are unsecured, the credit card company will require you to apply, and this includes checking your credit. If your credit score meets their standards, you'll get approved and can activate your card. If your credit score is too low, you will be denied, which indicates the card issuer is not confident that you will use the card wisely and pay your bill on time.
This isn't anything to take personally since your credit score is just a three-digit number. Still, your credit score indicates how responsible of a borrower you are. If you've had issues paying bills on time in the past or are just getting started and have no credit history, it may be hard to qualify for an unsecured card.
This is when a secured credit card can come in handy. Secured credit cards are geared toward people with bad credit or a thin credit profile.
It's generally easy to get approved for a secured card because credit checks aren't always required. You usually just need to make a deposit of around $200, an amount that is equal to your credit limit. You can borrow against this limit and build a positive credit history by paying your bill on time.
Can You Build Credit With NetSpend?
NetSpend is a global payments company that is known for its prepaid debit cards. While NetSpend does offer some of the most popular Mastercard and Visa prepaid cards for unbanked consumers, they don't currently offer a credit card product. This means that you, unfortunately, aren't able to build credit with NetSpend.
Consider getting one of the secured credit cards mentioned above, like the Capital One Platinum Secured Credit Card or the OpenSky® Secured Visa® Credit Card, to help build your credit.
What is the APR of a Prepaid Card?
APR stands for annual percentage rate and is the cost you pay each year to borrow money via a loan or credit card that charges interest. Since prepaid debit cards are not credit cards, there is no APR. You simply load the funds you wish to spend onto the card and use it just like a debit card.
Secured credit cards will have a purchase APR, so keep this in mind when considering your options. The average APR for a credit card is around 17.87% but can go as high as 24% or more.
Your credit card's APR can vary depending on the market interest rate at the time as well as your creditworthiness. Typically, if you have a lower credit score you may have a higher APR. Credit cards also sometimes charge different APRs for getting a cash advance or performing a balance transfer.

What's tricky is that some credit cards charge interest daily, so even if you have an APR of 17%, you may end up paying more interest if you keep a balance on your card regularly.
To avoid paying interest on your secured or unsecured credit cards, commit to paying your bill in full each month so you'll only pay interest on the balance you keep after your monthly statement closes.
What Are the Disadvantages of Prepaid Cards?
Prepaid cards can be a solid alternative if you prefer not to have a bank account or want to limit your spending to only what's on the card. Keep in mind that using prepaid cards has several disadvantages as well.
To start, prepaid cards can get expensive when you start adding up all the fees like monthly maintenance charges, reloading fees (to add money to your card), activation fees, and ATM fees. Some of these fees can be avoided or reduced.
For example, you may be able to avoid fees associated with reloading your card by setting up direct deposit. You can also select a prepaid card that may waive activation fees. All of this can be a lot to keep up with though.
Since prepaid cards are not tied to a bank account, you won't be able to write checks if that's something you like to do. Also, prepaid cards typically come with fewer fraud protections than do credit cards. They also don't report payment history to any credit bureau, so they won't help you build credit.
How Much Money Can I Put on a Prepaid Card?
There is a limit to how much money you can load onto a prepaid card each day and sometimes a limit to how much you can spend. Most prepaid cards allow you to load anywhere from a maximum of $500 to $15,000 onto the card per day. This is a wide range, so understanding how much your prepaid card company will allow you to load onto your card per day is important.
For example, with the PayPal Prepaid Mastercard®, you can transfer up to $300 per day or $2,000 per month from your PayPal account to load your card. But you can deposit as much as $2,500 cash any day in-store. Worst case scenario, if you try to load too much money onto your prepaid card at once, you will be notified, and the transfer won't go through.
With a secured credit card, you prepay for your credit limit by making a deposit. This deposit can be as low as $99 or as high as several thousand dollars. This means that, if you want a higher credit limit, you can make a larger deposit.
Sometimes, the credit card issuer may give you a required deposit amount when you sign up. This could depend on factors like your income and work history. To build your credit with a secured credit card, you should try not to spend more than 30% of your credit limit each month.
This means if you open a secured credit card account and deposit $500 for a $500 credit limit, you should keep your spending below $150 per month and try to pay your balance off or at least pay the minimum when the bill is due.
Can I Earn Rewards on a Prepaid Card?
Yes, many secured credit cards now provide you with the opportunity to earn rewards. The Bank of America® Customized Cash Rewards Secured Credit Card and the Discover it® Secured Credit Card both allow you to earn cash back per dollar spent.
Discover credit cards have no annual fee and always offer generous cash back rates. This includes the Discover it® Secured Credit Card. Discover also matches your cash back rewards during your first year.
No credit score required to apply.
No Annual Fee, earn cash back, and build your credit with responsible use.
Establish your credit line by providing a refundable security deposit of at least $200. That means a $200 deposit for a $200 credit line. Or a $500 deposit for a $500 credit line. Bank information must be provided when submitting your deposit, and the security deposit equals your credit limit.
Automatic reviews starting at 7 months to see if we can transition you to an unsecured line of credit and return your deposit.
Earn 2% cash back at Gas Stations and Restaurants on up to $1,000 in combined purchases each quarter. Plus, earn unlimited 1% cash back on all other purchases – automatically.
Discover helps remove your personal information from select people-search websites. Activate by mobile app for free.
| | | | | |
| --- | --- | --- | --- | --- |
| | 10.99% Intro APR for 6 months | | | |
Some prepaid debit cards offer rewards as well like the Brinks Prepaid Mastercard. A prepaid rewards card is not super common, but it can be nice when you find one that allows you to earn rewards.
The best credit card rewards are going to be obtained through unsecured credit cards that often require a good or excellent credit score. If you're interested in earning better rewards, like points you can use for travel and merchandise but don't have a good credit score to qualify for an unsecured card, start with a secured credit card to improve your score. You can always try to upgrade to an unsecured card a year later after making on-time payments and using your secured credit card wisely.
The Bottom Line: Prepaid Cards Don't Build Credit
Prepaid cards don't build credit and shouldn't be confused with secured credit cards. Both options provide a completely different solution.
To build good credit, you need to make sure that you're paying a bill that gets reported to each major credit bureau — Experian, Equifax, and Transunion — monthly.
The secured credit cards highlighted above are some of the best options to start with as you try to build your credit and create a positive payment history on your credit report.
Advertiser Disclosure
CardRates.com is a free online resource that offers valuable content and comparison services to users. To keep this resource 100% free, we receive compensation for referrals for many of the offers listed on the site. Along with key review factors, this compensation may impact how and where products appear across CardRates.com (including, for example, the order in which they appear). CardRates.com does not include the entire universe of available offers. Editorial opinions expressed on the site are strictly our own and are not provided, endorsed, or approved by advertisers.