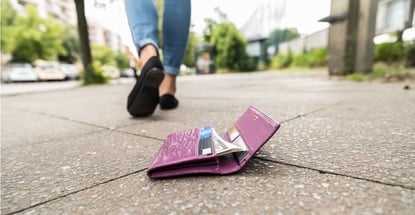 It has happened to all of us. We use our credit cards and use them often. We do our best to protect not just our physical card and its information, but also the credentials to our bank's online account access.
But regardless of how careful we may be, nobody is immune to either losing their credit card or falling victim to one of the most common identity theft crimes in the country — credit card fraud — thanks to a stolen card. A lost or stolen credit card can be a stressful experience for a variety of reasons.
What if it's your only method of payment, and now you're left without any way of paying for things? What if you have thousands of dollars of unused credit limit that can now be used by a fraudster to rack up charges in your name? And who has time to wait for a new card to be mailed and then change all of the payment information for the services auto-billed to that card each month?
The first thing you need to do is calm down, seriously. One of the many benefits of using plastic is the fantastic set of protections you enjoy thanks to both Federal law and card network fraud policies.
If you act quickly, as soon as you discover the card's missing, there is no reason for the theft or loss to turn into a disaster. You can protect yourself and limit your liability for fraud by following a few simple steps.
1. Contact Your Credit Card Issuer
As soon as you notice that your credit card is missing, you need to take action without delay. Depending on your situation, your immediate options may include locking your credit card account (for the short term) or canceling your card and requesting a replacement.
Lock or freeze your account: Some credit cards come with a "lock" or "freeze" feature that lets you limit certain types of transactions on your account. If you think you may have innocently misplaced your card, you may want to take advantage of this feature while you conduct a thorough search. However, if you can't locate your card within a few hours, it's best to go ahead and give your card issuer a call. Point being, don't cancel your card until you know it's permanently missing.
Cancel your credit card and request a new one: If you suspect your card was stolen or your efforts to locate it have failed, it's time to contact your credit card issuer. Informing your card issuer of the theft or loss of your card is crucial if you want to limit your liability for potential fraudulent charges.
When you contact your card issuer, it will close and replace your credit card. Your new card will have a different 16-digit account number and no new charges will be approved on your old account number.
Keep this in mind if you have recurring payments scheduled on your missing card. You'll need to contact those businesses and share your new account number to avoid declined transactions and possibly even late fees.
Some issuers will overnight you a new card, especially if you're a heavy user of that card. Others will mail it to you.
2. Closely Monitor Your Statement and Transactions
You should aim to review your credit card statement for errors and unauthorized transactions every month. But, if you lose your credit card or someone steals it, checking your account for suspicious charges becomes much more critical.
You don't have to wait for your credit card statement to monitor your account activity. You can check your account online or via the mobile app to look for signs of fraud.
Of course, be sure to double check your statement as well so nothing falls through the cracks. Many card issuers allow you to set up usage alerts whereby you will get mobile messages whenever your card has been used.
If someone does use your credit card to make unauthorized purchases, you'll need to reach out to your card issuer again. You can report fraudulent charges over the phone or your card issuer may let you dispute them online.
You will also likely be asked to affirm that you had nothing to do with any fraudulent charges and that you did not benefit from the charges.  Be careful with this step because you'll likely be asked to affirm under the penalty of perjury.
The Federal Trade Commission (FTC) also recommends mailing a letter to the card issuer at its billing error address found on your statement. A certified letter with a return receipt is best for tracking purposes. You can use this FTC-approved sample letter to make the task easier.
3. Know Your Rights
When you promptly report a lost or stolen credit card, federal law protects you. The primary federal law that provides protection in these situations is the Fair Credit Billing Act (FCBA).
Don't confuse the Fair Credit Billing Act with the Fair Credit Reporting Act as they are not the same statute.
Under the FCBA, you are only responsible for no more than $50 when fraudulent transactions take place on your credit card. But, if you report the card as stolen or lost before the phony charges are made, your liability drops to zero.
In addition to these legal protections, the four major credit card networks (VISA, Mastercard, American Express, and Discover) all have zero-liability policies as a matter of customer service. So, the likelihood of you ever being held liable for fraudulent credit card use is slim to none.
There is, however, a small catch when it comes to FCBA protections. You must report credit card loss, theft, or fraud within 60 days to limit your personal liability.
It's also worth noting that the FCBA only applies to credit card fraud. If your debit card is lost or stolen, you are protected by the Electronic Funds Transfer Act (EFTA), which isn't as robust as the FCBA.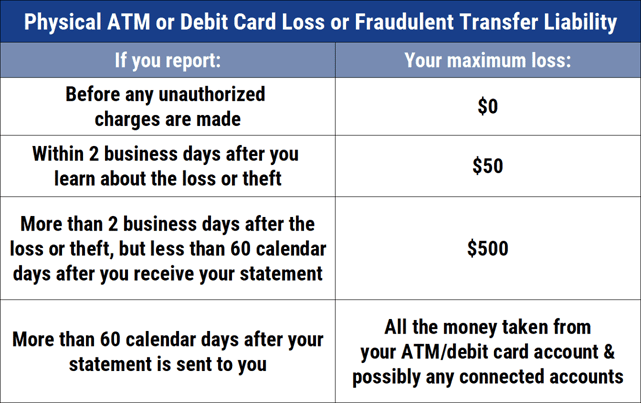 If you fail to report debit card fraud within two days, your personal liability jumps to $500. Plus, with a debit card, the money that has been stolen is actually your money compared with a credit card, in which case it's the bank's money that has been stolen.
How a Lost or Stolen Credit Card Affects Your Credit
When you notify your credit card company that your card is missing, it will report the account as "lost or stolen" on your credit reports. This notation won't hurt your credit scores. In fact, from a credit scoring perspective, it's the same as a closed account.
If you're worried about the closed original card lowering your average age of credit, don't be. The closed account will still count toward the average age of accounts on your credit reports. (Your length of credit history is an important credit scoring component, and older accounts help your credit score.)
Once your original card is closed, your card issuer will send you a replacement card with a new 16-digit account number, new security code, and possibly a new expiration date. The replacement account number will generally show up as a new tradeline/account on your credit reports within 30 to 60 days.
In most cases, the new account on your credit report will reflect the same information as your original account, including:
Date Opened
Existing Credit History on Account
Credit Limit
Balance
Payment History
When your new card number is reported with the same information as your original account, your credit scores should be unaffected.
Keep in mind that in some cases, a card issuer may report your new card number as a brand-new credit card account. This isn't ideal from a credit scoring perspective because, if your card issuer opts to report a new account with a new open date on your credit report, there's a chance it could lower your credit scores because the new card will lower the average age of your accounts.
Failure to Act Quickly Could Be Costly
There's no way to completely safeguard your credit cards from loss or theft. However, you should take steps to prevent fraud and keep your credit cards as secure as possible.
For example, keep your physical credit cards on your person or locked at home in a safe place. Never leave credit cards in your car, lying around at work, or in another unsecure location. It's also wise to shred your credit card statements or, better yet, to consider signing up for paperless statements to keep sensitive information out of your mailbox.
If you do ever experience the loss or theft of a credit card, the most important thing to remember is to act quickly. You have consumer protections to rely on, but it's up to you to notify your card issuer that there's a problem. Failure to act will result in the limitation or expiration of some of your rights.
Advertiser Disclosure
CardRates.com is a free online resource that offers valuable content and comparison services to users. To keep this resource 100% free, we receive compensation for referrals for many of the offers listed on the site. Along with key review factors, this compensation may impact how and where products appear across CardRates.com (including, for example, the order in which they appear). CardRates.com does not include the entire universe of available offers. Editorial opinions expressed on the site are strictly our own and are not provided, endorsed, or approved by advertisers.