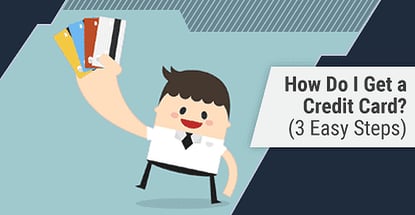 Despite the fact that there are literally hundreds of millions of credit cards in the world, some cards still stand out from the rest. These ultra-exclusive credit cards are for high rollers with high limits — and they want you to know it. Plastic is for plebeians; instead, these puppies are made of precious metals like titanium, palladium, and gold. Sadly, obtaining many of these metallurgic masterpieces requires hitting a six-digit monthly spending requirement — or even receiving a personal invitation directly from the issuer.
So, you may be asking, "How do I get a credit card?" Although diamond-studded decadence isn't attainable for most of us, today's credit card market still has plenty to offer the discerning credit consumer, including a few metal-manufactured options realistically attainable for the masses. Indeed, the typical credit card doesn't require reaching lofty limits. You really only need to complete three simple steps. In the article that follows, we'll explore those three steps in detail and look at a number of card offers that may suit your needs.
1. Find | 2. Apply | 3. Activate
1. Find the Right Card
For many people, the first step to getting a credit card will likely be the most difficult: finding the right card. If you think ordering a coffee comes with too many decisions, just wait until you try to pick the perfect credit card from the crowd. Simply looking at the top 10 issuers will reveal literally dozens of credit card options, and that's not including the credit cards offered by local banks and community credit unions.
So, how do you narrow it down and actually make a choice? By figuring out exactly what you want — and need — out of your credit card. If you simply need a way to safely and conveniently make purchases, a basic cash back rewards card may be the right fit. For jet-setters (or those who would like to be) looking to earn free flights or hotel stays, a quality travel rewards card will likely fit the bill.
Balance Transfers | Cash Back | Rewards Points | Travel Rewards | Students | Businesses
Best "Balance Transfer" Credit Cards
Although you can't technically pay one credit card with another, a balance transfer can be the next best thing. The goal of a successful balance transfer is to move your credit card debt from a card with a higher APR to one with a lower APR, thus saving you money each month on interest fees and making it easier (and faster) to pay down your debt.
The best credit cards for balance transfers will be those that offer the lowest APRs for transferred balances. While this may mean a low ongoing APR, those with good to excellent credit can find quality introductory balance transfer offers that provide a 0% APR on qualifying balances for the length of the promotional period. Our top-rated offers provide a 0% APR on balance transfers for up to 18 months.
+See More Cards for Balance Transfers
Best "Cash Back" Credit Cards
Cash back rewards are the most straightforward of credit card rewards, providing simple redemption options that typically include a statement credit or a deposit into a qualifying bank account. Most cash back rewards are earned as a percentage of your purchases, with some programs offering higher cash back rates for purchases in specified bonus categories.
Choosing the right cash back card for you will come down to determining the areas in which you spend the most money, then finding the card that rewards you at the highest rate for those purchases. For example, if your family spends a lot of money on groceries each month, a card that offers bonus cash back on grocery purchases may be most lucrative. Our favorite cash back cards also have valuable signup bonuses.
Best "Points" Credit Cards
Rewards points are often the most versatile type of credit card rewards, as the redemption options often include cash back, travel expenses, merchandise, and gift cards. Some points programs also allow you to transfer rewards points to partner airline and hotel loyalty programs where they can be combined with your existing frequent flyer or hotel rewards points.
Selecting the best points credit card will come down to how you earn the points — and how you spend them. While you'll want to choose a card that offers higher earnings rates for the purchases you make most often, you should also make sure the available redemption options are things you'll really use. Our list of points rewards credit cards include several that provide bonus points for everyday purchases like gas and dining.
+See More Rewards Points Credit Cards
Best "Travel Rewards" Credit Cards
Although travel rewards credit cards are obviously most appealing to consumers who travel frequently, these points and miles cards can also be a great way for more grounded cardholders to make that dream vacation an affordable reality. Not only do most travel cards allow you to earn unlimited points or miles for every purchase, many also offer bonus rewards for purchases in certain categories.
Picking a travel rewards card will require looking at more than just how many points or miles you can earn per dollar spent. You'll also want to determine at which airlines or hotels you can use those rewards, as some cards will have limited partners. If you plan to travel abroad, also look for cards without foreign transaction fees, like many of our expert-rated travel rewards cards.
+See More Cards for Travel Rewards
Best "Student" Credit Cards
While students under the age of 21 will need a qualified cosigner or independent income to obtain a credit card, simply meeting the age, cosigner, or income requirements won't guarantee you a card. If, like most students, you have a limited credit history, you'll likely have the best chances of getting a credit card if you choose a student credit card from an understanding issuer.
Of course, student credit cards provide more perks than merely being easier to obtain with a limited credit history. You can find a number of quality student cards with a low (or no) annual fee, as well as those that offer solid purchase rewards. Some cards even offer bonus rewards for maintaining a good GPA. Plus, all of our favorite student credit cards will let you check for pre-qualification offers before you apply.
Best "Business" Credit Cards
Whoever coined the phrase, "The best things in life are free," has obviously never tried to run a business. As any business owner can likely tell you, every business is just plain lousy with expenses — even the "best" ones. And that extends into every aspect of the company, including its financing.
While many good business credit cards can be had without an annual fee, the best business cards typically aren't free (not after the first year, at least). But don't be discouraged by a little fee; select the business credit card that best fits your company's spending habits, and that fee may pay for itself in purchase rewards. See options for cash back or travel rewards on our list of expert-rated business cards.
+See More Cards for Businesses
2. Fill Out the Application
Once you've decided on the card you'd like to pursue, it's time to fill out the application. In the era of online applications, this process can be ridiculously simple — and remarkably quick. Typically asking no more than a couple dozen questions about your personal details, income, and employment, most credit card applications can be completed in less than five minutes.
Thanks to the proficiency of the online application algorithms used by most issuers, you'll likely receive a response to your online application within minutes of submitting it, particularly if you're approved. In some situations, however, the algorithm doesn't have the necessary information to make a decision, such as when one or more aspects of your application may be on the borderline of acceptable.
If you get a "pending" response to your application, you'll typically receive a final decision in the mail within a few weeks. You should also receive correspondence if your application is rejected that will explain the reason(s) you were not approved. In most cases, your credit score is likely the culprit, as it plays the largest role in credit card approvals.
Depending on the reason your application was rejected, you may have some success with credit card reconsideration, which involves calling the issuer and having a human re-evaluate your application. Most often, however, you are probably better off to choose a different card that better suits the credit score range into which you fall, improving your chances of approval.
Good Credit | Fair Credit | Bad Credit | No/Limited Credit
Best Cards for "Good" Credit
With good credit, the chances of being turned down simply due to your credit score are generally low, unless you're applying for a particularly picky card or have a credit history less than two years old. Being denied for too many recent credit applications, however, is a frequent issue faced by cardholders regardless of their credit, such as victims of Chase's infamous "5/24 Rule."
For many consumers, the best way around these types of denials is to simply choose a card from a different issuer, perhaps one with less stringent requirements. Happily, good-credit applicants are always in demand, and you can choose from a huge variety of benefit-rich credit card options. Many of our top cards for good credit not only offer solid rewards, they do so with low annual fees and competitive APRs.
+See More Cards for Good Credit
Best Cards for "Fair" Credit
Located somewhere in credit card limbo between those who easily qualify for prime credit cards, and those who are relegated to the subprime credit card market, fair-credit consumers are fairly likely to be rejected due to a troubled — or very limited — credit history. This can be especially true when applying for the most lucrative rewards cards, as they typically prefer good-credit applicants.
One of the easiest ways to improve your approval chances when you have fair credit is to choose a card specifically designed for credit-builders. While they may have higher annual fees or lower (or nonexistent) rewards rates, these "starter" cards can be a great way to build your credit score, making those premium cards a less-distant reality. Start comparing fair-credit card options with our top-rated picks.
+See More Cards for Fair Credit
Best Cards for "Bad" Credit
Those with bad credit are the most likely to be turned down for a big-bank prime credit card solely due to their potential credit risk. In general, having a bad credit score automatically narrows the options down to the subprime unsecured credit card market or a secured credit card that will require an initial deposit.
Generally, secured credit cards tend to have lower fees and often offer higher rewards rates, but the initial deposit requirement can make potential applicants think twice. When weighing your options, keep in mind that secured credit card deposits are fully refundable, while unsecured credit cards fees are not. Our list of cards for bad credit include both card types so you can see the differences.
+See More Cards for Bad Credit
Best Cards for "No/Limited" Credit
While those with poor credit will generally have the most difficult time getting approved for a credit card, getting a card with no or limited credit won't exactly be a piece of cake. In the absence of an established credit history to prove you can repay your debts, many issuers will simply assume you can't and reject you accordingly.
The key to finding credit card approval with a limited credit history is to select a card that's actually intended to be used to build credit. A variety of major card issuers offer starter cards that can be obtained even without a long credit history, some of which even let you earn rewards on your purchases. Start your search with our expert-rated options below.
+See More Cards for No/Limited Credit
3. Activate & Start Using Your Card
After you've been approved for a new credit card, you'll need to wait several days — and sometimes several weeks — for your card to arrive in the mail. Before you can start swiping (or chipping, as the case may be), the card will need to be activated. This can typically be done online or through the automated phone number provided on your new card.
Congratulations, you're a fully fledged credit cardholder. Time to get spending, right? Well, not necessarily. Some aspects of credit card usage may need to be addressed shortly after you get your new card, including paying any annual fees, setting up a cash advance PIN, and meeting the requirements for any available signup bonuses.
Annual Fees | Cash Advances | Signup Bonuses
Pay Your Annual Fee Right Away
Often charged by credit card issuers to help cover the cost of a card's perks and rewards, annual fees can range from a reasonable $25 up to a staggering $2,000. And unless your card has a deal that waives the first-year's fee, you'll be charged that first annual fee as soon as you open your account, decreasing your initial available credit before you even activate.
In some cases, these annual fees can be worth paying — such as when the rewards will pay for the fee — but they're hardly necessary for everyone. Given the glut of credit card options in the current marketplace, many quality cards are available sans-annual-fee, including a wide range of rewards cards like those on our list below.
+See More Cards with No Annual Fee
Set Up Your Cash Advance PIN
Another thing you'll want to consider after activating your card is whether you'll be likely to need a credit card cash advance, which allows you to use your credit card to withdraw cash from an ATM or bank. If you think you may want to use your card for a cash advance at some point, you'll need to set up a cash advance PIN with your issuer. This can typically be done over the phone.
Credit card cash advances should only be used if absolutely necessary, as they can be quite expensive. They are typically charged a higher APR than other types of transactions — and there's no interest-free grace period, so that interest starts accumulating right away. Plus, most cards charge a cash advance fee ranging from 3% to 5% of the advance amount. The cards below have some of the lower cash advance fees or APRs available from big banks.
+See More Cards for Cash Advances
Earning the Signup Bonus
While credit card signup bonuses aren't something you need to necessarily address right after you activate your new card, signup bonuses do typically come with a time limit that expires within a few months (often 90 days) of opening your account. Once that time limit passes, you'll no longer be eligible to earn that particular signup bonus.
So, depending on the size of the spending requirement — and the amount you normally purchase with your card — you may need to start using the card right away to meet the requirement before the offer expires. Since these bonuses can easily be worth hundreds of dollars, they're often the driving (and deciding) factor for many cardholders. Check out some of the sweet signup bonuses offered by our picks below.
Getting a Credit Card is Only Half the Battle
People like luxury. That's evident in the abundance of vehicles with six-figure price tags zooming along the roads — and the gem-studded credit cards in the drivers' pockets. And just like you'll need to work hard to get that barely-street-legal sports car, you'll need to jump through plenty of hoops to get your hands on a gold-plated payment card.
Lucky for the rest of us, you can still get a well-appointed, bells-and-whistles vehicle without taking on a second mortgage — and you can also get a hefty half-ounce metal credit card without needing an invitation. In fact, getting the credit card is often the easy part for many consumers; it's using that card wisely that can be a challenge.
Once you have your shiny new card (whatever it's made of), you need to follow the two basic rules of responsible credit card use. The first — and most important — is to always make at least your minimum required payment before the due date each billing cycle. Late payments can kill credit scores.
Secondly, try to avoid carrying a balance on your credit card from month to month. Unless you have some sort of 0% APR offer active on your account, you will be charged interest fees on any balance that remains on your card after the end of the grace period (the time between when you make the charge and when the bill for that charge is due). One of the great things about credit cards is that they allow us to make large purchases without having to lay out the full cash amount up front. But, if you carry the balance of a large purchase over months or even years, you can end up paying massive sums in interest.
And third, never max out a credit card unless you can pay it back before the end of the billing cycle (or shortly thereafter). Not only does carrying a large balance from month to month often mean interest fees, it also results in a high utilization rate being reported to the credit agencies. (Your utilization rate is the ratio of how much debt you're carrying over how much credit is available.)
Advertiser Disclosure
CardRates.com is a free online resource that offers valuable content and comparison services to users. To keep this resource 100% free, we receive compensation for referrals for many of the offers listed on the site. Along with key review factors, this compensation may impact how and where products appear across CardRates.com (including, for example, the order in which they appear). CardRates.com does not include the entire universe of available offers. Editorial opinions expressed on the site are strictly our own and are not provided, endorsed, or approved by advertisers.