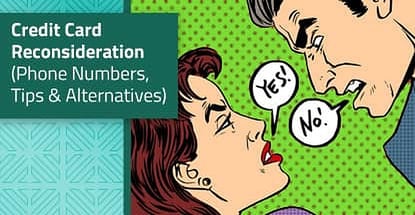 Credit card reconsideration can give you a chance to explain the circumstances behind any negative items on your credit report to a human (not an algorithm).
Some decisions in life are easy to make simply based on the facts at hand. But some first impressions are worthy of reconsideration when the whole story comes to light. For instance, you may be keen to end a first date when the person shows up late — until you find out it was to rescue a puppy from a burning building.
In the same way, the initial decision you receive for a credit card application is based on the facts present on your credit report. But those facts may not tell the whole story.
Phone Numbers | Tips for Success | Other Options
How to Contact an Issuer for Reconsideration
For just about any credit card applicant, seeing the "Pending" response is completely deflating (especially if you grew up in a household where "maybe" always meant "no"). Although you can sometimes simply wait it out and get a positive result, some people have had success calling the credit card company and requesting reconsideration.
Note that reconsideration success seems to vary drastically between issuers, and some issuers may only reconsider applications that contained an error of some kind. Additionally, while some issuers have direct reconsideration lines, the numbers can change from time to time. Additionally, some issuers may require going through a menu or a series of representatives — or even snail-mail — to get to someone with the power to change your approval status.
Amex | BOA | Barclays | Capital One | Chase | Citi | Discover | U.S. Bank | Wells Fargo
American Express Reconsideration Line
American Express doesn't have a specific reconsideration line, so if you're interested in reconsideration for an American Express credit card, you can call the application status line (for new customers) or the general cardholder line (for existing customers).
New Customer: 877-399-3083
Existing Customers: 866-314-0237
You can also check your Amex application status online.
Bank of America Reconsideration Line
To contact a credit analyst for reconsideration for a Bank of America credit card, you can contact the general account/reconsideration line. Note that Bank of America's reconsideration line phone number reportedly changes on a regular basis, so you may have better luck through the general account line.
Reconsideration Line: 866-224-8555
General Account Line: 866-458-8805
To check the status of your Bank of America credit card application, you can call the application status line.
Personal Credit Card Customers: 877-721-9405
Business Credit Card Customers: 800-481-8277
You can also check your Bank of America application status online.
Barclays Reconsideration Line
To talk to a Barclays personal credit analyst for reconsideration of a Barclays credit card application, you can use the reconsideration line. You may also have success through the general card services line. For specific credit line questions, try the dedicated number.
Reconsideration: 866-408-4064
General Card Services: 888-232-0780
Credit Line Questions: 866-408-4064
The general card services line is also where you can check the status of your application, or you can head online to check your application status.
Capital One Reconsideration Line
Capital One doesn't have a dedicated phone line for Capital One credit card reconsideration requests, but you may have luck contacting one of the other customer service lines. Note that Capital One will likely refuse to look into your application until you have received an official email response.
Application Services: 800-625-7866
General Customer Service: 800-951-6951
To check your Capital One application status, you can call the dedicated line (application status is option three as of this article, but may change in the future).
Application Status: 800-933-5182
Unfortunately, you cannot currently check your Capital One credit card application status online.
Chase Reconsideration Line
To contact a representative for reconsideration of a Chase credit card application, you can use the reconsideration line.
Reconsideration (Personal): 888-270-2127
Reconsideration (Business): 800-453-9719
To check the status of your Chase credit card application, you can call the general customer service number or dedicated application status line.
Customer Service: 800-432-3117
Application Status: 800-436-7927
If you already have a Chase online account, you can check the status of a pending application by logging into your account. Otherwise, you cannot check the status of Chase credit card application online.
Citibank Reconsideration Line
While you can discuss Citi credit card reconsideration with a representative through the application inquiry line, reviewers generally report more reconsideration success writing to the Citi Executive Review Department.
Application Inquiries: 800-763-9795
Executive Review Address: CitiBank Executive Review Department, P.O. Box 6000, Sioux Falls, SD, 57117
You can check your Citi credit card application status by calling the dedicated application status phone number.
Application Status: 800-695-5171
You can also check your application status online through the dedicated application status page.
Discover Reconsideration Line
While your Discover credit card application decision is unlikely to be reversed through reconsideration, you can still make the attempt by calling the application services line or the general Discover customer service line.
Application Services: 888-676-3695
Customer Service: 1-800-DISCOVER
The general customer service line is also where you can check your Discover application status, or you can head online to check your status.
U.S. Bank Reconsideration Line
To contact a customer service agent for reconsideration of a U.S. Bank credit card application, you can call the general card services line.
Card Services: 800-685-7680
To check the status of your U.S. Bank credit card application, you can contact the automated credit card underwriting services line.
Credit Card Underwriting Services: 800-947-1444
You can also check your application status online through the U.S. Bank online banking platform.
Wells Fargo Reconsideration Line
To contact a representative to discuss reconsideration of a Wells Fargo credit card application, you can use the reconsideration line.
Reconsideration: 866-412-5956
If you simply wish to check your Wells Fargo application status, you can use the dedicated application status line.
Application Status: 1-800-967-9521
You can also head online to check your Wells Fargo application status through the online portal.
Tips for a Successful Reconsideration Experience
Depending on the issuer, your reconsideration call may be an uphill battle before you even get on the phone. Even for issuers who are generally responsive to reconsideration, what you say on your call — and how you say it — may make all the difference.
First and foremost, if you internalize nothing else beyond this point, remember this: Be Polite. The minute you lose your temper, start using foul language, raise your voice, or otherwise act uncivilized, the representative on the phone will not only likely lose any interest in helping you, but may also be well within their rights to hang up on you.
Once you've made a little small talk with the representative, it's time to get to the nitty-gritty and request reconsideration of your application. If you received a letter or email explaining your denial, this is the time to address the specific issues at hand. If you're unsure of why your application wasn't approved, the representative should be able to tell you.
Pulling your credit reports before calling for reconsideration can also help you determine which accounts were responsible for your application being denied, as well as giving you the facts for a potential explanation. Some items that look bad to a decision algorithm can be easily explained to a human representative.
For instance, a series of recent hard inquiries on your credit report is a common reason for rejection, particularly if they are obviously the result of credit card churning. But if those inquiries were the result of rate shopping for new mortgage or auto loan, many creditors will often overlook them and your application may be approved by the reconsideration representative.
Of course, you'll need to ensure your explanation for any questionable items or accounts is reasonable — and factual. A lie will be caught quickly if the company asks you to provide supporting documentation.
You should also have a legitimate reason for why you wish to obtain a new card, especially if you already have a large number of cards and/or have recently opened several credit cards.
Few issuers will reconsider an applicant who admits they are only after a signup bonus, as credit card churners typically make poor long-term customers.
Instead, be able to explain which specific features of the card you wish to gain, particularly the features that differ from your current cards. This could be things like greater rewards for purchases you make frequently or to take advantage of a lower APR for a balance transfer.
Another common tip for reconsideration success is to leverage any existing relationship you have with the company. If you've had a checking or savings account with the bank for many years, it may be more inclined to reconsider your credit application.
Additionally, some issuers will happily give you another credit card — just not more credit. In these cases, if you agree to close another card and/or transfer available credit from another card with the same issuer, you may earn approval. For example, if you have a Chase Freedom card and want to obtain a Chase Sapphire Preferred card, you may be able to transfer some of your credit limit from the Freedom to the Sapphire Preferred.
Finally, if your best persuasive speaking skills fail to sway your current representative, you can always try to speak with a more understanding person. This may mean escalating the call to a manager, or it may mean hanging up and calling back (many customer service call centers have large numbers of representatives, making it easy to obtain a new rep if you call in again).
If Reconsideration Doesn't Work, Try Another Card
In the end, even your best efforts may not result in your application being approved; some credit card relationships are simply not meant to be. Thankfully, there are plenty more proverbial fish in the credit card sea.
If you're nursing the sting of credit card rejection and worried about being hurt a second time, your best bet will likely be to choose a new card based on your credit — and the card's typical approval range — rather than solely on its perks or rewards. Applying for credit cards you're more likely to qualify for in the first place will minimize your odds of being rejected due to concerns about your credit risk.
Good Credit | Fair Credit | Bad Credit | No/Limited Credit
Best Credit Cards for "Good" Credit
When your FICO credit score is 670 or better, you're generally considered to have "Good" credit. In general, the reasons good-credit applicants get denied for a new credit card are because of too many recent accounts (such as in the case of churners), or because of a limited credit profile (typically a credit history less than year long).
Because each issuer has its own rules and limitations regarding things like utilization rates, number of inquiries, and credit history length, applicants with good credit can usually find another card option simply by changing issuers. Our favorite cards for good credit include cards with rewards, awesome intro-APR deals, and some without annual fees.
+See More Cards for Good Credit
Best Credit Cards for "Fair" Credit
Whether you're building credit for the first time or rebuilding after hitting some bumps, a FICO score between 580 and 669 means you have "Fair" credit. Typical denial reasons for fair-credit applicants will often be based on a limited credit history or whatever negative items caused your credit score to fall into the fair range.
To limit denials — and, thus, reconsideration calls — you should first check for pre-qualification offers with your desired issuer. Pre-qualification uses a soft credit inquiry (which won't hurt your credit score) to estimate your approval chances. Not being pre-approved may mean you should select a different issuer. You can compare fair-credit options starting with our expert-rated picks below.
+See More Cards for Fair Credit
Best Credit Cards for "Bad" Credit
When your credit score falls below 580, you are considered to have "Bad" credit. And that bad credit is very likely why your application for a new credit card was denied in the first place, which means your chances of a successful reconsideration are small if you've applied for a card outside your credit range.
With bad credit, the best way to obtain a "yes" on your application is to apply to an issuer who specifically accepts poor-credit applicants. This may mean applying for a subprime unsecured credit card or opening a secured credit card. You can begin exploring your options with some of our top poor-credit cards.
+See More Cards for Bad Credit
Best Credit Cards for "No/Limited" Credit
Regardless of how nice your credit score looks, if you have less than a year (or, for some issuers, two years) of credit history, you will appear to be a risky applicant to many credit card companies. In some ways, a limited credit history is the easiest denial reason to explain during reconsideration, especially if what payment history you do have is all positive. After all, everyone starts somewhere.
That being said, you can improve your chances of being approved upon application by simply choosing a credit card designed to help new cardholders establish credit. This may mean a student card (most don't actually require you to be a student to apply), a secured card, or an unsecured starter card from a major issuer. Take a look at our list of cards for no/limited credit to get started.
+See More Cards for No/Limited Credit
Rejection Isn't Always the End
Whether it's an application for a new credit card or being stood up for a blind date — rejection sucks. But while nobody likes to feel as though they weren't up to snuff, sometimes all it takes is a little more information to make someone reconsider their first impression.
So, the next time you apply for a credit card and see the dreaded "Pending" screen (or, worse, get rejected outright), remember that it doesn't mean all is lost. A phone call, a friendly tone, and a reasonable explanation may be all you need to enjoy a successful reconsideration and put that new piece of plastic in your pocket. After all, life is full of twists and turns and many of them are out of our control. And the reasons for those twists and/or turns are not always evident on a piece of paper or electronic form.
Advertiser Disclosure
CardRates.com is a free online resource that offers valuable content and comparison services to users. To keep this resource 100% free, we receive compensation for referrals for many of the offers listed on the site. Along with key review factors, this compensation may impact how and where products appear across CardRates.com (including, for example, the order in which they appear). CardRates.com does not include the entire universe of available offers. Editorial opinions expressed on the site are strictly our own and are not provided, endorsed, or approved by advertisers.