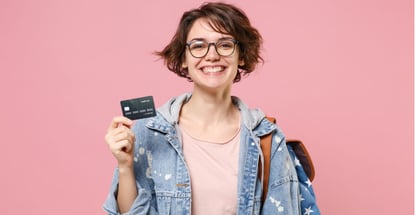 College students — and their parents — can easily become overwhelmed with the many choices of good credit cards for students. The question then becomes: Which student credit card is the best?
The answer depends, in part, on the student's personal situation and his or her needs and expectations for their card. The "best" student card for one student may not be the best student card for another.
Cards are generally targeted to potential customers based on their credit scores, income levels, or both. Since students tend to have short credit histories and little income, most student cards are designed with those parameters.
Compared with other types of cards, student cards usually have easier qualifying requirements, lower fees, and fewer benefits or rewards.
One benefit of all student cards is the opportunity to start building a credit score. A good score can help you get a job, rent an apartment, finance a car, buy a home, or accomplish other financial goals throughout your lifetime.
This step-by-step guide should help you figure out which student credit card may be the best for you or your child.
Step 1: Check Your Credit Scores
The first step in choosing any credit card is to find out your credit scores.
That may not seem necessary for a student who has no experience with credit, but it's still a good idea because a credit history may exist, and it could contain errors. Mistakes in a credit history can result in a lower credit score.
Credit scores are generated by algorithms that analyze credit histories.
Making on-time bill payments and having a low credit utilization ratio, a long credit history, and a good mix of different types of credit tend to generate higher scores. Having a history of late payments, maxed-out credit limits, a short or "thin" credit history, and a limited mix of credit tend to generate lower scores. Combinations of these factors may produce good or fair scores.
Many people believe they have only one credit score. But in fact, most people have multiple scores. Perhaps the most widely used is the FICO score, which ranges from 300 to 850.
On this scale, scores of 740 or higher are "excellent." Scores between 670 and 739 are "good." Scores from 580 to 669 are "fair," and scores lower than 580 are "poor." These categories are somewhat fluid but may be helpful as general guidelines.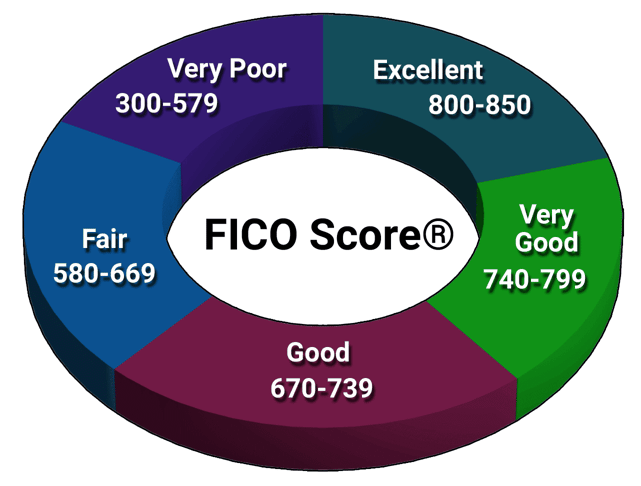 To get free copies of your credit reports from each of the three credit bureaus, visit www.annualcreditreport.com. If you find mistakes on your reports, contact the credit bureaus and ask to have them corrected.
Many financial companies offer free credit scores. You can also purchase your credit scores online.
Step 2:  Research Student Cards
Once you've reviewed your credit scores, you're ready to shop for student cards that fit your needs. Four factors to consider are rates, fees, rewards, and co-branding:
Rates
Credit cards tend to have relatively high interest rates when compared with other types of debt. These rates, known as annual percentage rates or APRs, are used to calculate how much interest you'll be charged if you don't pay off your balance in full every month.
Cards may have more than one APR. For example, you could be charged a lower, introductory, promotional 0% APR for a set number of months when you first get your card, or you could be hit with a higher penalty APR if you make a late payment.
Fees
Student cards may charge a variety of fees. Examples include an annual fee, a balance transfer fee, a foreign transaction fee, and a late payment fee.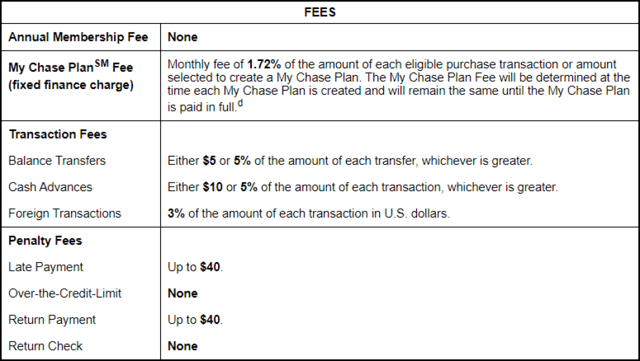 If you choose a card that doesn't charge an annual fee and you use the card responsibly, you may be able to charge purchases for many years and never pay any fees at all. Most student cards don't charge an annual fee.
Rewards
Rewards cards give you bonuses as incentives to use your card more often. The most common rewards for student cards are cash back or points, you can redeem for travel or other goods and services.
Another type of reward is a welcome bonus, which provides you with extra cash back or points if you charge a certain dollar amount of purchases within a set number of months when you first get your card.
Some cards reward you with statement credits for referring friends who get approved for the card.
Student cards generally don't offer premium rewards, but several good student credit cards offer nice rewards programs.
When you research student cards, you may want to consider the best travel cards for students, best cards for paying tuition, best cards for students with no income, best cards for medical students, or best cards for grad students.
Co-Branded Cards
Credit card companies issue co-branded cards in partnership with non-card companies, such as a college or university. Co-branding lets the card company offer specific or exclusive rewards to be used with the non-card company. 
Some co-branded student cards can be used as a student ID and a credit card, which gives them added convenience.
A co-branded student card may not be the best card for you, even if you're a student at a college that issues this type of card. Shop around and compare APRs, fees, and rewards before choosing the card you want.
Step 3: Apply For a Student Card
When you find a student card you like, you should be ready to go ahead and complete an application. Most card companies let you apply online, which makes the process faster and easier.
When you fill out your application, you'll be asked for personal information, such as your name, address, date of birth, and income. If you're younger than 18, you'll have to wait until you're at least that old to apply for a credit card.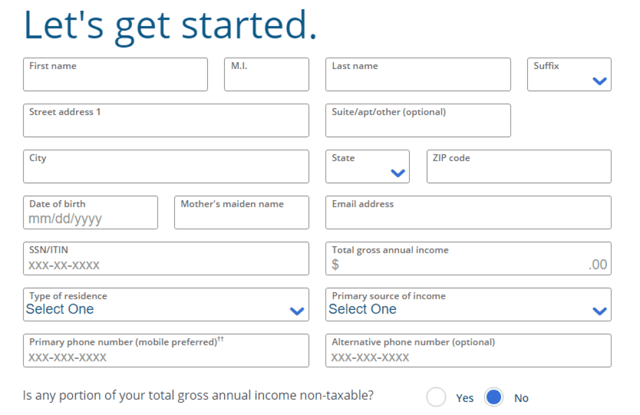 If you're 18, 19, or 20, you'll need an independent source of income or an adult cosigner to be approved.
Independent income can come from a job, grant, or scholarship. It cannot come from a student loan, debt, or an allowance or monetary gifts, such as from your parents or other family members or friends. You can use an adult cosigner's income to qualify for your card.
If you're 21 or older, you'll typically still need a source of income or a cosigner to be approved.
Once you submit your application, you may find out almost immediately whether you've been approved, or the process may take a few days or weeks. In some cases, the card company may contact you for additional information to complete your application.
Best Cards For Students
These top-five student cards are issued by major card companies, have no annual fee, and come with various cash-back or points-based rewards and other benefits. (Card offers are subject to credit approval and may change or expire without notice.)
This card offers a cash back rewards program and a welcome bonus that doubles your cash back at the end of your first year. Other perks include a statement credit reward when you refer friends who get approved for the card as well as introductory APR offers on both purchases and balance transfers.
This card offers cash-back rewards and a first-year cash-back match. Statement credits can be earned when you refer friends who are then approved for the card. Additionally, a free Credit Scorecard includes your FICO score along with other credit information. There's no late fee for your first late payment and no penalty APR for late payments.
This card offers a promotional 0% APR for new purchases and balance transfers (a balance transfer fee applies). The cash back rewards program lets you choose the spending category in which you earn the most cash back. You'll also get a welcome bonus if you meet the minimum spending requirement in the first 90 days of card ownership. This card can be linked to a Bank of America checking account to cover overdrafts.
Though this card is marketed as a cash back card, its cardholders earn valuable Ultimate Rewards® points. These points can be redeemed for statement credits, merchandise, gift cards, experiences, or applied toward purchases on Amazon.com. This card also comes with purchase protection, extended warranty protection, and trip cancellation insurance.
Options If You Don't Qualify For a Student Card
If you're not able to get approved for a card the first time you apply, you still have options to become a card user.
Apply for a secured card. One option may be to apply for a secured card, which requires a deposit and usually has a low credit limit. The advantage of this type of card is that it may help you build a track record of making on-time payments and using credit responsibly. Some secured cards can be converted into unsecured cards after you've made a number of on-time payments. If you're a student shopping for a secured card, you may want to consider a secured card with no annual fee or a secured card with a low deposit requirement.
Become an authorized user. Another option if you don't yet qualify for a student card may be to become an authorized user on someone else's card. An authorized user is a secondary cardholder who has many, but not all, of the primary cardholder's privileges. You'll receive a card with your name on it and you'll be able to make purchases with the card, but you won't be able to make changes to the account, such as requesting a higher credit limit or adding other people as authorized users. The primary cardholder is responsible for making the card payments. Some cards have a minimum age for authorized users, but many others don't.
Getting a secured card or becoming an authorized user can help you build your credit history, which could then enable you to apply and be approved for a student card on your own.
Researching Your Options Is Worth the Effort
Choosing a good student credit card may take a bit more time than you'd expect, but it's well worth the extra effort to follow these steps and choose a card that's a good fit for you.
With your new card in hand, you'll be ready to make purchases, earn rewards, and build a credit history that could unlock other credit opportunities throughout your life.
Advertiser Disclosure
CardRates.com is a free online resource that offers valuable content and comparison services to users. To keep this resource 100% free, we receive compensation for referrals for many of the offers listed on the site. Along with key review factors, this compensation may impact how and where products appear across CardRates.com (including, for example, the order in which they appear). CardRates.com does not include the entire universe of available offers. Editorial opinions expressed on the site are strictly our own and are not provided, endorsed, or approved by advertisers.