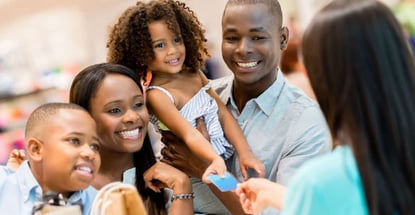 Owning one of the best credit cards for families seems like an intelligent response to these challenging times. Maybe you can't do much about the world's economic and political uncertainties, but you can ensure you get top card membership rewards and benefits on almost everything you purchase. 
Families can consume mountains of food, require gas-guzzling chauffeuring, and turn travel into chaos. If that sounds like your clan, the credit cards in this review can save you money and perhaps make your activities a bit more fun. 
Skip to the best cards for:
Best Family Credit Card For Groceries
Shopping for a family, especially a large one, can be a nightmare. If your regular trip to the grocery store involves two shopping carts, you'll love the Blue Cash Preferred® Card from American Express.
This is far and away the best credit card for grocery store purchases. Its gas rewards are pretty good, too. With a relatively moderate annual fee and an intro 0% APR promotion, you'd be hard-pressed to find a credit card friendlier than the Blue Cash Preferred Card for you and your hungry brood. 
Best Family Credit Card For Gas
The Citi Custom Cash℠ Card is a gas card, but only if you so choose. Your previous month's top eligible spending category automatically earns the highest cash back rate, which applies to the first $500 you spend.
The gas category excludes gasoline purchases at warehouse clubs, discount stores, convenience stores, or other merchants that do not use the gas station category code. Citi Custom Cash alerts busy parents via email or mobile app about payment due dates, low balances, and overdraft attempts.
Best Family Credit Card For Dining Out
Family visits to restaurants, even those that serve fast food, can put a dent in your budget. The American Express® Gold Card pays generous Membership Rewards on dining out, takeout, and meal delivery to households with excellent credit.
While the annual fee for the Amex Gold Card is high, you'll earn almost half of it back if you regularly get meal deliveries from Grubhub. Add in the lucrative signup bonus and travel perks and credits, and you're likely to come out well ahead. 
Best Family Credit Card For Everyday Spending
Everyday spending happens every day when you're taking care of your family. The Chase Freedom Flex card provides generous rewards on many types of spending, from quarterly bonus categories to travel, dining, and drugstore purchases.
The card frequently offers a signup bonus and an intro 0% APR on purchases and balance transfers. Chase Freedom Flex℠ also provides family-friendly memberships and discounts, plus Mastercard World Elite® benefits such as cellphone protection and zero liability for fraudulent purchases.
Best Family Credit Card For 0% Interest
Families frequently face big-ticket purchases, from 80-inch TVs to triple-capacity washing machines. Chase Slate Edge℠ gives new cardmembers a long introductory period of 0% APR on purchases (and balance transfers too). 
The card doesn't dilute your rewards with an annual fee and will review you for a higher credit limit after six months. Moreover, you can earn a lower interest rate — all the way down to Prime — each year you spend a set amount without missing a payment. 
Best Family Credit Card For Travel
The Chase Sapphire Preferred® Card offers bonus points worth 1.25X more when you redeem them with Chase Travel on the Chase Ultimate Reward website. Just think — you could add an extra day to your four-day hotel stay when you pay with those bulked-up points. 
The Chase Sapphire Preferred® Card pays its highest rewards rate for hotel stays and other travel expenses booked through the Chase Ultimate Reward website. It also provides an annual hotel credit, trip cancellation and baggage delay insurance, and a 10% anniversary bonus point boost.
Best Family Credit Card For Amusement Parks
Family life can be a rollercoaster, especially when you spend a day or two at an amusement park. The Capital One SavorOne Cash Rewards Credit Card can smooth out the bumps with bonus rewards on entertainment and dining expenses, including amusement and theme park purchases.
The card's customary signup bonus and 0% intro APR can make your experience more affordable. You also get 24-hour travel assistance, complimentary concierge services, and travel accident insurance. You can redeem your rewards for a statement credit, gift card, or in several other ways.
Best Premium Family Credit Card
The Chase Sapphire Reserve® is our favorite premium credit card for families, and one of the best credit card offers on the planet. This rewards card provides emergency evacuation services should a family member experience an injury or illness on a trip abroad, among several other industry-leading travel insurance benefits. 
The card is chockablock with perks that repay the steep annual fee. If you like to travel, the free airport lounge access for you and your family can justify the yearly charge. You also receive several annual and monthly credits, such as reimbursement for TSA Precheck and Global Entry fees.
Best Credit Card For Families With Poor Credit
Even though the Capital One Quicksilver Secured Cash Rewards Credit Card is for applicants with no or poor credit history, it will still pay you cash back on every purchase you make. Pay your balance in full each month to reap the rewards and see upward progress in your credit score over time.
You'll need to a pay a security deposit to get this card, but the full amount is refundable as soon as six months when you consistently pay your monthly bill on time. There's no annual fee or monthly service fee that many unsecured cards for bad credit charge, making this a much cheaper option for building credit in the long run.
How Do I Choose The Best Credit Card For My Family?
"One size fits all" definitely does not apply to family credit cards. Households have widely differing needs, depending on various factors, starting with their makeup.
A married couple may be satisfied with a general-purpose rewards card that offers the same amount of cash back on all purchases. But add children, and suddenly you're spending money on many new products and services. 
Shopping for groceries and clothing becomes more extensive and more expensive. Chauffeur duties require more fill-ups at the pump. Travel, entertainment, and dining all become more elaborate and costly.
Depending on your family's composition, you want to own credit cards with the rewards that best suit your spending needs.
Income is another important factor influencing a family's choice of cards. Folks living on a tight budget don't typically splurge on premium credit cards with three-digit annual fees. On the other hand, affluent families may be willing to pay for expensive credit cards loaded with perks such as airport lounge access.
Life events, such as getting married, purchasing a house, and childbirth, often involve significant buying sprees for big-ticket items. A new credit card with generous introductory promotions and a healthy credit limit comes in handy when the bills for new appliances and furniture mount quickly. A large signup bonus and an intro 0% APR will reduce the overall cost of major purchases.
Your credit card choices are virtually unlimited if you have good or excellent credit. Not so if you have fair or bad credit. If you fall into the latter category, obtaining a credit card that pays rewards and doesn't impose high fees will be a victory. 
Families with poor or no credit may do best with secured credit cards. They are easy to get if you can afford the refundable deposit. As an extra benefit, secured cards are more likely to offer perks and cost less than unsecured cards for subprime consumers.
Sending children off to college is an opportunity for them to own credit cards, perhaps for the first time. Student credit cards may offer the best deals in the industry, as they don't require any credit history for approval and often pay rewards and credits. Students under 21 years of age must demonstrate income or have a cosigner to qualify for a credit card. 
Families that like to take trips may want to own one or more travel rewards credit cards. These pay rewards in miles and points, especially for travel-related purchases — flights, hotel stays, rental cars, cruises, etc. 
The bonus point balances on several premium travel rewards cards gain extra value when you redeem them through the issuer's travel portal, i.e. Chase Ultimate Rewards, Capital One Travel, etc. 
Families can choose to own general-purpose travel cards that save money on all flights, co-branded cards for specific brands, or a mix of both. Some travel cards offer multiple credits, such as for Global Entry or TSA Precheck reimbursements.
Once you assess your family's overall credit needs, you'll have an idea of how to narrow your choices based on several credit card attributes, including:
Credit requirements: These depend on your FICO score and credit report. 
Signup bonuses: Check the amount of spending required during the introductory period and the size of the bonus.
Introductory 0% interest rate: If offered, see how long it lasts and if it also applies to balance transfers.
Purchase APR: This may be a single percentage or a range, no higher than 36%. The card may have different balance transfer and cash advance APRs. Some cards impose a penalty APR if you miss a payment.
Fees: These include the annual fee plus charges for late payments, cash advances, balance transfers, additional cards, etc. Many cards also charge foreign transaction fees. Cards for subprime consumers may tack on signup and monthly maintenance fees.
Grace period: This is the interest-free period between the end of a billing cycle and the payment due date. If present, it must last at least 21 days. Avoid cards that do not have a grace period.
Rewards: These may take the form of bonus points, cash back, or miles. Some rewards cards pay a flat, single-tier reward on all purchases. Others provide multitiered rewards based on merchant type (e.g., airlines, hotels, restaurants, etc.). Cards may offer quarterly rotating merchant categories that you must activate to receive bonus rewards. Issuers may place quarterly or annual limits on rewards.
Benefits: Cards may offer broad categories of benefits, such as those related to travel, consumer protections, and credit monitoring.
Credit line: Your credit line is the amount you can charge with your credit card. It can range from $200 to more than $100,000. For virtually all secured cards, the credit line equals the security deposit.
Balance transfer availability: Many credit cards let you consolidate the unpaid balances from other cards. Seek out balance transfer promotions featuring an introductory 0% APR for new card members.
If you start with a secured credit card, you'll want to know how long it will take to graduate to an unsecured one.
Can I Get a Credit Card For a Family Member?
Virtually all credit cards allow cardmembers to add authorized users to their accounts. Authorized users can be added to a credit card account by the primary cardholder and charge purchases with their card, but they are not legally responsible for making payments. 
Married cardmembers routinely make their spouses authorized users. You can also add children, although some cards set minimum age limits:
American Express: 13 
Bank of America: None
Barclays: 13 
Capital One: None
Chase: None
Citi: None
Discover: 15 
US Bank: 16
Wells Fargo: None
Some issuers charge a one-time fee for each additional card.
There are several good reasons to make your children authorized users of your credit card:
Establishing a credit history: By starting early, your child can build a good credit score and a solid credit report that facilitate lower interest rates on loans and credit cards, often without you needing to be a cosigner.
Obtaining protection: Credit cards provide $0 liability protection when lost or stolen. Some also offer purchase protection against theft or damage to recently bought items.
Earning rewards: Cardowners collect the rewards earned by their children, often as a statement credit or gift card. This teaches kids a valuable lesson. 
Handling emergencies: A credit card can reassure minors that they won't suddenly find themselves stranded without money to pay for a meal or a tank of gas. 
Learning about personal finance: Parents can teach their children how to manage credit, avoid interest expenses, and reduce credit utilization. A few issuers let you set lower credit limits for authorized users and monitor their spending in real time.
As mentioned, a parent (or another responsible adult) must cosign a student credit card application for children between ages 18 and 21 who don't earn an income.
How Many Credit Cards Does My Family Need?
The following data collected from Experian can help clarify how much credit your family may need: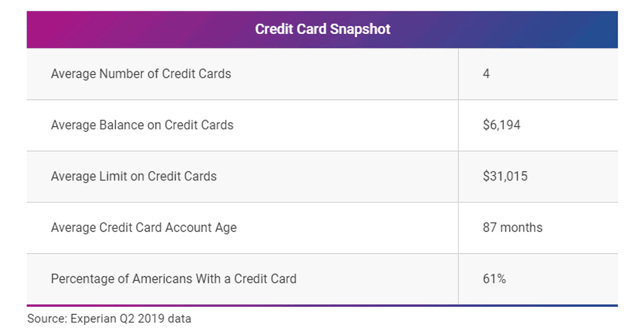 If your family owns four credit cards with a total credit limit of around $31,000, it's about average for the US, where 61% of consumers have at least one credit card. These numbers exclude student loans, mortgages, and other types of debt.
Your family decides how many credit cards to own, and some think the correct number is zero. That's certainly one way to avoid debt, but it is not without cost. If you don't own a credit card, it becomes harder to finance purchases of big-ticket items, which can negatively impact your lifestyle. 
Ask yourself whether your family can purchase whatever it wants with your current credit cards and whether your credit score would improve if you altered the number of cards you own. The answer to the first question depends on your spending needs versus your credit limit, and whether you have to depend too much on your debit card.
The second question pertains to your credit utilization ratio (i.e., credit spent divided by total credit available), which ideally should be below 30%, as higher ratios can damage your credit score. If your CUR is too high, you may benefit from additional credit cards to increase your available limit, as long as you don't use them to go on a shopping spree — consider using your debit card instead.
Here is an example of CUR calculated on three separate card accounts:

You should reassess your use of credit if you find it hard to pay your monthly credit card bills. But don't cancel old credit card accounts as this may hurt your credit score.
How Do I Protect My Family From Credit Card Fraud?
Credit cards routinely provide $0 fraud liability protection against card loss or theft. Naturally, you want your family to use their credit cards safely, such as by:
Observing proper password security, including using strong unique passwords you don't use elsewhere, and changing them every six months. 
Using two-factor authentication whenever you make an online purchase. This requires the merchant to send you a secret code (by email or phone) to enter before you can use the card. 
Not sharing your credit card number on public networks. When using public wifi, you can defeat hackers by configuring your computer with a Virtual Private Network (VPN). 
In addition, don't click on email links, even if you recognize the sender. Phished emails lead to identity theft. You can avoid this by contacting the sender independently of the email. 
It's a good practice to sit down with family members to discuss proper procedures for using your credit cards safely.
Your Family Deserves Great Credit Cards
Your loved ones deserve nothing but the best. Our article about the best credit cards for families is one way to ensure they get it. Whether you need just a single card or a dozen, you will get the most value by choosing cards that receive top ratings. 
Our ratings are independent and unbiased, so you can count on them to give you the facts without any nonsense.
Advertiser Disclosure
CardRates.com is a free online resource that offers valuable content and comparison services to users. To keep this resource 100% free, we receive compensation for referrals for many of the offers listed on the site. Along with key review factors, this compensation may impact how and where products appear across CardRates.com (including, for example, the order in which they appear). CardRates.com does not include the entire universe of available offers. Editorial opinions expressed on the site are strictly our own and are not provided, endorsed, or approved by advertisers.