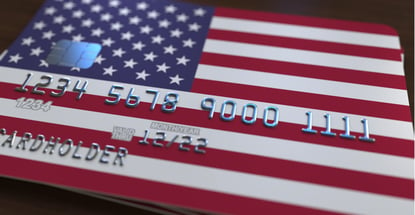 Even in the era of touchless pay, the credit card remains one of the most popular methods of payment in the United States consumer credit environment. In fact, many, if not most, touchless pay options are tied to a credit card account. So, while there is no physical plastic being exchanged, a credit card is still being used to buy goods and services.
You're not at all atypical if you use several credit cards. In fact, you should consider yourself to be an average Joe. Credit card accounts are so common in the United States that when you meet someone who has successfully managed to avoid using them it may seem a little strange.
The Average Number of Credit Cards Held by American Consumers is 4
Most Americans who have credit cards don't have just one. Rather, plastic users generally have several open credit card accounts. According to Experian, one of the three major credit reporting agencies, the average American has four credit cards.
And while the so-called credit and budgeting experts seem to have strong opinions about how many credit cards is the "right" number for consumers to have, the optimal number doesn't have anything to do with your ability to stick another card in your wallet. I'll address this more fully a little later.
The majority of consumers in the United States — 61% to be exact — have at least one open credit card account. In 2019, the combined average credit limit available to Americans across the average four accounts they held was a little over $31,000, according to Experian.
It's certainly not a bad idea to have several credit cards in your wallet or at least available to you when you need them. After all, credit cards generally come with a lot of nice perks, including valuable rewards, cash back, zero-interest grace periods, fraud protection, and more. If you do have credit cards, however, you should aim to manage them responsibly.
Unfortunately, not everyone follows this advice to manage their cards properly. In fact, one of the reasons credit cards are so unfairly vilified is the debt on a credit card account can get very expensive to service if you're carrying large balances from month to month, a practice called revolving.
Most consumers carry credit card balances. The best way to manage your credit cards is to pay them off every month, without exception. If you are able to do this, then interest rates become irrelevant because there is no interest. Yet in late 2019, Experian revealed that 75% of consumers with credit cards carry an average balance of more than $6,200 on their accounts.
That's certainly not the best practice as it pertains to credit card usage and here's why: The average APR on credit cards during the first quarter of 2020 was 15.09%, according to the Federal Reserve. That's likely the highest APR you'll ever have on any of your extensions of credit.
Subprime consumers carry more credit card debt compared to consumers with higher credit scores. Consumers with an average FICO Score of 628 carried an average credit card balance of $6,489, according to Experian.
For context, a FICO score of 628 is 78 points below the national average of 706. The correlation shouldn't surprise you. Low scores indicate poor credit management and carrying large balances falls into that category.
Despite these numbers, Experian also reports that the Coronavirus pandemic seems to have resulted in some positive trends among credit cardholders, at least initially.
American credit card holders have been paying down their account balances in recent months. According to Experian, the average credit card balance was $5,338 in May 2020. That's a decrease of 14% compared with January of this year when the average credit card balance was $6,193.
Lower balances often result in lower credit utilization rates and higher credit scores. Average consumer credit utilization dropped to 25% from 30% in May 2020. At the same time, the average VantageScore went up by five points.
The utilization ratio, which is the numeric relationship between your credit card balances and your credit card limits, is a very important credit scoring metric in both your FICO and VantageScore credit scores.
Credit Cards Can Support Your Credit-Building Journey
Credit cards are useful tools that can benefit you in many ways. They offer portable capacity or buying power.
Credit cards are one of the only credit products where interest is optional (the other is a home equity line of credit). The fraud protections on credit cards are almost unmatched. And the rewards you can earn from buying things you were going to have to buy anyways are almost like free money.
Another one of the best things about credit cards is their ability to help you build and improve your credit scores and credit reports. Of course, whether your credit cards benefit or damage your credit scores ultimately comes down to how you choose to use them.
Do you want credit cards to help you with your credit-building journey? If so, these expert tips can help you make the most of your credit card accounts.
The Optimal Number of Credit Cards
Some people would have you believe the optimal number of credit cards is zero. That may make for good blogging and television, but it doesn't make any practical sense unless you want to regress to the time when we carried around a checkbook and wads of cash.
Credit cards are and will continue to be an important consumer credit product. If you manage them properly there should be no issues. If you mismanage them, then yes, you're going to get yourself in trouble.
But you can say the same thing about mortgages, student loans, auto loans, and any other form of credit. The point being, the potential downside to credit isn't reserved solely for credit cards.
The right number of cards isn't some mystical number that nobody can logically explain. No, the optimal number of credit cards is a real thing and can be determined by answering two simple questions:
Am I able to buy whatever I want with the card or cards in my possession?
Do I have the optimal number of credit cards for the health of my credit scores?
If you can answer "yes" to both of those questions then you have the "right" number of cards. If you answered "no" to either question then you don't have the optimal number of cards and may need more.
Here's how you can tell if you have the right number of cards for your credit scores.  We know that the optimal credit utilization ratio is less than 10%, in fact, it's 7%, according to FICO. That means consumers with the highest credit scores in this country (785+) have an average credit card utilization ratio of 7%.
Now that you know the goal is less than 10%, all you have to do to find out where your ratio stands is take your average monthly credit card balances and divide that figure by your total credit limit on your open credit card accounts, even if you're not using them.
For example, if your average monthly balance across your cards is $2,000 and your aggregate credit limit is $25,000 or higher, your utilization ratio is already less than 10% ($2,000 divided by $25,000 = 0.08 or 8%.)
Taking into account your own personal scenario, if your ratio is considerably above 10%, then you need more credit cards, but not more credit card debt. This can also be achieved by requesting a credit limit increase.
In this hypothetical scenario, the right number of cards should be higher than however many you have right now.
Is Your Credit Card Strategy Working for You?
It's interesting to see how you measure up compared with others in terms of your number of credit cards. But, in reality, the number of credit cards in your wallet isn't all that important.
Instead, credit scoring models like FICO and VantageScore pay attention to how you use the credit card accounts you have rather than the number of cards you have. There is no metric in either scoring system that penalizes you for having too many credit cards. It simply doesn't exist.
You can earn good credit scores with one credit card in your wallet — or with a dozen. The goal is to consistently practice good credit management habits over time, like those outlined above.
Advertiser Disclosure
CardRates.com is a free online resource that offers valuable content and comparison services to users. To keep this resource 100% free, we receive compensation for referrals for many of the offers listed on the site. Along with key review factors, this compensation may impact how and where products appear across CardRates.com (including, for example, the order in which they appear). CardRates.com does not include the entire universe of available offers. Editorial opinions expressed on the site are strictly our own and are not provided, endorsed, or approved by advertisers.