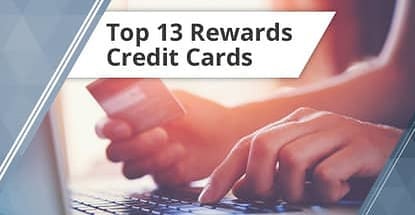 credit card advice

Edited by: Lillian Guevara-Castro
Lillian Guevara-Castro
Lillian brings more than 30 years of editing and journalism experience. She has written and edited for major news organizations, including The Atlanta Journal-Constitution and the New York Times, and she previously served as an adjunct instructor at the University of Florida. Today, she edits all CardRates content for clarity, accuracy, and reader engagement.
See full bio

»
It's hard to pinpoint which card is the very best rewards credit card because features that may be the most appealing to one consumer may not be as important to another. Determining which card is best means determining which one is best for you, out of the selection of quality credit cards out there.
Whether it's points, miles, or cash back, rewards credit cards offer tremendous opportunities to earn bonuses based on your purchases. If you choose a card with a rewards program that supplements your spending, you can enjoy deals like deep discounts on travel expenses, restaurants, entertainment purchases, and much more.
Our experts have rounded up 13 of the top credit cards in multiple rewards categories, so use the navigation to jump to the type of reward you're most interested in, or to find the best deal based on your current credit rating.
Travel | Cash Back | Airline | Gas | Hotel |
Balance Transfer | Points & Gifts | Business | Students
Good Credit (700+ FICO) | Fair Credit (630-700) | Bad Credit (Below 630) | No Credit
1. Top "Travel" Rewards Card
With a travel rewards credit card, you can earn points on most purchases that can be redeemed for travel-related goodies, like hotel stays and plane tickets. These cards are often equipped with some of the best travel insurance programs, such as lost luggage and rental car coverage. Once you earn enough points, you can unlock great deals on qualified travel purchases through the card's website.
Be mindful of annual fees, as these types of cards often carry one due to the many perks offered. Our favorite travel rewards card has no foreign transaction fees (important for overseas travel), a generous sign-up bonus, and a competitive APR:
+ See more travel rewards cards
2. Top "Cash Back" Rewards Card
Cash back, which returns a percentage of each purchase amount to you, remains one of the more straightforward and popular rewards programs. You have a few options for redeeming this type of reward, including receiving the cash back you've earned as a statement credit, in the form of a check, or applying it toward merchandise or travel purchases in the issuer's online portal.
The most you can typically expect to earn on everyday purchases is around 2%. However, there are many cash back cards that can earn far more in rotating categories, such as our top pick below:
+ See more cash back rewards cards
3. Top "Airline" Rewards Card
Airline reward cards allow you to rack up air miles with most purchases, making it a great choice for frequent fliers. Cardholders can often earn even more miles when using the card to purchase travel related items, such as plane tickets. Miles can then be redeemed for a discounted or free flight, depending on how many miles are accrued.
While many of these cards charge an annual fee or make you join a frequent flyer program, we consider this Discover card the best airline rewards credit card because it doesn't tie you to a specific airline — this means no blackout dates or travel restrictions! Simply redeem rewards for purchases you make with the card in the form of a statement credit.
4. Top "Gas" Rewards Card
Whether you have a long commute to work or just like to take frequent road trips, you may find a gas rewards card beneficial to you. These cards reward you, generally in the form of cash back, on all of your gas station purchases. Oftentimes you can earn up to 3% back, but you can earn a larger percentage on gas purchases on cards that offer fuel as a rotating category.
The Chase Freedom Flex℠ offers gas as a rotating bonus category for at least one quarter each year, making it one of our favorite gas rewards cards:
5. Top "Hotel" Rewards Card
If you've been looking into this type of card, you've likely seen many offers touting the best hotel rewards credit card as a branded option with one of the large hotel chains. Those deals may seem hard to beat, but they also have drawbacks, such as tying you specifically to that chain. What if the city you're visiting doesn't have that brand of hotel?
You can actually earn excellent hotel rewards through general travel cards too, which allows you to redeem the points toward many hotels, not just one chain. Once you've racked up enough points, simply book your hotel through the credit card website to ensure the purchase is made with your rewards. We love the following card because it allows you to redeem points at any hotel with no blackout dates, and always offers a generous sign-up bonus:
6. Top "Balance Transfer" Rewards Card
If you're looking for a great balance transfer credit card that comes with a rewards program, you have several great options. Most people seek balance transfer cards to avoid paying a high interest rate on their current card by transferring its balance to a new card offering a 0% APR period, which can last anywhere from six to 18 months.
Always check the fine print for balance transfer fees and the APR after the introductory period ends, but once you find the card that best suits you, you'll be ready to earn rewards on each new purchase with the card. Our top balance transfer pick has a great rewards program and a lengthy 0% interest time frame:
+ See more balance transfer cards
7. Top "Points & Gifts" Rewards Card
Points-based credit cards allow you to earn rewards by offering multiple points per dollar spent on most purchases, with additional points in rotating categories like entertainment and dining. If restaurant purchases fetch two points per $1 spent, it's easy to see how quickly the rewards can add up.
Points can be redeemed toward purchases through the card's online storefront, and you can often find deals by going through the rewards program to make a purchase rather than redeeming your rewards for a statement credit. The card below provides one of the best credit card rewards programs for earning points, however you decide to use them:
+ See more points & gifts rewards cards
8. Top "Business" Rewards Card
If you run your own business, there are rewards cards tailored to your needs, too. For these types of cards, you can earn bigger bonuses for business purchases, such as regular office expenses or shopping at office supply stores. Most of these cards offer a hefty signing bonus if you spend enough during the first three to six months of owning the card.
Take note that the spending requirement to earn the sign-up bonus is typically higher than a personal credit card because the expectation is that businesses cost more to run and will spend more than an individual. Our best business rewards credit card includes a nice signing bonus on top of everyday cash back rewards:
+ See more business rewards cards
9. Top "Students" Rewards Card
Traditional student credit cards often serve up the memory of a "starter card" with limited functionality, but today's student credit cards are powerful tools for students to build their credit and earn rewards.
Annual statement credits for good grades, no annual fees, rewards programs, and competitive APRs make the notion of a starter card for students obsolete. Our top choice for students is below, and it offers some great perks, including rewards:
+ See more student rewards cards
10. Top Rewards Card for "Good" Credit
If you've paid your bills on time, had your lines of credit for a while, and kept your credit utilization under 30%, you've likely earned yourself pretty good credit, which is typically considered to be a FICO score above 700. With good credit, there are quite a few options for a rewards card that provides a competitive cash back or points program.
The following reward card offers an outstanding cash back percentage on every purchase with no limits, no restrictions, and no expiration to the rewards:
+ See more cards for good credit
11. Top Rewards Card for "Fair" Credit
Even if you may have missed a few payments or have a high credit utilization ratio, there are several rewards credit cards for fair credit, or those with a FICO score between 630 and 700. If you can get your credit utilization to 30% or less, prioritize your monthly payments, and have a healthy mix of credit accounts open, then using your credit card responsibly can help you build your score.
Our best fair credit rewards credit card does not charge an annual fee and offers some great benefits through its rewards program, including cash back:
+ See more cards for fair credit
12. Top Rewards Card for "Bad" Credit
A FICO score below 630 generally indicates poor credit, but you may still be eligible for a rewards credit card. It can be helpful to earn rewards, particularly if the rewards can be applied as a statement credit to pay down a portion of your bill.
As long as you use the card responsibly, you'll be able to help improve your score by always making the monthly payments on time and utilizing 30% or less of your total available credit. The following offer is a very popular choice for those with less-than-stellar credit:
+ See more cards for bad credit
13. Top Rewards Card for "No/Limited" Credit
Just because you have limited credit history doesn't mean you can't get approved for a decent rewards credit card, and with responsible use, you can begin to build your credit history and score. There are a few factors that go into a FICO score, so make sure you understand what can help and hurt your credit.
Below is our top credit card with an impressive rewards program for those with a limited credit history:
+ See more cards for no/limited credit
Make the Most of Deals & Offers
Since the best rewards credit cards offer multiple ways to redeem your rewards, keep in mind what you'll be purchasing and how you'll want to cash in your rewards. From gifts bought with points to free nights at certain hotels, there are many ways to enjoy your credit card rewards.
Once you decide what you can qualify for based on your credit score — and determine what kind of rewards credit card you want — you can get excited about all the perks you'll soon earn thanks to your new card!
Advertiser Disclosure
CardRates.com is a free online resource that offers valuable content and comparison services to users. To keep this resource 100% free, we receive compensation for referrals for many of the offers listed on the site. Along with key review factors, this compensation may impact how and where products appear across CardRates.com (including, for example, the order in which they appear). CardRates.com does not include the entire universe of available offers. Editorial opinions expressed on the site are strictly our own and are not provided, endorsed, or approved by advertisers.
Editorial Note: Our site content is not provided or commissioned by any credit card issuer(s). Opinions expressed on CardRates.com are the author's alone, not those of any credit card issuer, and have not been reviewed, approved, or otherwise endorsed by credit card issuers. Every reasonable effort has been made to maintain accurate information; however, all credit card offer details, including information about rewards, signup bonuses, introductory offers, and other terms and conditions, is presented without warranty. Clicking on any offer on CardRates.com will direct you to the issuer's website, where you can review the current terms and conditions of the offer.
Share This Article
Like this article on Facebook
Share this article via Email
Email
About the Author


Lauren Keys
Lauren Keys has over nine years of writing and editing experience for media outlets including The New York Times, Entrepreneur.com, Gainesville Magazine, and numerous other publications. Lauren strives to inform readers of how they can make the most of their budgets by sharing personal finance tips and highlighting the brands and products that can help them achieve their financial goals.