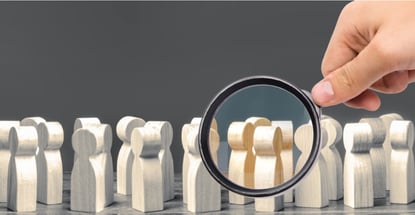 Opinions expressed here are ours alone, and are not provided, endorsed, or approved by any issuer. Our articles follow strict editorial guidelines and are updated regularly.
Data on who applies for and receives certain credit cards and what they do with credit cards once they're activated reveals interesting consumer trends. Credit card holders have different characteristics that vary in scope. All the collected facts and data paint a fascinating story about US consumers and their credit cards.
Here are the most recent statistics on account ownership broken down into key demographic measures: age, income, gender, and race.
Credit Card Ownership By Age
Applicants must be 18 years old to obtain a personal or business credit card in the United States.
People under 18 can have a card in their name if the account owner makes them an authorized user. There is no legal age requirement for authorized users, and many credit issuers will allow even young teenagers to be authorized users. These credit piggybackers are not account owners, though, and bear no legal responsibility for making payments or any of the accumulated debt.
Therefore, to determine the ownership data according to age, it all starts when the person is no longer a minor in the eyes of the law and can enter into a contractual relationship with the credit card issuer.
Average Number of Cards by Generation
People born between the years 1946 and 1964 (baby boomers) and 1965 to 1980 (Generation X) have the highest average number of credit cards at 5.5 per person, according to a 2022 LendingTree report. People born between 1981 to 1996 (millennials) hold an average of 4.1 cards. 
That doesn't mean college-age people — typically ages 18 to 24 — don't have credit cards. Generation Z — people born between 1997 and 2004 — have an average of 2.5 cards.
Gen Z
1997-1004
Millennials
1981-1996
Gen X
1965-1980
Baby Boomers
1946-1964
2.5
4.1
5.5
5.5
In fact, a 2022 ThinkImpact report found that 83% of undergraduate college students own at least one credit card. More findings from the report: 
54% of college freshmen surveyed carry a credit card
College students in the US own an average of 4.25 credit cards
47% of students surveyed own four or more credit cards
Credit Card Originations By Generation 
As far as who is looking for new cards, a TransUnion report found that millennials are opening the greatest number of new accounts. In the second quarter (Q2) of 2021, millennials led the growth share of credit card originations at 32.7%. After that: 
Gen X at 28.8% 
Baby Boomers at 21.3% 
Gen Z at 14.2%
The Silent Generation – people born before 1945 – opened the fewest credit cards at 3%. All told, 19.3 million credit cards originated in Q2 of 2021. 
Preferred Payment Method By Generation 
A 2021 Mintel report found that credit cards are the preferred payment method among US adults, but generations use them differently.
46% of Baby Boomers use credit cards for most of their purchases.
72% of the World War II generation, better known as the Greatest Generation, use credit cards for most of their purchases.
Younger generations use cash, debit cards, and digital payment alternatives for most of their purchases.
According to 2021 data collected by Motley Fool's The Ascent survey, the most commonly owned card types by generation are:
Cash Back Cards:
37.76% Gen Z
51.90% Millennials
40.68% Gen X
46.51% Baby Boomers
No Annual Fee Cards:
25% Gen Z
41.14% Millennials
33.76% Gen X
51.63% Baby Boomers
Retail/Store-Specific Cards:
17.35% Gen Z
33.54% Millennials
30.55% Gen X
38.14% Baby Boomers
Airline/Travel Cards:
10.20% Gen Z
20.15% Millennials
22.03% Gen X
14.42% Baby Boomers
Balance Transfer Cards:
18.88% Gen Z
16.77% Millennials
21.70% Gen X
10.23% Baby Boomers
Credit Card Ownership By Income
There is no fixed or legal minimum amount of income a person is required to earn to guarantee credit card approval. Credit card issuers are free to set their own qualification standards on each of the accounts they offer.
In general, though, credit card issuers are willing to grant credit cards to applicants who can afford at least the minimum payments on the debt they rack up with the credit line. For this reason, credit reports and credit scores aren't the only way an issuer determines qualification.
Income, especially when compared with the amount the consumer is already repaying to existing debts, is a critical factor in eligibility. The higher the income a person has, the greater likelihood that person will own at least one credit card, though there are some fits and starts in the data.
As per ValuePenguin's research, the collection of people who own at least one credit card is as follows:
43% have annual incomes of $1 to $4,999
47% have annual incomes of $5,000 to $14,999
64% have annual incomes of $15,000 to $24,999
79% have annual incomes of $25,000 to $39,999
83% have annual incomes of $40,000 to $49,999
92% have annual incomes of $50,000 to $74,999
94% have annual incomes of $75,000 to $99,999
95% have annual incomes of $100,000 to $149,999
97% have annual incomes of $150,000 to $199,999
97% have annual incomes of $200,000 or more
According to a 2022 New York Federal Reserve report, only about half of low-income households have access to a credit card. The correlation between income and bank card ownership is as follows: 
Low income ($18,500–$26,500) – 50.6%
Moderate income ($30,000–$41,300) – 62.4%
Middle income ($43,000–$60,000) – 73.3%
High income ($66,800–$102,000) – 84.8%
It's important to note that credit cards for people who have very limited incomes (and who have not established their credit histories) do exist. They either have low credit limits or are secured credit cards.
These pathway products let people with income constraints charge products and services and begin to build a credit history. With a secured card, the applicant puts down a refundable cash deposit that acts as collateral against default. Owners of secured cards can't charge much since the majority of these accounts have credit lines that are less than $300. 
Such low limits allow people with low incomes to afford the monthly payments, even if they charge up to the maximum.
Employment income is not a requirement for credit card qualification and credit lines. In addition to an applicant's personal employment, income from such regular sources as a spouse or partner's income, a parent or guardian's financial contributions, investment earnings, alimony, child support, and inheritance distributions can be listed on a credit card application.
Credit Card Ownership By Gender
It is illegal for any lender to base credit qualification and terms on an applicant's sex. The Equal Credit Opportunity Act (ECOA) is a federal law that prohibits credit discrimination based on a wide variety of factors, including gender and sexual orientation.
While some credit card applications have a checkbox for the applicant's sex, applicants are under no obligation to check it off. Even if the person chooses to provide an answer, the issuer is not permitted to use it to determine eligibility, interest rates, limits, and all other terms.
Fascinating differences in the way women and men obtain and use credit cards emerged in a 2022 study conducted by Lantern by SoFi: 
66% of men and 47% of women surveyed opened a credit card for a specific discount and immediately canceled it. 
Nearly 30% of men and 18% of women surveyed applied for a new card for the signup incentives. 
27% of men and 15% of women surveyed got their first card because they had a preapproved offer. 
Over 70% of men and 50% of women surveyed said they'd asked for a higher credit limit. 
According to a 2022 LendingTree poll, women face greater struggles paying their credit card bills in full and on time than men:
57% of men and 45% of women surveyed are more likely to pay their credit card balance in full each month.
44% of men and 54% of women surveyed are more likely to have made a late payment. 
The Financial Health Network showed more disparities in its 2022 The Gender Gap in Financial Health report. Thirty-nine percent of women surveyed reported unmanageable levels of debt, as opposed to 31% of men.
The Lantern survey teased out more credit card usage differences between the genders. For example, at 12%, women were twice as likely to see no credit score improvement after getting a credit card than men. When negotiating lower interest rates with their credit card issuer, men were successful 69% of the time, compared with only 46% of women.
Credit Card Ownership By Race
The ECOA also prohibits any kind of credit discrimination based on a person's race and ethnicity. A person's race is never listed on consumer credit reports, including those created by Experian, TransUnion, and Equifax.
That doesn't mean disparities don't exist. The 2021 Federal Reserve Economic Well-Being of U.S. Households report identified some key differences regarding credit acceptance, especially when income was factored in. 
The report found a statistical difference in who has a credit card: 
93% of Asian people have a credit card 
88% of White people have a credit card 
77% of Hispanic people have a credit card
72% of Black people have a credit card
The Federal Reserve report with data from 2020 through May 2021 indicates some key disparities. When broken down into two data points, Black non-Hispanics had the lowest average credit card debt at $3,940. White non-Hispanics had the highest average credit card debt at $6,940.
And then there is a matter of late payments. An interactive map developed by The Urban Institute illustrates differences in debt delinquencies when broken down by race. 
The credit card debt delinquency rate is 3% in White communities. It is 5% In communities of color.
Final Thoughts On Credit Card Ownership Statistics
Differences in credit card ownership and usage vary widely when age, income, gender, and race are considered. Conclusions can be drawn from the reported data but should be done carefully and objectively. It's important to analyze all factors.
In the end, credit cards are tools that most consumers can use to their benefit. Fair access and financial education are essential components to credit card ownership success.