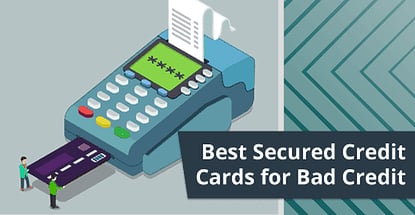 Although we all hear the horror stories of families racking up five-figure credit card debt, it isn't always the high-dollar debts or multi-card conundrums that drag us down. For example, even people with only a single credit card and a low limit can fall behind on payments and accrue late fees and interest charges that quickly turn into thousands of dollars in debt.
And by the time the debt is paid off, missed payments may have already taken their toll on someone's credit score, dropping them firmly in the "bad credit" range. However, secured credit cards offer a way to help rebuild credit.
Secured by a cash deposit that resides in a protected savings account, secured credit cards can be a lifeline to those who would otherwise be rejected for new credit. No matter what your credit looks like, you can likely find a secured card to start rebuilding.
No Annual Fee | No Credit Check | No Minimum Score
"No Annual Fee" Secured Cards for Bad Credit
Often, one of the worst things about having poor credit is that interest rates tend to skyrocket around you and fees start following you like a clowder of stray cats. This is typically because low credit scores equate to a high credit risk to lenders and credit card issuers, so they offset some of that risk by charging more for, well, just about everything.
Secured credit cards, on the other hand, present significantly less risk than their unsecured counterparts, so creditors can charge less for these products. For many with bad credit, secured credit cards are one of the only ways to obtain low interest rates and reasonable annual fees. In fact, the annual fees on our favorite secured cards are so low they're non-existent.
While the deposit is necessary to open your secured credit card account, don't think that deposit will simply disappear. Your initial deposit — and any additional deposits you make over time — will reside in a protected savings account, accruing modest interest, until one of three scenarios take place.
First, and the most ideal for many, is if your secured card is upgraded to an unsecured credit card by your issuer, and your deposit (and any applicable earned interest) would be returned to you. Many secured cards will automatically review your account after 12 to 18 months, upgrading your card if you've shown significant credit improvement.
The second case is if you close your account yourself, at which time the deposit will be returned to you, and that's that. The third, and least desirable, scenario, is if you stop making credit card payments, and the issuer is forced to close your account. At this point, the issuer will use your deposit to cover your outstanding debt and any applicable fees.
"No Credit Check" Secured Cards for Bad Credit
If you're living with bad credit, the words "credit check" can be more spine-tingling than having a black cat cross your path — and not just because hard credit inquiries can damage your credit score. No, when you've already experienced the nightmare of being rejected for credit due to your scary report, then credit checks can be ghastly.
Another benefit of the lower risk of secured credit cards is that issuers, in addition to charging less for the products, can also loosen their credit restrictions. Indeed, some of our expert picks for secured credit cards have such generous credit requirements that they won't even check your credit at all — including the card below. Simply fill out an application, make your deposit, and get rebuilding.
The credit line you'll have available for your secured card will depend on the amount you deposit, and a larger deposit will mean a higher credit limit. In most cases, your credit limit will be equal to 90% to 100% of your deposit. Although it may be difficult to put down a large deposit at first, many secured cards will allow you to add to your deposit over time.
It's typically a good idea to put down a fairly significant deposit, as a larger credit limit can not only be more convenient, but it can also improve your credit utilization rate by increasing your available credit. Since credit utilization (amounts owed) can be worth up to 30% of your credit score, boosting your limit can be beneficial to rebuilding your score.
"No Minimum Score" Secured Cards for Bad Credit
In the secured credit card world, thankfully, even those cards that do check your credit generally won't judge you for it. Most secured card issuers will overlook bad credit of all types, including that bankruptcy discharge that creeps behind you like a horror-movie villain. And if you don't have any credit history yet, they'll help you build one.
As an extra perk, many secured credit cards will also offer you interest rates that don't feel like highway robbery. Of course, you should avoid carrying a balance if possible, but if you know you're likely to, you should choose a card that makes it affordable to do so. Take the top-rated secured cards below; here you have options for APRs as low as 9.99%, depending on the size of the annual fee you're comfortable paying.
One important thing to keep in mind when exploring secured credit cards, particularly if your intent is to build (or rebuild) credit, is that your new card must report to at least one — but, preferably, all three — of the major consumer credit bureaus — Equifax, Experian, and TransUnion.
The credit bureaus don't actively seek out information; creditors and lenders need to report it to the bureaus for it to show up on your report. Without regular reports on your payment behaviors from your creditors, the credit bureaus won't have any idea whether you've been making your payments as agreed.
Since the whole point of your credit report is to show future creditors that you can handle credit, any product that fails to report that information won't help you build a positive credit history. (Incidentally, this is why prepaid cards don't help — or hurt — your credit score.)
What Is a Secured Credit Card?
Generally speaking, secured credit cards work the same as unsecured credit cards. A secured credit card provides a revolving credit line based on your security deposit, and cardowners can carry balances from month to month while making at least the minimum monthly payment.
Many of the same major banks that issue popular rewards cards also issue secured credit cards. Cardholders can purchase goods and services anywhere merchants accept the card's payment network (i.e., Visa, Mastercard, and Discover). Amex doesn't offer secured cards. Secured cards bill you monthly, just as with any other credit card.
The sole operational difference between secured credit cards and unsecured credit cards is the deposit. When opening a secured credit card account, you need to make an initial cash deposit.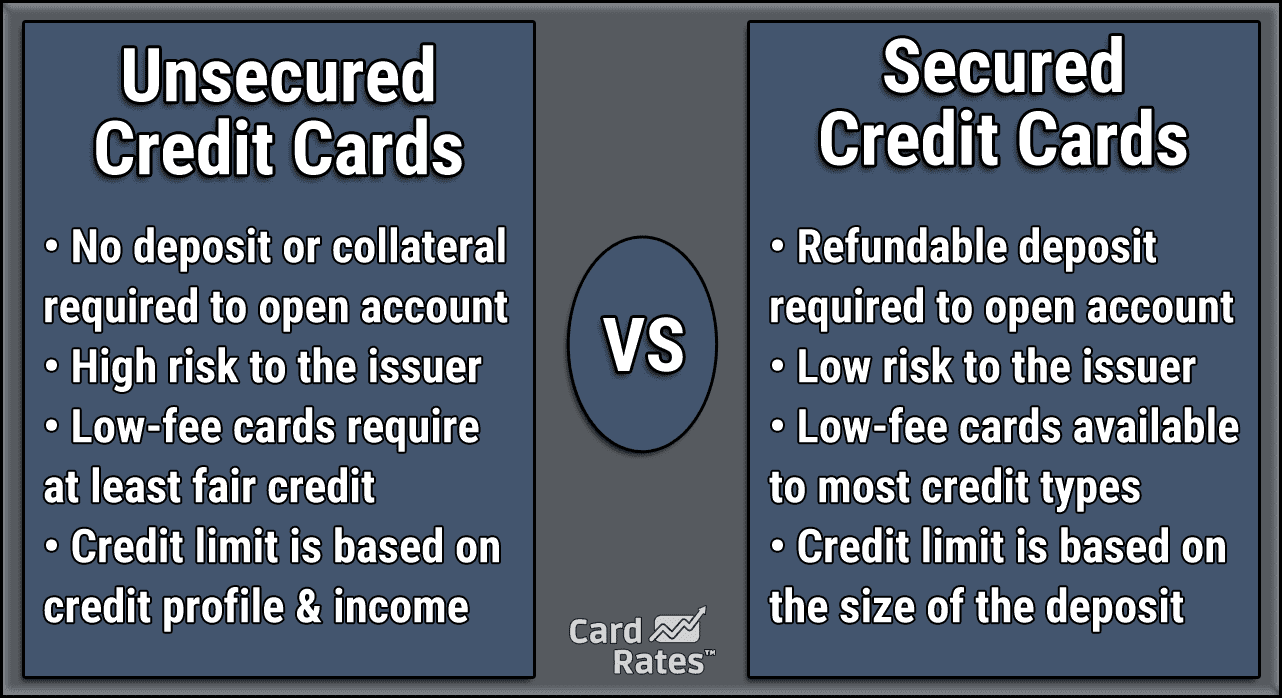 That deposit remains in a locked savings account that protects issuers against losses if cardmembers do not repay their balances. Issuers design secured credit cards to minimize their risk while they help consumers establish or build credit. 
The card issuer will refund your deposit if you close your secured credit account in good standing (i.e., with a $0 balance). More likely, you'll receive a refund when the issuer automatically upgrades you to an unsecured card. 
How Do I Apply For a Secured Credit Card?
Unsecured cards for bad credit typically have unfavorable terms, including high costs and few benefits. Most secured credit cards have more attractive terms and are easy to get approved for.
As previously mentioned, the only difference between secured and unsecured cards is the deposit. A deposit protects the issuer from defaults, in which case it uses the deposited money to pay off your account.
You apply online for a secured card by submitting data about your income, debt, and housing expenses. In most cases, the issuer will pull your credit to confirm your information and check whether there is any reason to reject your application. 
A couple of secured credit cards bypass the credit check. Naturally, these cards are the easiest to get.
Once you receive approval from the issuer, you must pay the security deposit to get the card. In one case — the Capital One Platinum Secured Credit Card — you may receive a $200 credit limit with a deposit as small as $49. 
Otherwise, secured card credit limits match the deposit size, ranging from $200 to as much as $10,000. Some cards have a low initial deposit limit but allow you to add funds to increase your credit limit. 
What Credit Cards Can I Get With a 500 Credit Score?
A 500 FICO Score won't prevent you from getting a secured card that doesn't check your credit history, such as the OpenSky® Secured Visa® Credit Card. Other secured cards may accept your application despite a 500 score, but there is no guarantee. 
Generally, issuers want to know whether you can afford the monthly payments, which is why they ask questions about your income and expenses.
You may be able to get an unsecured card with a score of 500, depending on the issuer's policies. Expect these cards to have signup, monthly maintenance, and annual fees, no rewards, and few benefits. 
Student credit cards are unsecured and available even without a credit history. They represent the best deals in the credit card marketplace since they offer lower costs and better perks than nonstudent cards.
What Are the Pros and Cons of Secured Credit Cards?
Secured credit cards have more pros than cons, including the following:
They report your account to all three credit bureaus so you can build credit with responsible use.
Secured cards are easy to obtain even if you have bad credit, limited credit, or no credit at all. 
You'll receive a refund of your security deposit when you graduate to an unsecured card.
Most offer rewards and/or good benefits.
Lower APRs than unsecured cards for poor credit
Most secured cards do not charge an annual fee
But no product is perfect:
Secured cards require a deposit.
Some secured cards charge high interest rates.
It's pretty clear that the advantages of secured credit cards outweigh the disadvantages. They are the best credit card to get when you are rebuilding credit. 
Can I Be Denied a Secured Credit Card?
No credit product guarantees to approve all applicants. Among the reasons a secured card issuer may turn you down include previous problems with the issuer or not meeting the income requirements.
Other denial reasons may include:
You are less than 18 years old
You do not have enough income in relation to your expenses and debts
You already have a secured card from the issuer
You are currently in collection or bankruptcy
The issuer has closed the card to new applicants
You reside in a correctional facility
An issuer must send you an Adverse Action Notice explaining why it denied your credit card application. If you applied for a starter card that welcomes credit newbies, the notice should list the reasons for rejection, such as low income or the inability to verify your identity. If you treat the notice as an instructional resource, it gives you a better idea of what you must fix before reapplying.
If an issuer rejects your application because you have bad credit, consider taking out a credit-builder loan from a credit union or online provider. In a credit-builder loan, you borrow a sum that goes directly into escrow. You then make monthly payments that the lender reports to all three credit bureaus. 
The lender will release the funds to you once you've fully repaid the loan. You can rebuild your credit score and improve your odds of future credit card approvals by paying your monthly bill on time.
Build — or Rebuild — Credit with the Right Secured Card
With the help of a good secured credit card, almost anyone can find a way to rebuild their credit score. A year of responsible use of a secured credit card can improve someone's credit score enough that their bank or issuer may upgrade them to an unsecured card with a significantly higher credit limit, which can boost credit scores even more through lower utilization rates.
For those who are fighting poor credit scores and bad financial habits, a secured credit card can help spark light at the end of the tunnel — but only when used responsibly. Remember to always, always pay your bills before the due date to avoid both late fees and credit damage, as well as maintaining low balances so your utilization rate stays low, too.
Final Notes on "7 Best Secured Credit Cards for Bad Credit (Sep. 2023)"
We hope this guide "7 Best Secured Credit Cards for Bad Credit (Sep. 2023)" has been a helpful resource for you in learning more about your financial options. In this guide, we've covered:
"No Annual Fee" Secured Cards for Bad Credit
"No Credit Check" Secured Cards for Bad Credit
"No Minimum Score" Secured Cards for Bad Credit
What Is a Secured Credit Card?
How Do I Apply For a Secured Credit Card?
What Credit Cards Can I Get With a 500 Credit Score?
What Are the Pros and Cons of Secured Credit Cards?
Can I Be Denied a Secured Credit Card?
Build — or Rebuild — Credit with the Right Secured Card
To learn more about options not mentioned here, be sure to check out other popular reviews from our team of experts:
We also encourage you to check back at this URL regularly, as we update the offers listed in "7 Best Secured Credit Cards for Bad Credit (Sep. 2023)" and other guides on a daily basis.
Advertiser Disclosure
CardRates.com is a free online resource that offers valuable content and comparison services to users. To keep this resource 100% free, we receive compensation for referrals for many of the offers listed on the site. Along with key review factors, this compensation may impact how and where products appear across CardRates.com (including, for example, the order in which they appear). CardRates.com does not include the entire universe of available offers. Editorial opinions expressed on the site are strictly our own and are not provided, endorsed, or approved by advertisers.