I really appreciate having access to some of the best credit card benefits currently available. My upcoming family trip to Disney World will include freebies such as travel insurance, collision damage waiver on the car rental, access to airport lounges, and free checked bags, thanks to my favorite credit card. 
While some benefits only come with premium cards, many everyday cards offer perks to save you money. You can find cards that cover your purchased items against damage, theft, and even lower prices. Perhaps you'd prefer a card that offers free credit monitoring or introductory 0% APR balance transfers. 
We've assembled a list of some leading benefits and the credit cards that provide them. 
Best Cards For Travel Insurance Benefits
It's a wise move to plan your travel well in advance. Doing so may get you good deals that won't be available closer to your departure date. 
But early buying means you risk the loss of nonrefundable tickets if you must cancel your trip due to an unforeseen emergency. Trip cancellation and interruption insurance allow you to recoup some or all the money you spent on travel purchases when things go wrong.
Credit card travel insurance is not uniform — you must check your card for the types and amounts of coverage afforded you. The following three cards rank high for travel insurance benefits.
The Chase Sapphire Reserve® card comes with trip cancellation and interruption insurance for you and your immediate family members, whether your trip is canceled or cut short by severe weather, illness, or other covered situations. Reimbursement amounts of up to $10,000 per person and $20,000 per trip cover nonrefundable, prepaid travel expenses, including passenger fares, tours, and hotels. The insurance also covers accidental bodily injury, loss of life, or sickness experienced by the cardholder.
The Chase Sapphire Preferred® Card provides trip delay reimbursement of up to $500 for each ticket purchased. The benefit covers reasonable expenses including meals, lodging, toiletries, and medication. In addition, it offers trip cancellation and interruption insurance similar to that from the Chase Sapphire Reserve® card.
The U.S. Bank Altitude® Reserve Visa Infinite® Card comes with trip cancellation and interruption insurance that pays up to $2,000 per insured person, including yourself, your spouse, and your dependent children. The insurance covers interruptions due to death, injury, illness, and carrier default. This U.S. Bank credit card also provides up to $500,000 coverage for losses resulting from travel accidents.
---
Cards that provide travel insurance allow you to avoid paying for a separate policy to cover unexpected costs from delays, interruptions, and cancellations. Travel accident insurance covers accidents, illnesses, and deaths while traveling on a covered trip — that is, a trip you pay for with the insuring credit card.
If you read the fine print, you'll note the many conditions and limits attached to travel insurance. Be careful when you decide against a separate policy — you don't want to fall victim to a loophole that invalidates your claim.
Best Cards For Extended Warranties
Warranty extensions are one of those credit card benefits that receive little attention. But if your expensive purchase develops problems that require repair, replacement, or reimbursement after its standard warranty period expires, an extended coverage period could save you hundreds of dollars. These three cards add at least a year to the original manufacturer's warranty at no extra cost to you.
The Capital One VentureOne Rewards Credit Card extends the manufacturer's warranty by one additional year. The original warranty cannot exceed three years and only covers purchases made in the United States. The extended warranty's coverage limits are $10,000 per claim and $50,000 per cardholder.
The Chase Sapphire Preferred® Card offers a full year of extended warranty protection, even if the manufacturer's warranty is less than a year. The original warranty cannot exceed three years, and extended coverage is limited to $10,000 per item and $50,000 per account. You must submit your claim form to Chase within 90 days of a loss, and some things are excluded, including used items, motorized vehicles, computer software, and items bought for commercial use or resale.
The Citi Premier® Card is one of two Citi cards with extended warranty protection. The extension period is 24 months, limited to $10,000 per item, and total coverage cannot exceed seven years from the purchase date. Cars, tires, boats, aircraft, motorized land, air or water vehicles, and their original equipment are not covered.
---
Before you can benefit from a credit card's extended warranty, several conditions must apply:
You must purchase the item with the credit card or its rewards.
The item purchased must have its own manufacturer's warranty. The original warranty must cover the type of loss you experience in the extended period.
The original warranty's conditions and exceptions also apply to the extended warranty, including authorized repair facilities.
The card issuer usually sets a maximum coverage amount per covered item no greater than the original purchase price.
You lose any extended warranties if you cancel the credit card.
Card issuers specify how to file a claim under an extended warranty. Normally, you will have to provide documents such as the sales slip, a copy of the original warranty, a photograph of the purchased item, and a repair estimate form.
Best Cards For Purchase Protection
Covering your recent purchases for damage or loss, purchase protection can provide you peace of mind. Each credit card issuer sets its own protection benefit terms, and sadly, this is one of those benefits that several issuers no longer offer.
The Chase Freedom Unlimited® offers the issuer's standard purchase protection insurance, covering items that suffer damage, loss, or theft for up to 120 days after purchase. You must notify Chase within 90 days of a covered loss and file a claim within 120 days. The benefit will cover any deductible charged by other applicable insurance.
The Capital One Venture Rewards Credit Card offers Visa Signature Card purchase protection to both cardholders and gift recipients. Coverage includes the replacement, repair, or reimbursement of eligible items due to theft or specific types of damage within 90 days of purchase. Coverage limits are $500 per claim and $50,000 per cardholder, and you have six months to complete your claim after filing it.
The Costco Anywhere Visa® Card by Citi is one of two Citi cards that still offer purchase protection after the 2019 benefits shakeup. The card's purchase protection covers you for repairs or a refund if purchases made with your Citi card are stolen or damaged within 120 days of purchase (90 days for New York residents). You must report stolen items to the police within 48 hours of the theft.
---
To receive the purchase protection benefit, you must notify the issuer and file a claim within set time frames:

When filing a purchase protection claim, you must provide card issuers with a copy of your purchase receipt or appropriate credit card statement. Other required documents may include a repair estimate, a police report for stolen items, and any separate insurance policy that provides coverage. 
Though nice to have, purchase protection may not prove all that necessary. First of all, the benefit is usually limited to $500 per loss. Secondly, most renter and homeowner policies offer comparable or better coverage. Thirdly, the FBI reports a continuing slide in the number of property crimes. 
Still, you'll be grateful that your card offers purchase protection if you happen to need it. Many consumers aren't aware that this benefit exists, so it behooves you to check with your issuer to see if it is available on your card.
Best Cards For Price Protection Benefits
It's like puncturing a balloon. That's the feeling you may experience if you see that newly purchased camera on sale for 20% less. Or maybe it's more like blinding rage. However you react to it, finding out that you paid too much for an item isn't pleasant, which is why you may enjoy having a credit card with price protection. 
This benefit generally refunds you the difference between the price you paid and a lower price advertised within a set period after purchase. Price protection has become a rare credit card benefit, but these three cards have kept the faith.
The Capital One SavorOne Cash Rewards Credit Card offers price protection by being a World Elite Mastercard. The lower advertised price for an identical item must be posted within 120 days of your purchase. Coverage is limited by this rewards card to $250 per item, with a maximum of four claims totaling no more than $1,000 per year.
The Capital One SavorOne Student Cash Rewards Credit Card offers the same price protection benefits as its non-student sibling card above. You must have purchased the item with your card to receive up to $250 back if the item's price drops within 120 days of purchase. You can file claims online.
The More Rewards American Express® Credit Card from Navy Federal Credit Union participates in the issuer's Best Value Guarantee program, which ensures you pay the lowest price available on covered items. An advertiser must post a lower price within 30 days of your purchase of an identical item for you to receive a reimbursement for the difference. Refunds are limited to $250 per item and $1,000 annually per cardmember.
---
Do not confuse purchase price protection, which saves you from overpaying for a recent purchase, with purchase protection insuring you from the loss, damage, and theft of purchased items. Though not the same, both sets of benefits, along with extended warranties, form a trifecta of consumer perks that should attract intelligent shoppers who know the value of a dollar.
You shouldn't be surprised by the various restrictions and loopholes card issuers throw onto the benefits they offer. The science of extracting profits from credit cards requires issuers to keep expenses in tight check. 
Be aware of these factors when considering price protection benefits: 
The amount of time between your purchase and the posting of a lower price
The amount of coverage per item
Annual caps on the amount you can claim
The type of ad (e.g., internet vs. print) announcing a lower price
Things not covered by the policy, such as collectibles, jewelry, motorized vehicles, commercial items, cellphones, live animals, used items, and more
The steps you must take to request and submit a claim form
Credit cards with price protection are hard to find, in part due to the rise of apps that find you the lowest prices coupled with merchant guarantees to meet or beat competing prices.
You can check your benefits guide (you know, the one you threw away when the card arrived) to see if your card has purchase protection. But it may be simpler to call the card's customer service hotline to find out because the benefit may go under various names.
Your card network may offer price protection. For example, World Elite® Mastercard® and Visa Signature® cards provide price protection unless the issuer decides otherwise. 
Best Cards For Car Rental Coverage Benefits
Don't you hate paying up to $20 per day for a collision damage waiver (CDW) on your rental car? These three credit cards feel your pain and offer free CDW coverage, protecting you against the costs of collision, vandalism, fire, and other incidents. 
The Chase Sapphire Preferred® Card is one of the few credit cards that offers primary rental car coverage, which kicks in ahead of other insurance. The card covers charges for theft, damage, towing, and valid loss-of-use claims for up to 31 consecutive days. Chase excludes some vehicle types and countries from coverage.
The Ink Business Preferred® Credit Card from Chase covers the actual cash value of a rental car for damage, theft, towing, and loss-of-use charges for 31 days per rental. This business card provides primary insurance that extends only to vehicles you use for business; Otherwise, coverage is secondary in the United States but remains primary elsewhere. As with other cards that offer this benefit, you must decline CDW at the car rental desk.
The Capital One Venture X Rewards Credit Card offers the relatively rare primary coverage benefit that becomes effective before any other insurance. As a primary insurer, the card saves you from dealing with your own insurer, who will surely raise your rates given half a chance. The coverage is CDW-only and doesn't cover liability or damage to other people, cars, or property.
---
When you rent a car, you become responsible for damage during the rental period, often without regard to who is at fault. The rental agencies offer various forms of insurance that you can accept or decline. 
CDW insurance protects you against paying for physical damage to the car, up to a set limit (often $2,500). It usually covers any loss-of-use costs the rental company experiences when the vehicle is under repair.
Most cards do not automatically offer liability coverage for expenses such as damaging other cars, property, or personal injuries to other people. You can read your card's benefits guide or call customer service to find out what's covered. 
You also need to know whether your own car insurance offers any rental car coverage. If so, find out whether the coverage is primary or secondary and how extensive it is. Combined with a suitable credit card, your car insurance may be enough to eliminate the need for rental agency insurance.
If your card offers CDW and your rental car sustains damage, you can file a claim with your credit card's customer service department or via an online portal on the issuer's website. You'll need to fill out some lengthy forms and provide other documents, such as your rental agreement and pictures of the car. In some cases, you may have to provide copies of a police report.
Note that most car rental companies don't make you prove that you have suitable insurance. Of course, the agencies carry insurance on their cars, but it's usually minimal. You're on the hook for car damage, so unless you're feeling lucky or are insanely rich, you will want to use some combination of personal car insurance, credit card coverage, and rental agency insurance to avoid costly repair expenses.
Best Cards For Airport Lounge Access 
Lounge lizards unite! Nothing beats the luxurious environs of an airport lounge while you wait to board your flight, especially if it's running a few hours late. These three cards unlock airport lounges, although some limit the number of visits per year.
The Capital One Venture X Rewards Credit Card is your gateway to the entire collection of Capital One and Priority Pass Lounges. These places let you recharge with luxurious, all-inclusive amenities, such as relaxation rooms, high-speed wifi, and healthy, chef-inspired food. Notably, the card gives you unlimited free access to participating lounges.
The Platinum Card® from American Express offers the widest variety of airport lounges via its Global Lounge Collection, including Centurion, Delta Sky Club®, and Priority Pass lounges. Access is free for yourself and two guests, but you must present a government-issued ID and same-day boarding pass.
When you get your Chase Sapphire Reserve® card, you can call customer service to sign up for Priority Pass Select, a collection of more than 1,100 airport lounges. You get free lounge access for yourself and two guests on the day of travel. You can use your annual travel credit to purchase day passes to other airport lounges or for another type of travel purchase.
---
Virtually all credit cards that offer free airport lounge access impose annual fees, some quite hefty. But if you travel often, the benefit can pay for itself fast. Airport lounges are a refuge from chaotic airport terminals, with amenities that include food, drinks, personal space, and in some cases, beds and showers. 
More airport lounges are popping up every year. Priority Pass is one of the largest lounge networks, but other players include Centurion, Admirals Club, Delta SkyClub, United Club, and Minute Suites, among others. Free access can save you more than $50 per person each time you visit, so frequent travelers should be big fans of this credit card perk.
The credit cards offering this benefit usually provide many other travel perks, such as free baggage check, discounted upgrades, trip and travel insurance, travel credits, and many more. 
When evaluating this benefit, check the following factors:
Limits on the number of visits per year
The number of guests who can accompany you for free
Available lounges
Which lounges operate in your favorite airports 
Discounts on additional guest tickets
Beware: One visit to an airport lounge may spoil you for life. 
Best Cards For Free Checked Bags
These three cards are your revenge if an airline has ever slapped you with a $50 baggage-check fee. These cards can save you hundreds of dollars on a family trip by paying for several checked bags. Plus, you won't have to cram your stuff into a tiny suitcase and fight for overhead luggage space on the plane. 
In other words, these cards save you money and preserve your dignity.
Discover it® Miles is one of our top-rated travel cards, thanks to its Miles-for-Miles Match and $0 annual fee. While it doesn't explicitly offer free checked bags, you can redeem your rewards as a statement credit to cover baggage fees. The card's miles never expire, and you can use them to book travel without blackout dates.
The Capital One Venture Rewards Credit Card offers miles for every dollar you spend. You can redeem those miles to pay for airline purchases and charges, including baggage-check fees.
The Citi® / AAdvantage® Platinum Select® World Elite Mastercard® pays for your first checked bag on domestic flights. The card offers several other travel perks, including priority boarding and discounted in-flight purchases. Moreover, you can earn an American Airlines Flight Discount certificate each year by spending the required amount on purchases.
---
You can avoid at least some baggage check fees by:
Using a carry-on bag. You can check the bag at the boarding gate for free and avoid hassling with the overhead bins.
Flying first or business class. The airlines usually waive the check fees for one or two bags when you fly in these upgraded sections. 
Using your card's rewards. Many travel cards allow you to cash in your rewards to pay baggage check fees.
Using a card with free baggage check. These cards are usually co-branded with a specific airline and may not extend the benefit to competing flights.
The free checked bag benefit may not pay the extra fee that airlines charge for overweight luggage (usually on bags weighing more than 50 pounds). That additional charge can almost double the baggage fee.
Best Cards With No Foreign Transaction Fees
International travel can be expensive, made even more so when your credit card tacks a fee on every purchase you make on foreign soil. By choosing a card that waives the foreign transaction fee, you can save up to 3% on foreign purchases. These three cards fit the bill and also happen to be excellent travel cards. 
The Chase Sapphire Preferred® Card is a premium travel rewards card with a less-than-premium annual fee. It doesn't charge a fee for foreign transactions, and the points you earn with the card are worth 25% more when you redeem them for travel via Chase Ultimate Rewards. 
The Discover it® Miles card is this issuer's travel rewards card. It's a terrific choice for a card that doesn't charge annual or foreign transaction fees. You can use your miles at any airline or hotel with no blackout dates. 
The Capital One Venture Rewards Credit Card waives foreign transaction charges and has a moderate annual fee. It's an award-winning travel card with a generous signup bonus. You guarantee access to the best prices by booking through Capital One Travel.
---
Foreign transaction fees are different from currency exchange fees. You may get a card that waives the former but charges the latter. This tradeoff seems right to me since the issuers pay nothing extra for foreign transactions but do incur currency conversion costs.
Discover and Capital One distinguish themselves by not charging foreign transaction fees on any of their cards.
Best Cards For Global Entry & TSA PreCheck® Benefits
September 11 changed everything, including the security measures airports take before letting you anywhere near the planes. Global Entry and TSA PreCheck attempt to mitigate some of the hassles by speeding up your journey through Security. The following three credit cards reimburse you for the fees associated with these services, a savings of almost $100.
You deserve phenomenal benefits when you shell out an annual fee this high. Chase Sapphire Reserve® delivers, and Global Entry & TSA PreCheck® reimbursement is just the beginning. You also get an annual travel credit, free baggage check, complimentary airport lounge access, and many more valuable perks that justify the high annual fee.
The Capital One Venture Rewards Credit Card provides up to $100 to reimburse you for Global Entry or TSA PreCheck® fees. With bonus miles and a nice one-time signup reward, the card's annual fee is a bargain. You can redeem your miles at any time with no travel restrictions or reward expirations. 
The Platinum Card® from American Express charges a hefty annual fee, but it offers several perks and annual reimbursements, including a fee credit for TSA PreCheck. And while you're at the airport, you'll enjoy access to Centurion Lounges and an airline fee credit that will help reduce the cost of your flight.
TSA PreCheck® speeds up your security screenings at US airports. Global Entry is an upgrade for international travelers entering the United States. The application fee for TSA PreCheck is $85 and Global Entry costs $100. Allow two to four weeks for your application to process.
Best Cards For Cellphone Protection
You only have to drown your phone once to appreciate the value of cellphone protection. The utter terror of being without your phone for more than a minute is too hideous to contemplate. The cost of fixing or replacing your phone just rubs salt into the wound. 
While your credit card's cellphone protection can't stop phone theft or damage, it can at least reduce the harm to your wallet. These three cards offer cellphone protection even as many credit card perks are going by the wayside.
The Chase Freedom Flex℠ offers coverage for cellphone theft and damage when you use the card to pay your monthly phone bill. You can claim up to $800 per incident (with a $50 deductible), but coverage cannot exceed $1,000 and two claims per 12-month period. This insurance is secondary to any other coverage, including a renter's or homeowner's policy.
The Ink Business Preferred® Credit Card extends coverage for cellphone theft and damage  to employees listed on your monthly bill. You can file up to three claims every 12 months, with each claim capped at $600 (minus a $100 deductible). The insurance follows the customary practice of disallowing claims for mysterious losses (unexplained disappearances with no evidence of theft). 
The Platinum Card® from American Express offers cellphone insurance that allows two $800 claims (minus a $25 deductible) per 12-month period. You must file a claim within 90 days of a loss and provide proof within 120 days. Coverage is secondary, kicking in only after other insurance.
---
Cellphone policies from card issuers generally have the following characteristics:
Rules describing the kinds of losses covered and those that aren't
The maximum coverage per claim
Deductibles per claim
The maximum number of claims per period (usually 12 months)
A requirement to pay cellphone with credit card
Deadlines for filing and proving claims
Declining claims stemming from unexplained disappearances without evidence of theft.
These policies come with a long list of restrictions, including where you bought the phone, where the loss occurred, and what caused the loss. Many policies cover cracked screens, but exceptions usually apply. Check the card's fine print for the terms and conditions governing cellphone protection.
Best Cards For Free Credit Monitoring
Many consumers actively track their credit scores, especially when building credit. Fortunately, plenty of credit cards provide free credit monitoring. When considering this benefit, pay attention to which score the card reports — only some monitor FICO, the industry leader.
The Capital One Quicksilver Cash Rewards Credit Card serves consumers with good or excellent credit. The card offers CreditWise, a Capital One app that monitors your TransUnion VantageScore 3.0 credit score. The service provides your payment history and debt levels to help explain your current score. The card also monitors your Social Security number on the dark web for possible fraud.
The Discover it® Cash Back card lets you monitor your TransUnion FICO credit score, either online, via the Discover app, or on your monthly statements. You can review up to 12 months of historical credit scores and influencing factors. You can always decline credit reporting if you don't want it.
The Surge® Platinum Mastercard® accepts applicants with bad, fair, or no credit who are vitally interested in monitoring their credit scores. The card gives you free access to Vantage 3.0 score from Experian when you sign up for e-statements. You can receive updates on your monthly statement, your mobile app, or the card's online website.
Several issuers allow you to monitor your credit score for free even without owning a credit card, including:
Others require you to own the card to receive your score. Some card companies offer free credit scores and monitoring to all cardholders, but some issuers limit it to only a subset of the cards they offer.
FICO score monitoring is the most valuable, but our experience has shown that FICO and VantageScore provide similar results.
Best Cards For 0% Balance Transfers
A balance transfer is a process that allows you to consolidate credit card balances in one place. These cards offer new cardmembers an intro 0% APR for balance transfers that occur during a set period after account opening. 
The Citi Simplicity® Card is the champion in the balance transfer derby, offering the longest promotional 0% intro APR. However, only transfers you complete within the first four months qualify for the promotional rate. As with all cards that offer this benefit, the Simplicity card charges a balance transfer fee for each transfer. 
The Discover it® Balance Transfer card offers one of the longest balance transfer periods available, adding value to an already attractive credit card. The card also offers a 0% intro APR on new purchases. Both promotions will revert to the regular ongoing APR once the period expires.
The Chase Slate Edge℠ provides a long 0% intro APR promotion for balance transfers. Only new cardmembers qualify for this benefit, and the card's regular APR kicks in after the introductory period expires. 
---
Balance transfers make sense when the consolidated APR is lower than that of the transferred cards. A 0% intro APR ensures this condition and can save you big bucks.
You may need to moderate your enthusiasm for balance transfers when you consider the following:
Your card's credit limit may not allow you to transfer all your balances, and this defeats one of the main advantages of these transfers, namely, escaping from multiple minimum payments.
Cards charge a fee, typically 3% to 5%, for each transfer.
Some cards tease long promotional periods but require you to complete your transfers in a much shorter time frame. 
You will have to pay the card's regular APR for any balances remaining after the introductory period ends.
If you miss a payment, the card may terminate the promotion and begin charging you its regular APR. In some cases, the card may hit you with a penalty APR several percentage points above the regular one.
Nonetheless, a balance transfer program can help you cut your interest charges, reduce your debt, and boost your credit score when executed correctly.
What Are Credit Card Benefits?
Credit card companies make money from interest and fees. Economic imperatives prompt the card issuers to recruit as many eligible cardowners as possible, and card benefits are vital to achieving this goal. 
Benefits are perks that credit cards offer separate from rewards on purchases. Card benefits usually save you money in some way, such as by paying your baggage check fees or extending a manufacturer's warranty. 
Cards with higher annual fees can afford to offer the richest benefits. Some credit card aficionados want cards that provide an excellent array of benefits despite having no annual fee. Discover and Capital One are leaders in this regard.
What's the Difference Between Card Benefits and Rewards?
Credit card rewards are cash back, points, or miles you earn by making purchases with your card. You can redeem rewards for anything from a gift card to statement credit.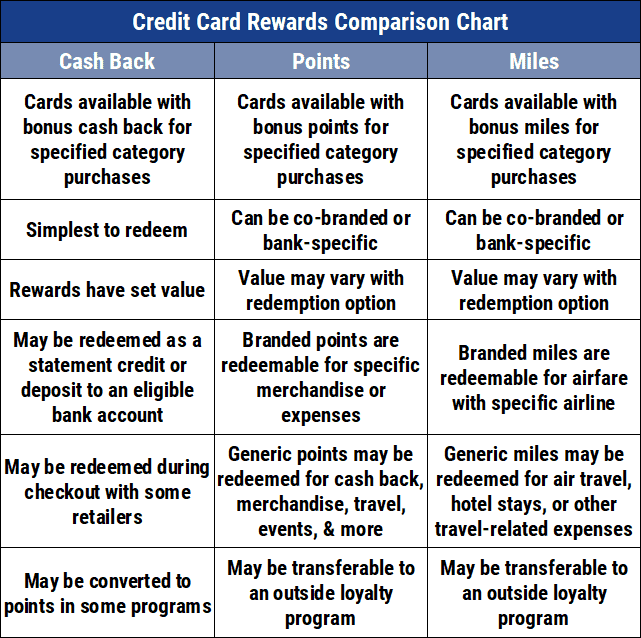 Benefits are all the other perks a card offers. Some cards offer both, a few offer benefits without rewards, but all cards provide some benefits, such as $0 fraud liability. 
Travel cards offer the most comprehensive array of benefits, helping you save money on flights, car rentals, hotel stays, cruises, and other travel-related purchases. Virtually all travel cards offer rewards and benefits, with a few premium cards charging annual fees in the $400 to $700 range. 
Frugal credit card mavens look for travel cards that deliver valuable perks for sub-$100 annual fees. Others may prefer a cash back credit card to a travel card.
Which Credit Card Has the Most Benefits?
I nominate the Chase Sapphire Reserve® as the card with the most and best benefits. It should be, given its $550 annual fee, plus $75 for each additional user. But if you travel even once or twice a year, you can easily recoup the fee and then some.
Consider some of the card's benefits:
A $300 annual travel credit
Enhanced point values when redeemed for travel via Chase Ultimate Rewards
Unlimited free access to select airport lounges
Trip cancellation/interruption and travel accident insurance
Lost luggage insurance
Free baggage check
Rental car primary collision damage waiver
Special car rental privileges from select agencies
No blackout dates or travel restrictions
Pay Yourself Back, which enhances point redemption value by 50% on select purchases
Global Entry & TSA PreCheck® reimbursement
1:1 point transfer to leading airline and hotel loyalty programs
No foreign transaction fees
Purchase, return, and extended warranty protection
These benefits augment the card's generous promotional and reward structure. Other cards, such as The Platinum Card® from Amex and the Capital One Venture X Rewards Credit Card, also offer plenty of benefits. Your money, your choice.
What Benefits Should I Look For in a Credit Card?
Your lifestyle may influence which benefits appeal to you the most.
A travel card makes sense if you travel frequently. Look for benefits that include:
Travel accident insurance
Trip cancellation/interruption insurance
Car rental coverage
Airport lounge access
Free checked bags
No foreign transaction fee
Global Entry & TSA PreCheck® reimbursement
Savvy shoppers may like these benefits:
Extended warranties
Purchase protection
Purchase price protection
Cellphone protection
Finally, if you wish to concentrate on improving your credit, look for this pair of benefits:
Free credit monitoring
Free balance transfers
We haven't exhausted the universe of benefits available from today's credit cards, but the benefits we've listed should provide you with a good starting point as you search for your next credit card.
Do I Need Good Credit to Get Credit Card Benefits?
Most of the best credit card benefits require good or excellent credit. However, cards for fair and even bad credit provide some benefits, but they may not offer rewards.
All cards offer $0 liability protection. Beyond that, cards for less-than-good credit may offer basic benefits such as credit monitoring, a choice of card designs, and the ability to choose your monthly payment due date.
Treat Yourself to the Best Credit Card Benefits
I hope our review of the best credit card benefits has opened your eyes to the possibilities when choosing your next credit card. On a cautionary note, please understand that credit cards can change their benefits at any time. 
Also, don't be mesmerized by rewards that sound good on paper but that you're unlikely to use. An 18-month balance transfer promotion won't help you if you don't own any other credit cards. 
On the other hand, by searching out credit cards that offer you meaningful benefits, you can maximize the card's value, no matter the annual fee. If you want to research any of the reviewed cards further, click on the summary box links and access the cards' terms and conditions. 
Advertiser Disclosure
CardRates.com is a free online resource that offers valuable content and comparison services to users. To keep this resource 100% free, we receive compensation for referrals for many of the offers listed on the site. Along with key review factors, this compensation may impact how and where products appear across CardRates.com (including, for example, the order in which they appear). CardRates.com does not include the entire universe of available offers. Editorial opinions expressed on the site are strictly our own and are not provided, endorsed, or approved by advertisers.