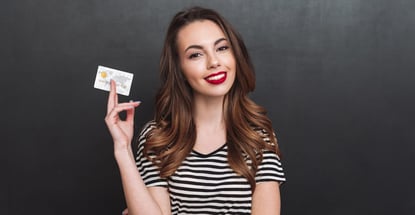 Finding the best credit cards for low credit scores doesn't have to feel like an impossible task. In today's market there are quality credit cards for nearly every credit level.
Imagine you're preparing for a job interview. You choose your best interview clothes, spend time in front of the mirror to look your best, and may even do some confidence-building exercises to ensure you're in top form. But just why are you going through all this preparation? Because you know the company is looking to hire the best candidate they can find.
It's no different with credit card companies. They want the best consumers they can get, with the highest credit scores and the lowest probability of defaulting on their debts. That's why those in the upper echelon of credit ratings can be assured of the best offers, rewards, and terms when they apply for a card.
By comparison, those toward the bottom of the credit score ranks often find it hard to even get a credit card, let alone one with the features you want. However, it's not impossible to find a credit card that offers a low APR, valuable benefits, no annual fee, and even a rewards program.
By Credit Score: 0 | 350 – 500 | 500 – 600 | 600+
By Feature: Rewards | Student | Business | No Annual Fee
Best Cards for No Credit Score
Getting approved for a credit card when you have no credit at all might seem an insurmountable task. Here are two credit cards that offer an opportunity for those with limited or no credit history to speak of. Be aware that you will almost certainly receive a low initial credit limit, but with responsible card use, that can quickly change.
Capital One® Platinum Credit Card
This card is currently not available.
The Capital One® Platinum Credit Card is a full-featured credit card that comes with no annual fee. It has few frills, as you might expect, but Capital One is known for approving applicants who have zero credit history for this card. One thing you will need is an income, although it's unclear how much you need to earn to qualify.
The Capital One® Platinum Credit Card is issued on the Mastercard network, and it comes with a fairly high variable APR. That means you should probably try to pay your balance in full each month if possible, so as not to rack up too much in interest charges. Even though you will likely have a low initial credit limit, you'll automatically be considered for an increase by making your first five payments on time.
Capital One® Secured Mastercard®
This card is currently not available.
Another option for those with no or limited credit is a secured credit card. A secured card uses funds placed into an account as a security deposit before the card is issued. The Capital One® Secured Mastercard® requires a deposit amount that is based on your creditworthiness. A card is then issued with a spending limit or line of "credit" of $200.
This secured card then acts just like a credit card, allowing you to use it any place that accepts Mastercard. There's no annual fee but it does have a high APR — we suggest you avoid this unnecessary expense and pay off the balance each billing cycle.
The best part about this card is you'll be building a credit history since Capital One reports your payments and usage to the three major credit bureaus. That means if you make payments on time and use the card responsibly, you'll soon reap the benefits.
Best Cards for 350 – 500 Credit Scores
When talking about credit scores, the majority of people are referring to the FICO credit scoring system that ranges from 300 to 850. Generally, these scores are broken into five ranges; Poor, Fair, Good, Very Good, and Excellent. A score of between 350 and 500 is, as you might guess, poor. Fortunately, there are still some cards meant for scores in this range.
Pre-qualify for a card today and it will not impact your credit score
Less than perfect credit is okay
Mobile account access at any time
Fraud protection for stolen or lost cards
Account history is reported to the three major credit bureaus in the U.S.
Credit cards created for those with very poor credit scores are not where you're going to find a lot of rewards or perks. Instead, what you'll find with the Indigo® Mastercard® is a full-service card that's designed to help you establish or rebuild your credit. This is an unsecured credit card, so no security deposit is required, and it can be used anywhere Mastercard is accepted.
Depending on your score and your credit history, you could pay a $0 annual fee for this card, or worst-case scenario, a $99 annual fee. Your payment history is reported to the three major credit bureaus, so timely payments can mean a commensurate increase in your credit score.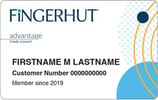 at Fingerhut'ssecure website
Easy application! Get a credit decision in seconds.
Build your credit history – Fingerhut reports to all 3 major credit bureaus
Use your line of credit to shop thousands of items from great brands like Samsung, KitchenAid, and DeWalt
Not an access card
Fingerhut is best known for its product catalogs that have been around since 1948. You can still get a printed catalog, but most people shop for its more than 450,000 products online. As a merchandiser primarily targeting the buy now, pay later crowd, it's no surprise Fingerhut would accept even those with poor or no credit. Fingerhut Credit Accounts are issued by WebBank, a brand partner financial institution.
Consumers can be approved for two types of credit accounts: the Fingerhut Advantage and the Fingerhut FreshStart account. FreshStart requires you to make a down payment on your first purchase, but upon paying it off, you can be upgraded to the revolving Advantage account.
Both accounts can only be used to make purchases through Fingerhut and merchant partners. Fingerhut cards are free of any fees, but they do have a rather high APR. Still, for those with very bad credit, this may be a good way to rebuild your score. And yes, both cards report to the credit bureaus.
Best Cards for 500 – 600 Credit Scores
Having a credit score in the 500 to 600 range is still considered bad, but it shows you're working your way up. Some card issuers want to help those they see as making improvements to their credit profiles. The subprime cards you'll find here won't have the premium perks or rewards of prime cards, but they're good options for helping you along your credit-rebuilding journey.
Checking Account Required
Fast and easy application process; response provided in seconds
A genuine Visa credit card accepted by merchants nationwide across the USA and online
Manageable monthly payments
$300 credit limit (subject to available credit)
Reports monthly to all three major credit bureaus
While the unsecured Total Visa® Card is available to even those with poor, limited, or no credit, it's probably not the right card for everyone. Sure, there's no deposit required as with a secured card, but there is a program fee just to get started. And that's on top of the first-year annual fee that gets deducted from your credit limit right away. If you decide to keep the card into the second year, another annual fee plus a monthly fee will apply.
Still, if this is your only way to get a full-service Visa card that can help you start building your credit, the cost might be worth it. Consider keeping this card for the first year while diligently making your payments on time. You know what you'll be paying in fees and if you use the card responsibly, you can probably develop a good enough credit history to qualify for a less punitive card a year down the road.
Prequalify for a card today and it will not impact your credit score
Less than perfect credit is okay
Mobile account access at any time
Protection from fraud if your card is stolen
Account history is reported to the three major credit bureaus in the U.S.
*Dependent on credit worthiness
As with the previous card, the Milestone® Mastercard® is intended for those credit-challenged folks who don't mind paying a fee for an unsecured full-service credit card. In this case, the fee charged for the Milestone® Mastercard® – Less Than Perfect Credit Considered varies the first year based on your credit score and is $99 each year thereafter.
As a card intended for credit building, the Milestone® Mastercard® – Less Than Perfect Credit Considered does serve its purpose. It has a middle of the road APR and payment history is reported to the three major credit bureaus. If you keep the card for a year and ensure you make timely payments, you're likely to improve your credit score enough to jump to a more attractive card offer.
Best Cards for 600+ Credit Scores
Having a credit score greater than 600 places you into the range considered "fair" by many card issuers. That means your options for more attractive cards begin to improve.
You'll start seeing cards that offer more competitive APRs, fewer fees, and even reward points. Here are a couple of cards from Credit One Bank you may want to consider.

at Credit One'ssecure website
Enjoy peace of mind with $0 Fraud Liability
Qualified applicants will receive a card with a competitive APR and no annual fee along with 1% cash back rewards on all purchases, terms apply
View updates to your Experian credit score with free online access, terms apply
Make paying your bill easier with the ability to choose your payment due date, terms apply
Access your account on-the-go with the Credit One Bank mobile app
Never miss an account update with customizable text and email alerts
| | | | | |
| --- | --- | --- | --- | --- |
| | | 17.99% to 23.99% Variable | | |
This is an unsecured credit card for folks who still may have borderline credit scores but are working their way up the credit ladder. As with many cards, the credit limit, APR, and annual fee for the Credit One Bank® Platinum Visa® are tied directly to your credit history. A better score can net you up to a $3,000 credit limit, but you're assured a limit of at least $300. Of course, that's before the annual fee is deducted.
Annual fee aside, there is no application fee and no monthly fee with the Credit One® Platinum Visa®. This card also comes with the flexibility of letting you choose your payment due date and gives you access to your Experian credit score and credit report summary online for free. You can also set up custom email or text alerts to notify you when your payment date is approaching or if your available balance is running low.
Qualified applicants will enjoy benefits including 1% cash back rewards on all purchases, no annual fee, and a competitive APR. Terms apply
CreditOneBank.com and the Credit One Bank mobile app makes it easy to access and manage all your account information and make payments whether you're at home or on-the-go.
Zero Fraud Liability protects you if your card is ever lost or stolen. Rest easy knowing you won't be held responsible for unauthorized charges.
Use your Apple device to make purchases securely through Apple Pay®. Apple Pay is a registered trademark of Apple, Inc.
Keep an eye on your credit information with free online access to your Experian credit score. Terms apply.
Get access to billing statements online when you Go Paperless. Enjoy quicker access to your account documents without the hassle of having to wait 'til they arrive in the mail.
| | | | | |
| --- | --- | --- | --- | --- |
| | | 17.99% to 23.99% Variable | | |
With almost identical features to the card above, this Credit One Bank Visa comes with a bonus feature. Few cards in the subprime space offer cash back rewards, but this one does. You can earn 1% cash back rewards when you use this card for purchases on things like gas, groceries, services like your mobile phone or internet, and other eligible items.
Of course, this may not be the card to keep and hold forever, but it's a card that offers rewards when few others in this category do. And after you've had it for a while, you can probably apply for and get a card with an even better rewards plan.
Best Rewards Card for a Low Credit Score
We don't usually think of reward points when talking about credit cards for consumers with low credit scores. However elusive, rewards programs do exist for these cards. Do your research carefully though, as many also have fees and restrictions that may make a rewards card less valuable after all.
Capital One® QuicksilverOne® Cash Rewards Credit Card
This card is currently not available.
With its 1.5% unlimited cash back on every purchase, the Capital One® QuicksilverOne® Cash Rewards Credit Card from Capital One is a standout among low credit score cards. However, there are some things to consider before you jump on this seemingly incredible deal. This card is intended for consumers who would use it regularly, spending more than the $2,600 a year necessary to offset the annual fee.
Even with the annual fee consideration, this card gets consistently high ratings and reviews within the industry and from users. Reward points can be redeemed at any time and can even be set up to automatically put points back into your account as cash.
The APR for this card is relatively high, so try not to carry a balance forward each month. Capital One reports payment history to the credit bureaus so you'll probably see a boost in your score, but this is a card with enough features and rewards that you won't have to worry about trading it up after a year.
Best Student Card for No Credit Score
Students can have some of the biggest challenges getting a reasonable credit card because they usually have limited or no credit history. But students are also an attractive demographic for card issuers since it's an opportunity to establish loyalty early on.
Student credit cards are a great way to begin building credit while taking advantage of the perks offered by some student cards.
Discover it® Student Cash Back
This card is currently not available.
The Discover it® Student Cash Back card is an ideal card for students who want to build credit and take advantage of rewards along the way. The incredible cash back rewards on certain categories each quarter makes this feel like a premium rewards card.
If the cash back bonuses aren't enough of an incentive, this card offers a reward in the form of statement credit for maintaining a high GPA. You can also track your FICO score for free on your monthly account statement, your mobile device, or online.
Best Business Card for a Low Credit Score
A credit card is a must if you're running a small business, but what if you're saddled with a low credit score? There are card issuers out there who recognize the needs of business owners and want to help you succeed. Features like reward points and no annual fee make it even better.
Capital One® Spark® Classic for Business
This card is currently not available.
As a business owner, you need all the help you can get. Capital One is there for you with the Capital One® Spark® Classic for Business — a credit card with no annual fee and unlimited 1% cash back rewards for your business. This is a card intended for business owners with average, fair, and limited credit scores.
In addition to the unlimited 1% cash back rewards, this card also offers free employee cards, itemized spending reports, and experienced small business customer service. The regular APR is 25.24%, so it's not a great idea to carry too large a balance from month to month. But for a business credit card when you have a low credit score, this is a great option.
Best Card for a Low Credit Score with No Annual Fee
When you have a low credit score, rebuilding your credit means taking advantage of saving money wherever you can. Choosing a credit card with no annual fee is a great place to start. If you want a full-service credit card without the overhead, you don't have to look very far.
Capital One® Platinum Credit Card
This card is currently not available.
Need a credit card to help rebuild and boost your low credit score? Don't want to pay an annual fee for it? Don't need a lot of frills or perks? Well, Capital One may have just the card for you. The Capital One® Platinum Credit Card is a true starter card that gives you all the advantages of a Mastercard branded credit card.
The credit limit you receive upon being approved for the Capital One® Platinum Credit Card depends on your actual credit history, but the company says it will give you access to a higher credit line after you make your first five payments on time. The interest rate for this card is on the high side, so you should try to avoid carrying a balance. Still, as a credit builder with no annual fee, it's a good choice for those with a low credit score.
What is the Best Credit Card for Rebuilding Credit?
Credit cards intended for rebuilding credit have a few things in common, but some differences as well. For instance, there are both secured and unsecured cards designed for rebuilding credit scores, and which you choose will depend on factors like how bad your credit score is to begin with.
For those with the worst scores, a secured card may be the only option. However, if you can qualify for an unsecured card, you won't need to come up with the $300 or so required for a security deposit.
The most common features of cards for rebuilding credit include one or more of the following:
They generally have a higher than average APR.
The credit limit will be lower than for most typical credit cards.
Many will charge an annual fee (check the ones we've recommended that don't).
Some charge a non-refundable activation or program fee once you're approved.
A few offer reward points, but most do not.
Almost all of them will report payment history to the three major credit bureaus.
It's this final point that's most important when talking about cards for rebuilding credit. To raise your credit score, the credit bureaus need to see you are using your credit wisely and making payments on time. Rebuilding your score to a respectable level can take months or years depending on how bad your credit score is to begin with and how many negative entries you must overcome.
Climbing your way back up the credit ladder isn't easy, but with a little foresight and diligence, it can be done. The cards we've recommended here are all good choices but the right one for you depends largely on your personal credit history and needs.
Will Opening a New Credit Card Hurt My Credit Score?
You may have heard or read stories about people whose credit score was negatively affected by opening a new credit card. Many of these accounts are anecdotal, but the confusion around the impact of opening a new card persists. Let's try to clear the air.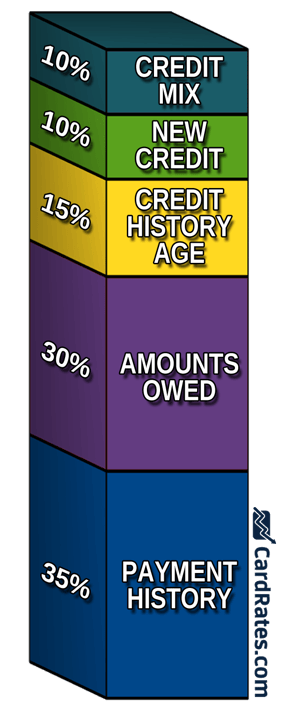 Filling out an application for a credit card
authorizes the card issuer to request a copy of your credit report. That request is called a hard inquiry – meaning your credit report is pulled for the express purpose of providing you credit. In contrast, a soft inquiry is when information about you is being verified for reasons other than a credit card or loan.
A hard inquiry affects the new credit portion of your score, which counts for 10% of your total credit score. It can potentially lower your credit score by a few points for a short period of time. However, if you apply for multiple credit cards, it can have a larger impact. But let's look a little deeper.
Another part of your FICO score, 15% to be exact, is your length of credit history. The credit bureaus reward a long credit history, and they consider the average age of all your accounts. If you get a new card, it stands to reason that the overall age of your accounts will drop, and this can also affect your score.
Those two factors combined have a potential impact on 25% of your total score, but there's more to consider.
Credit utilization, or the amount of debt you have compared with the total available, comprises 30% of your score. If you already have credit card debt, opening a new card can decrease your utilization rate by increasing the total credit you have available. The lower your utilization rate, the better it is for your score.
So to summarize, opening a new credit card can have both a short-term negative impact and a potential positive impact, depending on your personal credit history and circumstances. In the end, it should not be enough to deter you from getting a card that otherwise makes financial sense to have.
Is it Better to Pay Off Your Credit Card or Keep a Balance?
A common misconception is that maintaining a balance on a credit card will improve your credit score. Not only is this simply untrue, but it also costs money. That's because every dollar you carry over from the previous month costs you in interest.
So where did this myth derive from? Possibly from the idea that using your credit card to make purchases will show it is current, which can increase your score. But carrying a balance is not a factor considered by the credit rating agencies.
Payment history is the single most important factor in determining your credit score, accounting for 35% of the total. So, far more important than carrying a balance forward is making payments on time.
If you charge $1,000 on your card each month and pay it in full during the current billing cycle, you would be seen as an active card user who knows how to manage debt.
Paying off your card balances also helps you maintain a good utilization ratio since that's a function of your balance compared to your total available credit. The lower your balance, the better your utilization rate.
In the case of a card you keep for emergencies and don't use regularly, it may be worth making a small purchase or two to keep it active. Active and responsible card usage will only have a positive impact on your score.
Does Only Paying the Minimum Hurt My Credit Score?
Another point of confusion when talking credit scores is the impact, if any, of making just the minimum payment. It seems like this should have some sort of negative effect, right? The good news is that if you make the minimum payment by the due date, it won't affect your score. But the story doesn't end there.
Making the minimum payment on a card when you're tight on cash one month isn't the end of the world. No corporate bean-counter is going to draw a red circle around your name and keep a close eye on you for the next six months. What you really need to worry about though are the side effects of doing this.
The first side effect is that it's going to cost you — in interest. Every dollar you carry forward you pay interest on.
The next side effect is the potential to increase your utilization ratio. If you already have a balance and this minimum payment brings you over 30% utilization, your credit score could take a hit. But perhaps the most important side effect is the psychological one.
If you begin to develop a habit of postponing your planned payment amount, you could fall into the trap of carrying debt from month to month — and getting used to it. Soon it becomes second nature.
Let's say you only pay the minimum payment each month, but you charge more than that to your card. This will cause your balance to increase and will cost you more to service your debt. That means you'll have less to pay toward the principal amount.
Ultimately, if your utilization rate goes too high or you fall behind, this can hurt your score in dramatic ways. It's best to pay the most you can each billing cycle and preferably the entire amount you owe.
Smart Credit Use Will Help You Build Your FICO Score
Understanding the subtleties of smart credit and debt use can be life-changing. It's a matter of making credit work for you instead of the other way around.
This involves having a clear view of your financial position, choosing a credit card (or cards) that fit your personal circumstances, and maintaining a keen awareness of your credit usage. Many people sink into consumer debt due to apathy or inattentiveness rather than external circumstances.
Picking a credit card that can help you build or rebuild your credit is a way to take charge of your personal finances and start building good credit habits. It's an opportunity to change patterns of spending or credit misuse.
Pledge to practice a few good habits with your credit, such as sticking to a budget, paying more than the minimum amount due, and always paying on time. When you've mastered these habits, you can move on to things like lowering your credit utilization ratio, not spending just to get reward points, and work toward getting the best APR offer available to you.
Good credit card use is a skill that's developed with practice. If you have habits that haven't served you in the past, now is the time to change them. Any of the cards we've recommended here can help you on your journey toward a better credit score, but only you can choose the path to get there.
Advertiser Disclosure
CardRates.com is a free online resource that offers valuable content and comparison services to users. To keep this resource 100% free, we receive compensation from many of the offers listed on the site. Along with key review factors, this compensation may impact how and where products appear across the site (including, for example, the order in which they appear). CardRates.com does not include the entire universe of available offers. Editorial opinions expressed on the site are strictly our own and are not provided, endorsed, or approved by advertisers.