credit card advice
Opinions expressed here are ours alone, and are not provided, endorsed, or approved by any issuer. Our articles follow strict
editorial guidelines
and are updated regularly.
Walmart is the largest retail company in the world and has remained in the top position among other American retail chains since 2002. Known for its "Everyday Low Prices," people love the convenience and affordability Walmart brings to the (dinner) table. With everything from clothing and furniture departments to full-service pharmacies and delis, Walmart is a one-stop shop for many families.
So naturally, it makes sense to get a credit card from a store you visit often — each week, nearly one-third of the US population will go to a Walmart store! But what about when you want to go to Target, or literally anywhere else? We've done some research on the Walmart credit cards and where they can be used to make purchases, the rewards you can (and can't) earn, along with some comparable (and superior) credit card options.
1. It Depends on Which Walmart Credit Card You Carry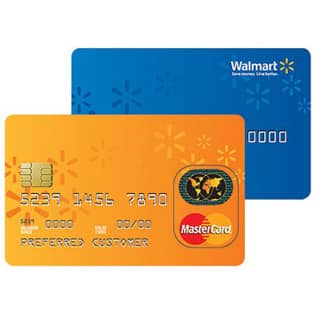 There are two Walmart credit cards you can apply for — the Walmart Credit Card and the Walmart MasterCard. The Walmart Credit Card can only be used at Walmart stores, Walmart.com, Sam's Club, and its associated gas stations. The Walmart MasterCard, however, can be used anywhere MasterCard is accepted.
Being MasterCard is one of the largest and most popular global networks, you can bet your card will be accepted most everywhere, at least in the US.
If you buy your gas from a Walmart or Murphy USA gas station, using your Walmart-branded card to complete the purchase will earn you 2% cash back (Murphy Express stations excluded), which is a pretty fair deal in comparison to other gas station cards available. If you're using the card to make purchases from Walmart and Sam's Club stores, however, you're probably shorting yourself of the best rewards-earning potential, as we'll explain next.
2. Both Carry High APRs, So You Might Have Better Options
While known for low prices, Walmart isn't necessarily known for low-interest rates. The Walmart credit card carries a variable 23.65% APR, while the Walmart MasterCard begins at a 17.65% APR up to 23.65%, at the time of this article, based on creditworthiness "and other factors" per the terms and conditions. The card, however, isn't known to approve those with bad credit in the first place.
If you make most of your purchases online at Walmart.com, both cards can provide great cash-back value at 3% for all qualifying transactions. If you're making the bulk of your purchases in-store, the cash-back value isn't so appealing, sitting at just 1% per qualifying purchase. This is less than ideal when cards like the Chase Freedom and Discover it® Cash Back offer 5% back in rotating quarterly categories. Bonus rewards are capped at $1,500 per quarter, and bonus categories must be activated each quarter.
Your Walmart rewards can only be redeemed as a statement credit and are applied automatically each billing period (unless your balance is past due, in which case you won't see rewards applied until your payments are up to date.) If you carry a balance, this means the rewards you've earned are only helping to lessen the interest you're paying, so you're not really earning much at all, or at least it won't feel like it.
Not only can the following cards be used everywhere Visa and Mastercard are accepted, most offer lower APRs and better cash back rewards that can be redeemed for a check, travel rewards, gift cards, merchandise, or statement credit if that's what you prefer — and there are options for all credit types — no bad credit denials to worry about!
Good Credit (700+) | Fair Credit (650+) | Poor Credit (<650)
Rewards Cards for Good Credit
Those with good credit scores have the best offers to choose from, especially when it comes to cash back. Instead of earning 1% on outside purchases with the Walmart MasterCard, earn up to 5% cash back with one of these.
+ See More Cards for Good Credit
Rewards Cards for Fair Credit
"Fair" credit means you're kind of sitting there right in the middle of the credit score spectrum between "good" and "bad." By using one of the following cards responsibly (always paying on time, keeping your balance low), you can increase your credit score over time, and still earn comparable rewards to that of the Walmart Credit Card. The primary difference, of course, being merchant acceptance — earn rewards everywhere, not just at Walmart.
+ See More Cards for Fair Credit
Rewards Cards for Poor Credit
Regardless of your credit rating, you still have options for earning cash back rewards on all of your qualifying purchases — the caveat being you may be required to pay an annual fee. This is the price you'll quite literally pay to have a card that isn't restricted to one store when you have less-than-perfect credit. These cards can also be used to mend your credit score with responsible use, and you can eventually qualify for better offers.
+ See More Cards for Bad Credit
3. Special Financing & New Account Purchases = No Rewards
When the holidays roll around, or really any time you want to make a large purchase, it's nice having the option to "buy now and pay later" with Walmart special financing. Special financing allows you to pay no interest on your purchase, so long as you pay with your Walmart Credit Card or Walmart MasterCard and pay the balance off within six to 12 months, depending on the original purchase price.
One drawback, though, is that these purchases do not qualify to earn rewards. Nor do purchases made at the time of opening a new credit card account, because you'll receive an in-store discount instead.
If interest-free financing appeals to you, you're better off with a 0% intro APR credit card, allowing you to purchase anything — not just a qualifying Walmart product — and pay no interest for up to 15 months or longer! The Walmart credit cards have their perks, especially when buying online, but every wallet should have a more versatile option that allows cardholders to earn rewards everywhere.