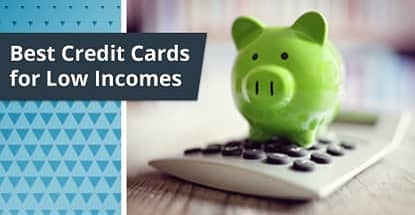 With seemingly endless options available, finding the best credit cards for low income may seem like a challenge. Thankfully, that broad range of card options means there are a number of credit cards suitable for those currently earning less than average.
Although the median household income in the U.S. is a respectable $57,617, that number doesn't really tell the whole story. By its nature, a median number is simply the one in the middle — which means 50% of Americans take home less than the national median, including more than 40 million people who live below the poverty line.
For many struggling to make ends meet on a low income, it isn't always a matter of sticking to a simple budget; in many cases, it really comes down to finding every last penny — and putting them to work. While this can mean cutting out unnecessary expenses, some things can't always be cut. Credit cards, for instance, have become a virtual necessity in today's digital world but, thankfully, they don't have to be an expensive one.
Fair Credit | Bad Credit | No Annual Fee | Low Ongoing APR
Best "Fair Credit" Cards for People with Low Incomes
Those with fair credit are often consumers who are just starting to build a credit history or who are rebuilding their credit scores after a few mistakes — both situations that can be made more difficult by a low income. When it comes to unsecured credit cards, many fair-credit applicants will need to choose between a basic card with no annual fee or a rewards card with a fee.
Whether or not an annual fee is worth paying will depend mostly on how much value you'll get out of the rewards and perks offered by the card. If you'll earn enough cash back to break even (or better), the annual fee may not be a deal-breaker. Some of our top-rated fair-credit cards include unlimited cash back rewards and other popular perks.
Pay no annual fee
Be automatically considered for a higher credit line in as little as 6 months
Fraud coverage if your card is lost or stolen
Use online banking to access your account, even from your smartphone, with our mobile app
Check out quickly and securely with a contactless card, without touching a terminal or handing your card to a cashier. Just hover your card over a contactless reader, wait for the confirmation, and you're all set.
Pay by check, online or at a local branch, all with no fee - and pick the monthly due date that works best for you
Earn unlimited 1.5% cash back on every purchase, every day
Earn cash rewards without signing up for rotating categories
Be automatically considered for a higher credit line in as little as 6 months
Monitor your credit profile with the CreditWise® app, free for everyone
$0 fraud liability if your card is ever lost or stolen
No limit to how much cash back you can earn, and cash back doesn't expire for the life of the account
Earn 1 Membership Rewards® point for every eligible dollar you spend
You can get double Membership Rewards® points on every dollar of eligible travel purchases—such as prepaid hotel stays, vacation packages, and cruises—when you use your card to book your trip through AmexTravel.com
Amex Offers rewards you at places you like to shop, dine, travel, and more. Simply log in to your account or use the American Express® App to add offers to your card. Then use that same card to pay and enjoy rewards directly on your statement.
Plan It® is a payment option that lets you split up purchases of $100 or more into clear and simple monthly payments with a fixed fee and no interest
$0 annual fee
+See More Cards for Fair Credit
With fair credit, you may be near the edge of the range of acceptable credit profiles, particularly if you're applying for cards that tend to prefer applicants with good credit or better. If you're on the fence about which card to apply for and want to get an idea of your chances of being approved for cards from a particular issuer, you can try checking for pre-qualification offers.
While not a guarantee of acceptance, pre-qualifying for a particular card can mean you have a decent chance of approval. Similarly, not being pre-approved for a card can indicate your chances of approval are low. The best part is that pre-qualification uses a soft credit inquiry to estimate your approval chances, so checking for pre-qualification offers won't damage your credit score.
Keep in mind that signing up for pre-qualified offers can increase the number of pre-approval offers you receive in your mailbox at home. If you want to opt-out of pre-qualification or pre-approval credit card offers at any time, visit OptOutPrescreen.com.
Best "Bad Credit" Cards for People with Low Incomes
Perhaps one of the most difficult situations to find yourself in is trying to rebuild bad credit with a low income. Without the ability to put forward capital or down payments, new lines of credit are often hard to obtain when your credit has been damaged by things like late payments, defaulted accounts, or even bankruptcy discharges.
Besides paying down your outstanding debt as quickly as possible, one of the best things you can do for your credit is to start rebuilding a positive payment history. This may mean obtaining a credit card designed for bad-credit applicants and using it to make small purchases each month, always ensuring you pay in full and on time. You can start your card comparison with our picks below.
No annual fee
Unlike a prepaid card, there is regular reporting to the 3 major credit bureaus
Accepted at millions of locations worldwide
Make the minimum required security deposit and you'll get an initial credit line of $200. Plus, deposit more money before your account opens to get a higher credit line
Access to an authorized bank account is required to make your $49, $99 or $200 refundable security deposit
Be automatically considered for a higher credit line in as little as 6 months with no additional deposit needed
Earn 3% cash back in the category of your choice: gas, online shopping, dining, travel, drug stores, or home improvement/furnishings
Earn 2% cash back at grocery stores and wholesale clubs
Unlimited 1% cash back on all other purchases
A minimum refundable security deposit of $300 (maximum of $4,900) is required to open this account
Access your FICO® Score updated monthly for free, within your Mobile Banking app or in Online Banking
$0 annual fee

at Celtic Bank'ssecure website
All credit types welcome to apply!
Free access to your Vantage 3.0 score From TransUnion* (When you sign up for e-statements)
Monthly reporting to the three major credit bureaus
See if you're Pre-Qualified without impacting your credit score
Fast and easy application process; results in seconds
Free online account access 24/7
+See More Cards for Bad Credit
When you need to build — or rebuild — your credit score, your credit card options will likely come down to an unsecured credit card with high fees, a closed-loop store card, or a secured credit card. Unsecured and store cards for bad credit will typically have high APRs, so you may want to consider a secured card with a lower APR if you are prone to carrying a balance.
Although some consumers are wary of the deposit required to open a secured credit card, most secured cards will allow you to make a smaller initial deposit, then add to your card over time to increase your limit. Plus, unlike the annual and processing fees from unsecured cards, your deposit will be returned to you when you close your secured credit card account.
Best "No Annual Fee" Cards for People with Low Incomes
One of the most common fees in the credit card world is the annual fee, usually charged by credit card issuers to cover the cost of special perks or particularly lucrative rewards. Given the number of superfluous credit cards on the market these days, however, a large number of issuers have started offering cards without annual fees as a way to entice new applicants.
While plenty of options are available for a wide range of credit types, if you want to earn rewards without paying an annual fee, you'll likely need at least good credit. Many of our favorite annual-fee-free credit cards will provide solid rewards, including both bonus category and unlimited cash back options, as well as including introductory 0% APR offers for extra value.
Earn a $200 Bonus after you spend $500 on purchases in your first 3 months from account opening.
Earn 5% cash back on grocery store purchases (not including Target® or Walmart® purchases) on up to $12,000 spent in the first year.
Earn 5% cash back on up to $1,500 in combined purchases in bonus categories each quarter you activate. Enjoy new 5% categories each quarter!
Earn 5% on travel purchased through Chase, 3% on dining at restaurants and drugstores, and 1% on all other purchases.
No annual fee.
0% Intro APR for 15 months from account opening on purchases, then a variable APR of 14.99 - 23.74%.
| | | | | |
| --- | --- | --- | --- | --- |
| 0% Intro APR on Purchases 15 months | | | | |
8. Discover it® Cash Back
This card is currently not available.

at Chase'ssecure website
Earn a $200 Bonus after you spend $500 on purchases in your first 3 months from account opening.
Earn 5% cash back on grocery store purchases (not including Target® or Walmart® purchases) on up to $12,000 spent in the first year.
Earn unlimited 1.5% cash back on all other purchases.
Earn 5% on travel purchased through Chase, 3% on dining at restaurants and drugstores, and 1.5% on all other purchases.
No annual fee.
0% Intro APR for 15 months from account opening on purchases, then a variable APR of 14.99 - 23.74%.
| | | | | |
| --- | --- | --- | --- | --- |
| 0% Intro APR on Purchases 15 months | | | | |
+See More Cards with No Annual Fee
Although annual fees can be a pain, there are some cases in which they might be worth paying. One such case is when the rewards you can earn will pay for the annual fee — and add a little profit, too. A great example of this phenomenon is the Blue Cash Preferred® Card from American Express, which offers 6% cash back on groceries up to $6,000 a year. Spend more than $32 a week on groceries and you'll come out ahead.
Another situation in which paying an annual fee might be worth the cost is in cases when you have an existing credit card that charges a fee. Depending on the age of the card and the size of its credit limit, canceling the card rather than paying the annual fee might actually hurt your credit score. Consider the possible implications before canceling any credit accounts.
Best "Low Ongoing APR" Cards for People with Low Incomes
It isn't usually the annual fee that makes credit cards an expensive problem. With the average credit card charging an APR between 16% and 21%, the most expensive part of paying with plastic for many people will often be the compounding interest fees.
The easiest way to avoid interest fees is, of course, to pay your total balance before the end of the grace period, which extends to your bill's due date each month. When you know you're prone to carrying a balance, however, the better option is to find a card with a low ongoing APR. Our top-rated cards with low ongoing APRs offer rates in the low teens to those who qualify.
Better than Prepaid...Go with a Secured Card! Load One Time - Keep On Using
Absolutely No Credit Check or Minimum Credit Score Required
Automatic Reporting to All Three National Credit Bureaus
9.99% Low Fixed APR - Your Rate Won't Go Up Even if You Are Late
Activate Today with a $200 Minimum Deposit - Maximum $1,000. * Increase Your Credit Limit up to $5,000 by Adding Additional Deposits Anytime
| | | | | |
| --- | --- | --- | --- | --- |
| | | | | Poor/Fair/Limited/Damaged |
Get a $300 statement credit when you make at least $3,000 in net purchases within 90 days of your account opening.
Unlimited employee cards at no additional cost
0% introductory APR for 7 billing cycles from account opening
Manage your business with a suite of online services including automatic payments, transfers, and downloading transactions into QuickBooks
$0 annual fee
Earn 3% cash back for up to $2,500 spent on gas, grocery, and drugstore purchases for the first 6 months
Earn 1% cash rewards for other purchases
Low intro APR helps you buy what you need while in college
Flexibility to use cash rewards toward travel, gift cards, merchandise, cash redemption options , and more
Access your FICO® Credit Score, credit education, and tools with Wells Fargo Online
$0 annual fee
+See More Cards with Low Ongoing APRs
For the most part, each credit card has a predetermined range of potential APRs associated with that card based on its potential user demographics. Cards marketed toward lower-risk applicants will have lower APR ranges, while those marketed toward higher-risk applicants will have higher APR ranges. For example, a prime credit card might have a range from 12% to 18%, while a subprime card might go from 21% to 27%.
While the card's range establishes the potential APRs available, your credit profile — usually represented by your credit score — will have the most impact on where in a given card's APR range your offer falls. Those with the best credit scores will typically receive an offer at the lower end of the range, while those with lower scores will generally receive an offer at the higher end of the range.
Low-Income Cards Can Still Have Big Rewards
Depending on the size of your family and the area in which you live, even the nation's median income of $57,617 might not be enough to provide more than a modest quality of life. For the millions of households making well below that median, making ends meet can be a daily struggle.
Unfortunately, no matter how much you tighten your budget, some of life's expenses aren't avoidable, and a credit card is increasingly becoming one of those unavoidable expenses. With a little research, however, you can often find credit card options for low-income applicants that won't break your budget's bottom line.
Advertiser Disclosure
CardRates.com is a free online resource that offers valuable content and comparison services to users. To keep this resource 100% free, we receive compensation from many of the offers listed on the site. Along with key review factors, this compensation may impact how and where products appear across the site (including, for example, the order in which they appear). CardRates.com does not include the entire universe of available offers. Editorial opinions expressed on the site are strictly our own and are not provided, endorsed, or approved by advertisers.