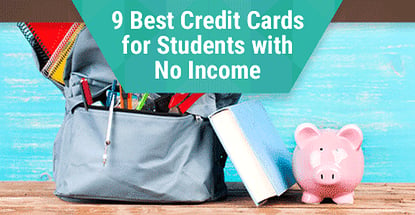 As exciting a time as college can be, it can also be a stressful one, and not simply due to the exams. Part of what makes college a less-than-carefree experience is that the average college student is typically broke. Indeed, without any real skills — that's what you're in college to learn, after all — the income opportunities for a college student aren't exactly lucrative.
And a lack of income can be a pain for more than just the obvious reasons (like a diet of nothing but mac and cheese). Not having an income will also impact your ability to obtain and establish credit, putting you at a financial disadvantage after graduation.
Thankfully, one skill you learned in college can help you here: research. Opportunities to build credit as a student are out there, you just have to know where to find them.
How It Works | Student Cards | Secured Cards | Prepaid Cards
Students with No Income Need Cosigners to Get Credit
Once upon a time, a stack of bright, shiny credit card offers would grace your mailbox just about the moment you turned 18, opening the world of consumer credit to young people everywhere. For better or worse, those days are history — and the CARD Act of 2009 is responsible for their demise.
Designed to enact a range of protections for consumers, such as mandating rate increase alerts, the CARD Act also introduced new restrictions on when and how credit card companies can send offers to young people.
One example is the minimum age for obtaining a credit card, which was originally set at 18. Thanks to the CARD Act, individual credit card applicants must be at least 21 years of age unless they meet specific conditions.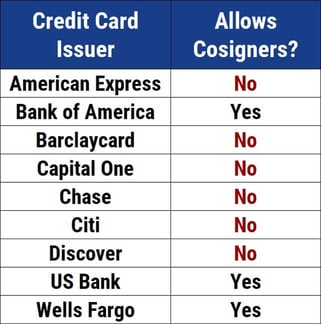 In particular, consumers between the ages of 18 and 21 must have a verifiable income source — beyond that monthly "stipend" from your folks — to qualify for a credit card. This is to ensure you have a reasonable means of paying down your balance, as racking up debt with no way to repay it isn't good for you or your credit card issuer.
For the most part, the only way to avoid the income requirement for credit card applicants under the age of 21 (or, really, any age, as most issuers will prefer you to have an income) is to apply with a qualified cosigner.
This means someone over the age of 21, who has a good credit score and a well-established credit profile. Since not all card issuers allow cosigners, you'll have to choose carefully.
Additionally, before you run off and start asking relatives to cosign your credit card application, you should understand the implications. Agreeing to cosign someone's debt could have potentially serious consequences, particularly if the primary applicant doesn't have a steady income source.
Essentially, cosigners act as guarantors for the line of credit and, thus, will be responsible for repaying the debt should the primary borrower be unable to do so — and issuers aren't shy about hounding the cosigner for repayment if it comes to that.
Additionally, the card will show up on the credit reports of both the primary cardholder and the cosigner. This means any negative events — like missed payments or, worse, default — will impact the credit score of both parties. Not only can this mean you have poor credit before you even turn 21, but it can also tank the good credit of your cosigner.
Student Cards Can Be Easier to Obtain
While you can't even think about getting your own credit card without an income or cosigner until you turn 21, obtaining a new line of credit won't be a picnic at any age if you don't have money coming in. Even with a modest income, without an established credit history, most credit card issuers will still consider you to be a risky bet.
On the plus side, a variety of issuers are willing to take that bet. With a little research, you can find a range of student-centered credit cards with flexible credit requirements that can help you start building your credit profile. You don't have to sacrifice perks, either. Many student cards will also let you earn cash back rewards on your purchases, including our favorites below.
When comparing student cards, it's important to understand exactly how your new card will work. This includes understanding the specific interest rates you'll be charged, as different types of transactions may charge different rates. You'll also want to determine any applicable fees, such as annual fees and late fees, as well as the various transaction fees, like balance transfer or foreign transaction fees.
Secured Credit Cards May Only Require a Deposit
Arguably the easiest credit card to get, secured cards require an initial deposit to open your account. That deposit acts as collateral against potential default, meaning if you become seriously delinquent (more than 180 days late), the issuer can use your deposit to cover your outstanding balance. This results in lower risk to the issuer, and, thus, looser credit requirements for the applicant.
The nature of secured cards also makes them a lower risk for cosigners, which is good because secured cards are not immune to the CARD Act requirements, so you'll still need to show income or have a cosigner if you're under 21. A limited credit history will be less important, however, as secured credit cards, such as the expert-rated options on our list, tend to have more flexible credit requirements — some cards won't even require a credit check.
For a secured credit card, your initial deposit is more than simply collateral. The size of your deposit will also determine the size of your available credit line — i.e., your credit limit — typically at a rate of 90% to 100% of your deposit, up to the card's maximum. If you can't afford a large deposit initially, most cards will allow you to add to your deposit over time.
Prepaid Cards Don't Require Approval
Offering all the shopping perks of a credit card — including the ability to make online purchases — prepaid cards aren't actually associated with a consumer credit line, but are, instead, prepaid by the cardholder before use. Not only does this mean your lack of credit history won't be an issue, it also means the CARD Act won't be a problem, either — income or no income.
In addition to being usable pretty much anywhere credit is accepted, prepaid cards also have a few features your credit card doesn't, including the ability to accept direct deposits. Individual features (and fees) typically vary by card, so compare your options before making a selection. You can start with our expert-rated options to explore the market.
The fact that prepaid cards aren't associated with a credit line can be helpful for those with troubled or nonexistent credit profiles, but it isn't all good news. The same way your credit has no impact on your ability to obtain a prepaid card, your prepaid card will have no impact on your credit.
In other words, prepaid cards can't be used to establish, rebuild, or repair your credit reports or scores. So, if you're only looking for a way to make easy purchases, a prepaid card can work. If you want purchasing power and credit-building credit reporting, stick with an unsecured or secured credit card.
Only Charge What You Can Afford to Repay
Despite the nightmares of showing up to your final in your birthday suit, college can be a great deal of fun. But, like many things in life, getting the most out of your time at college will also require a great deal of hard work.
Of course, of all the lessons you'll likely learn in college, some of the most important won't occur within the walls of a classroom. No, some of your key discoveries will be made through trial — and through error.
You can reduce the impact of many of those hard lessons with the right bit of research, and that applies to your financial lessons, as well. As the old saying goes, "forewarned is forearmed."
In particular, understand the importance of your credit report and score, including the factors that influence your credit score calculation. This will ensure you have the skills and knowledge to use your new card wisely, allowing you to come out of college well-prepared to face the next stage of your financial journey.
Advertiser Disclosure
CardRates.com is a free online resource that offers valuable content and comparison services to users. To keep this resource 100% free, we receive compensation for referrals for many of the offers listed on the site. Along with key review factors, this compensation may impact how and where products appear across CardRates.com (including, for example, the order in which they appear). CardRates.com does not include the entire universe of available offers. Editorial opinions expressed on the site are strictly our own and are not provided, endorsed, or approved by advertisers.