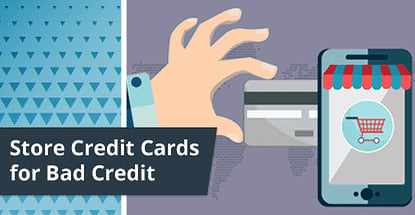 As someone who has been on both sides of the retail exchange, I know cashiers are often required by the company to spout that litany of offers at the checkout line. But knowing they have to ask me doesn't always reduce my level of annoyance when I'm in a hurry.
Making matters worse is the fact that I know the average store credit card simply isn't that great of a deal, despite the tempting spiel memorized by the cashier. This is thanks, in part, to the high APR store cards tend to charge, but also because of the fact that most store-branded credit cards can only be used to make branded purchases — and the same goes for their rewards.
For many consumers, the average rewards card can be a lot more useful than your typical store card. The caveat here is if you have poor credit, which restricts your options for rewards credit cards. But even for bad-credit consumers, store cards may not be worth the limitations. Below, we'll take a look at some of our top choices for store card alternatives as well the best store credit cards for bad credit, and which ones are easiest to get.
Better Options | Automotive | Clothing | Department Stores | Other Retail
Try One of the Best Open-Loop Cards for Bad Credit Instead
As alluring as store cards can sound in the checkout line, few consumers are likely to get enough use out of a branded, closed-loop credit card to justify the hard credit pull — especially poor-credit consumers trying to rebuild their credit. After all, a budget focused on paying down debt usually has little room for splurging on mall shopping sprees or the latest fall fashions.
Instead, a better option for many people is an all-purpose, open-loop credit card that can be used to make purchases anywhere. This will allow you to build credit as you purchase things that actually belong in your budget — such as gas and groceries — instead of tempting you into making purchases you don't really need. Our expert-rated bad-credit issuers have flexible credit requirements and easy online applications.
Don't let a low FICO score stop you from applying – we approve applications others may not.
You don't need good credit to apply.
Just complete the short application and receive a response in 60 seconds.
When you need assistance our award-winning US-based Customer Service agents are there to help.
FICO scores are used to represent the creditworthiness of a person and may be one indicator to the credit type you are eligible for. However, credit score alone does not guarantee or imply approval for any PREMIER Bankcard® product.
| Intro (Purchases) | Intro (Transfers) | Regular APR | Annual Fee | Credit Needed |
| --- | --- | --- | --- | --- |
| N/A | N/A | See Provider Website | See Provider Website | Fair/Poor |
You don't need good credit to apply.
We help people with bad credit, every day.
Just complete the short application and receive a response in 60 seconds.
You can build or rebuild your credit: apply for a PREMIER Bankcard credit card, keep your balance low, and pay all your monthly bills on time.
Don't let a low FICO score stop you from applying – we approve applications others may not.
FICO scores are used to represent the creditworthiness of a person and may be one indicator to the credit type you are eligible for. However, credit score alone does not guarantee or imply approval for any PREMIER Bankcard® product.
| Intro (Purchases) | Intro (Transfers) | Regular APR | Annual Fee | Credit Needed |
| --- | --- | --- | --- | --- |
| N/A | N/A | See Provider Website | See Provider Website | Fair/Poor |
at Mission Lane'ssecure website
$0 Annual Fee. Clear terms and transparent pricing.
See if you qualify instantly without harming your credit score.
Be automatically considered for a higher credit line in as few as 7 months.
Free, online credit score access for cardholders.
No interest on purchases when you pay in full and on time each month.
No security deposit required – get started today!
Enjoy coverage from Visa®.
Access your account anytime, anywhere with our mobile app.
If you are charged interest, the charge will be no less than $0.50.
| Intro (Purchases) | Intro (Transfers) | Regular APR | Annual Fee | Credit Needed |
| --- | --- | --- | --- | --- |
| N/A | N/A | 29.99-33.99% Variable | $0 | Fair |
+See More Cards for Bad Credit
Depending on the nature of your credit woes, you could potentially see drastic credit score improvements after only six months or so of on-time credit card payments, with more card options opening up to you after 12 months of responsible credit use. Pay down any existing debt during the process to see even bigger improvements to your scores.
Best "Automotive" Store Credit Card for Bad Credit
Few things can be as terrifying as the ominous glare of your car's "Check Engine" light (except, perhaps, the accompanying steady stream of smoke from under the hood). Even something as seemingly mundane as a sensor or electrical relay can wreak havoc on your automobile — and your budget, as that teeny-tiny sensor often has a giant repair cost.
Knowing how difficult it can be to shoulder the cost of a pricey repair, many major merchants offering automotive maintenance and repair services provide branded credit cards with interest-free financing offers that can help get you back on the road. If you need longer-term financing for an auto repair and can't qualify for a low-APR loan or open-loop credit card, a store-branded card can help so long as you read the fine print.
4. Firestone Credit Card
The Firestone Credit Card doesn't have rewards but does provide special six-month interest-free financing deals on purchases of $149 or more.

Receive special financing on eligible Firestone tire, maintenance, or repair purchases of $149 or more
Get exclusive monthly deals & coupons
Pay no annual fee
Although the Firestone Credit Card offers a decent financing deal, that deal can get expensive fast thanks to a little thing called deferred interest. In essence, deferred interest means if any portion of your initial balance remains unpaid when your financing terms expire, you'll be charged interest fees on the entire amount at the card's APR.
Consider this scenario: Say you charge a $500 repair on your Firestone Credit Card using special financing, so you pay no interest for six months. If even $1 of that $500 balance is left on your card when those six months are over, you'll be charged interest for the full $500 purchase amount, regardless of how much you've already repaid.
Best "Clothing" Store Credit Cards for Bad Credit
Although clothing is certainly a necessity in our society — you'll quickly be arrested if you run around without a stitch on — many of us take the accumulation of clothing to the next level. And happily helping us into the latest fashions are the slew of retail stores that specialize in keeping our closets full. Many of these merchants are armed with branded credit cards, drawing us into stores with shiny purchase rewards.
But when the shine wears off, what you really see is a high APR — and lots of restrictions on where you can earn and spend your rewards. Since the typical store-branded credit card is only usable with that brand, the only thing they tend to be really great for is encouraging you to spend more money on clothing that isn't in your budget.
5. Express Next Credit Card
The Express Next Credit Card can be a boon to regular shoppers, providing a $10 rewards certificate for every 2,500 points earned (which means $125 in eligible purchases).

Earn 20X points per $1 spent on eligible Express purchases made with your card
Receive free shipping on online orders
Pay no annual fee
No matter how much you love that Express shirt or pair of jeans, however, be sure you can pay off that purchase right away. The Express Next Credit Card comes with a high APR.
6. Old Navy Credit Card
The Old Navy Credit Card is slightly more versatile than your average store card, usable in any Gap Inc.-brand store, including Old Navy, GAP, Banana Republic, and Athleta.

Earn 5X points per $1 spent on eligible Gap Inc.-brand purchases made with your card
Earn a $5 Reward for every 500 points earned
Pay no annual fee
Considering the hefty APR charged by the Old Navy Credit Card, you'll want to pay off those polos in full before your billing date to avoid being charged high interest fees on your purchases.
7. Victoria's Secret Credit Card
The Victoria's Secret Credit Card is best for the lingerie enthusiasts who can make the most of the card's rewards. You'll earn a $10 Angel Rewards certificate for every 250 points earned.

Earn 1X point per $1 spent on eligible Victoria's Secret purchases made with your card
Receive exclusive offers & bonus buys
Pay no annual fee
While prodigious purchasers can find some value in the Victoria's Secret Credit Card, the high APR makes carrying a balance an easy way to rack up some big interest fees. Furthermore, given the shop's generally higher-priced merchandise, you may not get the spending power you want out of a Victoria's Secret card.
In fact, many store credit cards often provide relatively low credit limits, meaning your purchases can quickly approach your credit limit. Credit scoring models look at the utilization rate of each card in your profile, so a store card that is near maxed out can drop your credit score.
Best "Department Store" Credit Card for Bad Credit
Although they may be dwindling, department stores are still the anchors of nearly every mall in America. Department stores provide a wide range of tempting products, from fashion to furniture and nearly everything in between. They also offer tempting store credit cards that make it easy to swipe through every department in the store — and right through your budget, too, with high APRs. Plus, as with most store cards, department store credit cards are closed-loop.
That said, if you're approaching Christmas or a big birthday and want to earn a little extra on the purchases you're going to make anyway, a department store credit card at least offers access to a wider range of products than the typical store card. Be sure to pay off your purchases right away, however, or that savings will wind up buried under a pile of interest fees.
8. JCPenney Credit Card
With the JCPenney Credit Card, you'll earn points for your JCPenney purchases, helping you save on every belt, blazer, blanket, and bench. Receive a $10 JCPenney Rewards certificate for every 200 points you collect.

Earn 1X per $1 spent on eligible JCPenney purchases made with your card
Receive 15% off your first JCPenney card purchase
Pay no annual fee
As with most store credit cards, the JCPenney Credit Card is limited in use by both its high APR and its closed-loop nature, meaning you can only use it to make JCPenney purchases.
9. Kohl's Charge Card
With your Kohl's Charge Card in hand, you can boost your Kohl's rewards by pairing your Kohl's Charge special deals with Kohl's Cash® and Yes2You Rewards®.

Get at least 12 special Kohl's offers to use in-store or online each year you're a cardholder
Receive 25% off your first Kohl's Charge purchase
Pay no annual fee
The Kohl's Charge Card's high APR isn't the only reason to avoid carrying a balance. A single late payment can mean being charged the even higher penalty APR, potentially for the life of the account.
10. Macy's Credit Card
Cardholders of the Macy's Credit Card can save on everything from fashion to furniture, earning a $10 coupon for every 1,000 Plenti points redeemed.

Earn 1X point per $1 spent on eligible Macy's purchases made with your card
Receive 20% off Macy's purchases first 2 days after account opening
Pay no annual fee
Those Plenti points won't seem so plentiful if you're stuck paying the high APR on your purchases, so always pay your full Macy's Credit Card balance each month to avoid fees.
11. Nordstrom Retail Card
The Nordstrom Retail Card offers a host of perks for regular shoppers, with the benefits increasing with your annual Nordstrom spending.

Earn 2X points per $1 spent on eligible Nordstrom purchases made with your card
Receive exclusive discounts and sale access
Pay no annual fee
Although the Nordstrom Retail Card's regular APR is competitive for a store card — or a subprime one — it can still mean large fees. You'll also be stuck with penalty fees of up to $40 if you make any late payments.
Best "Other Retail" Store Credit Card for Bad Credit
Offering easy access to everything from groceries to garments to home goods, the stores in our "Other Retail" category offer many products that can be considered everyday necessities — and a lot of products that are simply budget-busters. So, the store credit cards offered by these merchants can be equal parts awesome and awful, offering rewards on things you really need, while tempting you to make impulse buys on things you really don't.
All in all, if you use the card solely for necessities, avoid overspending, and pay your balance in full each month, these store cards can offer great rewards. On the other hand, if you do most of your everyday shopping somewhere else or are prone to carrying a balance, you may want to stick with a more versatile open-loop credit card that can be used anywhere.
12. Target RedCard
The Target RedCard provides loyal Target shoppers with an automatic 5% discount at the register for eligible purchases.

Get 5% off at checkout for eligible in-store or online Target purchases
Receive exclusive deals & discounts
Pay no annual fee
You can also use your Target RedCard discount to earn extra savings by stacking it with a Target or manufacturer's coupon. Make sure you avoid carrying a balance on the card to keep those savings intact.
13. Amazon.com Store Card
The Amazon.com Store Card provides competitive rewards for cardholders who are already (or decide to become) Amazon Prime members, but the card won't be as valuable to other cardholders who don't want to pay the membership fee.

Amazon Prime members earn 5% cash back rewards on eligible Amazon purchases
Receive special financing on orders $149+
Pay no annual card fee
Although non-Prime cardholders won't receive the full benefits offered by the Amazon.com card, non-members are still eligible for the special financing offers available on qualifying Amazon orders of $149 or more.
As with most store cards that provide special financing, the Amazon.com Store Card operates using deferred interest. This means you'll need to pay off your entire purchase amount before the end of your financing terms or else you'll be charged interest for the entire amount.
How Do Store Credit Cards Work?
At first glance, store credit cards resemble the general-purpose variety, in most respects. Both are identical in size and allow you to pay for purchases electronically. Dig a little deeper, and the differences between the two types become apparent.
Store cards are closed-loop, meaning you can use them only at the store associated with the card. The card has the store's name on its face, but the familiar payment processor logo (i.e., for Visa, Mastercard, American Express, or Discover) is conspicuously missing. This credit card review covers open- and closed-loop retail credit cards.
Closed-loop store cards have several characteristics that set them apart from their open-loop cousins, including:
No general acceptance: You won't get very far whipping out your Target RedCard at a Walmart checkout register. Store cards work at the issuing store brand only – i.e., you can only use a Walmart credit card at Walmart, Sam's Club, or its associated gas stations – where they allow you to make in-person or online purchases.
Easy approval: You have to try hard to be denied a store credit card. These cards are all about encouraging you to shop at the store, desperation made even more acute by the COVID pandemic. If you don't have a good credit score and struggle to qualify for open-loop cards, store cards can provide some buying power.
Financial mixed bag: Store credit cards typically charge high interest rates (generally a purchase APR above 25%) but waive annual fees. You can avoid the purchase APR by paying your balance in full each month, a good practice for all your shopping.
Access to deals: Store cardholders often receive early or exclusive access to discounts, special financing, and other incentives. However, their typically tight credit line policy constrains the benefit. Additionally, many store cards offer whopping discounts only on the first day, so temper your enthusiasm.
On the plus side, store cards usually send data about your payments to at least one major credit bureau just as open-loop cards do, so paying your store card on time can (slowly) improve your credit score and improve your credit report.
Be cautious about store cards that offer a 0% introductory APR for the first few months. These promotions often carry a deferred interest penalty that can really sting.
Indeed, you won't pay interest on unpaid balances during the introductory period, but if you carry any promotional balance beyond the promotion end date, the card will charge you retroactive interest going back to your initial purchase.
Our friends at WalletHub found that 52% of study respondents in 2021 did not understand deferred credit. In this instance, ignorance is definitely not bliss and could come back to bite hard. To be safe, always read a credit card's fine print to protect yourself from tricky promotions.
It may turn out that a store card is not the best credit card for your needs. Depending on the context, your best credit card may be a business credit card, a secured Visa credit card, or one from a major retailer (e.g., the Walmart credit card).
A secured card (in the guise of a consumer or business credit card) offers the surest approval, even if you have bad or fair credit.
What Are the Requirements For Store Cards?
Most store credit cards have minimal approval criteria. Only a student card or secured credit card may be easier to get. You'll have to be at least 18 years old to apply (to the relief of many parents), and many stores say they prefer you to have fair credit or better (if you are a credit card insider, you know this is a questionable claim).
The application will trigger a hard credit check of your credit report. Be prepared for the store cashier to hand you a phone with an inquisitive credit analyst on the other end. A friend told me about several nosy questions she faced regarding her income and housing costs when she applied for a Belk store card a while back.
What Store Card Can I Get With a 600 Credit Score?
Many stores want to see at least a fair credit score, so a 600 score could hinder your chances for approval. Gas credit cards are probably the easiest to acquire with a 600 score, and some retailers, including the Fingerhut Credit Account, have reputations for lax requirements.
In fact, if you can't qualify for the Fingerhut Credit Account, you may still receive approval for a Fingerhut installment loan. Clearly, you do not need good credit to get a Fingerhut account.
However, anecdotal blog reports indicate that many consumers overcome store card score barriers.
The cost of applying for a card is only a few points off your credit score, a reasonable risk given the flexible standards imposed by store credit cards, even if you are currently engaged in building credit.
Are Store Credit Cards Easier to Get Approved For?
Yes, closed-loop store cards are among the most accessible unsecured credit card offerings. Even within this subgenre, automotive and gas credit cards stand out for their ease of acquisition.
Our top-ranked automotive card is the Firestone Credit Card, where, according to reports, low credit scores are acceptable, even if your credit history includes a recent bankruptcy.
If you prefer an open-loop card that you can use at any store, consider the PREMIER Bankcard® Mastercard® Credit Card. It offers quick approval and, although slim on perks, forwards transaction activity to at least one credit bureau where it will appear on your credit report.
If you have excellent taste in clothing but lousy credit, the Express Credit Card may be worth a glance, as it is one of the easiest credit card offerings available. It is well-known for accepting subprime applicants and offers rewards on purchases (redeemable only at Express stores). Indeed, cards of this type may be no more exclusive than secured credit cards.
Some customers prefer department stores over specialized shops. The JCPenny Card is a department store credit card notorious for being one of the easiest credit card offerings to get, and reports indicate that any credit history will do. It is by no means the only department store credit card with a liberal approval policy.
Stores usually offer customers a choice between open- and closed-loop cards. The open-loop Costco Anywhere Visa® Card by Citi is a representative example. You can use this Visa card to shop anywhere yet receive exclusive perks when you use it to make Costco purchases. But open-loop store cards are more challenging to get than the closed-loop type.
Can I Apply For and Use a Store Card the Same Day?
Same-day use is perhaps the biggest perk these cards offer. In a typical scenario, a checkout clerk alerts you to the wonderful benefits afforded by the store card, such as 25% off any purchases you make today. As your eyes widen, the clerk pulls out an application form.
The clerk will enter your information into the system, and unless there's a snag, you'll receive a temporary account number you can use until the card arrives in the mail. You're now free to go on a one-day shopping spree – until you hit your typically modest credit limit.
The same-day discount can be pretty handy if you already plan to buy a relatively big-ticket item. However, the benefit is dubious if it encourages you to buy things you don't need (or can't afford). Unnecessary purchases aren't helpful if you are currently building credit (or rebuilding credit).
A store card's same-day discount can be enticing but ultimately counterproductive. As you pile up more of these cards, your total available credit can climb to uncomfortable heights.
For example, suppose you own half a dozen store cards, each with a $1,000 credit limit. If you were to apply for a personal loan, a timid lender may dislike your potential $6,000 in unsecured credit card debt and turn down your application. If instead, you had one open-loop card with a more modest credit limit, your personal loan application may sail through.
Another factor mitigating against closed-loop store cards is that you can only redeem your rewards, if any, at the issuing store. There's a good chance you'll prefer to use the rewards elsewhere or harvest them as cash back or travel miles. Ultimately, your choice between an open- or closed-loop card (either as a secured or unsecured card) depends on your spending habits.
Keep Your Spending and Payments on Track to Improve Your Credit
To the average shopper, the well-rehearsed spiel of the store clerk is a tempting lure into the seemingly lucrative rewards of a store-branded credit card — and that temptation can be even stronger for someone with poor credit who sees the promise of easy acceptance. In the end, however, store credit cards are often a lot of shine with little substance, providing myriad restrictions and high interest rates.
Even with poor credit, there's little reason to limit yourself to a single brand or store, as the options for credit cards extend far beyond the walls of any store. With an open-loop credit card, you can build credit as you make the purchases that you really need. Pay your card on time and in full each month, and within a year, you will likely see significant credit score improvements that dramatically expand your credit card choices.
Advertiser Disclosure
CardRates.com is a free online resource that offers valuable content and comparison services to users. To keep this resource 100% free, we receive compensation for referrals for many of the offers listed on the site. Along with key review factors, this compensation may impact how and where products appear across CardRates.com (including, for example, the order in which they appear). CardRates.com does not include the entire universe of available offers. Editorial opinions expressed on the site are strictly our own and are not provided, endorsed, or approved by advertisers.