The best credit cards for Christmas shopping can help you get all the items your loved ones want while taking advantage of several card perks that make those items more affordable.
Whether you're enjoying a long period of interest-free financing, extended warranties, cash back, or low interest rates, you can sit back on Christmas morning knowing that your reputation as the best gift-giver is secure — and so are your finances.
We've broken down the key perks you should look for in a holiday shopping credit card below. Those tools can help you unwrap even more savings than what you're used to getting around this time of year.
Best 0% APR Credit Cards For Christmas Shopping
The cards below all offer 0% APR introductory offers to new cardholders. The length of each offer differs depending on the card, but each card allows you to go an extended period without interest charges accruing on eligible purchases.
The 0% financing period may come with other membership rewards, including a signup bonus, cash back, travel rewards, bonus points, or other rewards.
The Chase Slate Edge℠ offers a 0% intro APR on all your Christmas purchases for the first 18 months after account opening. This card gives you the ability to finance purchases without accruing interest fees until after next Christmas.
While you get a few extra months of 0% financing with this card, it doesn't offer purchase rewards like our next few cards, which offer intro APRs and rewards.
The Chase Freedom Unlimited® offers a full range of credit card rewards for new cardholders, including an extended period of interest-free financing and cash back rewards that include bonus categories with even more earnings potential. 
And possibly the best feature of this award-winning card is its lack of an annual fee. That gives you extra money to reward yourself while holiday shopping for the special people in your life.
Capital One remains one of the most recognizable credit card issuers in America, not just because it produces catchy commercials. The Capital One Quicksilver Cash Rewards Credit Card regularly offers extended 0% APR introductory offers to complement its welcome bonus and cash back rewards. 
Avoid carrying a balance on this card once the promotional period ends, though, as its ongoing interest rate is a bit on the high end.
New Discover it® Cash Back cardholders can enjoy a long period of interest-free financing and Discover's popular Cashback Match program that matches the entire amount of cash back they earn during their first year with the card. You can receive your bonus cash back as a statement credit or cash out to receive it as a check or a direct deposit into a linked checking account or another bank account.
Maybe best of all is that its Q4 categories generally line up with big-box retailers many holiday shoppers frequent.
The Capital One SavorOne Cash Rewards Credit Card is designed for foodies — but you don't have to be a restaurant regular to enjoy the benefits of this card.
In addition to a 0% APR introductory period, you'll also earn cash back on all of your combined purchases — including holiday spending, personal purchases, travel purchases, and more.
The Chase Freedom Flex℠ offers an extended intro APR and more bonus category savings than do most other rewards credit cards. You can maximize your travel rewards when you make travel purchases through the Chase Ultimate Rewards portal.
If you don't want to redeem your rewards for travel or experiences, you can simply cash out and use your earned perks as a statement credit to erase all or part of your credit card debt.
Amex EveryDay® Credit Card members get to experience a wide range of credit card deals — including a 0% intro APR, a generous welcome bonus, and bonus categories that make holiday shopping easier and more profitable.
This rewards card beats out many other credit cards and store cards by helping maximize your earnings with every purchase. And it offers a flexible credit score requirement to help you get a foot in the door with American Express.
The Discover it® Miles credit card lets you use every purchase to get one step closer to your next vacation. 
You will earn miles rewards that you can redeem as a statement credit to erase all or part of previous travel-related expenses. And all of your combined purchases in the first year qualify for Discover's Miles-for-Miles Match program that matches all of the rewards you earn during your first year as a cardholder.
Best Signup Bonus Credit Cards For Christmas Shopping
Whether you start your Christmas shopping on Black Friday or wait until the last second, a card with a good signup bonus can help you earn money during your shopping trips.
These cards all offer different one-time rewards — either in cash back or rewards points — when you reach certain spending thresholds during your first months with the card. Holiday shopping is a perfect time to meet those spending goals and cash in big.
The Discover it® Cash Back lets you choose how much of a signup bonus you'll receive by matching the entire amount of cash back you earn during your first year with the card. The bank will deposit the bonus into your account shortly after your one-year card anniversary.
The Chase Sapphire Preferred® Card welcome bonus pays out in Chase Ultimate Reward points that you can redeem for travel deals, cash back, merchandise, or gift card perks. The value of your points will vary based on how you redeem them. 
As with its sibling card above, the Chase Sapphire Reserve® signup bonus pays out Ultimate Rewards points. You can shop online with your points through the Chase portal to book travel, get cash back, purchase merchandise, or choose from a wide gift card selection, among other goodies.
The Capital One Venture Rewards Credit Card rewards your eligible purchases with travel miles that never expire. You can redeem miles as a statement credit to cover previous travel-related expenses. You can also transfer your miles to a select group of travel loyalty programs.
Best Bad Credit Credit Cards For Christmas Shopping
Credit card deals for holiday shopping aren't just for consumers with perfect credit scores. Instead of sticking to your debit card on Black Friday, you can tap into the purchase protection a credit card offers — even if you have a poor credit score.
While still on the high side, the following two cards offer lower interest rates than other unsecured cards for bad credit that can run as high as 36%. These cards allow you to maximize your Christmas spending while minimizing your credit card debt.
The Surge® Platinum Mastercard® already has one of the highest average starting credit limits for poor credit consumers. But responsible cardholders can double their initial credit line in less than a year after making consecutive on-time payments. The interest rate you receive will depend on your creditworthiness.
The Reflex® Platinum Mastercard® also allows you to double your credit limit simply by making consecutive on-time payments after activating your card. Your initial credit limit will vary based on your credit score, and you may have to pay an annual fee for this card. Reflex will report your account history to each major credit bureau, which can help you improve your credit score with responsible behavior.
How Do I Choose a Credit Card For Christmas Shopping?
The card that's best for your holiday shopping will depend on your spending habits and financial needs.
Credit cards come with a host of bonuses and rewards. Different card issuers have varying promotions to lure in new members. Some pile on multiple rewards possibilities to make their cards even more attractive to the holiday shopping public.
Here's a list of a few of the typical promotions that you may find in a card:
Cash back rewards: This easy-to-understand reward pays you a percentage of cash back on all your combined purchases. It's like getting a rebate for the purchases you're already making. For example, a 2% cash back card would net you $2 for a $100 purchase.

Bonus point rewards: These cards award you a specific number of points per dollar spent. For example, you could earn one point per dollar spent, which you can redeem for various rewards, including cash back, travel discounts, merchandise, and gift cards.

0% Intro APR Offers: This promotion is for new cardholders and provides a 0% interest rate for an extended period. The length of your promotion depends on the card you qualify for. Typically, these promotions can last for anywhere between six and 18 months.

Signup Bonuses: Some cards entice new cardholders by offering a cash back or bonus point treasure chest when they meet certain spending thresholds during their first months with the card. For example, a card may offer $200 bonus cash back when you use your card to spend at least $500 during the first three months of card membership.

Some cards offer a combination of these rewards. For example, a card may offer a signup bonus for new cardholders to go along with a 0% introductory APR and cash back rewards on all eligible purchases. Banks generally reserve these offers for customers who have good credit.
How Long Do 0% APRs Typically Last?
Every card issuer chooses the length of its 0% APR promotion for new cardholders. By law, any bank that offers such a promotion must give at least six months of interest-free financing. Some banks allow this promotion to extend as long as 18 months or longer.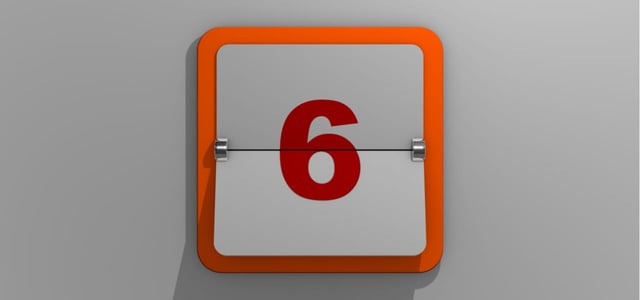 Just keep in mind that the bank can cancel your promotion and begin charging interest on your credit card debt immediately if you're late with a payment by more than 60 days or if you default on your debt.
As long as your account remains in good standing and your payments are current, you'll get at least six months of interest-free financing if your card offers this promotion.
How Do Card Issuer Shopping Portals Work?
Shopping portals are a great way to save money on purchases you make with your credit card. In most cases, you don't have to do any extra work to tap into the savings.
Many credit card issuers partner with retailers — especially during the holiday shopping season — to offer special deals to cardmembers. These deals usually include a percentage off your purchase when you use your card or coupon-like savings for specific items or services. Or you could receive double rewards for purchases made with select retailers through the portal.
If your card issuer offers a portal, you'll likely find a link to it when you access your card account online or through the bank's mobile application. This portal will display all of the current deals you can access through your card.
Some card issuers automatically add these discounts when you make a purchase — which means you don't have to follow any special links or respond to any specific deals. Just swipe your card and get your discount.
Capital One Shopping offers a service that automatically searches for online coupon codes to apply to your online purchases when you use your Capital One card as payment.
These services are increasing in scope and popularity and will likely only expand over the coming years as shoppers look to save money before, during, and after the holiday shopping season.
How Can I Earn a Signup Bonus While Christmas Shopping?
Some credit card issuers offer signup bonuses for new cardholders that pay out extra cash back or bonus points when they meet specific spending thresholds during their first few months with the card.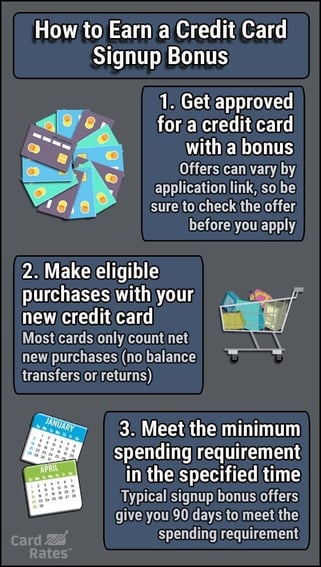 For example, a card issuer may give a cardholder $200 in bonus cash back if they charge at least $500 in eligible purchases within three months of activating a new card.
Bonus amounts and spending requirements vary by card. Some cards require as little as $500 spent over three months, whereas you may need to spend $4,000 or more with other cards.
This is also referred to as a welcome bonus as it's only available to new cardholders. 
The holiday season is a great time to open a new credit card account that offers a signup bonus because you can quickly rack up the charges by completing your holiday shopping.
No matter how small or large your Christmas budget becomes, you can get closer to meeting your spending threshold and potentially get money back for the shopping that you're already planning to do.
Should I Get a Credit Card For Christmas Spending?
A new credit card is a great way to earn rewards and potential signup bonuses in exchange for your buying power. Since the average American spent more than $1,000 on holiday shopping in 2021, this is a great opportunity to earn a bonus or gain some cash back for purchases you're already going to make.
The key to maximizing your credit card rewards, though, is to make sure that you only spend money that you can afford to repay each month. Credit card interest rates can quickly devour any rewards or welcome bonuses you accrue. But you can avoid interest charges by choosing a card with a 0% APR introductory offer or by paying your balance in full each month.
By eliminating interest charges, your earned cash back, point, or signup bonus money will go straight into your pocket instead of back to the bank in the form of finance charges.
Will I Get My New Card In Time For Christmas Shopping?
Your new credit card will typically arrive in the mail within seven to 10 business days after the bank approves your card application. This gives the issuing bank time to create your account, print your card, and send it to you through the mail.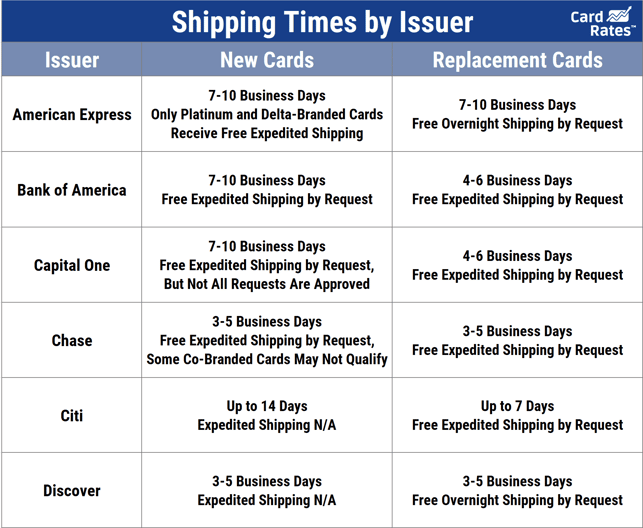 If you're applying for a new credit card to use for holiday shopping, be sure to submit your online application at least two weeks before you're planning to start shopping. This should give the bank time to send you your card and allow for possible holiday delays within the U.S. Postal Service.
Shop 'Til You Drop With the Best Credit Cards For Christmas Shopping 
Christmas is a time for creating memories with loved ones. No matter how big or small your family, there's joy in sharing laughs and love with those who matter most to you.
But many consumers spend the holidays worrying about how they're going to repay the bills they just racked up for all the gifts that sit beneath the family tree. That doesn't have to be the case for you.
With the best credit cards for Christmas shopping, you can extend manufacturer warranties, take advantage of interest-free financing, and postpone other financial concerns until well after the holidays. You may even earn bonus cash back or bonus points with a top rewards card. That sort of financial savvy calls for a second glass of eggnog. 
Advertiser Disclosure
CardRates.com is a free online resource that offers valuable content and comparison services to users. To keep this resource 100% free, we receive compensation for referrals for many of the offers listed on the site. Along with key review factors, this compensation may impact how and where products appear across CardRates.com (including, for example, the order in which they appear). CardRates.com does not include the entire universe of available offers. Editorial opinions expressed on the site are strictly our own and are not provided, endorsed, or approved by advertisers.