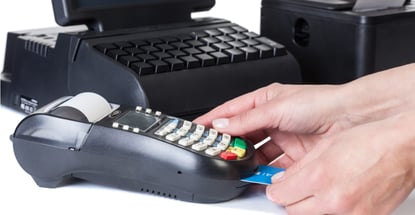 You probably don't think about how your credit or debit card transactions are completed. You just swipe, tap, or wave your card at point-of-sale terminals, or submit the account information to an e-commerce website to make a purchase. After that, the retailer supplies you with the item or service — and you either get the bill or the money is deducted from your checking account.
But there is a lot going on behind the scenes during these transactions. Enter the card processor. These companies ensure fast and secure transactions between you — the consumer — your bank, and the merchant.
So, who are the companies that make it all happen smoothly and safely? Here are the largest credit card and electronic payment processors, along with a brief history and description of each company.
Card Processors | Electronic Payments 
Credit Card Processor Market Share by Total Transactions Processed
When you use your credit or debit card at a physical or online store, the processing company gets to work. It securely transmits the data from your card so you can buy what you want.
To understand where these companies stand and which is dominating in market share, it's best to see how they compare by the number of transactions processed in 2019, per Nilson Report data. Here are the top seven credit card processors:
1. Fidelity Information Services (FIS) – 26.6B

Fidelity Information Services, or FIS, is headquartered in Jacksonville, Florida, and has approximately 55,000 employees. Today it is the largest processing and payments company in the world.
The company got its start in 1968 when it was known as Systematics. After an acquisition by ALLTEL Information Services, Fidelity National Financial took it over in 2003, renaming it Fidelity Information Services.
2. JPMorgan Chase & Co – 24.8B

JPMorgan Chase & Co is a retail and commercial bank headquartered in New York City. It has about 255,351 employees and is one of the oldest banks — established in 1799 — still operating in the country.
While Chase is a bank, it also has a huge merchant services department, which contains its credit card processing division. And as a leading provider of merchant services, it has over $1 trillion in annual processing volume.
3. First Data Corporation – 24B

The financial services company First Data is headquartered in Atlanta and employs roughly 19,000 people. The company launched in 1971, and its primary function is to provide electronic commerce and payment solutions for merchants, financial institutions, and card issuers.
First Data handles U.S. credit and debit transactions as well as prepaid gift cards for major retailers and brands.
4. Bank of America Corporation – 18.2B

Headquartered in Charlotte, North Carolina, Bank of America originated in 1904 as the Bank of Italy in San Francisco. It now has about 137,000 employees. The bank processes payments as part of its merchant services division and received a boost in activity after launching its payment processing app, Zelle.
The service allows users to send and receive money to people who have a U.S. bank account. As of January 2021, Zelle sent and received 157 million transfers worth $43 billion.
5. Global Payments – 9.9B

Global Payments was founded in 2000, though it began as National Data Corporation in 2001. The company is headquartered in Atlanta, Georgia, and has approximately 24,000 employees.
Its main function is to provide payment technology services in the U.S. as well as countries throughout North America, Europe, Asia-Pacific, and Latin America.
6. Wells Fargo & Company – 8.7B

Wells Fargo headquartered in San Francisco, is the fourth-largest bank in the U.S. with more than 268,000 employees. It began in 1929 as Northwest Bancorporation, then became Norwest Corporation, and operates today as Wells Fargo & Company.
Wells Fargo provides credit card processing services in addition to community banking, wholesale banking, and wealth and investment management products and services.
7. Elavon – 3.3B

Elavon was founded in 1991 and has roughly 4,500 employees. Headquartered in Atlanta, the company began as NOVA, a subsidiary of U.S. Bancorp. Elavon processes credit card transactions in more than 30 countries.
The company also provides electronic check services, prepaid gift cards, point-of-sale services, and a variety of currency services.
Largest Electronic Payment Processing Companies by Market Share
Plenty of other large companies you've undoubtedly heard of provide electronic payment processing. Their job is to facilitate the payment you make when you conduct business with a merchant.
Numerous companies provide this essential (and lucrative) service, and more are introduced each year. Here are the top five electronic payment processing companies by market share, domestically and globally.
1. PayPal Holdings, Inc. – 53.95% market share

PayPal began in 1998 as Confinity and is currently headquartered in San Jose, California. The company currently has about 21,800 employees. PayPal is best described as a technology platform and digital payments company.
Its job is to facilitate digital and mobile payments between consumers and merchants. It conducted 15.4 billion transactions in 2020.
2. Stripe – 18.69% market share

Headquartered in San Francisco, Stripe was launched in 2010, and today it employs about 2,500 people. The company's primary product is payment processing software and programming interfaces for e-commerce websites and mobile applications.
Today, Stripe operates in more than 100 countries, processing more than $817 billion in total volume in 2022.
3. Amazon Payments, Inc – 3.96% market share

Amazon was founded in 2007 and maintains its headquarters in Seattle. The Amazon Pay arm of Amazon provides payment services, enabling the company's consumers to send and receive payments for goods or services.
The company employs more than 1 million people, 800,000 of whom are in the U.S. Amazon records sales averaging more than $17 million an hour.
4. Braintree – 2.28% market share

Braintree was launched in Chicago in 2010 where it is headquartered today. And just three years later, it was acquired by PayPal. The company employees about 500 people and specializes in mobile and web payment systems for e-commerce companies.
Braintree processes over 6 billion transactions, totaling more than $50 billion each year.
5. Square Payments – 2.19% market share

Square, Inc. was founded in 2009, and its headquarters are in San Francisco. In addition to mobile payment processing, this firm provides merchant services that include business software, point-of-sale systems, and payment hardware products.
Square's transaction figures aren't published, but in Q2 of 2020, the company's earnings were $1.92 billion.
How and Why it All Works
As money shifts from your credit card or bank account to the company you're buying something from, the payment processing company charges a fee — called an interchange fee — to the merchant. Although the fee is only a percentage point or so per transaction, the sheer volume and monetary value of these transactions translate into massive profits for the company that facilitates the payments.
But the system helps all parties. After all, customers can purchase what they want in an instant, and merchants are confident the money will swiftly be in their accounts. It usually takes between 24 to 48 hours from the transaction for the funds to arrive in their bank.
As for you, the customer, the money will either be deducted from your checking account or the transaction will appear as a line item on your credit card bill for you to pay.
Advertiser Disclosure
CardRates.com is a free online resource that offers valuable content and comparison services to users. To keep this resource 100% free, we receive compensation for referrals for many of the offers listed on the site. Along with key review factors, this compensation may impact how and where products appear across CardRates.com (including, for example, the order in which they appear). CardRates.com does not include the entire universe of available offers. Editorial opinions expressed on the site are strictly our own and are not provided, endorsed, or approved by advertisers.