Store Credit Card
Opinions expressed here are ours alone, and are not provided, endorsed, or approved by any issuer. Site may be compensated through the issuer affiliate programs.
Though primarily known today for its consumer automobile tires and service centers, the Firestone Tire and Rubber Company, founded in 1900, actually predates most car companies, having gotten its start supplying tires for wagons, buggies, and other forms of early wheeled transportation. Today, the company operates Firestone Complete Auto Care centers across the country, offering a variety of vehicle maintenance services, including oil changes and brake repairs — and, of course, tires.
Given its long history, Firestone is a popular choice for drivers of all types, and with over 1,700 locations, it's an accessible one, too. For those drivers whose car repair needs exceed the limit of their wallets, the Firestone Credit Card offers special financing and exclusive deals that can help get you back in the race. You'll need to watch out for minimum purchase requirements, however, and may want to pay your bill early to avoid late fees.
Better Cards to Use at Firestone
Given the limitations of the Firestone Credit Card's offerings, it likely won't be a hard deal to beat for many consumers. Indeed, even the most basic rewards credit card offers better cash back, points, or miles than the Firestone card (because, well, anything is better than "none"). If it's the zero-interest financing that's caught your eye, you can also find a number of credit cards offering much more favorable terms, particularly if you have good to excellent credit.
Cash Back
Every time that "Check Engine" light pops on, I know my wallet is about to lose some weigh — an average of $350 worth, according to CarMD. Well, with your trusty cash back card, you can take a bite out of the cost of putting that light out of your misery. Most cash back cards will offer unlimited cash back every purchase, and many cards will also offer bonus cash back in select categories.
at Chase'ssecure website
New Offer! Double Cash Back: Earn 3% cash back on all purchases in your first year up to $20,000 spent. After that earn unlimited 1.5% cash back on all purchases.
0% Intro APR for 15 months from account opening on purchases and balance transfers, then a variable APR of 17.24-25.99%. Balance transfer fee is 3% of the amount transferred, $5 minimum
No minimum to redeem for cash back
Cash Back rewards do not expire as long as your account is open
Free credit score, updated weekly with Credit Journey℠
No annual fee
| | | | | |
| --- | --- | --- | --- | --- |
| 0% Intro APR on Purchases 15 months | 0% Intro APR on Balance Transfers 15 months | | | |
0% APR
If the Firestone Credit Card's six-month interest-free financing offer is a Cadillac, your typical open-loop intro 0% APR credit card deal is a spaceship. To begin with, the average intro APR card offer more than doubles the length of your interest-free period, plus you'll be able to use your card anywhere its network (Visa, Mastercard, etc.) is accepted. Best of all? You won't need to meet any minimum spending amounts to put your zero-interest deal into gear.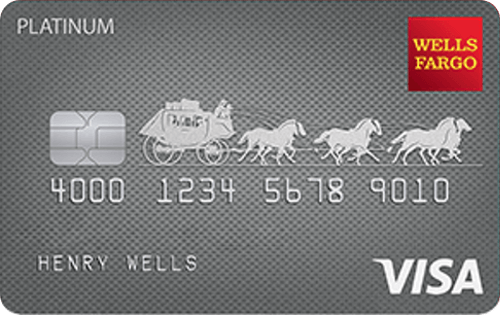 at Wells Fargo'ssecure website
0% Intro APR for 18 months on purchases and balance transfers (fees apply), then a 13.74%-27.24% variable APR; balance transfers made within 120 days qualify for the intro rate and fee
Get up to $600 protection on your cell phone (subject to $25 deductible) against covered damage or theft when you pay your monthly cellular telephone bill with your Wells Fargo Platinum Visa card
Easy access to your FICO® Credit Score with Wells Fargo Online®
Zero Liability protection for promptly reported unauthorized transactions
Convenient tools to help create a budget and manage your spending with My Money Map
$0 Annual Fee
| | | | | |
| --- | --- | --- | --- | --- |
| | 0% for 18 months on qualifying balance transfers | | | |
Travel Rewards
If you're anything like me, you likely put off that scheduled oil change for a few miles, dreading the drudgery of the task. But what if that oil change could help you earn your way to the sandy beach, snow-capped mountain, or black-topped racetrack of your dreams? A great travel rewards card can do just that, giving you points or miles for every purchase that can be redeemed toward airline tickets, hotel stays, and other travel-related expenses.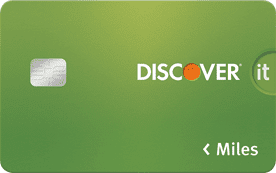 at Discover Card'ssecure website
INTRO OFFER: Discover will match ALL the Miles you've earned at the end of your first year, automatically. For example, if you earn 35,000 Miles, you get 70,000 Miles. That's $700 towards travel!
Earn unlimited 1.5x Miles for every dollar spent on all purchases all with no annual fee.
No Blackout Dates - fly any airline, stay at any hotel.
Redeem your Miles as a statement credit towards travel purchases.
Freeze your account in seconds with an on/off switch either on the mobile app or website to prevent new purchases, cash advances, and balance transfers.
Get your free Credit Scorecard with your FICO® Credit Score, number of recent inquiries and more.
With a host of limitations (and a goodly number of complaints) the Firestone Credit Card isn't winning any credit card races — in fact, the card doesn't even make the podium. Even those drawn to the card's financing deal can likely find better offers elsewhere. As it stands, the average driver will be better served by an all-around rewards card or one with a more flexible APR offer than they will receive by getting behind the wheel of a Firestone Credit Card.
What Others Say About the Firestone Credit Card
Despite the financing options offered by the Firestone Credit Card, most reviewers seem to recommend hitting the brakes on your application. The majority of reviewers report having issues making payments online, as well as with payments taking a significant amount of time to make it to the finish line. Some reviewers also found the in-store representatives to be less-than-informed about the details of their Firestone card.

A review from ConsumerAffairs.com says:
"
Sept. 2016 bought new tires at local Firestone store $264.11. Store manager informed me that if I sign up for a Firestone Credit Card, that I will have 6 months interest-free to pay off the card, so I divided the balance into 6 monthly payments. Little did I know that the balance did not qualify for 6 months interest-free. I have $117.00 in late fees. Firestone did not inform me that a minimum of $299.00 is the minimum that qualifies for 6 months interest free. They subtracted only one late fee. I don't know if the store manager knows this, but the credit card company should have informed me and I could have avoided these late fees. But this company are scammers and they don't care. I am going to pay off balance and never use again unless necessary but will not carry a balance. I even told them that they should inform all Firestone managers/employees that there is a minimum balance for the interest-free option. But again they most likely don't care. They just want scam and take your money, so beware. — ConsumerAffairs.com
"

A review from CreditKarma.com says:
"
Approved for $1200 CL, with very low credit score. I've only used it for oil changes, and regular maintenance. Firestone gives certain specials at times when using your Firestone card, (ex: free tire rotation with oil change) Make sure you pay your bill before the due date and before 5 pm or else you'll get slapped with a late fee. — CreditKarma.com
"

A review from MeasuredUp.com says:
"
I paid my CFNA payment in cash (the only way the Firestone store accepts it) 2 days before the due date and was still hit with late charges. I could understand if it was a payment by check, but once cash has been paid and a receipt issued showing the date 2 days before it's actually due there's no way a customer should be hit with a late charge!!! Who's playing with all this money customers are paying towards their credit card during the time a cash payment is made and actually credited. I can't believe CFNA can't upload payments received at Firestone stores daily. — MeasuredUp.com
"
Is the Firestone Card Right for You?
With well over 100 years of automotive expertise under its hood, Firestone has long been a popular provider of vehicle service and repair. But while the company's products and mechanics tend to draw positive responses, the Firestone Credit Card hasn't provided a first-place experience for many cardholders. The vast number of complaints about payment issues alone is worth a closer inspection.
Instead of facing limited financing options and zero rewards, the average driver is better off charging that oil change to their favorite everyday card — and keeping the Firestone Credit Card in their rear-view mirror.