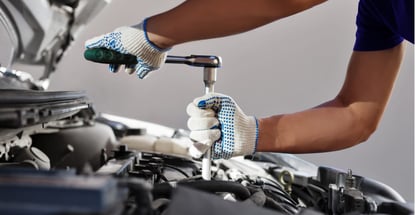 My nephew knows all about auto repair loans for bad credit because he's gotten several of them from me. He's a very nice young man, but he has a nasty habit of repeatedly crashing his trucks, cracking engine blocks, and destroying transmissions. 
According to the AAA, "While maintenance costs on most modern cars are relatively low, common repair costs average $500 to $600 and in many cases go much higher." I can attest to the "much higher" part. 
This article describes how to pay for vehicle repairs through various loans and credit. You'll find it valuable reading if you have bad credit. Oh, and I'll be sending a copy to my nephew, who's otherwise a great guy.
The Best Bad Credit Auto Repair Loans
When folks depend on their cars, the need for a sudden repair requires emergency car repair loans. The following five companies are in the business of quickly finding lenders for consumers with bad credit. They work with an online lending partner network to facilitate personal loans that you can use for bad credit car loans. 
These services don't charge fees or do a credit check to prequalify you for a loan, although direct lenders may perform a credit check before sending you a loan offer. Direct lenders usually impose fees as well.
Short-term loans up to $5,000
Online marketplace of lenders
Funds available in as few as 24 hours
Simple online form takes less than 5 minutes
Trusted by more than 2 million customers
Not available in NY or CT
We rate MoneyMutual® as the best lending partner network for arranging personal loans you can use as emergency car repair loans. It can prequalify you for an unsecured car loan in just a few minutes, the time it takes to submit the short loan request form. 
You must show a reliable income of at least $800 a month to prequalify for an installment loan with a short loan term. Once prequalified, MoneyMutual® will transfer you to a direct bad credit loan provider, where you'll submit additional information and then receive an immediate loan decision. You should receive your emergency car repair loan within a day or two after accepting the loan offer. By extending the loan term, you can arrange low monthly payments.
Loans from $500 to $10,000
All credit types accepted
Receive a loan decision in minutes
Get funds directly to your bank account
Use the loan for any purpose
CashUSA.com can rapidly prequalify you for a personal bad credit loan to pay for emergency car repairs even if you have less-than-perfect credit. Prequalification requires you be a US citizen or permanent resident, 18 or older, and have an after-tax monthly income of at least $1,000. 
You must also have an active checking account, a valid phone number, and a working email address to prequalify for an installment loan option with an extended loan term and low monthly payments.
Loans from $250 to $5,000 available
Cash deposited directly into your account
Get money as soon as tomorrow
Bad Credit OK
More than 750,000 customers since 1998
CreditLoan.com guarantees an instant prequalification decision on your request for a personal loan. Its consumer-friendly website, which is known for its many tools and resources, has attracted more than 33 million web visits since its inception. 
CreditLoan.com displays the TRUSTe® seal, which means it has demonstrated its dedication to data privacy and security when you need an emergency car repair loan.
Loan amounts range from $500 to $10,000
Compare quotes from a network of lenders
Flexible credit requirements
Easy online application & 5-minute approval
Funding in as few as 24 hours
BadCreditLoans.com helps consumers with low credit scores who need fast approval of installment loans of any reasonable loan amount. If you need emergency car repairs, rest assured that you can quickly prequalify if you live in the United States, are 18 or older, and have a dependable monthly income. You must also have a checking account, an email address, and a phone number. 
BadCreditLoans.com does not require a minimum credit score to prequalify for installment loans that act as bad credit car loans.
Loan amounts range from $1,000 to $35,000
All credit types welcome to apply
Lending partners in all 50 states
Loans can be used for any purpose
Fast online approval
Funding in as few as 24 hours
PersonalLoans.com is a lending service that can prequalify you for a larger loan amount. You must be a U.S. citizen or permanent resident, 18 or older, with a monthly income of at least $500 and an active bank account in your name. PersonalLoans can also hook you up with various financial services, including credit monitoring, credit repair, and debt settlement.
Credit Cards You Can Use to Finance Auto Repairs
When you face large vehicle repair bills, a credit card with a relatively low interest rate will make it less painful to finance the repair cost over several months. By "relatively low," we mean an APR below 25%, which is about the best you can expect from an unsecured credit card for bad credit.
6. Indigo® Mastercard® for Less than Perfect Credit
This card is currently not available.
The Indigo® Mastercard® for Less than Perfect Credit allows you to prequalify before you apply so you can gauge your changes of approval without putting an unnecessary hard inquiry on your credit report. It may waive its annual fee, and its APR is lower than that of many competitors. The issuer bases its approval decisions primarily on an applicant's income instead of past credit problems.
7. Merrick Bank Double Your Line® Mastercard®
This card is currently not available.
The Merrick Bank Double Your Line® Mastercard® offers relatively high credit limits for a subprime card. The preapproval process doesn't take long, and you can apply online or through the card's mobile app. This card doesn't impose a penalty APR for a late monthly payment and can be used at ATMs around the globe.
Special Auto Financing For Bad Credit
Many automobile repair shops offer special auto repair financing options. For example, mechanics may partner with local lenders to provide their own auto financing for repairs, sometimes with an interest-free or interest-deferred loan option.
Large brand-name repair shops frequently offer cobranded credit cards as a financing option for purchases and auto repairs. 
For instance, Firestone offers a card you can use to finance repairs of $149 or more with a deferred APR of 28.8%, and Midas International has a similar card with a $199 minimum purchase requirement.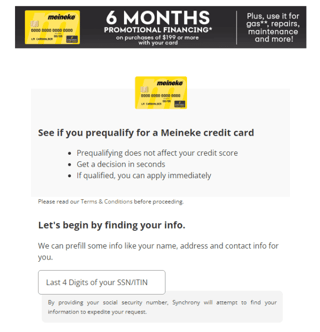 Many shops provide special discounts and promotions to save you money on repairs. Meineke Car Care Centers frequently offer discount coupons for auto repairs and service.
Independent mechanics tend to give the best deals to help them compete against national brands. Costco members enjoy a 15% discount on repairs at a nationwide network of automotive service shops.
Almost all new-car automobile dealerships have their own repair operations that offer expert service. Dealerships tend to charge the most for vehicle repair, but many provide myriad discounts and warranty plans to save you money. 
Your dealership may offer you an auto repair loan but may require you to secure the loan with the vehicle's title. A title loan is risky because you could lose your vehicle. When you fail to repay a title loan on time, the lender can repossess it without going to court.
Can I Get an Auto Repair Loan With a Credit Score of 500?
It can be challenging to arrange an auto repair loan when your credit problems result in a credit score of 500 or lower. Your best bets include:
Personal loans for poor credit: We've included five loan-finding services in this review to help you obtain personal loans for car repairs (or for any other reason). These companies specialize in serving subprime consumers and work hard to find you a willing lender. These loans allow you to arrange an affordable monthly payment schedule by extending the repayment period. You may be able to qualify for business loans as well. 
Local mechanics: An independent repair shop knows it must compete against the "big boys," including national repair franchises and automobile dealerships. Many offer flexible car repair financing regardless of your credit report and score. It's a good idea to check whether a shop uses certified mechanics before entrusting your car to it.
Credit unions: Belonging to a credit union assures you of a sympathetic ear when you request a loan. This type of financial institution is nonprofit, and its members are also its owners. If your credit is really bad, a credit union may arrange a secured loan on your behalf. A couple of examples are Navy Federal Credit Union and First Tech Credit Union.
Store credit cards: Your local repair shop or chain may offer you a closed-loop credit card that can only be used at its stores. These kinds of cards are easy to get due to their limited risk – you can't use them elsewhere, nor do they provide cash advances. Typically, these cards have high APRs and modest credit limits that may not cover the cost of expensive repairs. One example is the Goodyear Credit Card, although our experts give it a less-than-flattering review.
Secured credit cards: The easiest to obtain, secured credit cards depend on cash collateral rather than credit scores to approve applicants. Some have high credit limits — the Bank of America® Customized Cash Rewards Secured Credit Card lets you deposit up to $4,900, which should cover all but the most expensive repairs. But you must have the cash available for the deposit to acquire a secured card, which makes it a not-so-great option when you're seeking a loan.
Unsecured credit cards for bad credit: Many open-loop credit cards serve the subprime community. We review two unsecured credit cards above. Some are co-branded cards you can use just like any other credit card but offer special deals from the issuing store. You may be able to get one of these cards despite having a 500 credit score if your recent credit history is clean and you earn sufficient income.
Payday loan: We do not recommend you take out a payday loan to finance car repairs due to the ultra-high interest rates and short repayment terms. A payday loan is the most expensive type of short-term loan.
As you can see, having bad credit need not prevent you from obtaining auto repair financing, although you may face steep interest rates. Beware of interest-deferred, closed-loop cards that offer several months of a 0% APR. If you don't repay the balance in full before the deferred period ends, you'll owe back interest on the entire financed amount.
Choose the Best Car Repair Financing Options For Bad Credit
When your car stops working, time counts. Our review of five auto repair loans for bad credit can get you the money you need in as little as one business day. 
Don't overlook your other alternatives for auto repair financing, including open- and closed-loop credit cards and special arrangements from nationwide and local repair shops. If your car needs expensive repairs, you may want to arrange a car loan and trade the heap in for another vehicle.
Advertiser Disclosure
CardRates.com is a free online resource that offers valuable content and comparison services to users. To keep this resource 100% free, we receive compensation for referrals for many of the offers listed on the site. Along with key review factors, this compensation may impact how and where products appear across CardRates.com (including, for example, the order in which they appear). CardRates.com does not include the entire universe of available offers. Editorial opinions expressed on the site are strictly our own and are not provided, endorsed, or approved by advertisers.