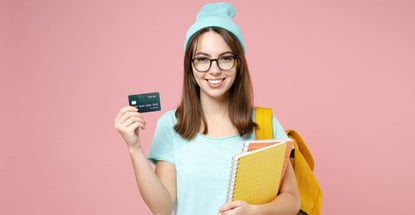 Starting college is a huge life event, marked by new activities, relationships, freedoms, and responsibilities. The first year is a time for heady exploration as you confront countless choices that will doubtlessly impact your future. 
Alright, we admit that choosing a student credit card is probably not top of mind as you settle into campus life. But our focus is helping you choose the best credit card for your unique needs and circumstances. 
As we will explain, the two student credit cards available from Discover Financial Services are excellent candidates for your consideration. We also review several other strong choices to help you manage your finances as you experience your new independence.
Discover Offers Two Student Credit Cards
These two Discover cards differ only in their rewards. Your choice depends on how much attention you want to devote to maximizing your cash back.
The Discover it® Student Cash Back card rewards you handsomely for the extra attention it requires. It offers a quarterly rotating roster of merchant categories (e.g., grocery stores, restaurants, gas stations, etc.) that earn a high bonus rewards rate. The catch: You have to activate the bonus category each quarter, or you'll have to settle for the standard rate. 
Activation is easy online via the Discover mobile app or by calling 1-800-347-2683. The card caps the maximum amount you can earn for each quarter's bonus category. 
The best Discover credit card for you is the Discover it® Student chrome if you'd rather not hassle with quarterly activations. The card's bonus rate and quarterly cap are significantly lower than those of its sister student card. But it's all automatic, so you don't have to remember to reactivate your bonus category every three months. 
The card is a good choice if you spend a disproportionate amount dining out or filling your gas tank because those reward categories apply for the whole year, not just quarterly.
Benefits of Discover Cards
Discover's student cards are easy to recommend because they offer so many benefits, including the following:
Cash back rewards: You'll earn unlimited standard rewards on all eligible purchases plus a bonus rate on select merchant categories. You can redeem your rewards (in any amount, at any time) for a statement credit, direct deposit to your bank account, check out at Amazon.com or PayPal, gift cards, or charitable donations. Cash back never expires, and you don't have to forfeit rewards if you close the account. Discover will automatically apply your cash back if you don't use your card for 18 months.
Cashback Match: This is a unique feature of Discover cards. Only Discover offers an unlimited match of all the cashback you earn in your first year. It is akin to a signup bonus, only available to new cardmembers.
Low costs: The Discover student cards never charge an annual, overlimit, or foreign transaction fee. They skip the late payment fee on the first occurrence and never impose a penalty APR. The APR range is competitive with other student credit cards.
Introductory promotions: The cards frequently offer new cardmembers a low or 0% intro APR on balance transfer transactions and purchases for a set period following account opening, after which the regular APR will apply.
No required credit score: You can get these cards without any credit history.
Triple reporting: The cards report your payment activity to all three credit bureaus, the most efficient way to build credit quickly through timely payments.
Freeze it on/off switch: If you misplace your card, you can freeze your account on the website or mobile app to prevent new transactions.
Free FICO scores: You can easily view your FICO Score on monthly statements, the mobile app, and online for free.
Online protection: Discover will regularly remove your personal info from 10 popular people-search websites that could sell your data. You can activate this service for free in the Discover app. In addition, the card issuer monitors every purchase, every day, for suspicious activity. You're never responsible for unauthorized purchases on your Discover card.
100% US-based customer service: You can talk to a real person from Discover's customer service team anytime. Plus, you get fast mobile and online service.
In addition, Discover offers complimentary overnight shipping for card replacement to any US street address at your request.
How to Qualify For a Discover Student Card
Here are the qualification requirements:
Be at least 18 years of age
Have a US address
Have a Social Security number
Provide all the required information requested in your Discover application
Show proof of at least half-time enrollment in school
If under 21, you must verify independent income
Discover does not accept cosigners, although someone else can make you an authorized user of their Discover credit card.
4 Alternative Credit Cards For Students
As good as the Discover cards are, they aren't the perfect solution for all students. You may want to consider several alternatives before making a final choice.
The Capital One Quicksilver Student Cash Rewards Credit Card provides unlimited, flat-rate cash back on all purchases with no rotating categories to worry about. The card has no annual or foreign transaction fees, but its APR is somewhat higher than those of Discover student cards. 
You can check for preapproval without a hard credit inquiry. The card provides extended warranties on purchases made with the card, 24-hour travel assistance, travel accident insurance, and price-drop protection.
You'll appreciate the dining and entertainment rewards the Capital One SavorOne Student Cash Rewards Credit Card provides. It offers many of the same benefits as its Quicksilver sibling, including a signup bonus and travel-related perks.
You can redeem your rewards for a check, statement credit, gift cards, trips through Capital One Travel, or purchases via PayPal. You can earn a high cash back rate using this card for Capital One Entertainment purchases.
The no-nonsense Chase Freedom® Student credit card lets you earn cash back rewards on every purchase. You can redeem your rewards for a statement credit, direct deposit, gift card, Apple and Amazon shopping, and travel through Chase Ultimate Rewards.
This Visa student card has a small signup bonus, a yearly credit, no annual fee, and some valuable protections such as trip cancellation/interruption insurance, instant card lock and unlock, and extended warranty coverage. But make sure you pay on time to avoid the late fee and penalty APR. 
The Deserve® EDU Mastercard is a good choice for international students since it doesn't require a Social Security number or charge a foreign transaction fee. The card pays a flat cash back rate on all purchases and provides a one-year Amazon Prime membership.
Valuable benefits include cellphone protection, rental car insurance, and instant card freeze and unfreeze. 
FAQs About Discover's Student Cards
If you are considering your first credit card, you probably have a few questions. Here are the answers to some frequently asked ones.
What Is a Student Credit Card?
A student credit card is similar to any traditional credit card. You can pay bills, make purchases, transfer balances, withdraw cash at an ATM, and shop online using your card. The two significant differences that separate student credit cards from all others are:
To qualify, you must be a college student (with at least half-time enrollment) or attend a trade school.
You do not need a credit history or score to apply.
Student credit cards usually have modest credit lines because most students earn limited income. Many student credit card companies periodically consider you for credit limit increases when you make on-time payments and keep your unpaid balance well below the card's limit.
Besides easy acceptance, look for perks that extend protection and save money. Popular benefits include cellphone insurance, bonus rewards for popular college student spending categories (e.g., gas, restaurants, etc.), and a statement credit rewarding a good GPA. 
Check the credit card agreement before applying to see what perks the issuer offers because each card is unique.
Is It Hard to Get a Discover Student Card?
The Discover student cards are as easy to obtain as other student cards. The biggest obstacle is proving you have enrolled in a qualifying educational program. The exact application rules vary by issuer. 
For example, you may be eligible if you can confirm active enrollment at a community college, trade school, or four-year university. To comply, you may have to email a copy of your current schedule, fax a transcript, or forward a photo of your student identification card to the credit card issuer. The process is relatively straightforward, whichever method the card issuer requires.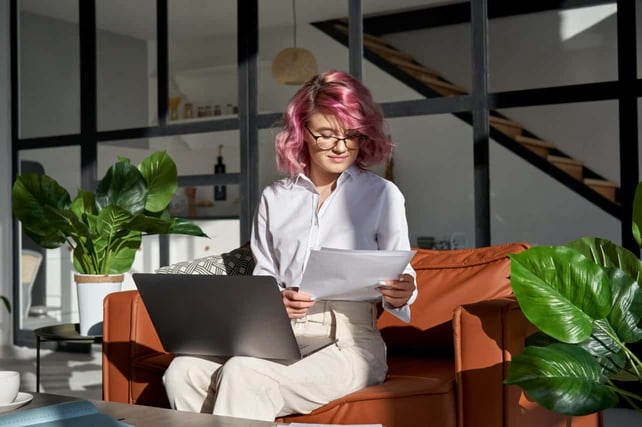 Once the issuer approves your application and you activate the student credit card, you may have to periodically resubmit documentation to confirm your student status.
Where Are Discover Student Credit Cards Accepted?
There was a time when Discover cards did not enjoy the same acceptance as Visa, Mastercard, and American Express. That is no longer the case, and almost all merchants welcome Discover cards if they accept any credit cards. 
Student cards receive the same acceptance as general-purpose credit cards. The main difference is that student cards tend to have lower credit lines, which may limit your spending. 
Discover periodically reviews your credit limit and may increase it if you have exhibited creditworthy behavior, such as paying your bill on time, avoiding over-limit spending, and keeping your unpaid balance below 30% of your credit line. FICO measures this metric, the credit utilization ratio, and assigns 30% of your credit score to it.
What Happens to My Discover Student Credit Card When I Graduate?
Generally, issuers do not want cardholders to continue using a student credit card after graduation. If you used your student card responsibly, you may be eligible for a larger credit limit and better perks with a more traditional unsecured credit card. 
Of course, certain benefits are standard on all cards, such as $0 fraud liability for unauthorized purchases and identity theft protection.
Discover student credit cards may automatically upgrade to a similar credit card after graduation. This policy provides advantages, such as the same cash back bonus and low costs.
For example, Discover may upgrade your Discover it® Student chrome to the Discover it® chrome. A similar arrangement applies to the Discover it® Student Cash Back. 
You don't need to cancel your Discover student card when you graduate, as the issuer handles the transition for you. Discover may also assign graduates a new credit line depending on their income. 
Can I Build Credit With a Discover Student Card?
Yes, virtually all student card issuers report your payments to all three major credit bureaus (i.e., Equifax, TransUnion, and Experian), and Discover is no exception. Its cards let you earn cash back as you build credit during your college years. You also get free access to your FICO credit score so you can monitor how well you are managing your card.
The triple monthly reporting of your payments is a double-edged sword: Paying on time helps your score, but late payments can cause damage. You'll face a late payment fee for each occurrence, although Discover will waive the charge the first time you're late.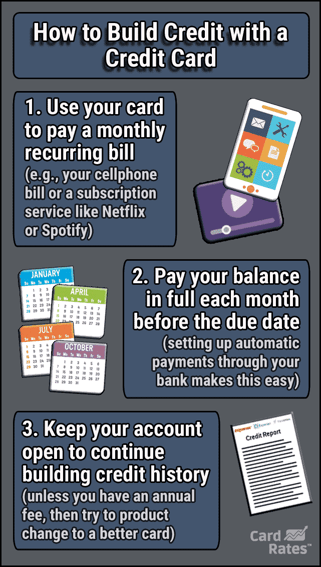 Discover cards have a 23-day interest-free grace period between the statement date (issued at the end of the monthly billing cycle) and the due date. If you pay your entire balance each month, you won't have to pay any interest on purchases if you get your payment in by the due date.
But credit card companies inform the credit bureaus when you fail to submit at least the minimum payment amount within 30 days of the due date. This demerit causes your credit score to drop and remains on your credit report for seven years. 
The minimum payment amount is usually less than 5% of the total balance. Set up automatic transfers to prevent late payments. Your issuer will transfer the amount you specify (i.e., the minimum, a fixed amount, or the total balance) from your bank account on the payment due date or another date you set before the due date.
How Does the Discover Cashback Match Work?
New cardmembers are eligible for an unlimited match of the cash back posted to their Discover student card account during the first year of card ownership. For example, if you earned $500 cash back in your first year, Discover would match it for a total of $1,000. There is no limit on the amount of the match.
You receive the unlimited Cashback Match after the close of the 12th billing cycle following account opening, although it may take up to two billing cycles to appear. The match is automatic — you don't need to enroll. Only cash back processed before the cutoff date will be accounted for in the match. 
You don't have to wait 12 months to redeem your rewards to receive the bonus. You can spend your regular Discover rewards throughout the year, and Discover will still match the amount posted over the 12 months. 
Your account must be in good standing at the end of the first year to receive the cash back match. In addition, the Discover unlimited Cashback Match does not include the following:
Transactions processed after your match period ends
Statement credits
Reward transfers from Discover checking or other deposit accounts 
Rewards for accounts that are closed
Again, the Discover Cashback Match applies only to cash back earned in the first year of card ownership. 
Which Is the Best Student Credit Card For Travel?
We would have to nominate either the Capital One SavorOne Student Cash Rewards Credit Card or the Capital One Quicksilver Student Cash Rewards Credit Card as the best travel rewards credit card in this group, thanks to their generous perks. These cards also charge no foreign transaction fees for students traveling abroad.
Perks include:
Unlimited bonus cash back on hotels and rental cars booked through Capital One Travel
Travel accident insurance
24-hour travel assistance
No foreign transaction fees
Complimentary concierge service
Access to Capital One Travel, where you get the issuer's best prices on thousands of trip options — even after you book
Free protection against flight price drops: If you book a flight Capital One Travel recommends and the price drops within 10 days, you'll get up to $50 in travel credit for the difference.
Another sound travel rewards credit card is the Chase Freedom® Student credit card. Suppose your trip is canceled or cut short by sickness, severe weather, and other covered situations. In that case, trip insurance reimburses you up to $1,500 per person and $6,000 per trip for your pre-paid, non-refundable passenger fares. 
But unlike the Capital One cards, the Chase Freedom® Student credit card charges foreign transaction fees, so it isn't ideal for traveling abroad.
What If Discover Rejects My Application?
Discover may deny your application if you can't prove your student status or are under age 18, but not for lacking a credit history.
If Discover rejects your application, you are entitled to an Adverse Action Notice explaining why, such as insufficient income or the inability to verify your identity. Treat the notice as a resource, as it reveals what you must fix before reapplying.
If all else fails, consider getting a secured credit card. While not specifically for students, a secured credit card is easy to get if you can afford the deposit, typically around $200. Once you build credit on a secured card, you can reapply for a student card — you should have better luck.
You Can't Go Wrong With Either Discover Student Card
Both Discover credit cards for students are excellent choices. They offer good benefits, generous rewards, and low costs. And as with all cards from Discover Bank, they provide the unique Discover Cashback Match. 
If you are heading off to college and thinking about getting your first credit card, the Discover student credit cards won't disappoint. Our review confirms that either card may qualify as the best student credit card on the market.
Advertiser Disclosure
CardRates.com is a free online resource that offers valuable content and comparison services to users. To keep this resource 100% free, we receive compensation for referrals for many of the offers listed on the site. Along with key review factors, this compensation may impact how and where products appear across CardRates.com (including, for example, the order in which they appear). CardRates.com does not include the entire universe of available offers. Editorial opinions expressed on the site are strictly our own and are not provided, endorsed, or approved by advertisers.