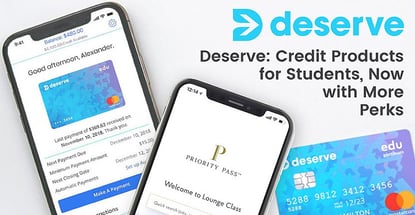 In a Nutshell: Access to credit can be difficult for the more than 1 million international students enrolled in American colleges each year. Despite many students entering the country with no definable credit statistics, the demand for accessible revolving limits grows every day. Deserve started with an international student-based credit card that used an algorithm instead of the typical credit pull to determine creditworthiness. Following the success of the Deserve Edu card, the company added the Pro and Classic offerings and expanded its reach to domestic students and young professionals. A robust rewards program is designed to meet the needs of young consumers who target experiences over possessions, with as much as 3% cash back offered on purchases. And Deserve recently announced that Deserve Pro cardholders can receive a Priority Pass membership. //
When Pia Guter emigrated from her native Philippines to attend Northwestern University, she didn't know if her studies would lead her back home or to a permanent residence in the U.S. The move was exciting, but no doubt filled with constant worries about adjusting to a new country while navigating a complicated university system.
Students often struggle juggling homework, exams, and managing a proper GPA. The last thing they need is to add building a credit score to their to-do list. For international students like Pia, who come to the country with no Social Security number or credit history, managing finances can be far more difficult than the trigonometry assignment due tomorrow.
That's why she feels at home at Deserve. The credit company — formerly known as SelfScore — caters not only to international students but domestic college enrollees and young professionals beginning their financial journey. For international students with no credit-defining characteristics, the company uses its own algorithm designed to determine creditworthiness. The system is something Pia wishes had been at her disposal as a student before she became the senior director of marketing at Deserve.
"There was a study done a few years ago that found that almost half of international students typically want to stay in the U.S. beyond their studies," she said. "Sometimes that's for Optional Practical Training (OPT), where they get work experience in the U.S. before they go back home."
International students typically come to the U.S. with cash and open a bank account. But these students know that life in America revolves around having a good credit score. If they want to buy a car, the dealer requires a credit history for a loan.
"Maybe they want to book a hotel room or rent a car to go out with friends over the weekend," Pia said. "They can't without a credit card."
Deserve's first offering, the Deserve Edu Credit Card, issued through Mastercard, was designed for all students studying in America. After the company's success issuing the SelfScore Mastercard to international students, they are now providing the same access to fair credit to all students. The Pro and Classic cards were added as the company looks to the demographic of young Americans with credit needs that differ from their parents and grandparents. With so many young users who value travel and new adventures, Deserve recently announced that its Deserve Pro card now comes with the opportunity to receive a one-year membership to the airport lounge network, Priority Pass.
"We like to think of ourselves as a very young, millennial-, Gen-Z-oriented company," Pia said. "We're always looking for ways to advocate for students and young people instead of abusing them and taking advantage of their innocence and lack of knowledge at this point in their lives. We're a combination of advocacy, education, and being the new, young card that's going to grow with our cardholders."
Deserve Edu Gives College Students Access to Credit Limits Up to $5,000
During the 2015-16 academic year, the number of international students studying in America surpassed 1 million for the first time. That number looks to steadily increase as colleges and universities open their doors and create more programs to attract foreign applicants.
Most students learn that life in America is more difficult without access to a revolving credit line. Without a Social Security number or credit profile, though, many issuers aren't willing to extend offers.
That's a niche that Deserve wants to fill with its Edu Credit Card offering while also serving the millions of domestic students that attend class every day.
"Our EDU card is for all college students — no longer just international students," Pia said. "The benefits of the card are aligned with what we feel students like. It has 1% unlimited cash back. We also give cardholders one year of Amazon Prime Student for free."
The Prime membership is an attractive component for modern consumers. Along with free two-day shipping on all Amazon.com purchases, membership also includes access to on-demand videos and movies at no charge. A large music offering through Prime music, as well as unlimited photo storage space, helps stretch a student's entertainment budget. The student plan is normally offered free for six months through Amazon, with the one reimbursed year starting at the completion of the trial.
To make the card more accessible to a broader student audience, Deserve created an algorithm designed to determine creditworthiness beyond the typical hard credit profile pull.
"For students, we look at several things," Pia said. "The first is identity — are we able to confirm that they are who they say they are? The second thing we confirm is enrollment. For international students, we look at their I-20 and their student visa. For domestic students, we are able to confirm their enrollment via API. To measure credit potential, we assess an applicant's employability and earnings potential by looking at their major, university, and level of study. The other big factor is the ability to pay. We ask for a U.S. bank statement and look at the funds to see if they're able to pay if we give them a credit line."
For domestic applicants, a credit pull is required but isn't used as a sole determining factor in eligibility.
"For those students who have a Social Security number, the only thing that we're going to look for is if they have any credit knockouts," Pia said. "That means no bankruptcies in the past or no delinquencies, and no write-offs. If you have none of those, you're eligible for a card."
Pia said most Edu credit limits start lower — around $500 — but can grow as high as $5,000 over time.
"Then we monitor their credit behavior over the next six months," she said. "That's a critical time because when you get your first credit card, that's when all the temptations start. We have many cardholders that get credit limit bumps every four months for their first year or so with the card if they have responsible usage. We look at many factors and, when we can, we will upgrade the deserving customer."
The card features a 19.74% variable APR, 1% unlimited cash back on all purchases and no foreign transaction or annual fees. Add regular reporting to Experian and TransUnion for credit-building, as well as car rental collision damage waiver and ID theft protection through Mastercard, and this card has many of the perks you'd find in offers for more established consumers.
Pro Card Offers 3-2-1 Rewards and Recently Announced the New Priority Pass Perk
While the Edu card requires enrollment in an American college or university, the Deserve Pro Credit Card is tailored for students or young professionals who want a card that meets their needs and wants.
"Think about this card as more for graduate students – master's or Ph.D. students," Pia said. "It's also a great card for young professionals or millennials — people who are just out of college and on their first or second job after school. The reason this market is different is that those people are likely to have credit history already, given their age and life stage."
To create a card that appeals to its target demographic, Deserve looked at the purchasing habits of the group and came up with a 3-2-1 system that covers a vast number of interests and needs.
"Research that we've done has shown that this group tends to like rewards," Pia said. "They eat out a lot. They like to go to concerts and use Uber to get around. The rewards are tailored more towards experiences. Things like travel, entertainment, and eating out. We developed a 3-2-1 rewards tier for the Pro card. That's 3% cash back on travel and entertainment, 2% on restaurants and dining and 1% on everything else."
With travel in mind, Deserve now offers Pro cardholders the opportunity to earn a one-year complimentary membership to Priority Pass, which provides members with access to airport lounges all over the world.
Kalpesh Kapadia, the Founder and CEO of Deserve, said the Priority Pass philosophy fits right in with Deserve's mission to provide its customers with the best card for their current stage in life.
"I believe Priority Pass is a perk that is ideal for those young professionals who have our Deserve Pro card," he said. "Our customers are highly international and frequently travel back and forth from one country to another."
He said the idea came from analyzing Deserve customers' transaction data and realizing just how often its cardholders were traveling via plane.
While many card issuers offer hard rules with their categories and rewards, Deserve prides itself on the flexibility of its offerings.
"The categories are a little more relaxed than with other companies," Pia said. "With some issuers, travel would be only airline tickets you purchase through Delta or Southwest or someone like that. With us, you can purchase through a travel website. Even an Uber ride is considered travel. Our categories are looser."
The card's variable APR ranges between 16.99% and 23.99% with no annual or foreign transaction fees. Credit limits reach as high as $10,000, and all of the travel insurance and benefits provided through the Mastercard Network are included.
Consumers who aren't enrolled in school, or do not meet the requirements for the Pro card can apply for the Deserve Classic card that's designed for applicants with no credit history. The card's 23.99% variable APR, credit limits up to $1,500, and $39 annual fee are a good gateway for building credit history with an eye on an eventual upgrade to the Pro card.
A Partner on Your Financial Journey from Start to Finish
With more than 1 million foreign students enrolled in U.S. colleges and universities, the demand for reliable credit at affordable rates for that segment of the population is at an all-time high. Deserve wants to meet that need with a stable of credit products designed to help foreign and domestic students start their financial path while minimizing bumps in the road.
"We'd like to be these students' first credit relationship when they come to the U.S.," Pia said. "We don't want to be the predatory credit company that takes advantage of them. We try our best to always set up guardrails for them along the way."
Those protections include regular credit lessons not taught in the classroom.
"Financial Literacy is such a big part of what we do here," Pia said. "If you're a cardholder, you get a lot of knowledge and bits of information that teach you about the things that factor into your credit score and how to improve your score and profile."
With nearly half of international students wanting to stay in the country after graduation, Deserve wants to prove that the American dream isn't just a myth, but a reality that comes true every day.
"After I graduated, it just so happened that I got a job that was willing to sponsor me for a work visa," Pia said. "While all that was happening, I fell in love and got married. I obviously stayed here. I'm part of that group."
Advertiser Disclosure
CardRates.com is a free online resource that offers valuable content and comparison services to users. To keep this resource 100% free, we receive compensation for referrals for many of the offers listed on the site. Along with key review factors, this compensation may impact how and where products appear across CardRates.com (including, for example, the order in which they appear). CardRates.com does not include the entire universe of available offers. Editorial opinions expressed on the site are strictly our own and are not provided, endorsed, or approved by advertisers.