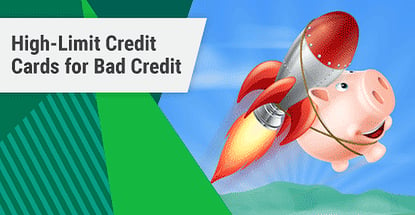 The internet is full of information. While only a portion of that information is actually correct, you can typically get a decent idea of the facts by exploring a few different sites and picking out the kernels of truth between them.
Take credit building. Although each blogger and expert seems to have different recommendations, you can pick up the main points by reading posts from a few different authors. For example, pretty much everyone will say to pay your bills on time and to maintain a low credit utilization rate.
Unfortunately, this advice can be problematic when you have bad credit. That's because credit cards for bad credit tend to have low limits, making it hard to actually use your card and keep your utilization rate low. Other than making multiple payments each month, the best solution may be a card with a higher limit.
Unsecured |  Secured | Business | No Annual Fee
Best High-Limit Unsecured Credit Cards for Bad Credit
No matter who you are — a consumer, a bank, or a corporation — nobody wants to hand their money over to someone they can't trust. This is the root of the credit scoring system and the reason consumers with low credit scores have trouble getting loans and credit cards.
And an unsecured credit card is the most difficult to obtain of all. While a number of issuers do offer unsecured subprime credit cards, they have to mitigate that risk somewhere. In this case, it means you're unlikely to find high-limit credit cards without a deposit or some other limitations.
This card offers an initial credit limit of up to $1,000. That limit will be subject to availability, meaning charges, like the account maintenance fee and annual fee, will reduce the available credit.
In general, the small limit on most unsecured subprime credit cards is to minimize the risk potential for the credit card company, as a small limit means less money is on the line should the cardholder default on the balance.
This card's credit limits are extremely variable, ranging from a minimum of $300 up to a maximum of $2,000. The exact credit card limit you're offered will depend primarily on your credit history, though your income may also factor into the decision. Accounts are periodically reviewed for automatic credit line increases.
Most other aspects of this card are also highly variable based on your creditworthiness, including your APR and annual fee.
This card is very similar to the Aspire card above. It offers generally the same rewards and comparable APRs and fees, including a maximum credit limit of $1,000. These cards are both issued by The Bank of Missouri.
Be sure to read the cardholder agreement before deciding to apply for a credit card, especially a subprime card. You don't want to be surprised by fees you didn't know you'd be charged.
Best High-Limit Secured Credit Cards for Bad Credit
The main reason that credit cards for bad credit tend to have low credit limits is that, frankly, creditors don't trust people with troubled credit histories to pay back their debts. A lower credit limit means less risk for the issuer.
That's why secured credit cards are the key to getting a high limit despite a low credit score. Secured cards require a cash deposit that acts as collateral for the credit line, reducing the risk to the issuer. Without that risk, the credit card issuer can offer a much higher credit line than unsecured issuers can offer.
This card requires you to have a Chime Checking Account to qualify. But once you do, there are no minimum deposit requirements, and you can deposit up to $10,000, making this one of the highest available credit limits for people with poor credit scores.
Furthermore, there's no credit check to apply, so it's also one of the easiest credit cards to open.
This card's low APR is what makes it stand out from the secured card crowd, but it also has a solid credit line range that starts with a minimum $200 deposit for a $200 credit line. Approved cardholders can deposit up to $2,000 for a larger credit line, with the deposit size directly determining the size of the credit line.
While this card's deposit is fully refundable like any other secured card, unlike some other cards on the list, this card won't be eligible for an upgrade to an unsecured card, so you'll need to cancel the card and apply for a new card when your credit improves.
at Capital Bank N.A.'ssecure website
Limited Time Offer: $51 funding voucher applied for all new accounts. Get a $200 credit line for $149. Click "Apply Now" to see additional terms and conditions.
No credit check to apply. Zero credit risk to apply!
Looking to build or rebuild your credit? 2/3 of cardholders receive a 48+ point improvement after making 3 on-time payments
Extend your $200 credit line by getting considered for an unsecured credit line increase after 6 months - no additional deposit required!
Get free monthly access to your FICO score in our mobile application
Build your credit history across 3 major credit reporting agencies: Experian, Equifax, and Transunion
The OpenSky® Secured Visa® Credit Card, issued by Capital Bank, lets you choose your credit limit based on the amount of security deposit you collateralize. Furthermore, cardholders can request a credit limit increase at any time.
Whether you're new to building credit or rebuilding credit from previous financial missteps, the OpenSky® Secured Visa® Credit Card is a viable option that is regularly rated among the best secured card offers.
Best High-Limit Cards for Bad Credit with No Annual Fee
Perhaps one of the worst things about having bad credit is that it can get expensive. High interest rates, high fees, and low limits can all converge to exacerbate an already difficult situation, making it even harder to pull yourself out.
If you're looking for a high-limit card and you have poor credit, a secured credit card is going to be your best credit card option. Happily, a number of secured credit cards offer decent limits and no annual fees, savings that can be put toward your deposit for an even higher limit.
While this card doesn't have a particularly high maximum limit — only up to $1,000 with a matching deposit — it has no annual fee and is upgradable. It's also one of the few partially secured credit cards available from a major bank.
Depending on your creditworthiness, you could put down a deposit as low as $49 for a $200 credit line. Plus, cardholders who make their first five payments on time are eligible for a credit limit increase with no additional deposit necessary.
This Capital One card offers a minimum credit line of $200 and a maximum credit line of $3,000. While you must deposit this amount to receive a matching limit, it's fully refundable in as soon as six months with responsible credit use.
It also comes with cash back rewards and features that other issuers of subprime cards can't compete with.
This card offers a credit line equal to the size of your deposit, with a minimum deposit of $200. Larger credit lines are available with larger deposits, with a maximum credit line and deposit of $2,500 after being approved.
In addition to being upgradable to an unsecured product over time, this card also boasts the secured card trifecta of no annual fee, purchase rewards, and FICO credit score tracking, making it a good pick no matter what size deposit you can muster.
Best High-Limit Business Credit Cards for Bad Credit
If finding a credit card with a decent limit is a challenge for consumers with bad credit, it can feel downright impossible for business owners. After all, it's hard to run a business when your credit card maxes out with a single office supply purchase.
But that doesn't necessarily have to be the case. As in the consumer world, you can find secured business credit cards that allow you to obtain a much higher credit limit by making a large deposit. With more control over your credit limit, you can build business credit while also accessing the credit line your company needs.
10. Business Advantage Unlimited Cash Rewards Mastercard® Secured credit card
The Business Advantage Unlimited Cash Rewards Mastercard® Secured credit card can help you build your business credit and pay you cash back rewards for all eligible purchases.
1.5% cash back on every purchase
Deposits between $1,000 and $50,000
No annual fee
The bank will periodically review your account to see whether you qualify to transition to an unsecured card and return your deposit. Once you start earning rewards, you can choose whether to apply their cash value to your outstanding balance, redeem them as a deposit to your Bank of America checking or savings account, or have a check mailed to you.
11. MidFirst Bank Business Secured Credit Card
The MidFirst Bank Business Secured Credit Card will offer a credit line equal to your deposit, with a minimum credit line and deposit of $1,000. For more credit, place a deposit of up to $50,000 to unlock an equivalent credit line.

Your refundable deposit is kept in a First Credit Card Savings – Business account
Deposits between $1,000 and $50,000
Pay $35 annual fee
MidFirst Bank is a regional bank with limited locations; branches can be found only in Texas, Oklahoma, Colorado, and Arizona. Potential applicants will need to go to a MidFirst banking center to fill out a business credit card application.
Does Maxing Out a Credit Card Hurt Your Credit?
The long and the short of it is that consumers with bad credit have two choices: deal with a low limit, or obtain a secured credit card and make a large deposit for a higher credit limit.
While the latter can seem unpalatable to consumers with limited budgets, settling for a low credit limit can come with challenges. In particular, a low credit limit on a credit card you plan to use for your everyday purchases can make it all too easy to hit the end of your credit line.
Having your balance reach your credit limit is bad in a number of ways. First off, many credit cards will charge you an over-limit fee if you wind up on the wrong side of the line. But what's worse is the potential credit damage.
Creditors don't like maxed-out credit cards; they're typically seen as a sign that you're having financial trouble and may be unable to pay your debts. This dislike is reflected in your credit scores through your credit utilization rate.
Your credit utilization rate is the ratio of how much credit you are using over how much credit you have. So, if you have a credit card with a $2,000 credit limit and it has a balance of $500, the utilization rate is: $500 / $2,000 = 0.25, or 25%.
The closer your utilization rate is to 100%, the more of a negative impact it will have on your personal credit score. A maxed-out credit card — one with a utilization rate of 100% — does the most damage of all and can drop your score by a significant number of points.

And that damage can be even worse if you only have one or two credit cards because the scoring models look at your individual utilization rates as well as your overall utilization rate across all of your cards.
A popular rule of thumb is to keep your utilization rates below 30%, though this is more of an arbitrary number; there is no actual magic number for the perfect utilization rate. In general, the best results come from simply keeping your utilization rate as low as possible.
While a small credit line can make this more difficult, it's still possible to maintain a healthy utilization rate despite a low limit. For instance, you can make multiple payments during the month as you make purchases, particularly if you make any large purchases that eat up your limit.
Most issuers only report your balance once a month, typically at the close of your statement. So, making multiple payments on your credit card — before your statement closes — can help ensure your credit card balance is reported while it is at its lowest level. And, since your credit score is calculated using the balances reported to the credit bureaus, your score will reflect the lower utilization rate.
Another way to avoid problems with a low credit limit is simply to avoid using your card for very many purchases. For example, a good way to build credit with a credit card is to use the card for a small recurring charge, such as the monthly bill for a streaming service. Then, put the card somewhere safe and don't use it for other purchases.
You can even set up automatic credit card payments through your bank. If you set it up so that your credit card is paid a few days after the recurring charge posts, you'll ensure not only that your credit card gets paid before your due date each month but also that your credit card balance is as low as possible when it is reported to the credit bureaus.
How Do You Increase Your Credit Limit?
If you're tired of dealing with a low credit limit, you've probably wondered about ways to increase your credit line and make your life a little easier. Consumers have several methods for receiving a credit line increase, depending on their creditworthiness and the type of credit card.
The easiest way to get a credit limit increase is to simply wait for one to occur automatically. A large number of credit card issuers will regularly evaluate your account to see if your credit profile, income, and spending habits indicate you'd be a good candidate for an increase.
Unsolicited credit limit increases happen all the time, often without warning or notification. Issuers typically use a soft credit inquiry that won't damage your credit score to check on your creditworthiness before offering an increase. You may also need to be a cardholder for a certain period of time to be eligible.
Unfortunately, subprime credit card issuers are often the least likely to offer unsolicited credit limit increases. Instead, you may need to go with option number two: asking for an increase.

The majority of credit card issuers — excluding some subprime cards with set limits — will allow you to request a credit limit increase after you've had your credit card account for a while (usually six months). If you meet the qualifications, you'll receive a boost.
Requests for a credit limit increase initiated by the cardholder are often treated as credit applications, meaning they may result in a hard credit inquiry showing up on your credit reports. While this can be worthwhile for a decent limit increase, it's something to keep in mind.
The third way to get a credit limit increase on your credit card only applies to certain secured credit cards. That's because some secured cards allow you to add to your deposit even after you open your account, making it possible to increase your credit limit at any point with a larger deposit.
Not every secured credit card will allow post-account opening deposits. In fact, the majority of secured cards will only allow you to make a deposit before you start using your credit card to make purchases. Read your terms and conditions documentation or contact your credit card issuer to see if your account is eligible for additional deposits.
Building Your Credit Can Also Help Build Your Credit Limits
Building credit takes a lot of work. It starts with the research, a process that, even with the internet, can take a significant amount of time, especially when you have to investigate a range of finance blogs and sites to get the best advice.
But, as much work as it can be, building your credit is well worth the effort. Not only does it mean an easier time qualifying for new credit, but it also means the quality of that credit will improve. You'll see lower rates, lower fees, and higher credit limits as your credit scores increase.
Of course, earning good credit doesn't happen overnight. You may have to deal with a lower credit limit or secured credit card deposit for six months or a year as you build your credit. However, the right card — used responsibly — can help you boost your scores and your credit limits over time.
Advertiser Disclosure
CardRates.com is a free online resource that offers valuable content and comparison services to users. To keep this resource 100% free, we receive compensation for referrals for many of the offers listed on the site. Along with key review factors, this compensation may impact how and where products appear across CardRates.com (including, for example, the order in which they appear). CardRates.com does not include the entire universe of available offers. Editorial opinions expressed on the site are strictly our own and are not provided, endorsed, or approved by advertisers.