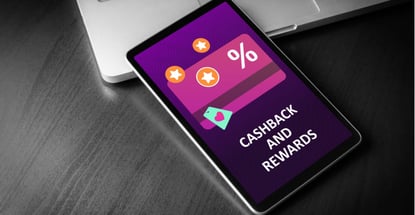 With so many to choose from, mustering the stamina to identify the best credit card for rewards requires copious amounts of caffeine. Hundreds of credit cards are vying for your attention this year, and many of them are terrific. 
What follows is our list of the best rewards credit cards, organized by various categories. It will help you quickly find a special card to match your circumstances and requirements. To assemble the list, we sacrificed weeks of sleep so you don't have to. You're welcome!
Best Overall Rewards Card
There can be no rewards card that is best for every consumer. Yet, we don't doubt that the Chase Sapphire Preferred® Card comes closest to hitting that impossible mark. 
We admire this travel credit card for its bonus rewards and generous benefits, all at a moderate annual fee. The card lets you earn Chase Ultimate Rewards®, one of the best travel points programs currently available. With its ability to multiply point values and its access to top benefits, this card from Chase is well-positioned to reign as our best overall rewards card.
Best Credit Card For Cash Back Rewards
For many consumers, nothing beats the thrill of cash back. The Discover it® Cash Back is the heavy-hitter in this issuer's lineup of no-annual-fee cards, and it's a great choice if you like a new bonus category each quarter.
While Cashback Match is a solid incentive to get this card, you'll want to continue using it after the first year, thanks to its low costs and generous rewards. Just remember to activate your new bonus category and understand the applicable purchase limits. 
Best Credit Card For Travel Rewards
Sophisticated travelers know and love the Chase Sapphire Reserve®. Sure, the annual fee isn't for everyone, but if you spend much time in airports and hotels, you'll find this card paying for itself in numerous ways.
One of this card's lesser-known perks is the generous terms of its rewards-transfer program with its travel partners that can double the redemption value of your points. Using your points to book travel through Chase Ultimate Rewards® not only increases their worth by 50% but also lets you access a first-rate travel agency with responsive customer service.
Best Credit Card For Flexible Miles Rewards
Flexible rewards miles don't lock you into one airline's frequent flyer program. Fans of travel independence will find much to like about the Capital One Venture Rewards Credit Card.
Having this Capital One card in your wallet will let you spend your rewards on the flights and hotels that best meet your immediate needs. Capital One Travel is rated highly for its helpful service should you need to speak to an agent. The card frees you from complicated multitiered and quarterly rotating bonus categories by providing a flat rewards rate and unlimited miles on all purchases.
Best Credit Card For Airline Rewards
If you are a fan of American Airlines, the Citi® / AAdvantage® Platinum Select® World Elite Mastercard® may suit you well. Unlike airline cards with flexible rewards miles, this card only delivers AAdvantage miles.
You can use your reward miles for free or reduced-fare flights on American Airlines and its partners. The first checked bag is free for you and up to four companions on eligible AA flights. In addition, you earn an annual flight discount by spending a set amount each year on eligible purchases. 
Best Credit Card For Gas Rewards
If you are a Costco member, owning the Costco Anywhere Visa® Card by Citi is a no-brainer. Costco is already the low-price leader for gasoline in many locations, and this card compounds your savings nicely.
Some card owners may not be aware that they can use this card wherever Visa is accepted. Indeed, while not the best available, its rewards for travel and dining out are undoubtedly competitive among cards optimized for at-the-pump rewards. Keep in mind, bonus cash back rewards on gas purchases are capped at a spending limit before the baseline rate applies. If you plan on spending more than that limit, you may want to get a second gas card to keep your rewards elevated.
Best Credit Card For Points Rewards
Making the second of its three appearances, the Chase Sapphire Preferred® Card is our favorite points card. That's not surprising since it's our overall top pick, and it happens to offer rewards in the form of points.
The card delivers much of the value of its more expensive sibling, the Chase Sapphire Reserve®, despite a much lower annual fee. The card's points are easy to convert to cash and readily transferable to partner loyalty programs. But the best use of this card's points is redeeming them for travel at Chase Ultimate Rewards® and receiving a 25% value boost.
Best Credit Card For Grocery Shopping Rewards
The Blue Cash Preferred® Card from American Express wins the supermarket sweepstake for the best cash back for grocery shopping. If you shop in U.S. supermarkets, this card will earn you the best rewards currently available. 
Beyond its distinction as best of breed for grocery purchases, the card is no slouch when it comes to filling your gas tank, riding on public transit, or taking an Uber. You also earn cash back each time an authorized user makes a purchase with their card, money that you can redeem as a statement credit.
Best Credit Card For Student Rewards
We're not saying this card will make you want to go back to school, but Discover it® Student Cash Back certainly would make the journey a little easier. If you're a young student who may not have any prior credit history, this quality unsecured card can help you learn about handling credit responsibly.
Cashback Match makes a nice reward after your first year of being a cardholder. You can redeem your cash back rewards, which never expire, at the time and in the amount of your choosing. Lest you worry about the card's acceptance, Discover cards are welcome at 99% of U.S. locations that accept credit cards.
Best Credit Card For Hotel Rewards
The Marriott Bonvoy Brilliant® American Express® Card appeared after the merger of the Marriott and Starwood hotel chains. The card offers a high reward rate on Marriott purchases and a surprisingly great rate on everything else.
The card gives you a fixed number of Elite Night Credits per calendar year and automatic Silver Elite Status. You also get Visa Signature Concierge Service, extensive travel insurance benefits, free in-room WIFI, and a complimentary one-night stay each year after your account anniversary.
Best Credit Card For Car Rental Rewards
Chalk up another win for the Chase Sapphire Preferred® Card, this time for its car rental benefits. It is one of the few credit cards that offers primary collision damage waiver coverage, reducing the potential claims on your car insurance policy. 
You can pay for a rental by redeeming your points in the Chase Ultimate Rewards portal. This travel credit card provides free upgrades, discounts, and special offers from select rental agencies. You also get a free executive-level membership in National's Emerald Club that entitles you to extra benefits.
Best Credit Card For Restaurant Rewards
The American Express® Gold Card is the best-in-category thanks to its high reward rate and monthly statement credits for dining at restaurants, including takeout and delivery. And for dinner-at-home nights, the card offers the same rewards for grocery spending. 
If you like to dine out while on vacation, you'll appreciate the card's travel benefits. Perks include baggage insurance, car rental loss and damage insurance, personalized travel services, and no foreign transaction fee. 
Best Credit Card For Small Businesses Rewards
The Ink Business Preferred® Credit Card is the only business card that earns Chase Ultimate Rewards points. This card suits the needs of business people who frequently travel, thanks to its reward structure and benefits. 
Travel perks include a 1:1 point transfer to participating frequent travel programs, travel and emergency assistance services, insurance against trip cancellation or interruption, and no foreign transaction fees. Other business-friendly benefits include auto rental collision damage waiver, extended warranty protection, purchase protection, and cellphone insurance.
Best Rewards Card For Online Shopping
The Amazon Prime Rewards Visa Signature Card is the perfect choice for Amazon shoppers who have a Prime membership. The card provides generous cash back on Amazon.com purchases and a signup bonus that requires no upfront spending.
The card charges no annual or foreign transaction fees. Surprisingly, this store card provides many travel benefits, including travel and emergency assistance, lost luggage reimbursement, baggage delay insurance, and travel accident insurance. You also receive roadside dispatch, auto rental collision damage waiver, purchase protection, and extended warranty protection.
Best Credit Card For Everyday Rewards
The Citi® Double Cash Card does its own type of cash back "match," using a recipe different from that of Discover's. You receive the match every time you pay your bill, and the benefit doesn't expire after the first year. 
You can redeem your cash back as a gift card, statement credit, check, direct deposit, or Citi ThankYou Points. If you convert your cash to points, you can transfer them to the loyalty programs of Citi's airline partners. The card also gives you special access to select dining and entertainment experiences.
Best Secured Credit Card For Rewards
The recently introduced Capital One Quicksilver Secured Cash Rewards Credit Card boasts unlimited cash back on all purchases and a low refundable minimum deposit. And it accomplishes it all without an annual fee.
Your creditworthiness and deposit determine your credit limit. Continue your responsible use of credit to earn your deposit back and an upgrade to an unsecured Quicksilver card. The card offers several security features, including fraud liability protection, virtual card numbers, immediate card lock, and security alerts for suspicious transactions. 
Best Rewards Card For Excellent Credit
Discover it® Cash Back proves that you don't have to pay an annual fee to get a card worthy of your excellent credit. The card rewards your frugality with bonus cash back on rotating merchant categories that you activate each quarter.
The card's Cashback Match can earn new cardmembers a sizable payoff for their first-year spending. If you post $20,000 in eligible purchases — including the reward limit on bonus-category expenditures — during Year One, you'll earn $880 in first-year cash back. Discover is one of the few credit card companies that doesn't confiscate your unredeemed rewards if you cancel the account.
Best Rewards Card For Good Credit
What distinguishes Chase Freedom Unlimited® is the many ways you can earn extra reward points. Moreover, most of its bonus tiers do not impose reward limits on combined purchases, an unusual and welcome benefit.
The card frequently offers special, limited-time perks from various merchant partners. If you ever upgrade to a Chase Sapphire Preferred® Card, the value of any transferred points will increase by 25% or 50% when redeemed for travel via Chase Ultimate Rewards. This Visa card doesn't charge penalty fees should you bounce a payment or exceed your credit limit.
Best Rewards Card For Fair Credit
The Capital One QuicksilverOne Cash Rewards Credit Card offers cash back rewards on all your purchases. The card welcomes consumers with fair credit or scant credit history. 
You have the option to transfer your cash rewards to a linked checking or savings account. Alternatively, you can take your rewards as a statement credit or gift card. On-time payments may help you improve your credit profile and earn a higher spending limit.
Best Rewards Card For Bad Credit
The Capital One Quicksilver Secured Cash Rewards Credit Card allows you to rebuild your credit with regular on-time payments and earn handsome cash back rewards.
The card issuer sets your maximum credit limit based on your security deposit, income, and ability to pay your bill. Capital One may return your collateral if you consistently pay on time. This card smoothly integrates with popular digital wallets, including Apple Pay, Google Pay, and Samsung Pay.
Best Rewards Card For No/Limited Credit
The Capital One QuicksilverOne Cash Rewards Credit Card is a good choice for consumers who have little experience with credit. Unlike some of its competitors, this Visa card supports balance transfers. 
The card has a low annual fee and doesn't charge penalty fees for returned payments or spending over your limit. Also, it will not impose a higher APR for late payments. You may be able to transfer your rewards to other Capital One accounts, although not all rewards products are eligible. 
Best Rewards Card With No Annual Fee
Chase Freedom Unlimited® offers several generous reward tiers, most of which impose no caps on the number of points you can earn. This feature is unusual for a no-annual-fee credit card and justifies the card's top ranking.
You can quickly redeem your points for cash or use them to shop on the Chase Ultimate Rewards website. If you also own a Chase Sapphire card, you can transfer your Freedom points to it. This maneuver increases the points' value when redeemed for travel booked through Chase.
How Do Credit Card Rewards Work?
Credit card rewards take the form of cash back, points, or miles that you earn when you use your card to make eligible purchases. Not all credit cards provide rewards and those that do employ many different strategies specifying how cardholders can earn and redeem their rewards.
Earning Rewards
Generally, credit cards assign you rewards automatically for eligible purchases. Ineligible purchases include spending on gift cards, money orders, balance transfers, cash advances, card fees, gambling, and interest charges. 

The three types of credit card rewards are:
Cash back: You can collect cash back in several ways, including receiving it by check or having it wired to your bank account. Or you can receive cash back as a statement credit or a gift card, among other methods.
Points: You use points to pay for purchases. Most cards also let you convert them to cash or to frequent flyer miles. 
Miles: You can receive miles for use on any airline, but co-branded cards award you airline-specific frequent flyer miles. You can use your airline miles for free or reduced-fare flights and other travel-related purchases. You may be able to transfer card miles to the loyalty programs of participating travel partners.
You earn cash back as a percentage of the amount you spend on eligible purchases. For example, a card that offers 1.5% cash back on all purchases would award you $1.50 on a $100 purchase. 
Cards express point and mile rewards using a multiplier. For example, a card offering 2X points gives you two points for each $1 you spend on eligible purchases.
Rewards may be limited to a set amount per rate and period. For example, a card may allow you to earn 3X points on the first $1,500 of restaurant spending per quarter and 1X points after that.
The methods for issuing rewards are:
Flat rate: You earn the same rewards rate on all purchases. For example, several leading cash back cards offer 1.5% percent on every eligible purchase. In virtually all cases, flat-rate cards offer unlimited rewards. 
Tiered: A tiered card offers two or more reward rates, differentiated by merchant category. For example, a card may offer 3X miles for travel purchases, 2X miles for dining out, and 1X miles on everything else. The upper tiers are called "bonus categories." 
Quarterly rotating: This is a specialized type of tiered reward in which the top bonus category changes every quarter. A card may offer bonus tiers in addition to the quarterly rotating one. You must register each quarter to earn the maximum bonus reward rate, which is usually capped. For example, a card may offer 5% cash back on the bonus merchant category for up to $1,500 in combined purchases per quarter. The bonus category may be U.S. supermarkets in the first quarter, followed by travel, gas station, and Amazon.com purchases in succeeding quarters. The card offers 1% cash back on all other purchases (i.e., those in non-bonus categories, those above the purchase limit, and all purchases should you fail to register for the bonus).
Signup bonus: Many rewards cards offer introductory signup bonuses to attract new card membership. A typical signup bonus allows you to earn a set reward when you spend a specified amount within the first three months after account opening. For example, a card may award you 50,000 miles if you spend $5,000 on eligible purchases during the introductory period. 
Referral bonus: Some cards offer a bonus reward each time you refer a friend who becomes a new cardmember. For example, a card may pay you $50 for each successful referral, up to 10 per year.
Generally, you can accumulate your rewards for as long as you keep your credit card account open. Some cards revoke rewards if you fail to use your card for a set period. In most cases, you forfeit any unused rewards when you cancel a credit card account. 
You can consult your monthly billing statement for your current reward status. Typically, cards update your rewards once per billing cycle. 
Redeeming Rewards
Credit card rewards do you no good unless you redeem them. The value you receive may depend upon the type of reward.
Cash back rewards are the most straightforward because they are in dollars. If you accumulate $50 in cash back, your reward is worth $50 when you redeem it. 
Points and miles are trickier. In most cases, you can convert non-cash-back rewards to cash at a known rate. For example, you may be able to cash in 10,000 bonus points for $100.
However, the value of points and miles can significantly vary when redeemed for non-cash items, including travel. The variation occurs as a result of transferring points or miles to a specific airline rewards program due to several variables:
Varying transfer ratios: Do not assume that you can transfer your card points or miles to an airline's frequent flyer program on a 1:1 basis. For example, one card mile may be worth 0.8 frequent flyer miles on one airline program and a different value on another.
Varying reward schedules: Each airline decides how to reward members of its frequent flyer program, and the reward strategies vary widely. One airline may give you a free economy ticket for 20,000 miles while another demands 60,000 miles for a similar flight. 
Varying prices: Even within a single airline, the price for a flight can vary due to several factors, including destination, date and time of departure, number and length of stops, cabin class, and how far in advance you book the ticket.
To help make sense of these variables, you may want to consider using a mile rewards calculator, available online or as an app. 
Variability can also occur based on how you redeem card points or miles. For example, points you earn on the Chase Sapphire Preferred® Card or the Ink Business Preferred® Credit Card are worth 25% more when redeemed for travel, but only when you book the trip using the Chase Ultimate Rewards site. 
This transaction is not a transfer of Chase card points to an airline's frequent flyer program, nor is it considered a purchase of airplane tickets. Instead, you are redeeming your points' cash value to cover the fare.
Many credit cards allow you to redeem your rewards in any amount and at any time. Other cards may require a minimum redemption amount. 
Which Rewards Card Is Best For Me?
There's no shortage of good reasons to own a particular credit card. For example, you may favor cards that offer the maximum amount of cash back or the highest number of miles for a specific airline. Or perhaps you're looking for a generous intro APR offer or a low interest rate. 
You can begin your search for the right card by determining which features will bring you the greatest utility. For example, it may not make sense to select an airlines card if you rarely travel, but it can be a good choice if you spend a lot of time in the air.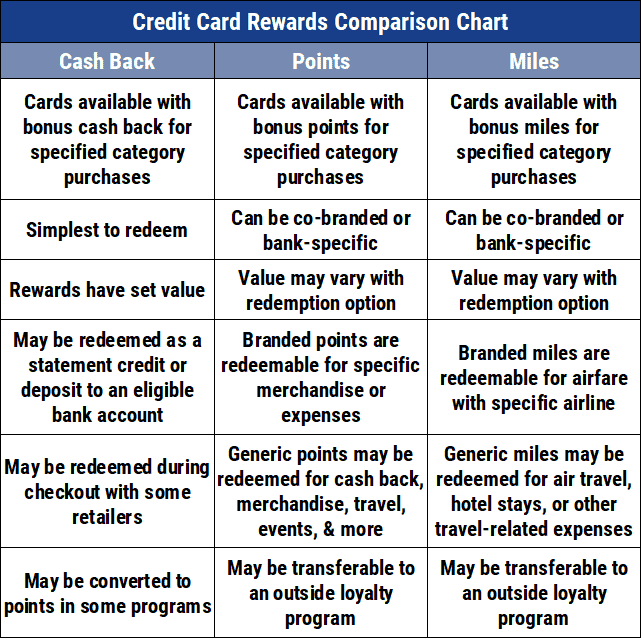 Similarly, you wouldn't find much value with a card offering generous rewards for gas purchases if you don't have a car or in a card's bonus rewards for dining out when you prefer to cook your own meals.
A low credit score may prevent you from getting the rewards card you most desire. However, several unsecured credit cards designed for consumers with bad credit offer modest rewards. The rewards from a few secured cards, such as the Capital One Quicksilver Secured Cash Rewards Credit Card, beat many similar unsecured cards. 
If you're uncertain whether you'll qualify for the rewards card you want, try prequalifying first. While prequalification doesn't guarantee final approval, it will let you know whether it's at least possible. Many credit cards allow you to prequalify first. Doing so takes only a minute and will not affect your credit score. 
How Do I Earn the Most Rewards?
A cash back card with flat rewards is easy to use since all everyday purchases earn the same reward rate. But this kind of card will seldom maximize your rewards because the flat rate for everyday purchases rarely exceeds 2%.
You can earn 4%, 5%, even 6% on a portion of your purchases if you have the right card. You may want to own two or more cards that favor different merchant categories to maximize your rewards. For this to pay off, you must remember which cards to use for which categories. 

You may also want to own two or more cards that offer similar rewards for the same merchant category. This strategy can help you overcome quarterly limits on purchases from a specific type of merchant. You'll have to track how much of your primary card's quota you've already consumed so you can switch to the backup card at the right time. 
You also may consider a credit card with high, flat rewards to cover purchases that don't fall into any bonus categories. The Citi® Double Cash Card is a good choice, as it provides 2% cash back on all purchases. 
Pairing cards from the same issuer can release extra value. For example, Chase lets you unlock additional rewards when you own a Freedom card and a Sapphire card. You can turn points from the Freedom card into Ultimate Rewards points with greater value when redeemed for travel.
Don't neglect the rewards you can get from signing up for a new card. Signup bonuses can be worth hundreds of dollars.
How Do I Earn a Signup Bonus?
Signup bonuses give credit card companies a fast, easy way to build card membership. You earn a card's signup bonus (or welcome bonus) by spending a set amount on purchases during an introductory period – typically three months from the date you open the account.
For example, you may earn a $200 signup bonus by spending $500 during the first three months of card ownership. Cards with steep annual fees frequently offer more significant signup bonuses but require larger spending amounts.
A few cards offer introductory periods longer than three months. In some instances, a card may offer one welcome bonus for the first three months and a second for a subsequent period, but only if you earn the first bonus.
Some enterprising folks engage in credit card churning to earn signup bonuses. According to Experian:
"Credit card churning is the practice of repeatedly opening and closing credit cards to earn cash, rewards points, or miles. Often, you can qualify for a large intro bonus after opening a new credit card, which is something 'churners' exploit to try to amass a lot of rewards."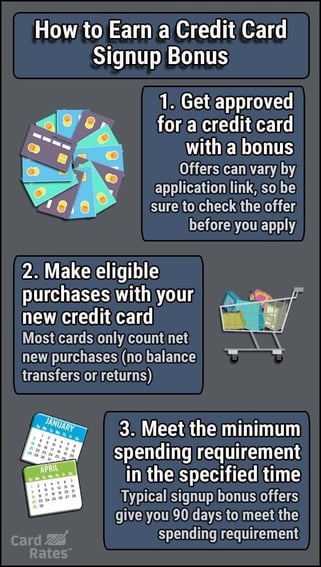 You should be surprised that credit card issuers frown on this gaming of the system. They may try to deter it by controlling how many new credit cards you can obtain within a set period.
The classic anti-churning example is Chase's 5/24 Rule, which prohibits you from getting a new Chase card if you've opened five cards (including those from other issuers) within the last 24 months. 
Some other examples: American Express limits you to one welcome bonus per lifetime on any one of their cards. Discover and other issuers prohibit you from owning more than two of their cards.
If you plan to close and reapply for the same credit card, be aware that you will probably not earn a new signup bonus. Most card companies make you wait years before you become eligible for a second bite from the apple.
Would-be churners should be aware of the risks involved, including:
Damage to your credit score: Every time you apply for a credit card, the issuer conducts a hard credit report inquiry. A hard pull generally reduces your FICO score by up to five points for one year. Additionally, card churning reduces the average age of your credit accounts, another negative for your FICO score.
Retaliation from card issuers: If a card issuer suspects you of churning, it may take back rewards or close down your accounts.
It can get expensive: The spending required to earn a signup bonus always exceeds the bonus value. In addition, you may have to pay a steep annual fee to get a card with a generous signup bonus.
You won't go to prison for credit card churning. But for a variety of reasons, churning is unlikely to make you rich. We would only point out that churning and its prevention cost the credit card companies money that may better go toward more generous rewards and better benefits.
Can I Earn Rewards on Cash Advances and Balance Transfers?
Credit cards permit three types of transactions — purchases, cash advances, and balance transfers. Only purchases can earn you rewards.
However, the other two transaction types can be pretty valuable even without the rewards.
Balance Transfers
A balance transfer is a transaction in which you move the outstanding balance from one credit card to another. The transfer allows you to consolidate your credit card debt in one place, making it easier to afford and schedule payments:
Affordability: Consolidation reduces the number of minimum payments you must make each month. The money you don't spend on the extra minimum payments can more quickly pay down your remaining card balance. Moreover, you will save money if the balance transfer card's APR is less than the weighted average variable APR of the consolidated cards.
Scheduling: After transferring your balances, you will need to schedule only one credit card payment per month. This reduces the chance that you'll overlook the payment date and face late fees.
The least expensive way to transfer balances is to take advantage of a credit card's 0% intro APR promotion. This is a benefit some cards offer new cardmembers to avoid interest costs on the transferred balance for a set period after account opening — typically six to 18 months. 
This type of promotion can be paired with one for purchases, or it can stand alone.
Your card's credit limit determines how much of your outstanding balances you can transfer. The strategy is most effective when you can move the entire lot for the reasons just explained.
If you are comparison-shopping for a new credit card with a balance transfer promotion, check into the credit line you'll receive and the length of the introductory period. Also, investigate whether the new card will place limits on the amount you can transfer.
For example, Chase limits balance transfers to $15,000 within a 30-day period. These limits may interfere with your plans.
Be prepared for the card's regular balance transfer APR if you don't expect to pay off the entire transferred balance during the 0% intro APR period. You may face interest charges well above 20% after the promotion expires.
Almost all credit cards charge a transaction fee for balance transfers, typically 3% to 5% of the transferred amount. Some cards waive the charge if your balance transfer isn't part of a 0% APR promotion.
Cash Advances
Many credit cards offer short-term loans called cash advances. You can arrange a credit card cash advance quickly, without filling out any paperwork or sweating out an approval process. 
You can obtain a cash advance at an ATM, at a bank branch, or through an online or in-app transfer to another account. You can also write a cash advance check against your credit card account.
Credit cards usually set a cash advance limit that is a portion (sometimes a small portion) of your overall credit limit. You can review your cash advance balance and outstanding balance on your latest billing statement.
Unlike purchases, cash advances do not have grace periods. They accrue interest from the first day at the card's cash advance APR, which typically is higher than the regular purchase APR. These loans aren't cheap, frequently charging a variable APR above 25%.

You'll accrue interest on your cash advance every day until you repay it in full. 
The fee credit cards charge for cash advances usually ranges from 3% to 5%, although higher fees are possible. Some cards for consumers with poor credit delay access to cash advances for several billing cycles. These same cards frequently waive the cash advance fee for the first year of card ownership.
Get the Best Credit Card That Fits Your Lifestyle
You asked, "What's the best credit card for rewards?" We've devoted 5,000+ words to tell you, "It depends!" True, we name the Chase Sapphire Preferred® Card as best overall and the winner in two other categories. But, ultimately, the best rewards credit card is the one that's best for you.
You can learn more about any of the reviewed cards by clicking on the APPLY NOW links in our summary boxes. That's where you'll have access to each card's detailed rates and terms, which we urge you to read before applying, as some surprises may lurk in the fine print.
Advertiser Disclosure
CardRates.com is a free online resource that offers valuable content and comparison services to users. To keep this resource 100% free, we receive compensation for referrals for many of the offers listed on the site. Along with key review factors, this compensation may impact how and where products appear across CardRates.com (including, for example, the order in which they appear). CardRates.com does not include the entire universe of available offers. Editorial opinions expressed on the site are strictly our own and are not provided, endorsed, or approved by advertisers.