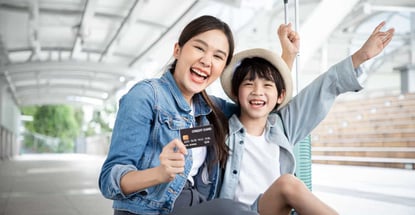 High spending limits and air miles go together like peanut butter and jelly: The combination is more than the sum of its parts. A high credit limit lets you spend more and accumulate more air miles. You can use your air miles to finance travel, where your high spending limit will come in handy.
This article reviews the leading high-limit air-mile cards that you should consider before you plan your next vacation. They'll save you money and give you plenty of buying power.
Miles Cards With High Credit Limits
The following cards all have high credit limits, some initially, others over time. But all offer valuable mile rewards you can use to pay for future travel and exclusive cardholder perks. 
Many owners of the Discover it® Miles card report initial credit limits that exceed $10,000. You can use your credit card miles with any airline or hotel. You can redeem them for cash — something you can't do with most co-branded airline cards. Unlike many other card issuers, Discover will pay you for any unredeemed credit card miles if you cancel your account. The Discover it Miles may be the best credit card for consumers who want a transparent and inexpensive product.
One Redditor reports a $20,000 credit limit on the Capital One Venture Rewards Credit Card, which is probably not unusual for this travel card. The card lets you book a trip through Capital One Travel using reward miles. Alternatively, Capital One will reimburse you for past travel purchases you made elsewhere. You can transfer your miles to your choice of more than 15 travel loyalty programs.
One owner of the Capital One Venture X Rewards Credit Card had an initial credit limit of $20,000 but got a $10,000 increase just for asking. As a Visa Infinite card, you'll get a Priority Pass membership and unlimited access to more than 1,300 lounge locations. Drinks and snacks are complimentary at most Priority Pass lounges.
One satisfied user of the Delta SkyMiles® Reserve American Express Card reports a $39,000 credit limit. You can use your SkyMiles for flights and upgrades only on Delta and its partner airlines. Although the annual fee is hefty, you receive several valuable benefits for the money. This airline card doesn't allow you to exchange your miles for cash.
The Citi® / AAdvantage® Platinum Select® World Elite Mastercard® provided one cardmember with an initial credit limit of $12,400, but you may qualify for a higher amount. This moderately priced airline card should appeal to fans of American Airlines who enjoy making foreign purchases without transaction fees. You'll also appreciate the discounts on in-flight purchases, especially during a long flight when you'd like a relaxing beverage (or three).
The Delta SkyMiles® Platinum American Express Card provided a $15,000 credit limit to a new cardmember with a 666 FICO score. You may do better if you have very good or excellent credit. Delta uses a complicated membership rewards scheme for its SkyMiles, so you'll want to read up on Medallion Qualification Miles to understand how the system works.
Best Cards That Transfer Points to Miles Programs
These cards offer rewards points you can convert into airline miles. The best cards give you one mile for each point, so check the fine print. Points cards are versatile, and you can quickly redeem your reward points for cash.
Long one of our favorite travel cards, Chase Sapphire Reserve® more than pays for its hefty annual fee with credits, reimbursements, and generous benefits. The online forums contain several mentions of $100,000+ spending limits on Sapphire Reserve cards. The value of the card's Chase Ultimate Rewards points increases by 50% for trips you book through Chase. Save enough points, and you may find yourself on a world cruise for free. Sapphire Reserve may be the best credit card on the market for frequent travelers.
The Platinum Card® is the flagship of the American Express credit card line (not counting the by-invitation-only Centurion Card). This travel credit card has no preset spending limit (NPSL), but you will receive a hard limit if you use the Pay Over Time (POT) feature. One Reddit contributor got a POT limit of $14,000, but high-income cardmembers may qualify for much higher spending limits.
Comments on the online forums suggest the Citi Premier® Card has conservative credit limits. One individual received a $5,000 limit, while others complained of even lower limits. The card provides tiered membership rewards in the form of ThankYou Points that you can redeem in several ways. You can also transfer your points to a participating travel loyalty program.
The Bank of America® Premium Rewards® credit card is a Visa Signature card, meaning its minimum credit limit is $5,000. A myFICO forum contributor received an $18,000 initial credit limit from this bank credit card, but another claimed a $120,000 limit, which is highly unusual! Though it's unofficial, rumors are that Bank of America caps a customer's total credit limit at $99,900. You can transfer points from this bank credit card to multiple affinity reward programs.
The American Express® Gold Card is another NPSL product from Amex, so the sky's the limit if you pay your entire balance each month. Its Pay Over Time credit limit may equal or exceed its Platinum sibling's. For example, a Reddit contributor reports a $28,000 POT limit on the Gold Card but only $12,000 on American Express® Gold Card. Your results will vary based on your income and creditworthiness. 
What Is a Miles Credit Card?
A miles credit card, unsurprisingly, provides rewards in the form of miles that you can redeem for air travel. It is essential to understand the two types of miles cards, as they have several significant differences.
The first card type offers general-purpose miles that you can use just like points. You can use the miles to pay for travel on any carrier or redeem them for cash. The miles have a set cash value that you can apply to your travel expenses. 
Most of these cards allow you to transfer your miles to a participating loyalty program (i.e., a frequent flyer program). When you transfer miles, their value depends on the transfer ratio and the internal workings of the frequent flyer program.
The second card type involves co-branded cards for specific airlines. The miles you earn on these cards are the same as the frequent flyer miles you earn by flying on the air carrier. The value of these miles depends solely on the details of the associated loyalty program. 
You can't use branded miles on a competing airline (i.e., your Delta SkyMiles won't work on a United flight), but you can use the miles on the carrier's affiliates. For example, you can book flights on Air France or KLM with Delta SkyMiles.
You cannot redeem branded miles for cash. If you travel frequently on various airlines and want to accumulate miles, you must own several co-branded air miles cards or a general-purpose miles card. The decision is easier if you always fly the same airlines, but you still have to choose among competing co-branded cards from different issuers.
The reviewed bonus point cards are just as versatile as the general-purpose airline credit cards. You can redeem the points for a statement credit, cash, gift cards, travel, and other items. The value of a credit card reward point varies by issuer and redemption method: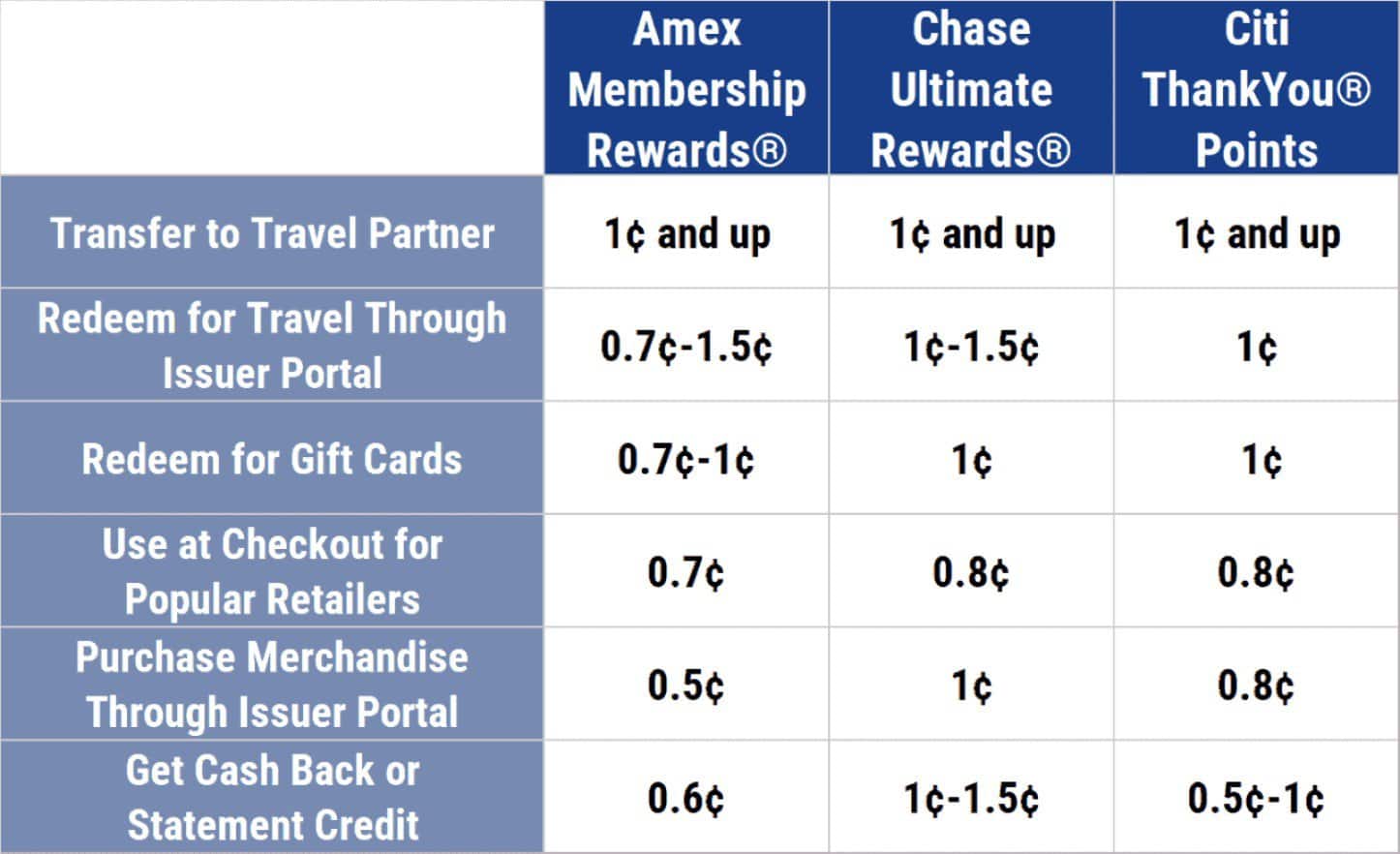 The miles cards usually offer their biggest rewards for travel-related purchases, whereas points cards may offer a wider variety of reward tiers. 
Air miles tend to be worth more if you use them to book business-class flights. Air miles and rewards points from a travel credit card are often less valuable when you redeem them for non-travel purchases.
How Do Credit Limits Work?
When you apply for a credit card, the issuer will determine how much you can charge to the account. This maximum spending cap is your credit limit (or credit line). The card company will usually reject transactions that would put you over your spending limit and may even charge you a fee for the attempt.
A charge card usually has no preset spending limit (NPSL), but you must pay the entire balance each month. American Express once issued charge cards exclusively but later adopted a hybrid scheme it calls Pay Over Time (POT). The POT option has an associated credit limit similar to those on conventional credit cards. 
Credit cards provide revolving credit, meaning your available credit varies with your spending and payments. In other words, you reuse the same credit line repeatedly as you repay your charges. 
A large credit limit can be handy when you travel or want to make a big-ticket purchase. A large credit limit is also desirable because it makes it easier to maintain a low credit utilization ratio, which influences your credit score. A high limit lets you earn more rewards, prepare for financial emergencies, and get better terms when you borrow money.
Card limits range from a few hundred dollars to $30,000 or more. Some luxury cards offer very high limits of $50,000, $70,000, or even $100,000+.
Credit card issuers use several factors to determine your credit limit. These include your credit risk, credit history, debt capacity, and previous interactions with the issuer.
Credit Risk
Your credit score influences your credit line in several ways. Your credit reports (from Experian, Equifax, and TransUnion) help issuers decide whether you qualify for the account and the interest rate you'll receive.
Your credit reports and scores help card issuers determine a credit limit they think you can afford. 
Your Credit Card History
In addition to reviewing your credit reports and scores, card issuers scrutinize your track record for current and previous credit card accounts. You may qualify for a higher limit if your credit history indicates responsible credit card usage, 
Most card issuers use scoring models that focus on your previous card usage. Responsible management of your credit cards may earn you a large spending limit on a new card.
Card issuers consider how well you pay all your bills, but they care a lot more about how well you've paid— no surprise — your credit card bills.
Debt Capacity
Your ability to pay your bills (i.e., your debt capacity) is another key factor that card issuers consider when determining your credit limit. Issuers routinely compare your income to your existing debts, which is your debt-to-income ratio or DTI.

Applicants' high DTI ratios may result in lower credit limits because these consumers can't afford large monthly payments.
Previous Interactions With the Card Issuer
Credit card issuers are like elephants — they have very long memories. Credit card defaults and bankruptcies, even ones more than a decade old, reduce your chances of ever getting credit from that issuer again. You'd best apply to another credit card issuer for a new card.
How Do I Get a High Credit Limit?
Every card issuer determines how to set credit limits. But, just as you can increase your credit card approval odds, you can also take steps to qualify for a higher credit limit:
Check your credit reports for errors: You can obtain free copies of your credit from annualcreditreport.com. Inaccuracies on your credit reports may unfairly hurt your credit scores. You can dispute any incorrect, unverifiable, and obsolete data on your credit reports individually or with the help of a legitimate credit repair company. The credit bureaus must adjudicate your dispute within 30 days and remove or correct any mistakes they find.
Pay down credit card balances at least a month before you apply. Lowering your credit card balances helps you in two ways when you apply for a new credit card. First, your scores will likely increase if you reduce your credit utilization rate (i.e., credit used divided by total credit available). Second, less credit card debt means a lower DTI. Happily, reducing debt lets you save money on interest charges.
Claim your household income. When you apply for a new credit card, you should include your household's income on the application, not just your individual earnings. Include salary, alimony, child support, rental income, and other familiar sources of income you and your spouse receive if you reasonably expect to have access to the funds.
You should wait at least six months before asking for a higher credit limit and then six months before each subsequent request. But you can apply sooner if:
Your credit scores improve
You recently got a raise, a new job with higher pay, or otherwise boosted your income
You reduced your debt or housing costs
You recently graduated from college and expect to earn more income
Remember that a friendly disposition may help you obtain a credit increase, but anger or pleading will almost certainly backfire.
How Does Requesting a Higher Credit Limit Affect My Credit Score?
Asking for a higher limit could impact your credit score through a hard credit check and a change to your credit utilization ratio.
Hard Credit Checks
Your request for more credit will probably trigger a hard credit check. A hard inquiry occurs when a creditor requests a copy of your credit report from a credit bureau after you apply for more credit or a new account.
Hard credit checks remain on your credit reports for two years but only affect your score for one year. An occasional hard credit pull will have a negligible impact on your credit scores. But multiple hard checks within a short time can hurt your scores.
You can wait and see whether your card company will unilaterally raise your limit when you don't want to risk a minor hit to your scores. Card companies typically reassess limits at least once yearly and adjust credit lines using the most current information.
Changes to Your Credit Utilization Ratio
A higher limit may change your credit utilization rate, which is the percentage of your available credit that you are currently using. For example, if you have a card with a $10,000 limit and a $5,000 balance, your utilization rate for that account is 50%. 
Your overall utilization rate includes your credit cards and other revolving debt (excluding home equity lines of credit) but doesn't include loans with a set repayment schedule.
Your utilization rate will be lower if your credit limit increases and your spending stays the same. Your utilization rate may be higher, lower, or the same if your limit increases and your spending goes up.

Credit scoring models believe that a higher utilization rate increases the risk that you will default on a credit account within the next two years. Your overall indebtedness accounts for 30% of your FICO score. 
Just because you pay your credit cards in full each month doesn't mean you have a 0% utilization ratio. The balances that appear on your credit reports, not the fact that you pay them in full each month, determine your ratio.
To maintain a healthy credit score, your credit utilization should never exceed 30%. But the lower your utilization percentage, the better your credit scores.
How Much Are 75,000 Capital One Miles Worth?
Capital One air miles cards provide rewards that you can use for any travel expense. They have a fixed value of $0.01 per mile, whether you use them to pay for expenses or cash them out. For example, you could cash out 75,000 Capital One miles for $750.
The value of Capital One miles becomes less clear when you transfer them to a participating loyalty program. The first variable is the transfer ratio — a 1:1 ratio helps preserve your miles' value. But the more critical variable is how the participating loyalty program values miles. 
The Capital One miles you transfer to an airline's frequent flyer program may continue to be worth one cent each, but their value may expand to as much as 1.8 cents, depending on the loyalty program's rules. 
Hotel loyalty programs are notoriously stingy, so a transferred reward point may be worth as little as 0.5 cents.
Are Miles Better Than Cash Back?
Before we address this burning controversy, let's point out two facts:
You can convert general-purpose (or generic) air miles to cash.
You can own cash back and air miles cards at the same time.
So, it looks as if you can have your cake and eat it too.
The following chart compares cash back, miles, and points rewards programs:
| Cash Back | Points | Miles |
| --- | --- | --- |
| flat-rate or tiered rewards | flat-rate or tiered rewards | flat-rate or tiered rewards |
| simple to redeem for a statement credit, check, or bank deposit | redeemed for travel, cash, eligible purchases, gift cards, and more | redeemed for travel, cash, eligible purchases, travel upgrades, and more |
| rewards have a set value | rewards value varies by redemption option | rewards value varies by redemption option |
| may be redeemed at checkout with some retailers | may be redeemed at checkout with some retailers | may be cobranded with a major travel company, e.g., Delta or Hilton |
| may be converted to points in some programs | may be transferrable to a loyalty program | may be transferrable to a loyalty program |
Miles can sometimes beat cash back, but in most situations, we prefer the versatility of cash rewards since transferred miles may be worth less than the nominal rate of one cent per point, and you can't exchange branded miles for cash.
For example, you can't convert SkyMiles from an American Express Delta card into cash. You can use your SkyMiles to purchase Delta gift cards on the airline's shopping portal, but their value will be only 0.7 cents each. 
You can try to sell your Delta SkyMiles to a third-party miles buyer, but the price is not guaranteed, and the transaction may be dicey. 
On the other hand, SkyMiles may be more valuable than cash when you redeem them for Delta flights. Their value depends on Delta's frequent flyer rewards program as it pertains to your particular flight.
For generic miles such as those from the Discover it® Miles card, the cash value of each mile is precisely one cent.
Cash back cards are easy to understand because their cash value is explicit — you don't have to guess. That certainty is why we generally prefer cash rewards, but a strong case exists for owning both types of credit cards. 
You may be able to maximize your rewards by using your airline credit cards for travel purchases and your cash back cards for everything else. Many sophisticated cardowners go a step further and use different cards for specific merchant categories to obtain maximum rewards. 
What Are the Pros and Cons of a High Credit Limit?
A high credit limit can provide several advantages but not without some potential challenges. Here's a look at the key pros and cons of having a high credit limit.
Pros
Flexibility: A higher credit limit lets you spend more without worrying about maxing out your credit line.
Emergency cushion: Additional credit can be a financial lifesaver in an emergency, providing extra money without delay.
Potential boost in credit score: Your credit utilization ratio factors into your credit score. You can maintain a low utilization ratio and boost your credit score if you have a high credit limit and keep your balances low.
Perks: High-limit credit cards include additional rewards and benefits, such as travel insurance, airport lounge access, 0% balance transfer promotions, Global Entry fee reimbursement, and free baggage check.
Cons
Overspending: A high credit limit may tempt you to spend more than your budget allows, which may cause you to make smaller payments or rack up additional debt. If you can't manage the high credit limit responsibly, you may accumulate significant debt that could take years to pay off.
Potential impact on credit score: Your credit utilization rate will increase if you max out a high-limit card. A high ratio will hurt your credit score.
Possibility for less access to new credit: Creditors looking at your total available credit may not want to approve additional credit if they think your existing limits are too high, even if you aren't using all the available credit.
Higher annual fees: Cards with high credit limits frequently charge higher annual fees.
Possibility of reduced limit: Some issuers may reduce your limit if you are not using your high credit limit. This reduction could raise your credit utilization ratio, thus harming your credit score.
The bottom line is that a high credit limit is fine if you handle it responsibly. Reckless financial behavior can be ruinous, whatever your credit limit.
How Should I Choose a Miles Credit Card?
With such an abundance of choices, you may find it challenging to pick the miles card that best suits your lifestyle and travel needs. 
The first step should be to assess your travel habits, including how frequently you fly and which airlines you prefer. These considerations can help you decide whether to get a co-branded air miles card or a generic travel card.
Make sure you meet the credit requirements for the cards you're considering. Some air-miles cards require excellent credit, so know your credit score before applying.
You'll need to understand how the cards you're considering structure their rewards. Ideally, the cards you choose offer their best rewards for your regular spending categories, such as grocery shopping or travel. 

Travel and air-miles cards almost always provide substantial signup bonuses if you spend a certain amount within the first few months. The larger bonuses may be alluring but consider whether you can meet the spending requirement within the allotted time. 
Decide how much you're willing to pay in annual fees. While the most expensive cards usually provide the best rewards, low- and no-fee cards may offer enough benefits to satisfy your needs. Avoid cards that charge a foreign transaction fee if you think you may travel abroad someday. 
Another cost-related factor is the card's APR. You can avoid interest charges by paying your entire balance each month. APR becomes important if you think you'll carry balances into multiple billing periods. Most of the cards in this review have similar APRs.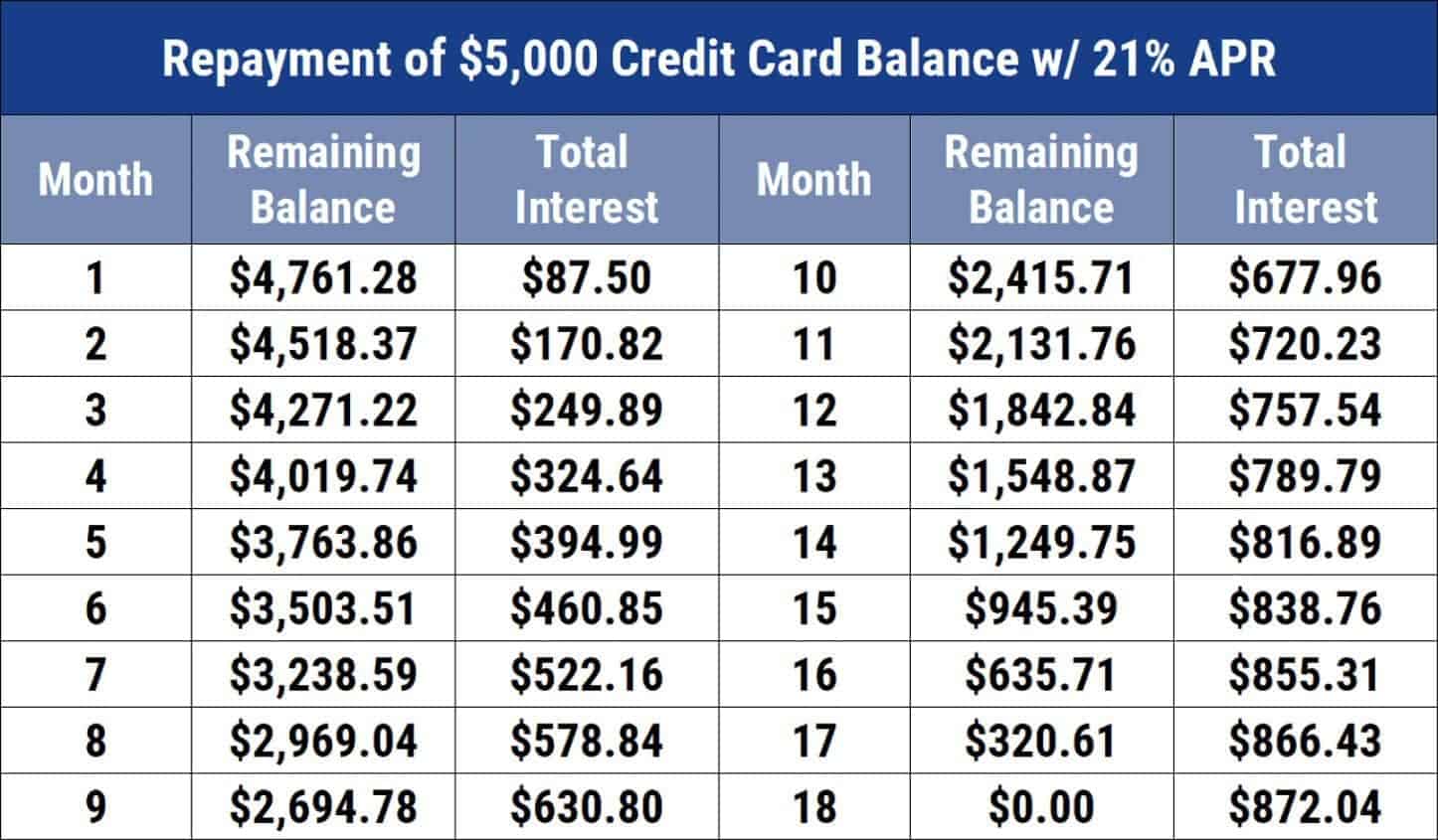 You should assess whether the card lets you transfer rewards to other loyalty programs and whether the programs are ones you're likely to use. Check the airline's partners and alliances if the card is co-branded with a specific airline. Airlines that affiliate with many partners can expand your options for redeeming miles.
Travel cards usually offer additional benefits such as free checked bags, priority boarding, airport lounge access, Global Entry fee reimbursement, travel insurance, 0% balance transfer promotions, and rental car perks. Compare these benefits to find the ones that fit your needs and preferences.
Look for reviews from expert sites such as CardRates.com as well as forum comments from other cardholders. Their experiences can give you a good idea about a card's customer service, ease of reward redemption, and other factors beyond the card's terms and conditions.
Finally, remember that you can apply for more than one card. Sometimes, combining a general travel rewards card and an airline-specific card may provide the most value.
Fly In Style With a High-Limit Miles Card
The travel industry has largely bounced back from the early COVID days. A high-limit miles card can provide savings and conveniences to make your next trip more pleasant. And as our review reveals, you can get a lot of value from travel cards with low or no annual fees. 
You may ultimately decide to join millions of cardmembers who've obtained multiple cards to maximize their rewards and benefits.
Advertiser Disclosure
CardRates.com is a free online resource that offers valuable content and comparison services to users. To keep this resource 100% free, we receive compensation for referrals for many of the offers listed on the site. Along with key review factors, this compensation may impact how and where products appear across CardRates.com (including, for example, the order in which they appear). CardRates.com does not include the entire universe of available offers. Editorial opinions expressed on the site are strictly our own and are not provided, endorsed, or approved by advertisers.