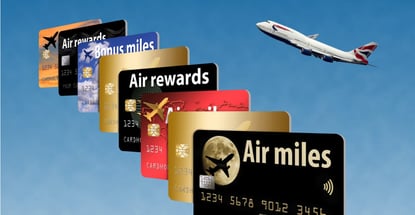 Far too often, travelers overlook just how much the best air miles credit cards with no annual fee can help them realize their short- and long-term vacation goals. Pursuing a passion for travel is much easier when you've got the right travel credit card in your back pocket. 
Whether around the country or across the ocean, there's no substitute for the joy and personal growth traveling brings. According to an anonymous quote, "Travel is the only thing that makes you richer." And though that is very true in the figurative sense, it's no secret that the cost of travel seldom makes you financially richer. 
But one of the most accessible (and practical) ways to save you money on travel is choosing a travel credit card and using it wisely. 
5 Best Air Miles Cards With No Annual Fee
Let's look at five of the best overall credit cards with no annual fees before you pack your bags. Then we'll take a deep dive into some of the most common questions consumers have regarding travel cards. 
It's certainly frustrating when unused travel rewards expire. Many card reward programs come with a 'use it or lose it' policy, which means you must closely monitor expiration dates or risk losing those precious points or miles. The travel miles you earn with this card never expire, even if your account closes — leaving you to focus on earning and using those miles instead of worrying whether they'll expire before you can redeem them. 
The Discover it® Miles card has several great security features that make it an excellent choice for vigilant travelers. For example, cardholders can activate free alerts for when their Social Security number is found on the Dark Web or when their credit report is pulled, indicating possible fraud.
You can also freeze your account in seconds and will never be held responsible for a single dollar of fraudulent purchases made on your card. 
Another solid choice for travelers, this card has many great features you can put to good use. We particularly like the travel accident insurance, which allows you to get automatic coverage for an approved loss at no extra charge when you use the card to pay for the fare. The lack of a foreign transaction fee is also a nice bonus. 
The Capital One VentureOne Rewards Credit Card also allows you to transfer your miles to one of Capital One's 15+ travel loyalty programs, including Emirates Skywards, AeroMexico Club Premier, and British Airways Avios. That is an excellent perk for frequent international travelers.
Add to that the ability to pay for Amazon purchases using your rewards and this card has more than its share of nontravel-related benefits.
This card features a straightforward rewards program that does not offer miles. Cardholders earn points that can be redeemed for a statement credit to pay for already purchased travel accommodations. What's more, those points never expire, and there is no foreign transaction fee.  
The Bank of America® Travel Rewards credit card has an added perk for preferred members that offers up to 75% more points on every qualifying purchase. The card features contactless chip technology (a feature steadily gaining more importance) and a $0 fraud liability guarantee. 
Delta is an airline with a rich and storied past, and its travel perks are no different. Originally called the Delta Air Lines Frequent Flier Program, it was renamed Delta SkyMiles in 1995 and is one of the oldest airline miles programs in the industry. 
The only Delta-branded card with no annual fee, the Delta SkyMiles® Blue American Express Card has a handy feature for cardholders who typically travel with groups of friends or colleagues. The Amex Send & Split™ feature allows cardholders to send money or split eligible purchases with any Venmo or PayPal user directly from the Amex App — making it even simpler to share expenses with your crew.
The Delta SkyMiles® Blue American Express Card also offers American Express Experiences, which provides access to exclusive ticket presales and member-only events. The program offers exclusive deals for premier events that include Coachella, "Hamilton," the Stagecoach Festival, among other national events.  
The JetBlue Card is another great travel credit card option. This card allows you to use your points to book a seat at any time on any JetBlue-operated flight. This card also features Points Pooling, which allows groups of up to six to pool their points to cover the cost of flights.
Though this may not be an option for everyone, it can be a great way to organize and work together to redeem points for award flights for those who often travel in groups. Pool Members can contribute up to 100% of their points to the pool — an easy way to rack points up fast. And with no foreign transaction fee associated with this card, amassing points while abroad is 100% worry-free. 
This card also happens to be the only card on this list with a 0% balance transfer offer if you're carrying a balance on another card and want to save on interest fees.
How Does an Air Miles Credit Card Work?
We've all heard the stories — mostly from social media influencers and travel advice bloggers — of people who fly all over the world extremely cheaply. How do they do it? With a travel rewards credit card. 
Simply put, air miles are points you receive based on eligible purchases you make with a particular credit card. These points or miles are issued by credit card companies that have partnerships with airlines and remain one of the most popular loyalty programs.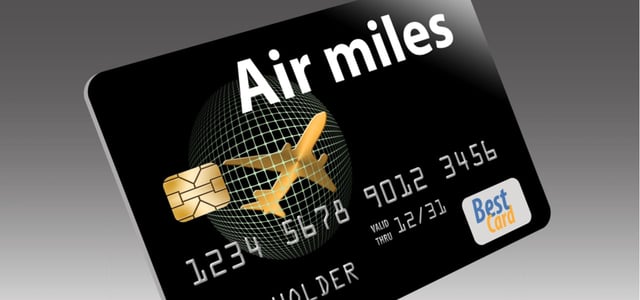 Some cards offer bonus miles for certain things like spending a particular amount of money on everyday purchases in the first several months of owning the card. Cardholders may also get bonus miles on the anniversary of signing up for the card or by adding an authorized user.
Some people can get tripped up interpreting miles in the literal sense. In the case of air miles, miles doesn't refer to the number of miles you've flown or plan to fly on a particular airline using a specific credit card.
Air miles are points you get from making eligible purchases. You can redeem points for a wide variety of things — discounted or free flights, vacation packages, cruises, hotels, car rentals, entertainment, dining, and a lot more. 
Redeeming your miles is usually simple, especially when using them for flights. After you have logged on to the respective airline or credit card site (most credit card companies will redirect you to their partner airline's site) and begin searching for flights, you'll see an option to view fare prices converted to miles instead of dollars. 
If you have enough miles saved up to pay for the entire round-trip flight, you will only be required to pay the security fee for the mandatory TSA precheck before takeoff. If you only have enough miles for one leg of your journey, you'll need to book separate flights. And many airlines also restrict the number of rewards passengers it will place on a given flight. 
The shortest flights typically cost around 10,000 miles to get a trip 100% free though you can redeem any number of miles you wish for a reduced fare (if the airline you choose permits this). 
Alternatively, you may have a card like the Capital One VentureOne Rewards Credit Card that allows you to book your accommodations with any carrier and then apply your miles as a statement credit to cover the purchase amount. This also means you'll never have to deal with pesky blackout dates.
Arguably, the most important piece of advice we can offer here is this: Be responsible. As with any financial venture, getting a credit card is a big step — and, if used irresponsibly, it can leave you in far worse financial shape than you were before you added that little piece of plastic to your wallet. 
Having said that, responsible credit card users can accumulate miles quickly and reap the rewards just as fast. 

If you make everyday purchases with a debit card that instantly deducts the money from your checking account, consider using a credit card instead. But make sure you pay your credit card bill off at the end of every month to avoid interest fees. 
Using a rewards card and watching the miles pile up can be quite fun — but not as fun as the trip you get from redeeming them! 
The important thing is finding the right card that fits your budget and lifestyle. But we'll get into how to choose the best air miles card in a bit. For now, let's take a look at taking the first step toward getting that card! 
How Do I Apply For an Air Miles Card?
Air miles cards are simply credit cards that offer travel rewards, and the application process isn't very different from that of any credit card. Most applications are done online on the card company's website or mobile app. 
Although some applications can take up to two weeks to return a decision, most companies offer an instant approval decision. And it may take a couple of weeks for the actual card to arrive. 
You must be 18 years of age to open any credit card account. And because most travel cards require above-average credit, young people typically do not yet have the rich credit history required to be approved. The exception is student credit cards that offer travel rewards, which are obtainable to young adults enrolled in school who have no credit history.
All the required documentation you would need for any other significant purchase — a car, mortgage, personal loan, etc. — you will also need when you apply for an air miles card. Proof of address, date of birth, Social Security number, and proof of U.S. citizenship or permanent residency will also be required for approval. 
Once you have all the necessary documentation ready, you can start your research and find the credit card that best meets your budget and purpose for the card.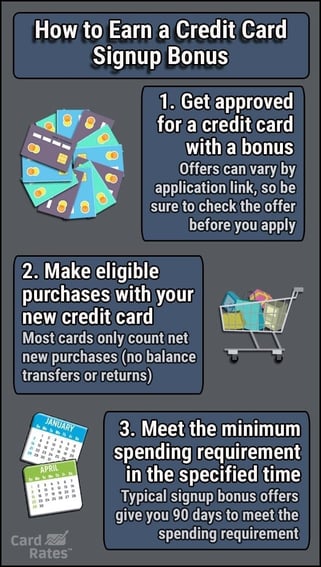 Among the best things about being a newbie to the wide world of travel credit cards are the perks. Many credit card companies offer new members a signup bonus to help kick-start the process of earning miles. 
Based on the credit score bracket you fall into when you apply, some credit card companies offer incentives for new customers, such as earning 20,000 bonus miles once you spend $500 on eligible purchases within the first three months of opening the account, for example. 
It isn't uncommon to see some travel credit cards offer a welcome bonus that is much higher than the hypothetical instance provided above, but those cards usually charge an annual fee.
When applying for any travel credit card, much of the work happens before submitting an application.
Reading the fine print is certainly applicable here. Make sure you understand each offer's restrictions and limitations. 
Many top issuers have added restrictions to card ownership, in addition to the existing better-than-average credit score requirement. Chase's 5/24 rule is just one example.
Be sure to know which credit card issuers have restrictions that may hurt your chances of getting approved. This is an important step as acquiring a hard inquiry on your credit report (which temporarily decreases your credit score by a few points) without getting anything in return is a lose-lose situation. 
Sure, you can never be 100% sure that your application will be approved, but you should avoid applying for cards that call for a higher credit score than what you currently have. 
Speaking of credit scores, now is the perfect time to dig into the particulars of what most travel card companies are looking for when it comes to your credit. 
What Credit Score Is Needed to Qualify For a Travel Card?
Ah, the credit score — arguably the most agonized over three-digit number in the lives of many consumers. And for good reason. A bad credit score can make many of life's necessities difficult to obtain. And this extends beyond the basic ability to get a great travel credit card. 
Students can qualify for a travel card with little to no credit history, whereas other applicants will need good to excellent credit to qualify for a travel card. But why is this?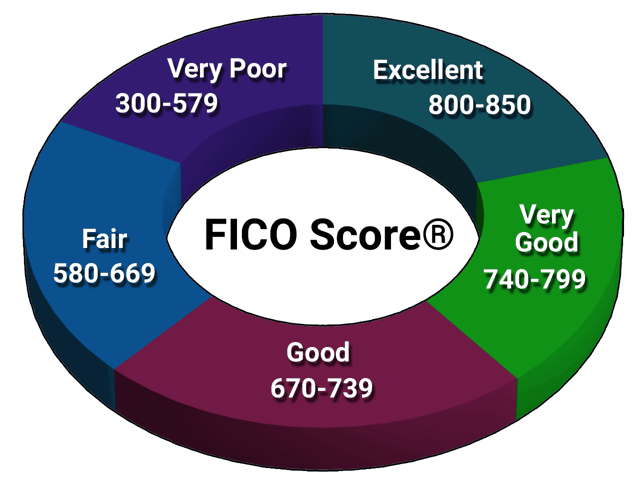 Financial institutions, including credit card companies and banks, look at one's track record of paying bills regularly and on time that shows a person's reliability in honoring their end of a business agreement. In the case of travel credit cards, this business agreement is the contract you enter into when your application is accepted. 
Consumers with no or a poor credit history interested in travel credit cards may be biting their nails about now. We advise these folks not to fret too much. There are myriad ways to establish, build, and improve your credit, and chances are, you are already doing most of them, like paying your bills on time. 
You can also apply for a retail store card, as many retail companies approve applicants with little to no credit. Choose one of your favorite stores and research its credit programs. Make purchases, pay them off immediately, and watch your credit score climb. 
Secured credit cards can also be one of the most useful, accessible tools for building your credit. Secured credit cards work exactly like traditional cards, except that they require a security deposit as collateral to establish your credit limit. 
Minimum security deposits are relatively low (usually $200 to $300), and this amount is used to establish your credit limit. The deposit is refundable, and the lender keeps it in the unfortunate event that you default on payments. 
Essentially, any method to improve or build your credit is a good one because, as we have already mentioned, the cards that offer the best travel rewards generally require a good to excellent credit score to get approved. 
But this does not mean that those with bad or average credit are simply out of luck. It is possible to find great cards to help build or improve your credit so you can work up to an airline card with miles rewards.
It's just a matter of doing your homework and finding a new card that's right for you. If your score is below 700, there are a few things you can do to improve your chances of being approved for a new card. 
For starters, a co-branded airline credit card company will sometimes grant approvals to people with average credit scores. You can also look into prequalified offers prior to filling out that application. 
Prequalified credit card offers are typically the result of a card issuer working with a credit bureau to make you an offer based on your basic credit information. Additionally, some companies prequalify applicants to see whether they have a good chance of being approved before they fill out the application.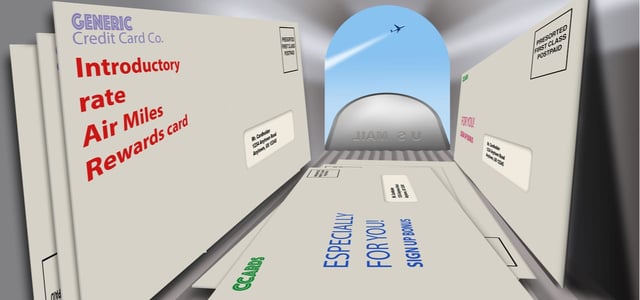 And shopping around for the absolute best offer without hurting your credit score is one of the best perks of prequalification. Just keep in mind that just because the website (or an offer you get in the mail for that matter) says you are prequalified does not mean you are guaranteed approval. 
Trying to discern established patterns of approvals for any rewards credit card is somewhat of a fool's errand because every card issuer sets its own rules. Companies consider many factors before they accept any application, so a bit of patience on your part may be in order in your quest for the perfect travel rewards credit card.
Just keep your eye on the prize and do your homework because there are many things to consider when choosing the very best card for you. 
How Do I Choose the Best Air Miles Card?
So far, we've addressed several preliminary factors to consider before getting a travel rewards credit card. Now that you're ready to start the hunt, let's take a look at some best practices when choosing the card that best suits your financial and travel aspirations. 
Obviously, how often you travel (or hope to), where you want to go, and which perks matter to you should be benchmarked as you sit down at your laptop and start searching. 
A good place to start is to research airlines that fly where you want to go. If you already normally fly with a particular airline, great. You should already have a frequent flier account with that airline anyway. And why not — it's free! Considering an airline credit card with your favorite carrier just makes good sense as you'll rack up bonus points that much faster. 
Sometimes, choosing the right card comes down to which airline has a hub in the airport closest to where you live, or which airline frequents the places you visit most. If you do not have a favorite carrier or destination, you can sign up for a card like the Discover it® Miles or Capital One VentureOne Rewards Credit Card and use your miles to cover eligible travel purchases. 
Another thing to consider is the dreaded checked bag fee. Having to check your bags is not only inconvenient, but it can also get expensive depending on the size and number of bags you're carrying. One of the best benefits of a travel rewards card is that you can usually check one bag for free. 
Let's say you're traveling as a family of four. And anyone with kids knows there's always plenty to lug around when you go on a big trip. Booking the flight with your rewards credit card can save you hundreds of dollars in baggage fees on a single round trip. That's a lot of loot you could save for everyday purchases to keep those kiddos happy. 
Make sure, however, to check with your provider as to whose checked bag in your party is covered, as free baggage benefits don't always apply to every member of your party — though some airlines do extend these benefits to a cardholder's companions. 
The Alaska Airlines Visa® Credit Card, for example, allows the cardholder and up to six guests on the same flight one free checked bag each.
As we mentioned previously, looking for a card with a nice welcome bonus is another great course of action when seeking travel rewards. Just keep in mind that you will almost always have to spend the minimum amount required to qualify for a welcome bonus. 
Different airlines will enter into various tiers with credit card companies to give customers more fee and rewards options. For example, Delta offers four different air miles cards with annual fees ranging from $0 to $550. 
Naturally, the higher the fee, the great the rewards and perks offered. That's why choosing a card that best pairs with your budget and travel goals is important.
Airline cards can offer really great benefits, including priority boarding, 2x miles on eligible net purchases, and trip delay insurance, among other features. Premium travel cards, such as the American Express Platinum Card, include some great perks with your card membership. 
In the end, choosing the best airline miles card comes down to what's best for your financial and travel goals. And there's more than just miles to gain from a great card, so let's get right into it. 
What Other Types of Benefits Do You Receive From a Travel Card?
Getting fare discounts or outright free flights are typically the most prominent benefits of travel cards. But almost all travel rewards programs offer fantastic perks beyond breaks on fares. 
The benefits you get from your travel card will undoubtedly vary across card providers. 
Receiving a statement credit that reimburses you the cost of either Global Entry or TSA precheck security programs is a popular benefit from most airline credit card companies. For those of you unfamiliar, Global Entry allows you to bypass the U.S. Customs and Border Protection screening lines and use an automated kiosk for declaring instead. Needless to say — it's an enormous time saver. 
TSA precheck is another expedited security program run by the Transportation Security Administration. This lets you sail right through TSA security without taking off your shoes, removing your laptop from your luggage, emptying out your pockets, and all the other steps to this necessary-but-frustrating process we're all well-acquainted with.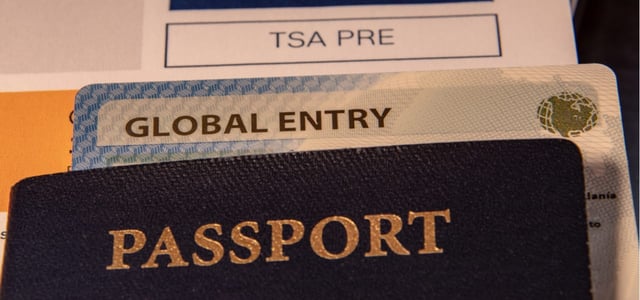 Airport lounge access is another great perk some cards offer. Everyone has seen these exclusive spots while cruising past the myriad food and drink options in most airports. How does one gain access to these mysterious providers of libations and sustenance, you may ask? 
Many cards will offer either complimentary airport lounge access or low-cost lounge access, either of which can spell great value — not to mention convenience. These lounges offer a welcome oasis from the chaos that is the modern airport terminal. 
And being able to pop in one of these spots to enjoy a quiet cocktail and snack before your flight without jostling for position at the pizza stand is a welcome luxury to any wise traveler. 
Many additional perks come with a travel card membership. In addition to the benefits we laid out here, complimentary drinks, hotel room and business class upgrades, and canceled flight reimbursement are just some of the many things a travel card may offer.
How Do I Transfer Frequent Flyer Miles?
Earning miles on an everyday purchase or a travel purchase you charge on your card and putting those miles to work for you is what this game is all about. But, sometimes, you may need to transfer miles from one program to another depending on which cards you carry and their rules governing miles transfers.
Why would this be necessary? Let's say you come up just a little short on miles on the card you need to book a flight with, but you have plenty sitting in another account. You can transfer those miles to complete your booking. 
You may also wind up with miles that you are unable to use before they expire. In that case, you could transfer them to a friend or family member. And sometimes, transferring your points or miles to a travel partner may net you more value.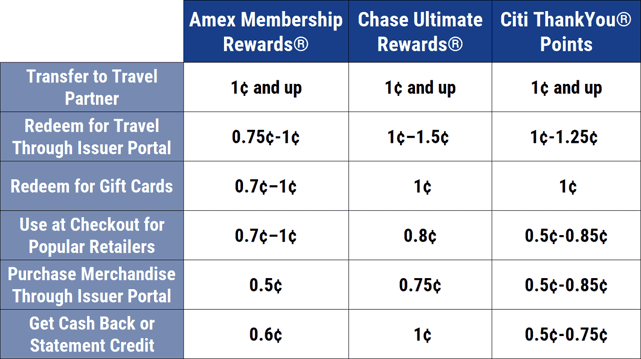 The Capital One VentureOne Rewards Credit Card we featured above will allow a transfer to any of its 15+ travel loyalty programs. And don't forget, in addition to Capital One's reputable partners, you can use your rewards to purchase items from Amazon or pay for a gift card. 
Speaking of gift cards, it is possible to redeem miles for them at various participating retailers. But as you can see in the chart above, using points or miles for anything other than travel may net you less overall value.
Most programs will only mail a physical gift card to your home address or the address registered to your account. This somewhat limits the ability to send gift cards as actual gifts, but it's still a good option for using points before they expire if you're not planning a trip.  
Do Air Miles Expire?
The short answer to the question of whether air miles expire is, yes — they can expire. But as with almost every other aspect of air miles rewards programs, the particulars depend largely on the program itself. 
We've covered some of the ways you can use your miles without going on a trip. But redeeming miles just for the sake of using them before they expire is not necessarily ideal — and a lot less fun. 
With all the uncertainty surrounding travel in the last year and a half, some programs are allowing cardholders to reset expiration dates on their miles. Some have even removed or paused expiration dates entirely. The extent of these exceptions varies, with some companies extending them worldwide and others on a regional basis.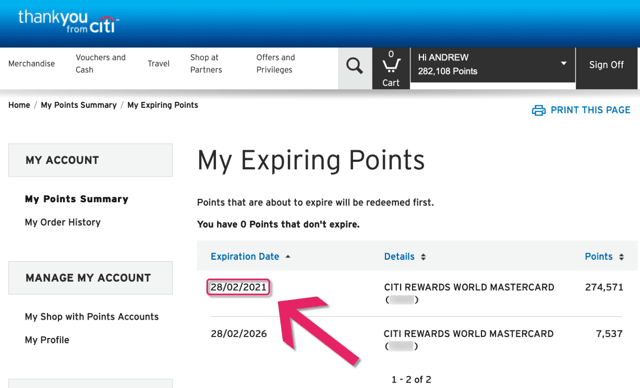 But you can take certain measures to keep your miles active and prevent them from expiring in some cases. One such measure is shopping online through the portal associated with your miles program. You would simply go to the website where your miles or points are managed and click through to participating retailers to make a purchase. 
The best part is that you don't have to make a sizable purchase to keep your miles active. Any transaction at all — a movie rental or music download, for example — is enough to keep your miles from expiring. 
This is a great way to rack up miles even when you're not trying to counter expiration dates. Shopping through a miles program's partner portal can help you accumulate miles fairly quickly, depending on what you're shopping for. 
If you are unsure when you'll be embarking on your next big adventure, it's a good idea to know when your miles expire and, if applicable, how to keep them active. There are ways to keep them from going to waste! Just always be sure to do your due diligence to protect the miles you have rightfully earned. 
Carefully Compare the Best Air Miles Credit Cards With No Annual Fee
It's easy to get stuck in routines and lose sight of the big wide world and what it has to offer. And there's arguably never been a better time to realize the immediate and lasting benefits of traveling. 
With the best air miles credit cards with no annual fee in your back pocket, the rewarding experiences that real adventure brings can be more affordable. 
It's never been easier to find just the right travel rewards card thanks to the breadth of information available. So, do your homework, weigh your options, and get out there!
Advertiser Disclosure
CardRates.com is a free online resource that offers valuable content and comparison services to users. To keep this resource 100% free, we receive compensation for referrals for many of the offers listed on the site. Along with key review factors, this compensation may impact how and where products appear across CardRates.com (including, for example, the order in which they appear). CardRates.com does not include the entire universe of available offers. Editorial opinions expressed on the site are strictly our own and are not provided, endorsed, or approved by advertisers.