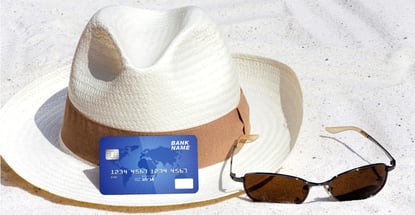 Owning one of the best vacation credit cards took some financial sting from my recent family visit to Disneyworld. I made all the arrangements through the card's travel office, earning many extra reward points. In addition, the card gave our caravan of four adults and two children free access to our local airport's lounge.
I'm looking forward to the travel rebate check on the next card anniversary. 
Vacation cards are wondrous inventions, but they are by no means all created equal. As with the Amex Platinum Card, some are expensive, while others are free. Each has its strong points, and the trick is to find the card that best matches your needs. 
This article should give you a good head start in deciding which travel card(s) belong in your wallet.
Best Overall Vacation Card
There can be only one best travel credit card. To earn that honor, it must deliver high-value travel rewards. Equally important, it should provide plenty of perks to make your vacation more pleasant. Finally, it should offer various types of insurance and protections to cover unexpected events, from lost luggage to travel accidents. 
The best doesn't come cheap, but there must be no question that the card is worth the annual fee. Chase Sapphire Reserve® ticks all the right boxes and remains our choice for the best overall vacation card.
Admittedly, Chase Sapphire Reserve® comes with a stiff price tag. Still, it quickly pays for itself through its travel rebates and credits, generous rewards, and extensive travel protections and conveniences. 
Its already valuable Chase Ultimate Rewards points gain extra punch when redeemed for travel, plus you get an additional bonus point boost each account anniversary year. And as you'll see below, it offers the best umbrella of travel insurance coverages you can find.
Best Vacation Cards With Flexible Travel Rewards
Flexibility in this context means using rewards in multiple ways. The best cards let you redeem your rewards for cash, statement credits, gift cards, travel purchases, experiences, or merchandise. They should also allow you to transfer your rewards to the loyalty programs of their travel partners. 
The Chase Sapphire Preferred® Card delivers many of the perks offered by its Reserve sibling at a much lower price. You can quickly cash in your Chase Ultimate Rewards points, but they may be worth more when you redeem them for travel purchases through Chase Travel or statement credits against existing purchases. 
On each account anniversary year, you'll earn bonus points equal a set percentage of your total spending on purchases during the previous year.
The Capital One Venture Rewards Credit Card denominates its rewards in miles that you can redeem for airline flights with no blackout dates or seat restrictions. You can also use your miles to book vacation rentals, hotels, car rentals, ride-sharing apps, and cruises, among other options, through Capital One Travel.
You can redeem your rewards with PayPal, use them to shop at Amazon.com, transfer them to a travel partner's loyalty program, or cash them in for a check, gift card, or statement credit. 
The Discover it® Miles card incorporates all the goodies shared by the Discover card lineup plus extra travel-related perks. You can redeem your miles as statement credits to pay for your dining and travel expenses, including flights, hotel rooms, rental cars, and rideshares. 
You can also cash in your rewards through a check or electronic deposit to your bank account. Additionally, you can apply your rewards to pay for purchases at Amazon.com.
Best Vacation Cards For Travel Insurance
Chase Bank earns the hat trick with the three best vacation cards for travel insurance. When it comes to the variety of insurance coverages shared by all three cards, Chase is unbeatable. 
Chase Sapphire Reserve® provides free primary auto rental collision damage waiver, whereas most competitors offer only secondary coverage. You also get trip cancellation/interruption insurance, travel accident insurance, trip delay reimbursement, roadside assistance, and travel and emergency assistance services.
The card's travel insurance covers delayed baggage for lost luggage.
The Chase Sapphire Preferred® Card duplicates most of the travel insurance coverage offered by its higher-priced Reserve sibling. It doesn't cover emergency medical, dental, and evacuation services, but it does offer medical and legal referrals.
The trip delay coverage offers a set amount per ticket for delays of 12 hours and covers various expenses, including food, toiletries, hotel, and medications.
The travel protections from the Ink Business Preferred® Credit Card match those of the Chase Sapphire Preferred® Card. This is the best business credit card for trip interruption and cancellation insurance. 
The 24-hour travel accident benefit commences when you begin your trip and continues until you return. Coverage from this, the best business credit card for insurance, increases while you are a passenger on a common carrier.
Best Vacation Cards For Air Miles
Air mile cards come in two varieties: Single-branded cards that offer general-purpose miles you can use with any airline and cards that reward you with miles from the co-branded airline's loyalty program. All three cards reviewed below are co-branded. 
General-purpose miles are flexible and require no commitment to a specific carrier. If you usually fly with a particular airline, a co-branded card may offer miles that carry more value.
The Delta SkyMiles® Blue American Express Card is an excellent choice for devotees of Delta Airlines. But you may need a Ph.D. in math to make sense of a complicated rewards scheme that includes Medallion Qualification Miles, Medallion Qualification Segments, and Medallion Qualification Dollars. 
You can use your SkyMiles with more than 20 Delta partners, including KLM, Air France, and Virgin Atlantic. And you can redeem SkyMiles for flights, upgrades, gift cards, Delta Sky Club memberships, and vacation packages. But if you want to convert your miles to cash, you must use a third-party broker.
The Citi® / AAdvantage® Executive World Elite Mastercard® awards bonus rewards for each dollar spent on AA purchases and standard rewards on all other eligible purchases. The miles you earn are posted to your AAdvantage account.
You can redeem your miles for flights, upgrades, car rentals, hotel stays, luxury experiences, and vacations, but not cash or gift cards. You can also use your miles to book flights on partner airlines, including British Airways, Finnair, and Qantas.
The JetBlue Card pays you TrueBlue points on eligible purchases that you can redeem for any seat, any time, on a JetBlue flight, with no blackout dates or point expiration. You and others can pool your points to share the benefits. Thanks to a partnership agreement between the two carriers, you can earn TrueBlue points on American Airlines flights.
The value of your TrueBlue points for JetBlue flights depends on the cost of the flight. You can also redeem your points for vacation packages and flights on Hawaiian Airlines. 
Best Vacation Cards For Lounge Access
OK, lounge lizards, we know some of you just love hanging out at the airport, sloshing down free martinis as you wait for your flight, now delayed six hours. If you haven't noticed, airport lounges have become super popular, and these three cards deliver the experience for free. 
Be sure to read your credit card's fine print on lounge access since some cards limit how many times you can visit for free and how many guests can accompany you.
The Capital One Venture X Rewards Credit Card gets you free, unlimited access to Capital One Lounges, which offer amenities that include relaxation rooms, high-speed wifi, and healthy, chef-inspired food. You can bring in two guests per visit for free but be aware that Capital One Lounges do not exist in every city to which you may be travelling.
Additionally, this Visa Infinite card gives you free membership and unlimited access to more than 1,300 Priority Pass lounges. You can relax, stretch out, and enjoy a preflight bite and a drink, including free alcohol, at most Priority Pass lounges. You can also use your points at Capital One Travel to book your vacation.
The Chase Sapphire Reserve® card will give you entry into a new lounge network, appropriately named Chase Sapphire Lounge by The Club. The first five locations are opening in Boston, Hong Kong, New York, Phoenix, and San Diego.
You also get a complimentary Priority Pass Select membership providing free unlimited access to more than 1,300 lounges and restaurants worldwide. Each Sapphire Reserve cardholder can bring two guests free of charge. 
If your bucket list includes free membership in the Admirals Club, the Citi® / AAdvantage® Executive World Elite Mastercard® is your ticket. The card offers complimentary access to some 50 lounge locations worldwide for you and two traveling guests. 
Admiral Club lounges offer amenities that include snacks, house drinks, made-to-order specialties, shower suites, business centers, and personal travel assistance. You also get free digital downloads of magazines and newspapers.
Best Vacation Cards For International Travel
International vacations can be fabulous but getting there is often a challenge. It's good to have a card with you that makes the trip easier and offers support if things go wrong. You'll want to avoid cards that charge the customary 3% foreign transaction fee. 
Another helpful feature is a large signup bonus for purchases made within 90 days of account opening to help offset vacation costs if you acquire the card just before the trip. This trio of cards fits the bill.
Chase Sapphire Reserve® waives foreign transaction fees and offers excellent support for emergencies overseas. Suppose you or a member of your immediate family are injured or become sick during a trip far from home that results in an emergency evacuation. In that case, you can access coverage for medical services and transportation. 
You also receive trip delay reimbursement and travel accident insurance. The generous signup bonus is worth more when redeemed for travel expenses via Chase Ultimate Rewards, and you get free access to Priority Pass lounges across the globe. You also receive an annual travel credit.
The Chase Sapphire Preferred® Card costs much less than its Reserve sibling but delivers many of the same features. Its signup bonus is worth extra when you redeem it for travel through the Chase Ultimate Reward website. 
The card does not charge a foreign transaction fee, offers an annual hotel credit, and provides several protection features, including primary collision damage waiver, trip cancellation insurance, travel accident insurance, and compensation for trip and baggage delay.
The Capital One Venture Rewards Credit Card offers good value for its moderate annual fee, starting with no foreign transaction fee and a signup bonus. You also receive a credit for Global Entry or TSA PreCheck fees.
The card provides travel accident insurance for covered losses, 24-hour travel assistance services, lounge access, and an auto rental collision damage waiver. In addition, you can transfer your miles to your choice of 15+ travel loyalty programs for more flexibility. 
Best Vacation Cards For Amusement Parks
Family vacations often center around amusement parks  —  just ask anyone in Orlando, Florida. You may find a card affiliated with a specific park or you may prefer one that provides rewards for many entertainment options.
The Capital One SavorOne Cash Rewards Credit Card provides bonus rewards on entertainment and dining expenses, including amusement and theme parks purchases.
The card's signup bonus and 0% intro APR make your vacation more affordable. You also get complimentary concierge services, 24-hour travel assistance, and travel accident insurance.
Capital One Savor Cash Rewards offers a high, unlimited cash back rate for dining and entertainment purchases, which will come in handy when vacationing near an amusement park.
The card offers a signup bonus to help finance your vacation and travel accident insurance that makes your trip more secure. The card also provides 24-hour concierge service and no foreign transaction fee.
19. Disney® Premier Visa® Card

Anyone planning a Disney vacation should consider getting the Disney® Premier Visa® Card. This card is Chase co-branded and lets you earn cash back in Disney Rewards Dollars for card purchases in select categories.
The card provides exclusive discounts, character experiences, and photo opportunities at Disney venues for a modest annual fee.
Best Vacation Cards For Hotel Stays
The hotel you choose can significantly impact your vacation experience, for better or worse. If you have a favorite hotel brand, you can find a co-branded card that offers rewards such as free stays and upgrades.
The Hilton Honors American Express Aspire Card offers Hilton Honor points, annual airline purchase credits, Hilton resort credits, and Diamond elite status.
You'll be charged a hefty annual fee, but it comes with a bevy of travel perks. The card provides a large car rental bonus at a dozen rental agencies.
21. Marriott Bonvoy Boundless Card

Marriott hotels are a popular choice for vacationers, and the Marriott Bonvoy Boundless Card offers good credit card rewards. Cardowners receive Silver Elite Status and can graduate to Gold Status by spending a set amount annually on purchases.
Rewards include free overnight stays and premium in-room wifi.
22. IHG® Rewards Premier Credit Card

The IHG® Rewards Premier Credit Card is a mid-tier co-branded card offering plentiful credit card rewards and complimentary Platinum Elite status. You can earn free overnight stays, and the signup bonus offers a significant number of points.
This card charges a modest annual fee.
(Non-Monetized. The information related to IHG® Rewards Club Premier Credit Card was collected by CardRates.com and has not been reviewed or provided by the issuer of this product. Product details may vary. Please see issuer website for current information. Product details may vary. Please see issuer website for current information. CardRates.com does not receive commission for this product/card.)
Best Vacation Cards For Cruises
Cruises are a great way to travel, offering entertainment onboard and exploration of exotic locations. Covid has made cruises more affordable and less crowded, and now may be an opportune time to go.
23. Disney® Premier Visa® Card

Disney cruises are family favorites and offer all the amenities. You earn cash back from the Disney® Premier Visa® Card for your cruise and on-ship purchases. You'll also save 10% on select Disney and Star Wars purchases.
This card also offers special vacation financing with 0% APR on select Disney vacation packages to help you finance your next cruise interest-free.
The Royal Caribbean Visa Signature® Credit Card offers MyCruise points and a signup bonus you can redeem for onboard credit, discounts, and vacations. You'll pay no annual or foreign transaction fees, which is a valuable feature when using your card to make purchases in ports of call.
The card lets you access the Visa Signature Luxury Hotel Collection for unique perks and VIP treatment.
The Celebrity Cruises Visa Signature® Credit Card earns MyCruise points redeemable for purchases on select cruise lines, including Celebrity Cruises and Royal Caribbean®.
You'll pay no annual or foreign transaction fees, and you'll receive a signup bonus after making a qualifying transaction in the first 90 days, worth a set amount in onboard credit.
Best Vacation Cards For Road Trips
Road trips are fun for the whole family. Unfortunately, gas prices have shot up in the last year, so you'll want a vacation card that saves you money on various purchases, including at the gas pump and the fast-food counter.
The Discover it® Cash Back is a solid choice for a road trip, as it's accepted nationwide by 99% of the places that take credit cards. The first-year Cashback Match and 0% intro APR make it worthwhile to obtain the card before your scheduled departure. Keep in mind, the regular APR will kick in once the intro period comes to an end.
The high, quarterly revolving cash back rate can save you money on gas, groceries, and dining. Bonus cash back is limited to a purchase threshold, and categories must be activated each quarter. The Freeze it feature lets you instantly lock your card if it gets lost or stolen along the way.
The Bank of America® Customized Cash Rewards credit card lets you earn a high bonus cash back rate on gas, dining, or travel purchases, depending on which category you choose. You'll earn slightly lower cash back at grocery stores and wholesale clubs, a handy membership reward as you head down the road.
Get the rewards card just before your trip for the signup bonus offer and 0% intro APR.
The Blue Cash Preferred® Card from American Express offers bonus cash back at the pump, parking lot, and toll highways.
You also get complimentary car rental loss and damage insurance, but if you don't want to do the driving, you'll earn the bonus rate on trains, buses, rideshares, and other forms of transportation. 
What Is a Vacation Credit Card?
A vacation credit card offers valuable rewards and benefits to travelers. You'll find vacation cards that earn rewards for flights, hotel stays, cruises, and many other vacation-related expenses. 
You can choose a general-purpose credit card that offers great travel benefits or a co-branded card that focuses on perks from select purchases. You'll save money by getting a vacation card with a signup bonus and a 0% intro offer just before ordering your vacation tickets. 
How Does a Vacation Credit Card Work?
A vacation credit card operates like most others, except for the extra value they offer travelers. The trick is to identify the cards that most closely align with the expenses you'll experience on your upcoming vacation. 
Purchases
Ideally, the vacation card you choose will reward you for purchases relevant to your trip.
For example, you can select a card that offers frequent flyer miles. General-purpose cards will let you earn bonus rewards for any airline purchases. In contrast, co-branded cards reserve their top rewards for flights on a specific carrier (and its partner airlines).
You may prefer to own several vacation credit cards. You can choose cards that offer the best rewards for different parts of your vacation, including flights, hotels, dining, and car rentals. By selecting the best card with generous introductory promotions, you can offset some or all your vacation costs and stretch out payments interest-free.
Redemptions
Vacation cards pay rewards as cash back, points, or miles. They may offer special deals for select redemptions. For example, Chase Sapphire Reserve® increases the value of your Ultimate Rewards points by 50% when you redeem them for travel using Chase Travel.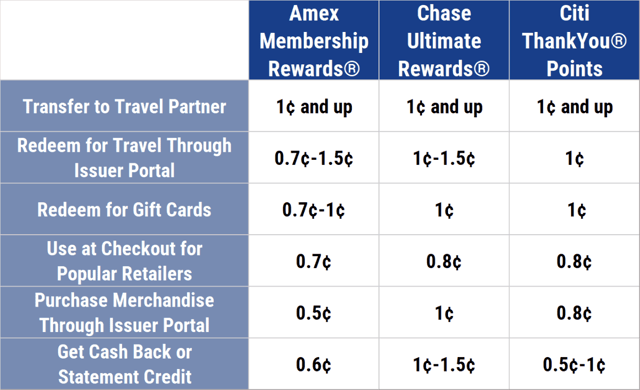 The value of miles/points on a co-branded vacation card can vary widely, depending on how the airline structures its loyalty programs at the time of redemption. An airline's rewards may differ in value due to the flight distance, departure and destination locations, when the flight takes place, and other variables. In addition, an airline can change its reward structures at any time without notice.
Is It Better to Use a Credit Card on Vacation?
There are several compelling reasons to use a credit card on vacation, including:
Affordability: You can use your credit card to stretch out your payments so you don't bust your monthly budget. If you pay in cash, you face up-front charges that may limit your vacation plans.
Convenience: It's easier to pay for items on your vacation with a credit card than it is to carry around cash or your checkbook. If your card is lost or stolen, you can get a new one without financial impact. You can't say the same if your wallet or money clip falls out of your pocket.
Identification: Many places want to see your ID, and a credit card, especially one with your picture on it, can serve that purpose.
Cash advances: Sometimes, you need additional cash while vacationing. You can use your credit card to make a cash advance at the nearest cash machine for a small or no fee. 
Rewards: You can rack up beaucoup rewards by using your travel rewards credit card for your vacation purchases. Rewards schemes vary, so you'll want a card that fits your plans and lifestyle.
Benefits: The best vacation cards have plenty of free benefits, from travel insurance to lounge access. Many cards with annual fees below $100 fall into this category.
Building credit: Using a credit card responsibly will help you build or rebuild your credit. Debit cards and cash don't do that.
We'd be lying if we didn't admit a particular fondness for credit cards, but that attitude is, we believe, highly justified. 
What Is the Difference Between Points and Miles?
Points and miles are both rewards you can earn from vacation credit cards. You get these rewards by using your card to purchase goods and services.
Cards express their membership reward rates as X points or miles per dollar. For example, a 3X rate means you get three points or miles for every dollar of eligible purchases you charge on your credit card.
Points are usually more versatile than miles. Typically, you can use them to purchase new items, pay for previous purchases, or redeem them for cash, statement credits, or gift cards. The card may also permit you to transfer your points to the loyalty program of the card's partners. 
As mentioned previously, airline miles come in two flavors: general-purpose card miles that you redeem for any airline flight and airline-specific frequent flyer miles from the co-branded card company. You can redeem card miles to pay for any travel purchase across all airlines, hotels, car-rental agencies, etc. 
Airline-specific miles are different. They are the frequent flyer miles that the co-branded airline uses. So don't expect the Delta SkyMiles® Blue American Express Card to help you pay for a flight on American Airlines.
What Credit Score Do I Need to Get a Vacation Credit Card?
Vacation travel credit cards generally aim for consumers with good to excellent credit. On the FICO scale, that translates to scores between 670 and 850.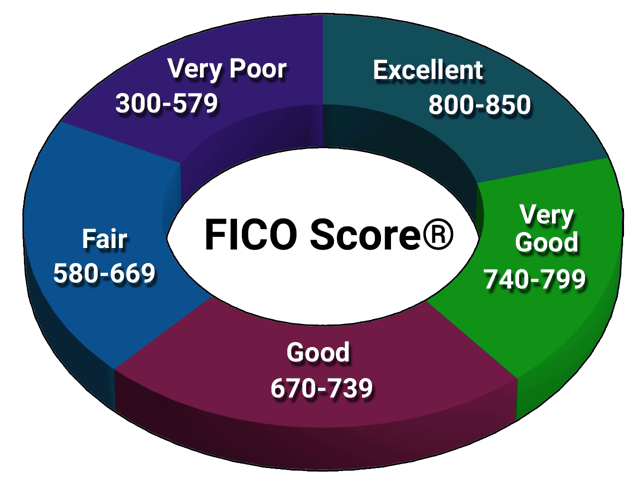 That doesn't mean an issuer will deny your application if your score is below 670 or approve all applicants with scores higher than 670. A few reward cards, such as Capital One SavorOne Cash Rewards Credit Card and Bank of America® Customized Cash Rewards Secured Credit Card, target consumers with fair to bad credit. 
If your credit score is too low for a vacation card, consider boosting your score by reducing debt, making timely payments, and fixing errors on your credit reports. 
Are Expensive Credit Cards For Vacations Worth It?
The expensive vacation cards in this review, including the Chase Sapphire Reserve®, Citi® / AAdvantage® Executive World Elite Mastercard®, and Capital One Venture X Rewards Credit Card, provide high value that drives their popularity. 
If you shell out an annual fee of $400 to $600 on a credit card (or more for the Amex Platinum Card), you want assurance that you're not wasting your money. Each card meets that standard in its own way. 
For example, our top-rated card, the Chase Sapphire Reserve®, repays you in several ways:
An annual credit to reimburse you for travel purchases
A statement credit to refund charges for Global Entry, TSA PreCheck, or NEXUS
50% more redemption value through Chase Ultimate Rewards
World-class travel protection
Unlimited access to participating lounges 
1:1 bonus point transfer to leading airline and hotel loyalty programs
Special car rental privileges from Avis, National, and Silvercar
Unique benefits during your stay with The Luxury Hotel & Resort Collection
No foreign transaction fees.
On the other hand, you can get generous benefits from a less expensive card. The American Express® Gold Card has a relatively moderate annual fee and offers bonus points for flights booked directly with airlines or Amex Travel. The American Express® Gold Card also provides a yearly statement credit for incidental expenses you incur on select airlines.
Value is a subjective measure. What's important is whether you think an expensive travel rewards credit card is worth the money. You know where we stand.
What Are the Best Credit Card Benefits for Vacationers?
Benefits abound among the best vacation cards. Here are the kind of benefits you may expect from the leading cards.
Airline Benefits
Airline rewards and benefits save you money and reduce the risk of traveling by air. They include:
Free flights and seat upgrades
Travel accident insurance
Trip and baggage delay insurance
Flight cancellation insurance
Free lounge access
Special travel deals and packages
No foreign transaction fees
Credits and reimbursements for travel-related expenses
Early boarding
Free baggage check
Lost luggage insurance
Reduced in-cabin charges
Transferability of points or miles
A sound airline travel reward card should make your vacation more pleasant before, during, and after the flight. If you own an airline card, take the time to read all the fine print — there may be some benefits that will surprise you.
Hotel Benefits
Hotels have fewer ways to benefit you, but their rewards can mount up quickly:
Room upgrades
Free wifi
Free breakfast
Status upgrades
Access to special deals
If you are loyal to a particular hotel brand, a co-branded credit card is the fastest way to earn rewards and benefits. Typically, these cards offer large signup bonuses you earn within 90 days of account opening that can pay for several free overnight stays. 
Car Benefits
If a car figures into your vacation plans, look for travel credit cards that offer the following:
Special rental deals and upgrades
Free roadside assistance
Rideshare and taxi discounts
These benefits can save you hundreds of dollars on your next vacation.
Cruise Benefits
The best cruise benefits probably come from co-branded cards issued by the cruise lines. Look for:
Free or reduced-fare cruises
Cabin upgrades
Access to special deals
Discounts on travel to and from the ship
Savings on shipboard purchases
Tie-ins to other properties, such as theme parks
If your cruise takes you to international destinations, look for a card that doesn't charge foreign transaction fees.
Entertainment Benefits
Entertainment is its own reward, but cards with entertainment benefits make it all the sweeter. They include:
Discounts on tickets and select purchases
Access to special events and dining experiences
Theme and amusement park discounts
Concierge service
Travel accident insurance
Tie-ins with other properties and events
The Disney® Premier Visa® Card typifies the best entertainment co-branded cards, extending benefits at venues worldwide  —  land and sea. 
We should not overlook non-travel benefits from many of the reviewed cards. These include 0% intro balance transfer promotions, fraud security, and credit score monitoring.
Compare the Best Vacation Cards
Our review of the best vacation credit cards should give you a sound basis for comparing which cards fit your needs and lifestyle. When evaluating a travel reward card, it's vital to assess its full range of benefits, rewards, and costs. The best way to do this is to dive into the card's rates and terms disclosed in the Schumer Box and fine print.
To get more information about any of the reviewed cards or to apply for one, click on the SEE DETAILS links in the summary tables. A new window for the card will open, allowing you to peruse all the disclosures before deciding which card you want. 
And finally, dear reader, we offer sincere wishes for a happy and safe vacation.
Advertiser Disclosure
CardRates.com is a free online resource that offers valuable content and comparison services to users. To keep this resource 100% free, we receive compensation for referrals for many of the offers listed on the site. Along with key review factors, this compensation may impact how and where products appear across CardRates.com (including, for example, the order in which they appear). CardRates.com does not include the entire universe of available offers. Editorial opinions expressed on the site are strictly our own and are not provided, endorsed, or approved by advertisers.