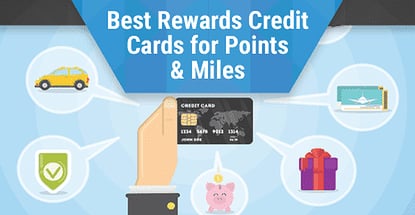 Besides the security and convenience, earning rewards is one of the driving reasons for using a credit card for everyday purchases. But which type of rewards are the best? Not only do you need to choose between cash back or points and miles, but within each category are dozens of credit cards from which to choose.
For those who like simplicity, cash back rewards are a common choice, offering basic earnings and easy redemption. But cash back isn't for everyone. Many points and miles cards offer a much wider range of redemption options, from travel credit to merchandise to special events and exclusive experiences. And the ways you can earn those points are as various as the redemption options. No matter where your spending takes you, there's likely a credit card perfect for earning points and miles rewards.
In the article below, we'll explore the best credit cards for points and miles, including cards for travel, business, gas, dining, airline, and hotels. And, with the wide range of options below, there should be something suitable for nearly anyone.
Travel | Business | Gas | Dining | Airline | Hotel
Best Credit Cards for "Travel" Points
As is human nature, we often want what we can't have, and vacations are hardly exempt from this desire. When we have ice and snow, we dream of sunny beaches, and those with 80-degree winters fantasize about mountainside retreats. Luckily, whether you want to ski, surf, or simply nap, you can find a travel rewards credit card that will help you afford it.
In contrast to airline co-branded cards that award frequent flyer miles, travel rewards points cards allow you to redeem your points for credit toward travel expenses, such as airline tickets and hotel stays, as well as related purchases, including rental cars and bus fares. Even better, our favorite travel points credit cards won't stick you with irritating blackout dates or brand restrictions.
+See More Cards for Travel Rewards
While these cards all allow you to redeem your travel points through the issuer for free travel, some may offer you the ability to improve your per-point value by transferring your points to an eligible airline or hotel partner, adding to your current stash of frequent flyer miles or hotel points.
Best Credit Cards for "Business" Points
A practical necessity for any small business owner, business credit cards get used for everything from employee lunches to merchandise orders — and all the expenses in-between. Yes, in many cases, your typical small business spends more on their trusty plastic pal in one month than a family will in six, making it downright illogical to forgo a rewards credit card for all those purchases.
Picking a points card for your business expenses will require you to take a look at where you're really spending the most; then, choose the card that will reward you the most for those purchases. If your business goes through more paper than an origami contest, a card offering bonus rewards for office supply purchases is likely best. If your expenses don't fit neatly into a category, try a card offering unlimited points on all purchases.
Similar to its consumer companions, the Ink Business Preferred® Credit Card earns the popular Ultimate Rewards points, which provide the best value when used for travel by transferring to one of Chase's hotel or airline partners.
Capital One miles can be redeemed for a variety of travel expenses, including hotels and airline flights, all without blackout dates or brand restrictions that might limit your ability to book a necessary business trip (or much-needed vacation from your business).
The American Express Business Gold Rewards Card
lets you choose your main bonus points category so you can customize your earnings. Category options include airfare, advertising, gas, shipping, and computer services.

Earn 3X points per $1 in a category of your choice and 2X points per $1 in remaining four categories
Earn 1X point per $1 on all other purchases
Pay no annual fee the first year, then $175
While not technically a charge card, the Business Gold Rewards Card has no pre-set spending limit, with your available credit line varying depending on your payment history, credit record, and financial resources.
+See More Cards for Business Rewards
Best Credit Cards for "Gas" Points
While plenty of people who live in the city can get by just fine without a car (or a driver's license, for that matter) once you leave the hustle and bustle of the big city, a vehicle can become a vital tool for both work — and life in general. And while gas prices have come down from the nearly $4 a gallon average it hit in 2013, it's not likely to ever drop below $2 a gallon again.
With the right points credit card, you can help take the edge off your next fill up. Qualified applicants can find rewards points cards that offer multi-point bonuses for gas station purchases, plus additional bonus rewards in other popular categories, including things like grocery store and entertainment purchases. All of our top points cards also offer unlimited 1X point per $1 on all other purchases.
The Citi Premier Card gives users bonus rewards on gas station purchases on top of double points for restaurants and entertainment, including live concerts, sporting events, movie theaters, and on-demand streaming services.

Earn 3X points per $1 spent on eligible travel purchases, including gas stations
Earn 2X points per $1 spent on dining out and entertainment
Pay no annual fee the first year, then $95
ThankYou Points can be redeemed for a variety of things, but generally offer the best value when redeemed for free flights through the ThankYou® Travel Center.
The Amex EveryDay® Preferred Credit Card not only offers bonus points for gas station purchases, but you'll also earn triple points on grocery store purchases.

Earn 3X points per $1 spent at US supermarkets on up to $6,000 in purchases per year
Earn 2X points per $1 spent at US gas stations
Pay $95 annual fee
Frequent swipers can earn more with their card by making at least 30 purchases with their card per billing period to earn 50% extra points on those purchases.
The U.S. Bank FlexPerks® Gold American Express® Card offers triple points on restaurant purchases on top of its gas and airline purchase bonus rates.

Earn 3X FlexPoints per $1 spent on eligible restaurant purchases made with your card
Earn 2X FlexPoints on airline and gas station purchases
Pay an $85 annual fee
The FlexPerks® Gold card also provides a number of travel benefits, including a statement credit for a TSA Precheck® or Global Entry application fee, a $25 airline fee allowance, and complimentary Boingo WiFi.
+See More Cards for Gas Rewards
Best Credit Cards for "Dining" Points
Whether you drive a car or take the subway, own a business or work for The Man, everyone, everywhere shares at least one key similarity: we all gotta eat. And while some of us eat out significantly more than others, most of us dine out at least once a week, to a tune of over $3,000 per year per household.
By charging those meals on a quality points rewards credit card, you can save on every breadstick and french fry. Plus, with the right card, you can earn multiple points per dollar spent on dining at your favorite restaurants, making it a little easier to enjoy your night out. Our top card picks even provide additional bonus points in other useful categories, like travel and entertainment purchases.
For the Chase Sapphire Reserve® and Chase Sapphire Preferred® Card cards, you'll earn 3X or 2X points per $1 (respectively) for all dining purchases, which is defined by Chase as, "merchants whose primary business is sit-down or eat-in dining, including fast food restaurants as well as fine dining establishments."
The Citi Premier Card earns 2X ThankYou® points per dollar on all dining purchases, a broad category that includes both dine-in and take-out purchases (but may exclude some bars).

Earn 3X points per $1 spent on eligible travel purchases, including gas stations
Earn 2X points per $1 spent on dining out and entertainment
Pay no annual fee the first year, then $95
ThankYou Points can be redeemed for a variety of things, but generally offer the best value when redeemed for free flights through the ThankYou® Travel Center or transferred to a qualifying travel partner.
+See More Cards for Points Rewards
Best Credit Cards for "Airline" Points
While a general-purpose travel rewards card is the choice of many who don't have a favorite airline, others, particularly frequent travelers, are more likely to have an airline loyalty account — and a growing balance of frequent flyer miles. Airline co-branded rewards credit cards can provide an easy way to earn frequent flyer points and miles that can be added to your stash for free flights with your favorite brand.
Regardless of how much you travel, however, a co-branded card might be a good addition to your wallet. In addition to frequent flyer points, these cards, including our favorites below, often offer branded benefits, such as free checked bags or lounge access, that can make any travel experience a better one.
The Citi® / AAdvantage® Platinum Select® World Elite™ Mastercard® allows cardholders to earn American Airlines AAdvantage points, as well as providing preferred boarding and your first checked bag for free.

Earn 2X AAdvantage® miles per $1 on American Airlines, restaurant, and gas station purchases
Earn 1X AAdvantage® miles per $1 on all other purchases
Pay $0 annual fee the first year, $99 each year after
As an added perk, redeeming your points can actually earn you more points, as you'll receive bonus miles equal to 10% of your redeemed miles.
The United MileagePlus Explorer Card gives cardholders United miles on every purchase, plus preferred boarding and a free checked bag.

Earn 2X miles per $1 spent on airline tickets purchased from United, 1X on all other purchases
Get your first checked bag free on United-operated flights
Pay no annual fee the first year, then $95
To add to the perks, the United MileagePlus card also provides cardholders with two United Club lounge passes each anniversary year.
The British Airways Visa Signature® Card helps cardholders earn extra Avios points with every purchase, and offers automatic enrollment in the Executive Club for new members.

Earn 3X Avios per $1 on British Airways purchases and 1X Avios on other eligible purchases
Receive a Travel Together Ticket for spending $30,000 in a year
Pay a $95 annual fee
The cost of rewards flights are based on the distance you fly, with short-distance trips (650 miles or less) starting at 4,000 Avios miles for off-peak travel dates.
Best Credit Cards for "Hotel" Points
Whether due to location, amenities, or the staff uniform, many travelers have a favorite hotel brand with which they stay whenever they're away from home. To help encourage this behavior, most major hotel brands offer loyalty programs, similar to frequent flyer programs, that allow you to collect points redeemable toward free hotel stays.
With a hotel co-branded points credit card, you can not only earn hotel loyalty points faster by accruing them with every purchase, but you'll also usually unlock additional perks and benefits, including cost-saving bonuses like room upgrades and free in-room WiFi. Some of our top picks also allow you to transfer hotel points to a partner airline to boost your bank of frequent flyer points.
The Hilton Honors Ascend Card is not only a quick route to free stays with its double-digit rewards rate for Hilton purchases, but also provides you with complimentary Hilton Honors Gold status.

Earn 12X points per dollar for Hilton purchases
Earn 6X points for purchases at US restaurants, supermarkets, and gas stations
Earn 3X points for all other purchases
The Hilton Honors Ascend Card is also great for big buyers, as you can earn a free Weekend Night Reward when you spend at least $15,000 on your card in a single calendar year.
The Marriott Bonvoy Boundless Card is the new mid-tier card that resulted from the rebranding of the Marriott and Starwood programs after their merger. The card offers six points per dollar on Marriott purchase and two points on everything else.

Earn 6X Marriott Bonvoy points per dollar spent at eligible Marriott Bonvoy properties
Earn 2X on all other purchases
Pay $95 annual fee
Cardholders receive automatic Silver Elite Status with Marriott Bonvoy and can earn Gold Status by spending $35,000 on purchases each account year. Users can also enjoy free premium in-room wifi and an annual free night award after the account anniversary.
The Radisson Rewards Premier Visa Signature® Card is ideal for Radisson loyalists who want to earn free nights. Cardholders earn 10X points per dollar on Radisson purchases and 5X points on everything else.

Earn 10X Gold Points per $1 on qualified Radisson Hotel Group purchases
Earn 5X points per dollar on everything esle
Pay $75 annual fee
Cardholders can earn up to 85,000 points for reaching the tiered signup bonus, plus enjoy complimentary Gold elite status. Users get 40,000 each year for renewing their card, and they can earn up to three free nights with qualifying spend.
Point Your Spending in the Right Direction
With so many different shapes and sizes of credit card rewards programs available in the current card marketplace, the hardest part of earning rewards on every purchase is often choosing the right card. Even knowing you prefer the flexibility of points and miles only narrows down the decision a little bit, as you still have dozens of options from which to choose.
No matter what points card you wind up with, however, be sure to follow the basic rules of credit card rewards. First, always, always, always pay on time — credit damage from late payments can ruin any rewards experience. Additionally, try to avoid carrying a balance whenever possible, as interest fees can add up quickly, easily wiping out any savings you earned from redeeming your rewards.
Advertiser Disclosure
CardRates.com is a free online resource that offers valuable content and comparison services to users. To keep this resource 100% free, we receive compensation from many of the offers listed on the site. Along with key review factors, this compensation may impact how and where products appear across the site (including, for example, the order in which they appear). CardRates.com does not include the entire universe of available offers. Editorial opinions expressed on the site are strictly our own and are not provided, endorsed, or approved by advertisers.