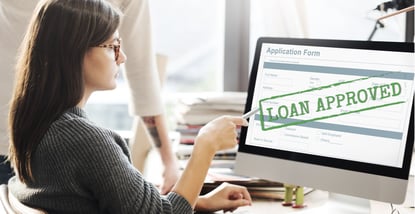 You can find easy online loans if you know where to look. Numerous online lenders have entered the marketplace over the last decade, and most offer great interest rates and relaxed acceptance standards to compete with the pack.
While that may mean less profit for them, it can also mean a better loan for you. Check out our recommendations below and start the research you need to find easy loan approval.
Installment Loans | Cash Loans | Credit Cards | FAQs
Easy Online Installment Loans
An installment loan is the most common type of personal loan. These loans require you to make a series of monthly payments, and they charge an annual percentage rate, otherwise known as APR.
Installment loan terms can range from three months to six years of payments, depending on the lender and the total amount borrowed. Just remember that the longer you stretch out your loan, the more interest you'll pay to satisfy the debt.
The options below are all part of online lending networks. That means you'll submit one application to a single network that will send your request to its partner lenders.
Those lenders will consider your application and, within minutes, you may receive one or more loan offers to choose from. The best part about these networks is that several lenders will look at your request and then compete for your business. This may yield you the best loan offer for your credit situation.
Loans from $500 to $10,000
All credit types accepted
Receive a loan decision in minutes
Get funds directly to your bank account
Use the loan for any purpose
You may qualify for a personal loan of up to $10,000 with CashUSA.com. In some cases, you may be offered a revolving line of credit, which works very much like a credit card. Once you make a payment on a revolving credit line, you can reuse the credit you paid off.
To qualify for a loan, you must be 18 years or older, a U.S. citizen or permanent resident, and have an active checking account, email address, and phone number in your name. Applicants must also provide proof of at least $1,000 in monthly income, after taxes.
If you meet those requirements, you can fill out a short survey that takes five minutes or less to complete. You could receive one or more offers sent to your email within minutes of applying.
Meeting the criteria to apply doesn't guarantee loan approval. Although CashUSA has very flexible acceptance requirements, lenders may shy away from approving larger loans for applicants who have damaged or thin credit files.
Loans from $250 to $5,000 available
Cash deposited directly into your account
Get money as soon as tomorrow
Bad Credit OK
More than 750,000 customers since 1998
CreditLoan.com requires applicants to have an active checking or savings account. You can also only have one open loan through the network's lenders. Once you've paid off your current loan, you're free to apply for another.
CreditLoan is not an actual lender, but rather a free referral service that connects borrowers and lenders. If approved, the network will direct you to the lender's website, where you'll complete the application and finalize your loan.
The network and its lenders typically do not consider applications for consumers who have a pending bankruptcy case. Each lender sets its own interest rates.
If you receive multiple loan offers, be sure to study each one closely, as they likely will not offer the same terms, interest rate, or monthly payment.
Loan amounts range from $500 to $10,000
Compare quotes from a network of lenders
Flexible credit requirements
Easy online application & 5-minute approval
Funding in as few as 24 hours
Bad Credit Loans requires you to be a legal citizen of the U.S. and 18 years or older to apply for one of its loans. You'll also need to provide a valid email address, working phone number, and bank account details of where you'd like the loan money transferred.
Providing these details doesn't guarantee approval, but this network lives up to its name and typically provides easy loans for consumers who are in a jam and need a quick loan. And BadCreditLoans.com doesn't limit itself to personal loan options — you can also apply for an auto loan or a student or business loan.
Loan amounts range from $1,000 to $35,000
All credit types welcome to apply
Lending partners in all 50 states
Loans can be used for any purpose
Fast online approval
Funding in as few as 24 hours
PersonalLoans.com offers the largest maximum loan amount among these options with loans of up to $35,000 available to qualified borrowers. The minimum loan amount is $500.
This network specializes in personal loan options that offer a low minimum payment and interest rate, which makes for more manageable debt repayments. And, since this network offers larger loan amounts, it isn't only reserved for consumers who need a bad credit loan.
The PersonalLoans network is also among the largest of all the online lending networks. Although the group boasts lenders in all 50 states, you aren't required to work with a lender in your area. The beauty of easy online loans is that you can borrow money from a lender anywhere in the U.S. and set up recurring payments from your checking account or another bank account.
Depending on the amount of your loan and the lender's terms, you could have between three and 72 months to pay off your loan.
Easy Online Cash Loans
Easy online loans tend to offer quick payouts via a wire transfer to your linked checking account or another bank account. That may work if you have 24 hours to wait for your funds.
Sometimes, though, you need a quick loan that pays out in cash. If this sounds like you, the lenders below may offer just what you need.
Keep in mind that a cash loan often includes a higher interest rate than a traditional online lender. The loan product you receive may be a payday loan that charges astronomical fees if you don't pay it off on time.
You may find more luck with a traditional online installment loan if you're looking for a larger loan amount. Most cash loan options tend to cater to consumers who may not have a bank account and need quick cash before payday.
As such, you will likely have a shorter repayment time frame and your total loan amount may be due in one lump sum in as soon as two weeks.
Short-term loans up to $5,000
Online marketplace of lenders
Funds available in as few as 24 hours
Simple online form takes less than 5 minutes
Trusted by more than 2 million customers
Not available in NY or CT
MoneyMutual made its name as a next business day online installment loan option, but the network's lenders offer in-person cash loan options as well.
You can choose to search only for local lenders when you apply through MoneyMutual. Some of these lenders offer cash pickup options if you qualify. Keep in mind there may be an added service charge for this type of transaction.
The annual percentage rate on a cash loan offer will likely be much higher than a direct-deposit loan because there's more risk involved for the lender.
Many cash loans don't require an active checking or savings account for approval. Installment loan providers tend to favor borrowers who have an active bank account because they use it to set up an automatic, recurring monthly payment that helps them collect their money.
If you're applying for a loan without a bank account, the lender has little recourse if you default. Since they're taking on added risk, you should expect to pay a little more.
Quick loans of up to $5,000
Submit one form to receive multiple options without harming your credit score
All credit ratings welcome to apply
Requires a driver's license, bank account, and SSN
Get your funds as soon as tomorrow
BillsHappen is an online lender network that can help you secure a loan of up to $5,000. You can use the funds for an unexpected expense or any other purpose.
You may be offered an unsecured personal loan with no collateral required, even if you have a poor credit history. Be sure to read the loan agreement carefully before accepting an offer so you understand the cost and loan term.
Loan amounts range from $100 to $1,000
Short-term loans with flexible credit requirements
Compare quotes from a network of lenders
5-minute approvals and 24-hour funding
Minimum monthly income of $1,000 required
Current employment with 90 days on the job required
CashAdvance.com is a payday loan option that offers cash pickup locations around the country. Loan terms won't include a monthly payment. Instead, you're required to repay your loan in one lump sum — plus interest — within a month, sometimes sooner.
That interest rate is what can make these loans very costly. With rates as high as 2,290%, these ultra-short-term loans can ensnare you into a debt trap if you do not pay it back on time. That's why CashAdvance.com suggests on its website that you should only use its service as a last resort and in the case of a financial emergency.
Keep in mind that some states do not legally allow payday lenders to operate within its borders. This includes Montana, Oregon, Utah, Arizona, Texas, Arkansas, Georgia, North Carolina, West Virginia, Maryland, New Jersey, Pennsylvania, New York, Connecticut, Massachusetts, Vermont, New Hampshire, and Maine.
Easy Online Credit Card Loans
Most people who search for easy loans online want to receive their money quickly. But if you can wait a little bit longer, you may be able to find a much better deal through a credit card.
You repay your credit card debt just as you would an installment loan, with monthly payments that slowly satisfy your balance. The best part is that a credit card provides a revolving credit line, so you can reuse your credit once you pay it off.
Best of all, you can avoid interest altogether with a credit card loan by paying your entire balance within your card's grace period.
The catch is that most easy online loans can wire your borrowed funds to your bank account within one business day. With a credit card, you may have to wait for between seven and 10 business days for your card to arrive in the mail, although some issuers will expedite shipping by request.
at Celtic Bank'ssecure website
Up to $1,000 credit limit doubles up to $2,000! (Simply make your first 6 monthly minimum payments on time)
All credit types welcome to apply!
Free access to your Vantage 3.0 score From Experian* (When you sign up for e-statements)
Initial Credit Limit of $300 – $1,000* (subject to available credit)
Monthly reporting to the three major credit bureaus
See if you're Pre-Qualified without impacting your credit score
The Surge® Platinum Mastercard® doesn't charge processing or setup fees to open your account, but you will be charged an annual fee, based on your credit history. That fee will deduct from your initial available balance.
You can prequalify for this card on the issuer's website without accruing a hard inquiry that could hurt your credit score. If approved, you'll receive your card in the mail in seven to 10 business days. Once it arrives, you can activate the card over the phone or online and begin using it immediately.
9. Indigo® Unsecured Mastercard® – Prior Bankruptcy is Okay
This card is currently not available.
The Indigo® Unsecured Mastercard® – Prior Bankruptcy is Okay is easy to be approved for but may charge an annual fee based on your credit history. One potential catch with this card is its low initial credit limits, and the annual fee (if you're charged one) will be deducted from your line of credit upon activation.
Still, if you need a small and easy online loan, this card accepts most applicants and can provide relatively quick access to a revolving credit line, among other features.
at Milestone Mastercard®'ssecure website
Greater access to credit than before - $700 credit limit
Get a Mastercard accepted online, in store and in app
Account history is reported to the three major credit bureaus in the U.S.
$0 liability for unauthorized use
Access your account online or from your mobile device 24/7
The Milestone® Mastercard® is part of a family of cards offered by Milestone that each has a specific credit limit and interest rate. The Milestone® Mastercard® is the most popular card it offers.
You'll pay no security deposit or one-time fees when you apply. A variable annual fee and a competitive interest rate make this card a winner for consumers who may have a low credit score.
You can find the card that works best for you by filling out an application on the issuer's website, after which you may receive an offer for the card that best matches your needs and credit situation.
at Total Card'ssecure website
Total Visa active cardholders get exclusive access to free Credit Monitoring powered by TransUnion®!
Checking Account Required
Fast and easy application process; response provided in seconds
A genuine Visa credit card accepted by merchants nationwide across the USA and online
Manageable monthly payments
$300 credit limit (subject to available credit)
The Total Visa® Card can offer fast access to a line of credit, but it isn't the most affordable option on this list thanks to the card's one-time program fee due at the time of approval. You'll also have to pay your first year's annual fee upon activation before you can use your card.
Subsequently, the annual fee increases starting in year two. These charges add up fast, but if you need a bad credit loan or quick access to a small amount of cash, this card may work for you thanks to its lenient approval requirements.
What is an Online Loan?
An online loan works like any other loan you would get from a bank or credit union, only you apply and complete the lending process online. Online loans won't limit your money search to traditional financial institutions, either.
Thousands of online lenders exist across America. Most have an online presence that allows consumers to apply for loans in a matter of minutes.
Thanks to intelligent underwriting, the same system that allows you to apply for a loan can typically make a credit decision in a matter of seconds. Most people can complete an online loan application and have the money deposited directly into a linked checking account without ever actually speaking to a person.
And, since these independent lenders don't have the same overhead as large banks, you may be able to find more affordable loans with better interest rates from an established online lender.
Keep in mind that not every online lender has the accreditation needed to operate in all 50 states. If you've chosen a lender who isn't licensed in your state, you'll likely receive a pop-up notice before you complete your application.
Or you can choose an online loan marketplace and not have to worry about your location because a lending network, like those listed above, will distribute your loan request to all of the partnered lenders on its network that service your area. The lenders know they're competing against other lenders for your business, which can improve your chances of being approved for a loan with an interest rate that works for you.
What Credit Score Do I Need to Get an Online Loan?
There isn't a magic number that serves as the dividing line that determines whether a loan will be approved or rejected. Different lenders have their individual acceptance standards — and no lender publishes its minimums for acceptance.
That said, you can follow certain guidelines that may help you apply only to lenders that give you the best chance of acceptance. Banks traditionally only want to lend to consumers who have a good or excellent credit score. On a FICO range of 300 to 850, "good" credit constitutes any credit score of 670 or higher.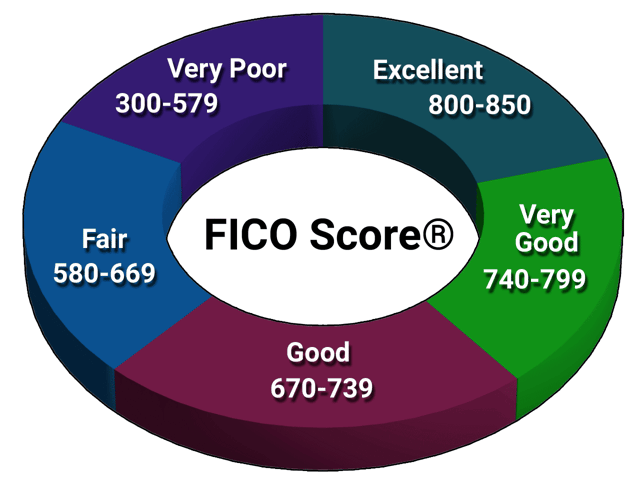 But that doesn't mean you can't receive loan approval if you have a sub-670 score. In fact, finding an online loan is easier than you think.
So many online lenders exist today that there's simply too much competition for consumers who have good credit. Many lenders have to wander outside of their comfort zones to make a profit, which means entering the bad credit loan marketplace.
Most of these lenders partner with online lending networks, which act as a referral source that sends would-be lenders to their doorstep.
MoneyMutual, for example, partners with many bad credit lenders, some of which, according to reviews, have approved loans to applicants with credit scores below 500. BadCreditLoans.com lives up to its name by approving loans for applicants who may have received rejections from traditional lenders.
Just keep in mind that a bad credit loan typically features upfront costs and higher interest rates. That's why it's vital to understand the state of your credit score before applying for a loan. Applying for loans you won't qualify for will only add hard inquiries to your credit report that could lower your score.
What is the Easiest Loan to Get?
Online loan networks provide the easiest path to a loan. When you apply through a lending network, you're submitting a single application to dozens or more lenders throughout the US that may offer you a loan.
If you apply for a single loan product from a direct lender, you're putting all of your eggs in one basket.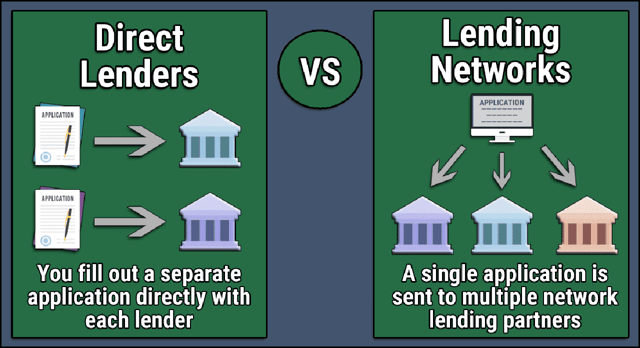 Different networks meet different needs. For example, you can consider MoneyMutual for a small personal loan, or you could turn to BadCreditLoans.com for a competitive auto loan or home loan offer. Most networks offer next business day funding.
Each lender has different approval requirements. Some may specialize in bad credit loans, some may give larger loan amounts, and others may offer a lower monthly payment.
Many lending networks can return with a loan decision within minutes of your application, no matter what time of day or night you submit your form. It's important to understand that every loan offer comes from a different lender.
Just as they all have different specialties, they also offer different terms. The loan with the lowest monthly payment could also be the most expensive overall. Examine your interest rate, the overall total needed to satisfy the loan, and what kinds of upfront fees or other penalties may exist during the life of your loan.
What is the Best Online Loan?
This depends on your needs. If you're looking for a personal loan, you should consider the amount you'll need and your credit situation.
Our top choice, MoneyMutual, offers a large network of lenders, but only offers short-term loans of up to $2,500.
Short-term loans up to $5,000
Online marketplace of lenders
Funds available in as few as 24 hours
Simple online form takes less than 5 minutes
Trusted by more than 2 million customers
Not available in NY or CT
PersonalLoans.com, on the other hand, offers qualified applicants up to $35,000 and 72 months to repay larger loan amounts.
Loan amounts range from $1,000 to $35,000
All credit types welcome to apply
Lending partners in all 50 states
Loans can be used for any purpose
Fast online approval
Funding in as few as 24 hours
These are unsecured loan offers, which means you won't have to offer an item of value — such as your home or car — as collateral for approval.
Every network's lenders offer fast approvals and funding. Most provide next business day funding to a linked checking or another bank account. Speed shouldn't play a factor in choosing the best online loan because most move quickly.
But if the timing isn't a critical issue, you may want to consider a credit card. A credit card offers a revolving line of credit that you can use over and over. And you can avoid paying interest if you pay the loan off within the grace period.
The only catch is that very few cards allow you to use your new line of credit as soon as you're approved. That means you'll have to wait five to 10 business days to receive your card and activate it before you can spend your borrowed funds.
Can I Get a Loan with No Credit Check?
Very few lenders will hand out money without some proof that you can repay the debt. That typically comes from a credit check, where the lender can see your financial history, including any late payments or past defaults.
Without that information, the lender must blindly trust that you will repay your loan. Not many businesses would last if they based their lending decisions on trust and hope.
That said, a few loan options exist that don't require a credit check. Just be ready to pay a lot more to borrow money this way.
That's because any lender willing to take that kind of risk wants a substantial payoff for the risk they assume. That payoff for the lender comes in the form of finance fees and high interest rates charged to the borrower.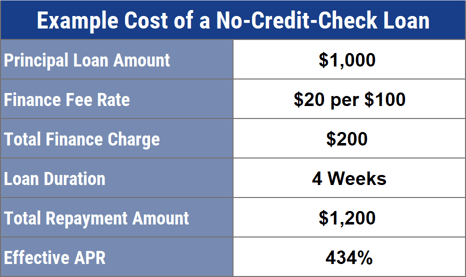 The most popular type of no-credit-check loan is a payday loan, otherwise known as a cash advance. These loans are not installment loans. Instead, payday lenders base your loan approval on your verifiable income, which can be done by providing a pay stub or bank account statement.
Instead of making a monthly payment on your loan, you're required to repay the full amount (plus interest) within a period that ranges from one week to one month.
The annual percentage rate on these loans can climb well into four figures. And it gets even worse if you don't pay your loan off on time. One lender once borrowed $400 on a two-week loan and ended up paying well over $12,000 to satisfy the debt.
There's a reason these lenders often state on their websites that you should only use their services as a last resort. Proceed with caution.
What is a Loan Origination Fee?
Lenders may charge an origination fee upfront for processing a new loan application. These aren't always standard and not every lender charges origination fees, but most bad credit lenders use them as compensation for the time it takes to process your loan.
Some lenders may charge a flat rate and others may charge you for a percentage of your overall loan total. So, for example, a lender that charges a 1% origination fee would collect $30 on a $3,000 loan.
Some lenders may require this fee in cash, but most will deduct the fee from your loan payout.

Most percentage-based origination fees range between 0.5% and 1% of the total loan amount, though you can sometimes negotiate a lower fee on a larger loan.
The U.S. government enacted several fair lending laws following the financial crisis of 2008 that limits ways in which a lender can receive compensation, including lowering origination fees and other hidden charges.
Will I Need a Checking Account to Get a Loan?
Almost every online lender will require an active bank account in your name to consider your application. That's because these lenders aren't necessarily located in your area. If you stop making payments, they can't come knocking on your door to chase your payment down.
But what lenders can do is schedule recurring payments from a linked bank account that will automatically deduct the amount you owe on your due date. This provides some peace of mind to the lender, who typically doesn't want to rely on you sending in a check or scheduling your own online payment each month.
If you don't have a checking account but still need a loan, your best bet is to shop your needs to lenders in your area. A local lender is more likely to consider this type of loan request, though you may have to settle for a secured loan.
This means you'll have to use something of value, such as a vehicle or piece of jewelry, as collateral to secure the loan. That way if you stop making payments, the lender has full authority to liquidate the collateral to satisfy your debt.
Another option is to consider a credit card loan. A few card issuers will consider your application for credit even if you don't have an active checking account.
If none of those options work, consider setting up a checking account at a local bank or credit union or researching one of the many online banks that make signup easy and rarely have oppressive minimum balance requirements.
The simple act of setting up a bank account can open you to a host of loan options that you otherwise couldn't obtain.
Can I Get an Online Loan From a Credit Union?
In most cases, the answer is yes. Thanks to the competition from larger banks, most credit unions have invested heavily in technological advances that provide online banking, mobile applications, and other perks to members.
This typically includes access to an online portal where you can apply for a loan. However, these loans are only available to members of the credit union. You can fill out your application on its website, which the system forwards to a loan officer at the credit union.
While the turnaround on these loans isn't as fast as an online lender that provides a decision in minutes, you should still hear something back within a day or so, excluding weekends and holidays.
The slower response time happens because many credit unions manually underwrite every loan application. That means someone has to look over your application and run a credit check before making a decision and notifying you, whereas most online lenders have technology that does this in a matter of seconds.
If your credit union experiences a high volume of loan applications, you could get stuck in line and have to wait to hear back. High demand could also lower your approval odds if you don't have good credit.
What Interest Rate Can I Expect to Pay?
Interest rates rely heavily on your credit score and payment history. An interest rate is essentially the payment the lender gets for taking the risk in lending you money. The lower the risk, the lower the fee.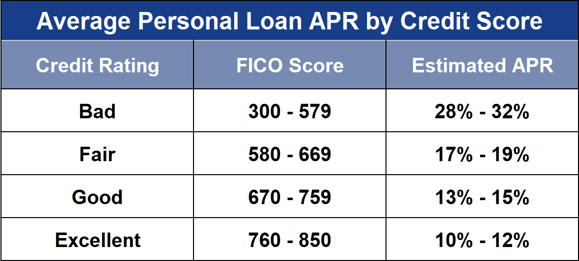 If you have an excellent credit score and a history of on-time payments, you may find a personal loan with an interest rate of under 5%. On the flip side, a bad credit score and recent late payments or defaults can land you a triple-digit interest rate on a short-term loan.
Thankfully, most states have laws in place that limit the amount of interest a lender can charge. Depending on your state, you could pay as little as 5% or as much as 25%. Many payday loans operate under different laws that allow them to charge upwards of 1,200%.
Usury laws only apply to the state you live in, not where the loan originated. So, for example, if you live in Florida and accept an online loan from a lender in Delaware, you're subject to the interest rate laws for the state of Florida.
If you're ever offered a loan with interest rates that exceed your state's limitations, report the lender to local government authorities and the Better Business Bureau.
Is a Payday Loan a Good Idea?
A payday loan is almost never a good idea. There are instances, though, where your financial situation may make a cash advance your only option to get out of a jam.
A payday loan is a super-short term loan that's designed to last between one week and one month. They're emergency loans meant to provide financial relief between paydays.
These loans often charge three-digit interest rates that could yield interest charges of a few hundred dollars on a loan that lasts only four weeks. And, best-case scenario, that's all you'll pay.
The internet is filled with payday loan horror stories from people who borrowed a few hundred dollars from a payday lender and ended up paying $10,000 or more to satisfy the debt.
If you cannot pay your loan in full by the agreed-upon date, the lender will offer you a new loan to cover the costs of the old one. This will include penalty charges and a higher interest rate. If you cannot pay that loan off, you'll have to sign a third loan that will be even more expensive.
Online payday loans will continue to pile up until you can finally pay off the debt.
Although the average payday loan has a two-week repayment period, studies found that the average payday loan borrower carries their debt for five months and spends an average of $520 in fees to repeatedly borrow $375. The average finance fee at a payday loan storefront is $55 per two weeks.
Easy Online Loans Are Readily Available
Over the last decade, online loans have increasingly risen in popularity. These fast and accessible loans work on your schedule — you can apply at any time of the day or night and from any location you choose.
And instead of waiting for a loan officer to crunch numbers and check references, your loan decision will arrive within minutes. These easy online loans are a great way to secure a competitive interest rate and loan terms, which makes them winners in our book.
Advertiser Disclosure
CardRates.com is a free online resource that offers valuable content and comparison services to users. To keep this resource 100% free, we receive compensation for referrals for many of the offers listed on the site. Along with key review factors, this compensation may impact how and where products appear across CardRates.com (including, for example, the order in which they appear). CardRates.com does not include the entire universe of available offers. Editorial opinions expressed on the site are strictly our own and are not provided, endorsed, or approved by advertisers.