credit card advice
Disclosure: When you apply through links on our site, we often earn referral fees from partners. For more, see our ad disclosure and review policy.
When it comes to making purchase decisions, I often tend to take comparison shopping to the extreme. Out comes my inner nerd — who brings with her spreadsheets and helpful financial formulae designed to calculate the best deal. So, if there's one thing that truly offends me, it's finally making my carefully-considered, thoroughly-researched purchase — and finding a heretofore unknown coupon the very next day.
For the deal lovers, like me, who find it downright repugnant to be mocked by the discount deities, cash back rewards are like gifts from above. Indeed, with the right cash back credit card, I can rest assured knowing that, no matter what coupons come late to the party, I saved money on my purchase through cash back rewards. Yes, with bonus rewards for everything from groceries and gas to, well, just signing up, cash back cards can be truly rewarding.
Signup Bonus | Rotating Categories | Grocery & Gas Bonus | Student | Business
Balance Transfers | Fair Credit | Bad Credit
Best "Signup Bonus" Cash Back Cards
In many ways, the best kind of bonus is the one you don't really need to do anything out of the ordinary to obtain. That's what makes signup bonuses so attractive — you can get them just for using the card to make purchases you would already be making. Alright, it's technically not quite that simple; most credit card signup bonuses will have a specific spending requirement that must be reached within a set time period to earn the bonus.
For instance, a common cash back signup bonus offers $150 cash back when you spend $500 on purchases with your card in the first three months. That's just a few trips to the grocery store (or less) for many families, making the signup bonuses essentially that: a bonus for signing up and using the card. Our top picks for this category all have reasonable spending requirements, making them attainable bonuses for most cardholders.
Of course, it's key to realize that not every signup bonus offer will be the same. Signup bonuses offering larger rewards will have higher spending requirements, with many ranging into the thousands. While these are still reasonably attainable for many families, especially if you intend to use your new card to pay most bills and expenses, be sure you really spend enough to justify getting the card for the bonus.
In either case, never charge more than you can repay in a reasonable amount of time simply to obtain a signup bonus (or, well, ever). Interest fees can add up much quicker than most people think, eating into your bonus until your "great deal" has sunk you straight into the red. If you don't think you can realistically reach the spending requirement without overextending, make peace with that truth and move on to another option.
Best "Rotating Categories" Cash Back Cards
The idea (and practice) of rotating bonus categories seem to draw fairly streamline responses: people typically love them or hate them. Essentially, these programs offer huge bonus rewards — typically 5% — for spending within a certain category (or pair of categories), and the specific categories change each quarter (Jan-Mar, Apr-Jun, Jul-Sep, Oct-Dec).
As an example, if the second-quarter bonus category is "home improvement stores," that means you'll earn bonus rewards for any purchases made with your card at home improvement stores from April 1 until June 30. Non-category purchases always earn unlimited 1% cash back, as well. Our favorite rotating-category cash back cards even come without annual fees, so it won't cost you anything to carry them.
Rotating-category cards are best for people whose spending tends to vary throughout the year, particularly because many of these programs will typically match rewards to the season. For instance, fourth-quarter bonus categories are often for popular retailers, such as Target, Walmart, and Amazon, making it easy to earn 5% cash back on all of your Christmas shopping.
Additionally, these cards usually require you to "activate" your new bonus category each quarter to start saving. This can be done easily online in just a few minutes through your issuer's website, but it can be inconvenient if you don't tend to remember those types of things.
Best "Grocery & Gas Bonus" Cash Back Cards
If ever there were a common denominator among all Americans, it's likely the grocery store. From the hourly worker to the CEO — we all gotta eat. And since the average family can easily spend $500 a month or more on groceries, most of us can likely use a little extra wiggle room in the grocery budget.
Thankfully, cash back rewards cards are pretty good at adding a little wiggle to your financial life, and those offering bonus rewards for everyday necessities — including groceries and the ever-more-expensive gas fill-ups — can put that wiggle where you really need it. The cards we've selected for this category include options with and without annual fees, as well as some great signup bonuses.
6. Blue Cash Preferred® Card from American Express
The Blue Cash Preferred® Card from American Express is definitely one of the leaders when it comes to grocery store rewards, offering a whopping 6% cash back. New cardholders can also enjoy a nice signup bonus and introductory 0% APR offer.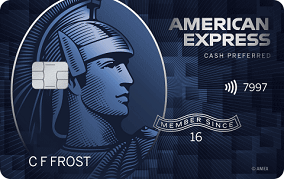 Earn 6% cash back at U.S. supermarkets (on up to $6k a year) & on select U.S. streaming services
Earn 3% cash back on U.S. gas station and transit purchases
Pay a $95 annual fee
The Blue Cash Preferred's $95 annual fee will cut into your cash back a bit, but if you spend about $35 or more a week on groceries, you'll still come out ahead, even before you add on gas and other purchase rewards.
One thing to remember is that credit cards with bonus categories often have spending caps for each category that limit the amount of cash back you can earn on those purchases. After you reach your maximum bonus rewards for a specific category, your category purchases will start earning 1% cash back instead.
For example, the BankAmericard Cash Rewards card caps bonus rewards to $2,500 in combined purchases each quarter. Therefore, if you spent $3,000 on choice category, grocery, and wholesale club purchases in a single quarter, only the first $2,500 would earn bonus rewards; the last $500 would only earn 1% cash back rewards.
Best "Student" Cash Back Cards
Although the broke student has become a bit of a stereotype, the fact is — stereotypes exist for a reason. As someone who was frequently broke throughout my college experience, I can attest to the reality that is student life, and that reality includes a lot of slim budgets. For students who can use them wisely, student credit cards with cash back rewards can be a good way to fluff up that budget a bit (and maybe add a little cheese to that mac).
Student cash back cards have many of the same characteristics as their counterparts, including options for bonus categories — rotating and yearlong — as well as flat-rate rewards. The expert-rated options on our list include all three varieties so you can choose the card that best fits your spending habits. They're all annual-fee-free, as well.
Remember the part where we stipulated "for those students who can use them wisely" when talking about student cards? Well, I'm going to reiterate. Only those students who can regulate their spending — i.e., only spend what they can repay in a timely manner — and who can remember to pay their statement as required each month should open a student credit card account (or any kind of credit account, for that matter).
Student credit cards report to the credit bureaus the same as any other credit product. While this can be a good way to establish credit early, which is good for your credit in the long term, this also means that if you miss a payment, or, worse, default on your student credit card, you'll have some really uncool real-world credit consequences. Consider whether you feel you can responsibly use and maintain a credit card before you jump on that bandwagon.
Best "Business" Cash Back Cards
Although the average business can technically be started with some paperwork and a couple hundred bucks, building and maintaining a successful company takes a lot more work — and significantly more money. One way to take a little of the sting out of your business costs is to use a business credit card that offers cash back rewards.
When comparing cash back business cards, consider where you tend to shop most frequently for your business, then select the card that will likely provide the most rewards. For instance, if you spend a lot on office supplies, select a card that will provide bonus rewards for that category. If your spending doesn't fit neatly into any specific categories, try an all-purpose flat-rate cash back card, like our top picks below.
Perhaps the best part of a cash back business credit card — besides the cash back, of course — is that your business card can help you build all-important business credit. Similar to consumer credit, businesses can establish and build business credit, which, like consumer credit, is used by lenders to determine the credit risk of your business when you apply for financing.
Several different credit reporting agencies collect, analyze, and provide business credit information, but the general factors that are considered are the same across the industry. Specifically, your business's payment history will play a large role in your business credit, as will your credit utilization and outstanding balances. Pay your credit card bill as agreed each month to ensure you are building positive credit history.
Best "Balance Transfer" Cash Back Cards
For anyone currently fighting the high-interest fight, balance transfer credit card offers can be vital reinforcements. Balance transfers are basically what they sound like: you transfer your balance from one credit card to another credit card with a much lower interest rate. When that second credit card offers an introductory 0% APR on your balance transfer, you can even eliminate your monthly interest fees altogether.
And if saying "bye-bye" to interest fees isn't enough, try out a credit card that pairs cash back rewards with an awesome intro APR offer to really score. While you won't earn cash back on your transferred balance itself, any new purchases made with the card will net rewards. Best of all, the intro APR offers of many cards — including several of our category favorites — will extend to new purchases as well as balance transfers.
Cards that offer intro APR deals on both transaction types may have separate terms for each. For example, the balance transfer offer might be good for 12 months, while the new purchase offer is only good for six. Additionally, while some intro APR offers will apply to purchases and transfer alike, not every offer will work for both transaction types, so research before you purchase.
You should also note that introductory APR offers are temporary (hence the name). This means you will be charged interest on your remaining balance and any new purchases after your introductory period has expired. Be sure to pay off your transfer in full before terms end to avoid paying interest fees. The APR you will be charged after your offer terms end will be listed on your cardholder agreement.
Best "Fair Credit" Cash Back Cards
One of the more confusing aspects of consumer credit is that each credit scoring agency has its own credit score range, with different notions of what "good," "fair," and "bad" credit really mean. Fair credit, for instance, is considered to be FICO credit scores between 580 and 669. If you use your VantageScore, however, the fair credit range is between 650 and 699.
In general, those with fair credit scores are typically either working to build credit for the first time or are in the process of rebuilding credit after making some mistakes. But while you don't need to settle for a subprime card, many prime creditors still consider you a risky bet, making it hard to find quality rewards card — so the Capital One® QuicksilverOne® Cash Rewards Credit Card really stands out from the crowd.
As nice as it is to have cash back rewards, of course, you do need to take the card's annual fee into account. While not huge, as those things go, it can definitely take a bite out of your rewards. In fact, at 1.5% cash back, you'll need to spend at least $2,600 a year on your card just to break even from the $39 annual fee.
Be careful, though. Don't start making purchases you can't afford to repay right away simply to rack up cash back rewards. For one thing, the interest fees you'll pay for the privilege of carrying a balance from month to month can easily wipe out your cash back. Those interest fees will keep growing as your balance does, as well, making it increasingly more difficult to pay down your debt.
Best "Bad Credit" Cash Back Cards
Ah, bad credit. The bane of many a consumer's financial existence, it can relegate you into the subprime product market where interest rates are high and fees roam wild. While the exact credit scores that count as "bad" will vary by model, when you have bad credit, you tend to know it — and likely have the credit rejection letters to prove it.
On the plus side, having bad credit doesn't have to mean the end to your credit journey. You may pay a bit more for your credit (or put down a deposit, in the case of secured credit cards), but plenty of issuers will be happy to provide it to you. In fact, you can even find cash back rewards on a few subprime credit card options, such as our expert-rated cards below, that will help you save a little as you rebuild.
In some cases, consumers wind up with poor credit after a single, financially catastrophic event, like a major illness or job loss. For others, it's a series of small mistakes and bad financial habits that are at the root of the problem. Whatever the case, you should take the time to determine how your credit got so bad before you take on any new credit, even a cash back credit card.
If your bad habits are impacting your credit in a bad way, you need to work on improving your financial skills before you can expect to effectively build your credit score. Many factors go into your score, but your payment history and outstanding debts will have the biggest influences. You may also want to browse the wide range of educational resources for improving your credit score that are available online.
Let Your Credit Card Work for You
In my opinion, with such a buffet of credit card options before you, it can often make a lot of financial sense to obtain several cards with different types of bonuses. For example, one of my favorite cards offers me bonus rewards for groceries, while a different card has a killer restaurant bonus. By carrying both cards, I can maximize my cash back rewards whether I choose to stay in or eat out.
However, you should consider two things before you adopt a multi-card strategy. The first is the immediate cost; neither of my go-to cards carry annual fees, meaning it doesn't cost me anything to keep them open. Many cards, especially those offering the most lucrative rewards, will charge annual fees, and those fees can rise into the hundreds, depending on the card. It's important to determine if the rewards are worth the fee.
Secondly, not everyone is truly cut out to responsibly use credit — let alone juggle multiple cards. If you are prone to overspending, stick to cash. Interest fees are always higher than cash back rewards, meaning carrying a balance will likely cancel out your cash back in no time. You should also avoid multiple cards if you have a difficult time remembering to pay your bills every month. Late payments are credit killers, so don't set yourself up for failure.