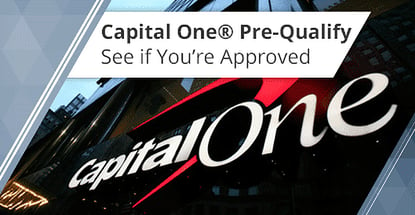 If you've received a Capital One pre approval letter in the mail, it simply means you meet the bank's requirements for approval, and your chances of being approved for the credit card offer you have received are high.
Card issuers find this information by working with credit bureaus to look at your credit reports, or by setting a specific requirement, such as a minimum credit score, and requesting a list of consumers from the bureaus who meet the requirement.
If you're interested in applying for one of the bank's cards and would like to see whether you're pre approved, let's take a look at everything you should know about Capital One pre approval.
Apply | 60-Second Form | Getting Denied | Opt Out of Mail | Auto Loans
1. Apply for the Card You Want for an Instant Approval Decision
If you prefer a solid yes or no answer from the card issuer straight away, choose the credit card offer you want and apply for it directly. Below are the top-rated Capital One offers as reviewed by our expert staff.
These cards will all provide an instant approval decision — simply click the "Apply Now" button to go to a card's official credit application.
Good/Excellent Credit | Fair or Limited Credit | Small Business
Capital One Cards for Good to Excellent Credit (670-850 Credit Score)
Having a good or excellent credit score means that you qualify for the very best rewards and interest rates — that's how banks choose to reward borrowers who've exemplified they know how to manage credit well. Here are the top cards Capital One offers to applicants with good credit, our favorite being the Venture card:
+ See more offers for good/excellent credit
Capital One Cards for Fair or Limited Credit (Sub 670 Credit Score or No Credit Score)
Even without a solid credit history, you can earn rewards similar to those offered by cards for good credit applicants, but you'll pay more for them in the form of interest. This means you should pay your balance in full each month to avoid paying interest altogether.
Of course, that holds true for all cards, and doing so will help build your credit score up faster than if you keep a balance and only make the minimum payment each month. Here are the top cards for those who lack a lengthy, positive credit history:
+ See more offers for fair credit
Best Capital One Cards for "Business"
In addition to offering a wide variety of consumer cards, Capital One also serves the financing needs of small businesses with its selection of business credit cards. These cards offer rewards that include cash back and air miles, as well as several valuable perks for business owners.
Business credit cards usually give the most rewards in popular spending categories such as office supply stores and internet service providers. Be sure to find a card with a credit limit that can accommodate your monthly business expenses.
+ See more offers for businesses
2. Capital One Has a 60-Second Prequalify Form
Capital One makes finding out if you're pre approved easy. The bank will let you know if you're prequalified in as soon as 60 seconds via the Capital One prequalification form.
You must complete the form by entering your name, address, date of birth, the last four digits of your Social Security number, and selecting your credit level and the credit card benefit most important to you.
Finding out whether you're prequalified will not affect your credit score. You'll be presented with a list of pre approved credit card offers based on the information you entered.
•See if you prequalify with Capital One here
However, being prequalified does not guarantee approval. The only way you'll know whether you're approved is to apply for a specific card.
Other factors, such as your income and how much debt you have, can still make or break a credit card company's lending decision. These factors will also determine the interest rate and credit limit you receive.
3. Getting Denied Doesn't Mean You're Denied (Huh?)
Just as prequalifying doesn't guarantee approval, not prequalifying doesn't guarantee a denial. Being approved comes down to a few key factors, including your credit score, income, debt, and, of course, your history with credit cards.
The prequalification process does not, nor can it, look at all of these factors without your consent, which is why most credit card applications require you to agree to a credit check, which will appear as an inquiry on your credit report. A few secured card options for bad credit applicants may not require a credit check for approval.
But if you know your poor credit history and perhaps the previous misuse of a credit card (maxing it out, missing payments, defaulting altogether) is what's holding you back from being approved for a Capital One card, that doesn't necessarily mean you won't be approved for any credit card at all. Plenty of highly-rated credit cards for bad credit are available, some of which even offer cash back rewards.
One of our favorite Capital One cards for less-than-perfect credit is the Capital One Platinum Secured Credit Card. This secured credit card requires a refundable security deposit for approval, but it can help you add positive data to your credit report when you use it responsibly.
No annual or hidden fees. See if you're approved in seconds
Building your credit? Using the Capital One Platinum Secured card responsibly could help
Put down a refundable security deposit starting at $49 to get a $200 initial credit line
You could earn back your security deposit as a statement credit when you use your card responsibly, like making payments on time
Be automatically considered for a higher credit line in as little as 6 months with no additional deposit needed
Enjoy peace of mind with $0 Fraud Liability so that you won't be responsible for unauthorized charges
Making on-time payments and maintaining a low credit utilization ratio can help you work your way to a better credit score and perhaps even your favorite Capital One card. On-time payments and maintaining a low credit-to-debt ratio are two of the most important factors considered when calculating your FICO score.
If you opt for a secured card, remember that your security deposit does not cover your monthly payment. It is the collateral the bank holds onto if you stop making payments. But you can expect to receive your deposit back in the form of a statement credit when you close your secured credit card account or upgrade to an unsecured card.
 4. You Can Opt Out of Credit Card Prequalification Offers
Once you select the card you want, fill out the credit application, and are approved, that doesn't mean the prequalification offers will end. I used to receive so many offers in the mail from so-and-so credit card company each week to the point where I eventually Googled a way to figure out how to make it stop.
Granted, it's not exactly the worst problem to have, clearly there was something within my credit profile that banks liked.
But, if you're like me and considered these offers junk mail and threw them in the trash, you can opt-out online here. Or, you can call:
1-888-5-OPT-OUT (1-888-567-8688).
Just think of all the trees you may be saving, let alone your own peace of mind.
5. You Can Also Obtain Preapproval for an Auto Loan
Capital One Auto Finance is one of the largest lenders of auto loans in the U.S. You can get prequalified for an auto loan in a matter of minutes.
To qualify, you must be looking to finance at least $4,000 for a vehicle that is a 2010 model or newer with fewer than 120,000 miles on it. The vehicle must also come from a participating dealer. Capital One Auto Finance does not provide financing for lease buyouts.
Your loan offer, interest rate, and the monthly payment will be based on several factors, including your credit score, income, the loan amount, and the loan term you choose. Your application and credit report will help the lender determine your financing terms.
Other things to know about obtaining a car loan through Capital One include:
a minimum credit score of 500 is required
the purchase must be made through a participating dealership
you can apply with a cosigner
you must be at least 18 years old and have a valid street address and Social Security number
A monthly income of between $1,500 and $1,800 is required, depending on your credit qualifications
Having a pre approved offer from Capital One does not guarantee loan approval, but it will allow the dealership to access your prequalified terms and preferences, including cars you saved online with that specific dealership. The amount you finance may include the dealer advertised price, sales tax, title, licensing fees, dealer fees, and any optional products, including a service contract and/or an extended warranty that you choose to purchase from the dealer, according to Capital One.
But while Capital One is a popular auto financing option, applicants with good credit scores can likely find better interest rates through a credit union. This applies to credit cards too — a credit union can almost always beat out the interest rate you'll receive from a big bank.
Capital One Pre Approval is Easy
Hopefully, this guide will help you better navigate the road to pre approved credit card offers and auto financing options from Capital One. Unlike other banks, Capital One offers a fairly straightforward prequalification process, making it that much easier to apply for — and receive — the rewarding credit card or auto loan you've been looking for.
Advertiser Disclosure
CardRates.com is a free online resource that offers valuable content and comparison services to users. To keep this resource 100% free, we receive compensation for referrals for many of the offers listed on the site. Along with key review factors, this compensation may impact how and where products appear across CardRates.com (including, for example, the order in which they appear). CardRates.com does not include the entire universe of available offers. Editorial opinions expressed on the site are strictly our own and are not provided, endorsed, or approved by advertisers.