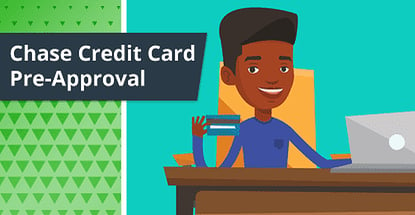 In the crowded field of credit cards, the Chase family of cards stands out to many as containing some of the best rewards out there. Not only does Chase's offering of cash back cards have solid rewards and good sign-up bonuses, but the Chase Ultimate rewards program has been lauded as one of the best for flexible travel rewards.
Unfortunately, top cards come with top qualifications, and Chase has fairly stringent credit requirements for most of its cards. If you're unsure of your chances of being accepted for a credit card from Chase Bank, your best bet is to check for pre-qualification offers.
In the pre-approval process, credit card issuers perform a soft pull of your credit, which doesn't register as an inquiry on your credit report (and, thus, has no impact on your credit score). While not a guarantee of approval, pre-qualification can be a good indicator of your chances. In this article, we'll take a look at the Chase pre-approval process as well as several other solid credit card choices to explore should you not meet Chase's approval requirements, or if you simply prefer a different card.
Apply Directly | Check Online | At the Bank | Stop Mail Offers
Apply Directly for the Card You Prefer
Maybe you've received a letter in the mail telling you you're pre-approved for a specific Chase offer, which can be a pretty telling sign that you'll be approved. Still, the fastest way to know is to apply directly. With a quick online application, you'll typically know whether you're fully approved within minutes.
The offer you received may not be your best option, though, and if you're pre-approved for one Chase card, you'll likely be approved for others like it. If you have the credit to qualify for a Chase card, you can choose the card that best fits your particular spending habits and lifestyle, not just the one that seems the easiest to get.
Your choices will include cash back versus points, bonus categories versus unlimited, and rewards versus zero-fee balance transfers.
Best Cash Back Offers
Designed to be the go-to card in your wallet, the Chase Freedom Flex℠ and the Chase Freedom Unlimited® are both exceptional everyday cards. Both offer a solid signup bonus with a minimum spend easily attainable for the average cardholder.
So, how to choose? Well, if a lot of your spending falls into a few common categories, such as groceries and gas, you should consider the Chase Freedom Flex℠. The bonus category rewards can really add up over the quarter, leading to big rewards. For those whose spending defies categorization, the Chase Freedom Unlimited® may be the way to go. Either way, you won't be stuck paying an annual fee.
Both the Chase Freedom Flex℠ and Chase Freedom Unlimited® cards have similar requirements, so if you're pre-approved for one, you will likely have a good chance of qualifying for the other card. That said, remember pre-qualification is not a guarantee of approval.
Don't limit your cash back earnings to your consumer spending. Chase also offers a solid cash back credit card choice for business owners with the Ink Business Cash® Credit Card.
While you'll need excellent credit to qualify for the Ink Business Cash® Credit Card, those who qualify can earn up to 5% cash back rewards in useful business-centered categories like office supplies and phone service.
Best Points Offers
The Chase Sapphire Reserve® and Chase Sapphire Preferred® Card cards are well sought-after by many a traveler for their great signup bonuses and Ultimate Rewards points. When it comes to points programs, Chase Ultimate Rewards is ranked high on the list of many a travel blogger and credit card aficionado for its high-value points and flexible options.
In fact, with the right redemption strategy, Chase Ultimate Rewards can be worth as much as 1.25 cents per point. You can get even more value when you transfer to select airline partners.
On the business side, the Ink Business Preferred® Credit Card is a way to earn Ultimate Rewards while financing the everyday expenses of your small business. Earn 3X points per dollar in a number of popular categories, including travel, shipping, phone service, and advertising purchases.
All of these cards require excellent credit to be approved, so make sure to check for pre-qualification offers to avoid a fruitless hard credit pull.
Check Online for Pre-Approval on the Chase Website
If you prefer to avoid a credit inquiry and know if you're pre-qualified before you apply, you can hop online to Chase's website. Chase has a dedicated page for checking for pre-qualification offers, and it can be done in minutes.
The pre-approval form is a basic six lines, asking for your name, address, and the last four digits of your Social Security number. Once you complete the form — and acknowledge you understand it is not an actual credit card application — you will be presented with any offers for which you may qualify.
Depending on your potential credit risk, Chase may not be able to offer you any pre-approval offers. This does not necessarily mean you will be automatically rejected if you apply for a Chase credit card — but it isn't an encouraging sign.
Head to the Bank to Find Potential Offers
Another way to find out if you're pre-approved for a Chase credit card is to simply ask the teller at your local Chase Bank branch. With over 5,200 branches across 26 states, the chances are good you have one nearby.
If you're already a Chase bank member, you may not actually need to ask if you have any offers. Reports indicate that tellers will often mention a pre-approval offer during an unrelated transaction in an effort to increase applications.
The main impetus for some of those who check for credit card pre-qualification offers at the bank, rather than online, is the suggestion that applicants pre-approved through the bank can circumvent the 5/24 rule. But while there is some evidence that bank pre-approvals could get you around the Rule, that seems to not be the case anymore.
Chase is infamous for thorough implementation of its 5/24 rule, which automatically rejects applicants who have received five or more new lines of credit within a 24-month period. This Rule applies to all Chase sole-branded credit cards, as well as many of the co-branded cards.
Opt Out of Pre-Qualification Offers
As you will likely find out not long after you start pre-qualifying, credit card issuers have long memories. The issuer will remember you expressed an interest in its products — and it will assume you're still interested for the foreseeable future.
If you have the intention of regularly opening new credit cards to take advantage of rewards programs, or "churning" credit cards, you may want to keep the offers coming. Issuers will often provide exclusive terms or bonuses in mail offers that you can't find online.
On the other hand, if you're a bit tired of recycling credit card pre-approvals every week, you can choose to end it all — all the offers, that is. You can go online here to opt out of credit card pre-approval offers, or call 1-888-5-OPT-OUT.
Get on Your Way to Ultimate Rewards in No Time
If you decide to accept a pre-qualification offer, you will be asked to fill out a full credit card application. This application will result in a hard pull on your credit report, which can impact your credit score for several months. In addition, if you are offered more than one pre-qualified credit card offer from Chase, be sure you apply first to the one you want most. Some reports indicate applying for one pre-approved offer can make any additional offers disappear.
Whether you want a generous cash back card for everyday spending, the ultimate flexible travel experience with Chase Ultimate Rewards, or more Marriott Bonvoy points than you can shake a digital stick at, Chase has something for you. The only downside is, they want you to be worthy — creditworthy.
Checking for pre-approval offers with Chase can be the best way to make sure you apply for the card for which you'll most likely be approved. This not only can help save you from disappointment but can also help save your credit score from a futile hard credit pull. Always remember that pre-qualification doesn't guarantee you'll be accepted when you do apply, so consider your applications carefully.
Final Notes on "Chase Pre-Approval: 6 Best Offers to Prequalify (Sep. 2023)"
We hope this guide "Chase Pre-Approval: 6 Best Offers to Prequalify (Sep. 2023)" has been a helpful resource for you in learning more about your financial options. In this guide, we've covered:
Apply Directly for the Card You Prefer
Check Online for Pre-Approval on the Chase Website
Head to the Bank to Find Potential Offers
Opt Out of Pre-Qualification Offers
Get on Your Way to Ultimate Rewards in No Time
To learn more about options not mentioned here, be sure to check out other popular reviews from our team of experts:
We also encourage you to check back at this URL regularly, as we update the offers listed in "Chase Pre-Approval: 6 Best Offers to Prequalify (Sep. 2023)" and other guides on a daily basis.
Advertiser Disclosure
CardRates.com is a free online resource that offers valuable content and comparison services to users. To keep this resource 100% free, we receive compensation for referrals for many of the offers listed on the site. Along with key review factors, this compensation may impact how and where products appear across CardRates.com (including, for example, the order in which they appear). CardRates.com does not include the entire universe of available offers. Editorial opinions expressed on the site are strictly our own and are not provided, endorsed, or approved by advertisers.