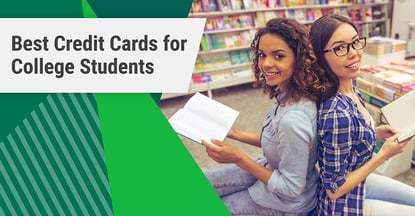 No matter the class, selecting the wrong professor or even the wrong time slot can turn an otherwise enjoyable learning experience into a total academic nightmare.
A similar thing can be said of choosing a credit card as a college student. If you pick the wrong card to start your credit journey, you could wind up paying extra fees, missing out on purchase rewards, or burying yourself under a pile of debt that takes months to repay.
As with picking a professor, however, a little bit of digital research can make all the difference when choosing the right student credit card. We've put together some of the best credit cards for college students of any type, from those seeking cash back to international students looking to build credit. Keep reading for our full list, which also includes our top overall picks, best cards for gas, 0% APR cards, secured cards, and more. We'll also answer some frequently asked questions for those who are new to the credit world.
Overall | Cash Back | Gas | 0% APR | Secured | Cosigners | International Students
Best Overall Student Credit Cards
Student credit cards are offered by many major card issuers as a way to help students build credit while also building brand loyalty. Student cards have no credit history requirements, low to no fees, and — when used responsibly — they are generally the most affordable way to establish and build credit.
A great student credit card should offer three things: competitive purchase rewards, no annual fee, and a long grace period. Our overall top student card picks hit all the marks, as well as offering valuable extras like cash back rewards and new cardholder signup offers.
With many of the same features as the non-student version, this card easily makes the top of the list. Users earn take advantage of the very same cash back rewards and benefits as the non-student cash back card, but this one is specifically intended for young adults with scant credit history.
This option is for students who spend a lot on dining and gas. As with other Discover student cards, you'll earn a reward in the form of statement credit for referring your friends if they are approved.
The Bank of America® Customized Cash Rewards credit card for Students is a well-rounded student card, offering users cash back rewards, a $0 annual fee, an intro-APR offer, and even a signup bonus.
Cardholders can choose their own cash back bonus category from a list that includes: gas, online shopping, dining, travel, drug stores, or home improvement/furnishings. Users can select a new bonus category each month or let their chosen category continue unchanged. Earnings on bonus rewards purchases are capped at $2,500 in combined category purchases each quarter.
Best Student Cards for Cash Back
The field of credit card options grows larger every year, and issuers are working hard to incentivize consumers to select their cards over the competition. Purchase rewards are one of the best results of this competition, and smart credit card use can net you a rewards rebate on nearly anything you buy.
Cash back is by far the simplest type of credit card rewards to earn and redeem, with no points to maximize or transfer. Cash back rewards are usually redeemed as a credit card statement credit that can be used to cover any card purchases. Many student cards offer cash back rewards, but our favorites offer bonus rewards for things like popular purchase categories or good credit behavior.
Cardholders can earn more by taking advantage of bonus category purchases that earn higher cash back rewards with this card offer. Bonus categories change each quarter and include popular merchants like gas stations, grocery stores, and restaurants.
This card provides a flat rate of cash back that makes it easy to earn rewards without worrying about bonus categories and quarterly activations. Responsible on-time payments will help you build credit and unlock a higher credit line.
This card is a great option for cash back rewards, particularly if you make a lot of purchases in one of the bonus categories. You can even choose a new category each month to match changes in your spending.
Bonus rewards are limited to the first $2,500 in qualifying purchases each quarter. In addition to earning rewards on your purchases, this card will also give you a year of interest-free purchases and balance transfers (transfers must be made within the first 60 days to qualify for the promotional rate).
Best Student Cards for Gas
Whether you live at home or on campus, chances are good you'll spend a decent amount of time in your car, either heading home for the night, for laundry, or just for the holidays. ('Cause nobody fluffs and folds quite like the folks.)
Given the high price of a gallon these days, it makes sense to choose a card that offers a little something extra every time you fill up. Happily, a number of student credit cards not only offer basic purchase rewards, but they also come with bonus rewards for gas station purchases.
This card offers elevated cash back on gas station and restaurant purchases, so you can earn big while filling up your tank and your stomach. Bonus rewards are limited, but it's still a good option for a student specifically seeking rewards on gas purchases.
One of the quarterly rotating categories for this card includes gas stations, and you'll earn twice the amount of cash back after your first year with the card. That means even at just three months of spending, your cash back rewards can easily outpace that of other cards, at least in the first year.
This is a good pick for students looking to save on gas for their commute home when they select "Gas" as their 3% cash back category. Keep in mind that bonus cash back is limited to the first $2,500 in combined category purchases.
One of the great things about this card is that you can choose a new bonus category each month. So, if you're going to rideshare more than drive next month, you can choose "Travel" as your category and earn 3% cash back on your rides.
Best Student Cards with 0% Intro APR
No matter how carefully you spend, you'll be charged interest on your card purchases if you don't pay your credit card bill in full each month. As your balance increases, so, too, will your interest fees — a vicious cycle that has caused many a student and adult alike to wind up in over their heads with credit card debt.
While paying your bill in full each month is the best way to avoid costly interest fees, if you know you'll need a little interest-rate breathing room, an introductory 0% APR credit card offer might be the ticket. These offers aren't as robust for student cards as they can be for regular cards, but our top picks still offer at least six months of 0% APR purchasing.
The rewards offered by this card are often the shining star, but the introductory offers can also be very valuable for students who need a break from high interest rates.
The Bank of America® Cash Rewards for Students has a long introductory APR period, especially for a student card, offering an introductory 0% APR on both new purchases and balance transfers (transfers need to be made within the first 60 days to qualify for the promotional rate).
In addition to a great introductory offer, this card offers cash back rewards on eligible purchases, charges no annual fee, and even includes a signup bonus for meeting the minimum spending requirement.
This card's introductory APR offer is unbeaten in the student card market, offering a long introductory 0% APR on purchases. Not only does this card offer an intro-APR deal and charge no annual fee, but it also comes with travel rewards that can be used to redeem the cost of eligible travel expenses made with the card and no foreign transaction fees.
Best Secured Cards for Students
Although student cards are specifically designed for college students with no or limited credit histories, they may not always be the right fit. This can be particularly true if you've already had a credit encounter — and it didn't go well.
Secured credit cards are a good alternative for students who need to build credit and improve their credit scores. They require a cash deposit to open and maintain, but most secured cards come with low or no fees and our favorites can typically be upgraded to unsecured cards once your credit has improved.
This card has the potential to be partially secured, offering a variable minimum deposit amount based on your credit profile. What's more, if you make the first five payments on time, you can unlock a higher credit limit. You won't earn rewards with this card, but you also won't pay an annual fee.
As you might expect from a Discover credit card, this secured card option offers unlimited cash back rewards on every purchase. Your deposit will set your credit limit, so consider a larger-than-minimum deposit for a higher limit.
While this card may not offer any rewards, it sports a lower APR than that of other secured cards from big banks. The initial deposit requirement is relatively low, and you'll have free access to your FICO Score to track your credit-building progress.
Best Cards for Students with Cosigners
By law, if you're under the age of 21, you need either a verifiable independent income large enough to cover your potential credit card debt, or you need a cosigner over the age of 21 with good credit. (And yes, an "independent" income excludes the money your parents give you and that birthday check from grandma.)
Given that most college students are in the 18 to 20 age range, it can be hard to qualify for even a student card if you can't show an income. That leaves finding a cosigner — and an issuer that allows them. Only a handful of major banks allow credit card cosigners, so your options are mostly limited to their offerings.
Bank of America is one of the few major banks that accepts cosigners on credit card applications. This card offers unlimited cash back rewards, plus bonus cash back of up to 3% in a category of your choice.
Users can select one 3% cash back bonus category from the list of options each month (or allow the previous selection to roll-over). Bonus rewards are limited to the first $2,500 in combined category purchases each quarter.
Bank of America allows cosigners on most cards, but student cards will likely be the best suited as a college student, even with a cosigner. This is a flexible-points travel card, which can be redeemed as a statement credit to cover eligible travel purchases, including flights, hotels, vacation packages, cruises, rental cars, and baggage fees. The card can also be used to make purchases while traveling abroad as it charges no foreign transaction fees.
Best Cards for International Students
The United States is a popular destination for students from all over the world thanks to our abundance of great colleges and universities. But, while many may think the hardest part of being an international student in the U.S. is getting accepted to the school of your choice, the real hurdle can be setting up your finances once you're here.
Depending on the nature of your enrollment, you may qualify for a U.S. Social Security number. Obtaining an SSN will make it significantly easier to apply and qualify for a U.S. credit card. However, even if you don't yet have an SSN, you may still be able to find a credit card to help you establish and build credit during your studies.
This is our top choice for international students who have a valid U.S. Social Security number. You'll earn valuable cash back and you won't be charged foreign transaction fees for making purchases in foreign currencies, making it more affordable to use your new card while visiting your home country.
The Bank of America® Travel Rewards for Students is a solid student card that offers points on every purchase, plus it charges no foreign transaction fees, making it more affordable to use when you travel back home.
If you don't currently have a U.S. Social Security number, you may still qualify for this card, as Bank of America reportedly allows applicants without an SSN to apply so long as they do so at a Bank of America branch.
The Deserve Edu Mastercard® is a competitive student credit card with unlimited cash back rewards on every purchase. Users also receive a one-time credit for a year of Amazon Prime Student.
This card is specifically designed for international students who need to build credit history in the United States, and an SSN is not required to apply. You will need to verify your enrollment in a qualifying college or university to qualify for this card.
What are the Requirements for a Credit Card?
The specific requirements for any given credit card will vary based on the card and issuer. In addition to providing the required information, such as your name and income info, you'll also need to acknowledge
the various disclosures made by the issuer, including any necessary agreements for applying online. You may also need to give the issuer permission to perform a hard credit check.
But, in general, you'll typically need the following information to apply for a credit card:
Name
Phone number
Physical address
Email address
Date of birth
Social Security number
Annual income
Monthly housing payment
Of course, this list doesn't give the full picture, especially for students. For example, the Social Security number requirement can sometimes be waived for international students. Student cards may also ask for additional details about your enrollment status and specific school.
Additionally, credit cards have very specific age requirements that can impact college students. While the technical legal age for a credit card is just 18, you'll have to jump through a second hoop if you're still below the age of 21.
Before the CARD Act of 2009, a teen's 18th birthday was usually heralded by a mailbox full of freshly minted credit card offers. Unfortunately, the temptation represented by those offers was a little more than most new adults could handle wisely, so a law was passed to limit how credit card companies can interact with young people.

While the CARD Act contains a number of restrictions, one of the most important is that issuers cannot approve applicants under the age of 21 for a credit card without either an independent income or an adult cosigner.
And yes, the issuer may ask you to verify any income you claim, so it's best to be truthful here.
If you're over the age of 21, you can count a number of forms of income as part of the income you claim on your application. However, applicants under the age of 21 are limited to personal income, such as income from a job or from grants or scholarships.
Any form of debt — like a student loan — is not income and cannot be claimed as such. Nor can you count your parents' income (unless they're cosigning the card), money from an allowance, or any other type of "gift" from family or friends.
Do You Have to Be a Student for a Student Credit Card?
Student credit cards are a great way to establish and build credit, as they have very flexible approval requirements, tend to have low fees, and often offer additional perks and benefits. However, student credit cards do have one major downside: You need to be a student to qualify.
Yes, the vast majority of student credit cards require that you be a student; usually, you need to be already enrolled, but some issuers may allow you to apply if you've been accepted for an upcoming semester. Not only will the application likely ask about your enrollment status, but some student cards will also require proof of that enrollment.
Even cards that don't require proof of enrollment when you apply may ask for verification before you can be approved. And, since lying on your credit card application is a big no-no, it's best to only apply for student cards if you are, in fact, a student.
What Should You Look for in a First Credit Card?
As a college student, chances are good your first student card is also your first credit card overall. Your first credit card is an important step to establishing and building credit; the card you choose — and how you choose to use it — can impact your credit profile for years to come.
Ideally, your first card should have features that encourage responsible credit card use without causing you to miss out on valuable perks like purchase rewards. Here are some of the things to look for in your first card:
No Annual Fee: By choosing a card with no annual fee as your first card, you'll not only save money on fees, but you'll also make it easier to keep that card open indefinitely. The length of your credit history is up to 15% of your credit scores, so the longer you can leave your first card account open, the better off you'll usually be.
A Long Grace Period: The grace period on a credit card is the amount of time you have to pay off your balance before it starts to accrue interest. Most cards offer a grace period of at least 21 days.
No Penalty APR: Many cards will charge a penalty APR if you make a late payment. This APR is usually quite high — 29.99% is common — and it can replace your purchase APR indefinitely if it is activated. Choose a card without a penalty APR while you're just starting out so you don't have to pay extra interest for mistakes while you learn.
Purchase Rewards: Cards that offer purchase rewards, such as cash back or points, can be a great way to get extra value out of your card simply by making purchases you'd already be making. Of course, that's the key — never make purchases you can't pay off just to earn rewards. Interest fees will almost always trump any rewards you can earn.
Cardholder Perks: Most credit cards these days come with a variety of lucrative cardholder perks that can include anything from extra rewards for referred approvals to extended warranty coverage.
While this list can help you narrow the choices, it's by no means a one-size-fits-all type of deal. In addition to using our suggestions, you should also sit down and make your own list of features you'd like in your new card.
For example, if you're interested in tracking your credit-building progress, a card that offers free FICO credit scores and tracking is a must. Perhaps you're most concerned about the customer service for your new card; in that case, you may want to explore Discover's options, as they routinely rank well for customer service.
How Do You Increase Your Card's Credit Limit?
Although student credit cards are usually a fantastic way to start building credit, they do share one major downside with other types of starter cards: low credit limits.
Basically, your credit limit is determined by the credit card issuer by factoring in the card product, your income, and your credit profile. Many cards have set — though rarely published — credit limit minimums and maximums, with the exact limit you're offered based on your qualifications.
As a student with a limited income and no credit history, be prepared for a low credit limit; a starting limit in the $300 to $500 range isn't uncommon for starter cards. But, remember, this is just the initial credit limit — it may not be the end of the story.
Most credit card issuers will regularly evaluate your account to see if you've become eligible for a credit limit increase. Capital One, for instance, usually grants an increase to cardholders who have made their first five payments on time. Unsolicited credit limit increases won't require a hard credit inquiry.
If you don't wish to wait for an unsolicited increase, you can directly request a credit limit increase from the issuer. These requests can result in either a soft or a hard credit inquiry.

For most issuers, you'll need to have had the account open and in good standing for at least six months to qualify for an increase. Many issuers will also limit the number of credit limit increases you can receive within a given six-month period. Your best shot at getting a credit limit increase will be after you've had an income increase or after your credit score has significantly improved.
The final way to get a credit limit increase applies only to secured cards. Some secured credit cards will allow you to add extra money to your security deposit to unlock a higher credit line. However, cards that allow additional deposits to be made after you've started to use the card are rare, so check with your issuer to be sure.
What Do You Do with a Student Card After Graduation?
It's time. It took years of studying until you thought your brain would explode, but you've made it — you've finally graduated. It's a happy time, certainly, but once you're done celebrating your victory, it's time to get down to the hard work of entering the real world.
As you set about preparing your finances for the next leg of your journey, you might start wondering about what to do with that student credit card that helped you graduate with a solid credit history. The short answer is: do nothing (unless it charges an annual fee).
When you've spent more time building your credit profile and you have a diverse mix of credit types with several years of positive payment history, then sure, you can cancel a credit card without worrying about your credit score. But, if you have only one or two credit cards and maybe some student loans — well, canceling a credit card could cause some problems.
Whether you put the card in a drawer or continue to use it, you're almost always better off leaving an old credit account open than you are canceling it. That's because leaving the card open helps three of the five main credit-scoring factors: your amounts owed, your credit mix, and your credit history age.
Impact of Closing a Card on Your Amounts Owed
Credit scoring models look at your existing debts in different ways depending on the type of debt. For credit cards, this factor looks at your utilization rates, which is a measure of how much of your credit you are currently using. For example, if you had a credit card with a credit limit of $2,000 and a balance of $500, your utilization rate would be: $500 / $2,000 = 0.25 = 25%.
A high utilization rate (roughly 30% and up) is interpreted as a sign that you may be having issues repaying your debt. A really high utilization rate signals that you're close to maxing out the card, which is a major red flag when potential creditors review your credit.
Scoring models look at your utilization for individual cards, but they also look at the  overall utilization of all of your cards. By closing one of your cards, you reduce your overall available credit. This means any balance that you carry on other cards will be a larger portion of your available credit, increasing your utilization rate.

Let's look at an example. Suppose Fake Freddy has three credit cards with limits and balances as shown in the table above. Card A represents his student credit card, which he doesn't use anymore since he qualified for better cards after graduation.
When Freddy's utilization rates are calculated, it's obvious that Card B has a relatively high utilization rate — which Freddy should address by paying down that balance. However, his overall utilization rate is only 25% because of the lower utilization of his other cards.
Assuming no other changes were made, if Freddy decided to cancel his student card, Card A, his available credit would decrease to just $2,500, as shown in the table below. This decrease would cause his overall utilization rate to increase six percentage points, up to 31%. As a result, Freddy's credit score will likely decrease.

If you don't ever carry balances on your credit cards or if your other credit cards have much higher credit limits than your student card, then the impact on your utilization rate from closing the card can be minimal. That said, it should still be something you consider before canceling any card.
Impact of Closing a Card on Your Credit Mix
Your credit mix is another scoring factor that can be negatively impacted when you close a credit card, especially when you have a limited credit profile. Essentially, the credit mix factor looks at how many different types of credit products you have; creditors like to see that you can handle multiple types of credit. Credit mix is worth up to 10% of your FICO credit score.
In general, a healthy credit mix contains one or more credit cards and several types of installment loans. For most people, a diverse credit mix develops naturally over time as they go through life and reach milestones like buying a new car or purchasing a home.
While you don't need to rush out and open a loan to have good credit, closing your student credit card account can have a negative impact on your credit mix, with the severity of that impact depending on how many other credit cards you currently have open. If your student card is your only credit card, consider holding off on canceling it at least until you've opened a new card.
Impact of Closing a Card on Your Credit History Age
The length of your credit history — together with your average account age — is worth up to 15% of your credit score. If you're like most young people, your student card will likely be your oldest credit account, meaning the length of your credit history is probably equal to the age of your student card.
Creditors like long credit histories, so the longer you can leave that account open, the older your credit history will become. This will also help keep your average account age — the average age of all of your credit accounts — high, which helps your credit score.

That said, closing the account won't automatically remove it from your credit reports nor will it stop the account from aging — at least, not indefinitely. Technically, an account closed in good standing can hang out on your credit reports for up to 10 years after it's closed and still contribute to your credit history and average account age.
However, accounts in good standing are usually deleted after the 10-year mark, meaning you'll likely lose any history associated with that account at that point. This can drop your overall credit history age as well as decrease your average account age. If significant, these reductions can also cause your credit score to decrease.
Get Started on the Right Credit Path
As with picking the perfect professor or choosing the ideal schedule, carefully selecting the right student credit card can make or break your credit experience. A bad choice can make for a rocky start on your credit journey, so it's worth the time to do a little research.
When used responsibly, student credit cards can be an excellent tool for establishing and building credit, helping you ensure you can start your post-graduation life with your credit profile already in great shape. Of course, student cards are only good tools if they're used wisely; make sure you always, always pay your credit card bills on time and maintain low balances to see the best results.
Advertiser Disclosure
CardRates.com is a free online resource that offers valuable content and comparison services to users. To keep this resource 100% free, we receive compensation for referrals for many of the offers listed on the site. Along with key review factors, this compensation may impact how and where products appear across CardRates.com (including, for example, the order in which they appear). CardRates.com does not include the entire universe of available offers. Editorial opinions expressed on the site are strictly our own and are not provided, endorsed, or approved by advertisers.