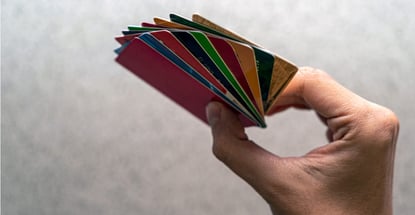 Many people love having lots of credit cards. One for cash back, one for travel, and a third for business expenses. More for other reasons, or just because, why not? 
For these card-loving folks, no specific number of cards reaches the point of "too many."
On the other hand, other people may have concerns that dozens of cards could facilitate overspending or result in missed payments and impaired credit.
With good arguments on both sides of the "How many cards is too many?" debate, who's right and why?
No Set Number Of Cards Is Too Many
The answer probably won't surprise you: the right number of cards for you depends on your lifestyle, preferences, and credit habits. There's no specific number considered too many for everyone. 
While two cards may be too many for one person, two dozen or more may not be too many for someone else.
If you're already struggling to make your payments on multiple cards, applying for more cards may not be the best solution. If you normally pay off your card debt every month or carry a few balances and feel comfortable with your payments, applying for another card may be appropriate for you.
There are plenty of good reasons to apply for additional cards. Depending on your credit status, you may want to add cards with:
Bigger or better rewards programs
New or different types of rewards
Signup bonuses 
Lower annual percentage rates (APRs)
0% APRs for purchases
0% APRs for balance transfers
Lower or no annual fees
New or different perks or benefits
Exclusive card designs, such as sports teams' or university logos.
You may also want to apply for new store cards offered by retailers where you shop. Though these cards are limited in where they can be used, many consumers like the brand loyalty and other perks and benefits that store cards offer.
Can Having Too Many Cards Hurt Your Credit?
It's no secret that cards can affect your credit in good and not-so-good ways. What's not well understood is how this relationship works. Indeed, the interplay between cards and credit can be quite complicated.

The most important factor used to calculate your credit scores is your payment history, which includes your cards and other debts, such as home, auto, student, and personal loans. Whether you pay the minimum or more, making payments on time is the single best way to improve and protect your credit scores. How many cards you have isn't a factor in your payment history.
The second most important factor in your credit scores is your credit utilization ratio, which measures how much of your available credit you're actively using at a given time.
These three examples illustrate this concept in a simplified and easy-to-understand way:
You have one credit card with a $5,000 credit limit and a $0 balance. Your utilization ratio is $0 / $5,000, or 0%.
You have one credit card with a $5,000 credit limit and a maxed-out $5,000 balance. Your utilization ratio is $5,000 / $5,000, or 100%.
You have two credit cards, each with a $5,000 limit. Your combined balances total $5,000. Your utilization ratio is ($5,000 x 2) / $5,000, or 50%.
Adding a third card with another $5,000 limit and a zero balance would increase your total available credit to $15,000 and lower your utilization ratio to 33%. But when you start to use that new card, your ratio will change again.
If you spent more using your new card and less using your existing cards, your new ratio will still depend on how much of your total available credit you used. All else being equal, a lower ratio means you're a better credit risk than a higher ratio. 
Being a better credit risk enables you to qualify for more cards with better interest rates.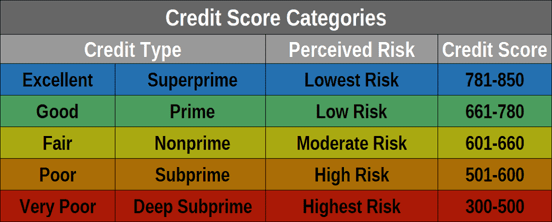 The number of cards you have isn't a factor in your credit utilization ratio. Whether you have a $5,000 balance on two cards with $5,000 credit limits or a $5,000 balance on four cards with $2,500 credit limits, your ratio is still 50%.
Closing card accounts can affect your utilization ratio by lowering the amount of available credit you have. How that will affect your scores depends on your credit limits and your balances on your open and closed accounts.
Credit scores generally give you a small boost for having older, more well-established accounts, so keeping your oldest accounts open can work in your favor.
The total number of cards you have isn't a direct or significant factor in how closing accounts affects your scores.
Cards Can Serve Many Different Purposes
A more compelling argument for having more cards is that cards can serve many different purposes, and not all cards are ideal for all purposes.
Examples of purpose-driven cards include rewards cards, travel cards, student cards, balance transfer cards, and business cards:
Rewards cards: Rewards cards make sense for consumers who want to turn their everyday purchases into cash back or shopping points for gifts, special occasions, me time, or other needs or wants. 
Travel cards: Travel cards appeal to people who value air miles and points toward hotel stays, restaurants, car rental insurance, and other travel-related expenses. These cards also offer travel-related perks such as access to airport lounges and or statement credits for travel fees.
Student cards: Student cards are designed and marketed as opportunities for community college and university students to obtain and build credit. The benefits of student cards may include cash back rewards, no annual fee, 0% introductory APRs for purchases,  and flexible approval requirements to be approved, among other things. 
Balance transfer cards: Balance transfer cards allow you to move all or part of your balance from a card with a relatively high APR to a card with a relatively low or 0% APR. This introductory or promotional rate expires after an initial period, which may be up to a year or longer. Transferring a balance may help you lower your interest expenses, but balance transfers usually involve fees.
Business cards: Business cards are intended to meet the credit needs of small businesses, independent contractors, and even gig workers. Though these cards lack some of the protections of consumer cards, they can offer attractive benefits, including signup bonuses, cash back rewards, and travel perks. Issuers may include extra cards for authorized employees as well.
Each type offers a variety of benefits with different APRs, fees, and credit standards to qualify.
Risks of Having Too Many Cards
With all those options, it's easy to see why many people are eager to obtain more credit cards. Indeed, it may seem as if there's no downside to having a lot of cards. But that's not necessarily true for several reasons.
The temptation to overspend. Having too many cards may tempt you to overspend, saddling you with more card debt than you can manage. Card debt can prove costly due to relatively high interest charges. If you miss payments, late payment fees and higher penalty rates can further raise the cost.
Late or missed payments. Having multiple cards may make it more difficult for you to keep track of your spending and payment due dates. That can result in missed payments and trigger additional fees and penalty rates, damaging your credit and lowering your credit scores. Impaired credit will limit your opportunities to borrow with favorable rates and terms.
Annual fees. Many cards charge annual fees, which can add up quickly if you have several cards or just a few premium cards. Paying annual fees for luxury cards you love with great benefits you use often can be a smart strategy. But paying those same fees for cards with benefits you use rarely or never can become an expensive habit with little or no actual value for you.
Credit score impact. Applying for more cards generally won't have a huge impact on your credit scores, but that doesn't mean there won't be an impact. If you apply for a lot of new cards at the same time or within a relatively short time frame, your credit scores may take a slight temporary dip. That's because a sudden spike in your applications for new credit could imply that you're facing financial difficulties.
But having multiple cards can be a good money strategy if you have control over your spending and payments and are receiving more value from your card than what you pay for the annual fee.
The Law of Averages
On average, US consumers have three credit cards and 2.3 retail cards, according to the latest report from Experian. Those statistics don't mean the average person has five cards or that five cards is the right number for everyone or that more than five cards is too many.
Rather, those numbers are only averages. Many people find that one or two cards are enough for them, while others prefer to have a dozen cards or more. How many would be too many for you is a number only you (and maybe your spouse) know for sure.
Advertiser Disclosure
CardRates.com is a free online resource that offers valuable content and comparison services to users. To keep this resource 100% free, we receive compensation for referrals for many of the offers listed on the site. Along with key review factors, this compensation may impact how and where products appear across CardRates.com (including, for example, the order in which they appear). CardRates.com does not include the entire universe of available offers. Editorial opinions expressed on the site are strictly our own and are not provided, endorsed, or approved by advertisers.