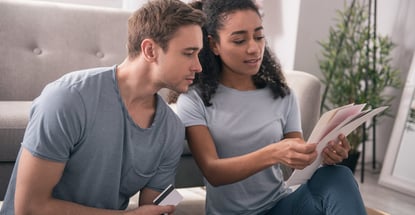 Similar to your first job, car or apartment, your first credit card is an important milestone on your journey from youth into adulthood. To do adulting right, you'll want at least one card in your own name.
While you can manage your personal finances without any cards, you'll find life in the grownup world is much easier with them. Cards can help you shop online, rent a car, book an airline ticket, reserve a hotel room, set up cellphone service, and more.
Cards for beginners usually come with at least a few basic perks. Level up and you may be eligible for rewards, such as points, miles, or cash back for your card purchases. You may also get a higher credit limit, which allows you to spend more on the card and potentially earn more rewards.
Interest | APR | Fees | Payments | Statements | Rewards | Debt | Beginner Cards
Understanding How Credit Card Interest Works
Credit cards come with responsibilities as well as benefits.
One responsibility is that when you make purchases with your card, you'll have to pay the amounts you spend to your card company. The total amount that you owe is your balance.
If you pay your balance in full every month on or before the due date or within the grace period, you won't owe more than you charged. If you don't pay your entire balance, however, the unpaid amount is carried over to the next month — and the next and the next and so on — until you pay it in full. Each month you carry a balance, you'll be charged interest for that amount and any new purchases you charge.
Interest is a fee that's calculated as a percentage of the amount you carry over.
Credit cards typically charge high interest rates compared to most auto loans or home mortgages, or the interest that banks and credit unions pay for savings and interest-bearing checking accounts.
If you make only the minimum payment on your card or any other partial payment that's less than the interest you owe on your previous balance — plus your new purchases — the interest will also carry over, and you'll owe interest on interest in subsequent months. The minimum payment usually isn't enough to avoid this scenario.
You may also be charged a late payment fee, higher penalty interest rate, or both if you make a payment after the grace period ends.
Understanding Your Credit Card's APR
Your card issuer will charge you interest for every day you carry a balance. Although the amount accumulates daily, it's typically expressed as an annualized percentage rate (APR).
Many people who have credit cards find APRs and how they're calculated to be a complicated subject. It doesn't have to be.
To calculate your card's APR, multiply your Average Daily Periodic Rate (ADPR) for your card by 365. Your ADPR should be printed on your monthly statement. Multiply by 365 because three of every four calendar years have 365 days. (The extra day in a leap year isn't material for this calculation.) Here's an example:
ADPR: 0.04654
Days in a year: 365
APR: 0.04654 x 365 = 16.987%
The APR printed on your statement is typically rounded, so 16.987% would be shown as 16.99%
If your card's ADPR times 365 doesn't equal your card's APR, it may be because your card issuer uses 360 days instead of 365 days for its calculations. Most issuers use 365 days, but some may use 360.
The chart below shows how your credit card's APR affects the total interest you'll pay over time.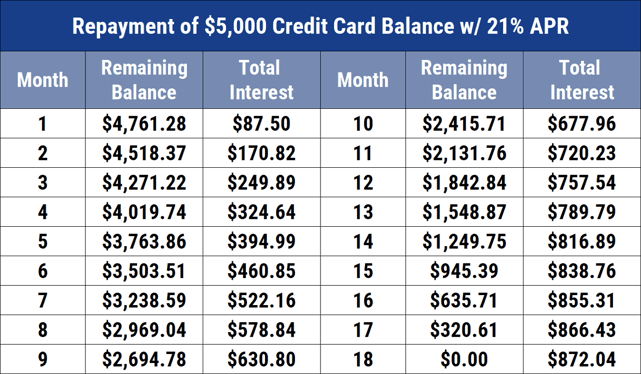 If you're carrying a balance on a card with a high APR, you may want to transfer some or all of your balance to a new card that has a 0% APR balance transfer offer. You may be charged a fee for a balance transfer, but you'll usually get to carry your balance interest-free for at least six months, maybe a lot longer. Some balance transfer offers give you a 0% APR for 12, 15, or even 18 months.
The APR should be an important factor when you apply for a card if you plan to carry a balance. If you don't plan to carry a balance, the APR may not be important.
Understanding Credit Card Fees
Interest isn't the only fee you may be charged to use your card.
Annual fee: Your card issuer may charge you this fee every year to keep your card active. Annual fees range from as little as $25 to as much as $550 or more. A fee of $95 is common. Cards that charge a higher annual fee usually offer more perks and better rewards, however, many good cards have no annual fee. Some card issuers will waive an annual fee for the first year to encourage you to apply for that card.
Foreign transaction fee: This type of fee may be added to your transactions when you use your card in a foreign country. The fee is separate from the currency exchange rate that converts your foreign purchase into U.S. dollars. Fees of 3% are common, but many cards don't charge foreign transaction fees.
Processing fees: Restaurants, hotels, and other merchants pay processing fees to your card company when you use your card to pay for purchases. Though you don't pay these fees directly, they are built into the prices of most goods and services.
Cash advance fee: You'll typically have to pay a cash advance fee if you use your card to get cash other than as a cash back reward. Cash advance fees of $10 or 3% of the amount, whichever is higher, are common.
Late payment fee: You may be charged this fee if you don't make your payment until after your grace period ends. Late payment fees range from about $28 to $39. This fee may be charged in addition to a higher APR. If you normally pay on time but make one late payment, it's worth calling your card issuer to ask to have this fee reversed. The issuer may say yes to keep you as a satisfied customer.
It's smart to shop around for a credit card because some have a lot of fees and others have very few. All the fees you may be charged will be disclosed in your cardholder agreement. You should read it before you use your card.
Understanding Credit Card Payments
If you carry a balance or use your card to make new purchases, you will have to make at least the minimum payment every month. That's true even if you have a card with a promotional 0% interest rate. No interest doesn't mean no payment.
Your minimum payment isn't a fixed amount. Rather, it may vary from month to month, depending on your balance.
Card issuers use slightly different methods to calculate minimum payments. However it's calculated, your minimum payment should be printed on your monthly statement.
Card companies frequently refer to a month as a payment cycle because their payment due dates don't necessarily align with the first or last day of the month.
Some card issuers let you choose which day each month you want to make your payment. That can be helpful if you want to pay multiple bills on the same day, separate your bill payment dates, or schedule your payment date after you receive your paycheck.
The following infographic from Discover helps further explain the advantage of choosing your own due date.

The most important thing you should know about your card payments is that the minimum amount due may not be enough to pay off your debt in a reasonable time. In fact, your required minimum may not even be enough to pay the interest you owe for that payment cycle.
If you pay only the minimum due, the amount you owe will increase over time, perhaps dramatically. You'll usually have to pay more than the minimum due every month to pay it off.
Understanding a Credit Card Statement
Your monthly card statement is a summary of your card activity for one payment cycle. The most important information in your statement is:
Your balance
Your minimum payment
Your payment due date
Card statements aren't all alike, but most also show:
Payments you made
Purchases you made
Credits you received (e.g., for purchases you returned)
Fees you were charged
Interest you were charged
Rewards you earned, including any cash back
Cash advances you received
Balance transfers you made
If your rewards program involves categories with different levels of rewards, you may see a category-by-category summary of the rewards you earned as well as a total. Categories may include travel, gasoline, or restaurants, for example.
Your card statement should also disclose:
How long it will take to pay off your balance if you make only minimum payments
How much you'd have to pay each month to pay off your balance, including interest charges, in three years
The fee and penalty APR you may be charged if you make a late payment
Your credit limit
You should receive a statement once a month. Typically, you can choose whether to receive a paper statement or an electronic one. Most card issuers also let you access your statements on their website.
Card issuers sometimes print important information on the back of your statement, so that's a good place to look if you need more information. If you have questions about your statement or you need help from your card issuer, there should be a customer service phone number on your statement, too.
Understanding Credit Card Rewards
Rewards are one of the biggest perks of using credit cards. Every time you use a card to make a purchase, you may receive points, airline miles, gasoline rebates, or even cash back. The types of rewards you earn depends on your card's rewards program.
Some cards are "co-branded," which means your card issuer has partnered with a non-credit-card company to offer rewards that are specific to that company. Companies that offer co-branded cards include Amazon, American Airlines, Delta, Hilton, Hyatt, JetBlue, Marriott, Ritz-Carlton, Southwest Airlines, Uber, and United Airlines, among many others.
To collect and redeem rewards, you'll have to become familiar with the rules of your card's rewards program, which may be different for each card you have.
Different cards have different rewards values for different levels of spending. In other words, a dollar charged with one card may earn more or fewer rewards than the same dollar charged with another card.
You'll have to read the rules and do some research to maximize your rewards. Premium cards tend to have greater rewards, but also higher annual fees.


Some cards offer bonus rewards for certain categories of spending, such as 4% for gasoline purchases, 3% for restaurant meals, 2% for travel, and 1% for everything else. The categories may be fixed or they may change from month to month.
If your card's bonus categories change, you may have to activate (i.e., enroll or select) a category online to qualify for the bonus rewards.
Understanding Credit Card Debt
Your card balance is a debt you owe to your credit card company. If you pay your balance in full every month, you won't be charged interest, though you may still have to pay an annual fee or other fees associated with your card use.
If you don't pay your balance in full, your debt will be carried over to the next month and you'll be charged interest for your balance and any new purchases you make with your card.
Carrying a balance can become quite costly. You could end up paying double, triple, or more than what your purchases would have cost if you'd paid cash or paid off your balance every month to avoid interest.
Financial experts recommend two approaches to pay off card debt:
Pay off your lowest balances first. This approach gives you smaller, but easier and faster wins to help you get started and stay motivated.
Pay off your highest APR balances first. This approach could help you pay less interest over the long run while you pay off your debt.
If you carry a balance and your card has a high APR, you may want to transfer all or part of your balance to a balance transfer card, which offers an introductory 0% APR for a certain time period. You may have to pay a balance transfer fee.
A balance transfer can give you an opportunity to reduce your card debt if you restrain yourself from making more purchases. You may also want to contact a credit counseling service if your debt feels burdensome.
The Best Cards for Credit Beginners
As a credit card newbie, you probably won't be eligible for the premium cards that offer the most enticing rewards right away. Fortunately, there are plenty of good cards for beginners, and many of them come with nice packages of perks, benefits, and rewards, even for newbies.
Three types of cards to consider are:
1. Starter Cards for No/Limited Credit
Cards for beginners are often categorized with cards for people who have bad credit, but there are important differences between the two groups. Bad credit results from late and missed payments and other financial mistakes. No credit or limited credit results from inexperience.
Limited credit is sometimes called "thin credit," which used to refer to paper files of credit documents that were literally slim. Credit beginners are also sometimes called "credit invisible" when they don't have enough data in their credit history to generate a credit score.
Some card companies offer good starter cards, especially for thin credit and credit-invisible consumers alike. Below are our top picks.
Capital One® Platinum Credit Card
This card is currently not available.
Capital One® QuicksilverOne® Cash Rewards Credit Card
This card is currently not available.
Capital One® Secured Mastercard®
This card is currently not available.
+ See More Cards for No/Limited Credit
2. Student Cards
Student cards are designed for college students who may need credit and have good future income potential, but don't yet have much credit experience. Look for a student credit card with no annual fee.
Other factors to consider include the APR, signup offer, and rewards or perks, such as a statement credit for good grades. Below are our favorite student card offers.
3. Secured Cards
If your credit history is short or you've had some problems with credit, you may want to consider a secured credit card. You'll have to make a cash deposit — usually of a few hundred dollars — to get a secured card.
The deposit isn't an amount you can spend like cash loaded onto a prepaid card. Instead, it's collateral for your card balance. If you miss a required payment, your card issuer can use your deposit to cover the amount, plus any fees you may owe.
A secured card can be a good way to build or improve your credit. Some secured cards offer perks and rewards. Others can be converted into an unsecured card after you demonstrate that you've used the card responsibly. Below are our top recommended secured cards.

at Capital Bank'ssecure website
No credit check necessary to apply. OpenSky believes in giving an opportunity to everyone.
The refundable* deposit you provide becomes your credit line limit on your Visa card. Choose it yourself, from as low as $200.
Build credit quickly. OpenSky reports to all 3 major credit bureaus.
99% of our customers who started without a credit score earned a credit score record with the credit bureaus in as little as 6 months.
We have a Facebook community of people just like you; there is a forum for shared experiences, and insights from others on our Facebook Fan page. (Search "OpenSky Card" in Facebook.)
OpenSky provides credit tips and a dedicated credit education page on our website to support you along the way.
Invest your tax refund to improve your credit by making the refundable deposit for your new secured card today
No Credit History or Minimum Credit Score Required for Approval
Monthly Reporting to all 3 Major Credit Bureaus to Establish Credit History
Credit Line Secured by Your Fully-Refundable Deposit of $200 -- $2,000 Submitted with Application
Nationwide Program though not yet available in NY, IA, AR, or WI *See Card Terms.
Apply in just a few moments with no negative impact to your credit score; no credit inquiry will be recorded in your credit bureau file
Invest your tax refund to improve your credit by making the refundable deposit for your new secured card today
Receive Your Card More Quickly with New Expedited Processing Option
No Credit History or Minimum Credit Score Required for Approval
Quick and Complete Online Application
Full-Feature Platinum MasterCard® Secured Credit Card
Nationwide Program though not yet available in NY, IA, AR, or WI *See Card Terms.
Use Credit Wisely to Build Positive Credit History
A key benefit of getting your first credit card (or cards) is that your card issuer typically will report your payments to the major credit bureaus — Equifax, Experian, and TransUnion. These companies compile your credit card and other debt payments into your credit history, or credit report, which is used to calculate your credit scores.
Making your card payments on time and in full every month shows that you can use credit responsibly and should help increase your credit scores over time.
A good credit score may help you get approved for more cards, including many that offer lower APRs, more perks, or more enticing rewards. You may also be eligible for higher credit limits for your cards.
With a higher credit score, you may also be offered lower rates and better terms for other types of loans, such as personal loans, auto loans, or home mortgages. A good credit score can save you a lot of money throughout your lifetime.
Advertiser Disclosure
CardRates.com is a free online resource that offers valuable content and comparison services to users. To keep this resource 100% free, we receive compensation from many of the offers listed on the site. Along with key review factors, this compensation may impact how and where products appear across the site (including, for example, the order in which they appear). CardRates.com does not include the entire universe of available offers. Editorial opinions expressed on the site are strictly our own and are not provided, endorsed, or approved by advertisers.