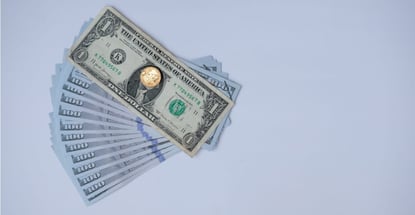 Don't worry if a bank has turned down your loan application because you can find affordable small loans for bad credit online.
A bank or credit union is typically the most challenging place to acquire loans unless you have an excellent credit history. Instead of spinning your wheels at a local financial institution, consider submitting a loan request to an online lending network.
The networks listed below will send your loan request to many different partner lenders all at once. Within minutes, you could have multiple loan offers from which to choose. And since most of these lenders specialize in bad credit loans, your credit history won't rule you out of consideration.
Small Personal Loans For Bad Credit
Unlike every traditional lender that requires its own loan application, the networks below allow you to apply to many lenders at once. Lenders then compete for your business by presenting you with their best loan offers. Each offer will come with a unique interest rate, loan term, and monthly payment obligation.
If you agree to accept a loan, you can complete your loan paperwork in a matter of hours and have money in your bank account by the next business day.
Short-term loans up to $5,000
Online marketplace of lenders
Funds available in as few as 24 hours
Simple online form takes less than 5 minutes
Trusted by more than 2 million customers
Not available in NY or CT
We've recommended MoneyMutual for years based on the network's extensive and ever-growing partnerships with lenders throughout the U.S. You can request a small loan from this network and receive a repayment term and interest rate in line with other short-term loan options on the internet.
If you decide to accept a loan offer, the network will transfer you to the lender's official website to complete your borrower paperwork and receive the proceeds of your small loan within one business day.
Loans from $500 to $10,000
All credit types accepted
Receive a loan decision in minutes
Get funds directly to your bank account
Use the loan for any purpose
is a bad credit personal loan network that offers larger loan amounts and can cater your repayment term and monthly payment to your budget and financial needs.
Each direct lender on this network can offer varying loan options for your bad credit personal loan. Depending on your credit score, you may qualify for an unsecured personal loan or a secured loan that requires collateral for approval.
Quick loans of up to $5,000
Submit one form to receive multiple options without harming your credit score
All credit ratings welcome to apply
Requires a driver's license, bank account, and SSN
Get your funds as soon as tomorrow
prides itself in providing quick loans, with some partner lenders offering expedited processing and payouts for an added fee. This network will consider your installment loan request regardless of your low credit score and offer emergency loan options in varying loan amounts.
Whether you're looking for a small personal loan or a larger unsecured loan that requires time to repay, BillsHappen will work to partner you with a lender that has your best interest at heart.
Loans from $250 to $5,000 available
Cash deposited directly into your account
Get money as soon as tomorrow
Bad Credit OK
More than 750,000 customers since 1998
With CreditLoan.com, you can qualify for a bad credit loan even if your credit isn't the best. Each online lender uses automated underwriting to make loan decisions in a matter of seconds and can pre-approve you at any time of the day or night.
And unlike a bad credit payday loan, these loans give you ample time to repay your debt with a monthly payment that works with your budget. Think of them as an alternative lender with a service that matches those of any traditional lending institution.
Loan amounts range from $500 to $10,000
Compare quotes from a network of lenders
Flexible credit requirements
Easy online application & 5-minute approval
Funding in as few as 24 hours
strives to live up to its name by providing bad credit loan options that come with quick approvals and payouts. Whether you qualify for a secured loan or an unsecured loan, you can have money in your account by the next business day.
Although these loans require a credit check with at least one credit bureau, the network claims that it often finds loan options for any borrower — even if you've been rejected elsewhere. And since your pre-approval doesn't include a hard inquiry on your credit report, it won't hurt your credit score to submit a loan request and review your options.
Loan amounts range from $1,000 to $35,000
All credit types welcome to apply
Lending partners in all 50 states
Loans can be used for any purpose
Fast online approval
Funding in as few as 24 hours
helps consumers of all credit types, including excellent credit, good credit, and even those who have bad credit. That means the network won't waste your time submitting your loan request to lenders that won't accept your credit score.
Even with a low credit score, you may still qualify for a larger installment loan with as many as 72 months (six years) to repay your debt. These lenders also offer short term loan options with a competitive interest rate and loan term.
Loan amounts range from $100 to $1,000
Short-term loans with flexible credit requirements
Compare quotes from a network of lenders
5-minute approvals and 24-hour funding
Minimum monthly income of $1,000 required
Current employment with 90 days on the job required
provides cash advance loans, otherwise known as a payday loan. These are ultra-short-term loan options that require repayment in full within seven to 30+ days, depending on your state's laws. These high-interest loans are intended to bridge paydays and don't allow for installment payments over time.
Your payday lender may accept your loan request without a credit check as long as you can show proof of enough income to repay your debt with your next paycheck. Although this is a convenient option, the high costs associated with cash advance loans make them better used as a last resort option.
What is Considered a Small Loan?
A small personal loan is typically considered any loan for less than $5,000 — though that number may vary based on the type of loan you receive.
For example, the mortgage industry may consider a loan of less than $100,000 to be a small loan. You won't find a mortgage lender that is lending $5,000 to purchase a home.
An auto lender has similar approval criteria as that of a personal loan lender. But with the average cost of a new vehicle eclipsing $40,000, auto lenders are accustomed to lending much more than $5,000.
The payday loan industry typically offers smaller loan amounts starting as low as $50. You will rarely find a cash advance loan for $5,000. That's because these loans have a very short repayment term and require a lump-sum repayment within seven to 30 days, depending on where you live.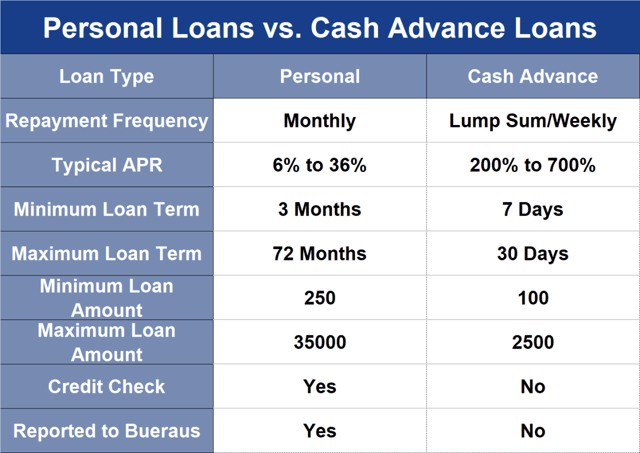 The online lending networks listed above specialize in personal loan options of varying loan amounts. A majority of the networks offer a minimum loan amount of $500, while some offer loans of as little as $250. CashAdvance.com sets its minimum bad credit payday loan at $100.
Where the networks differ is through their maximum loan amounts. For example, BadCreditLoans.com and CashUSA.com consider loan applications of up to $10,000. Most other networks cap their loans at $5,000.
Larger loans typically qualify for a longer repayment period. For example, no lender will give a borrower 12 months to pay off a $100 loan, but you may get an even longer repayment window if you're borrowing $5,000 or more. While longer repayment timelines will lessen your monthly payment, these longer-term loans will also add more interest payments onto your loan total and increase your debt load.
How Can I Get Approved For a Small Loan With Bad Credit?
In many cases, a bank or credit union won't consider a loan application from a borrower who has bad credit. That means you may have to look at an alternative lender to fund your small loan needs.
Several online lending networks specialize in small loans for bad credit. Each network sends your submitted loan request to the lenders it partners with. Thanks to automated underwriting, lenders can make loan decisions in a matter of seconds — at any time of day or night.
You'll receive an email within minutes after submitting your loan request with your loan decision. If you qualify, you may receive multiple loan offers to choose from. Each offer will have a unique loan term, loan amounts, repayment term, and interest rate.
If you find a loan offer that meets your needs, you can accept the terms, and the network will transfer you to the lender's official website where you will complete your official loan application. You may also have to undergo a credit check with at least one credit bureau.
The loan paperwork typically takes an hour or less to complete as long as you have all of your documents in order. The lender will then sign off on your loan and initiate the transfer of your loan proceeds to your checking account by the next business day. It may take longer to receive your funds if you apply on a weekend or holiday.
Some lenders offer expedited processing that puts money in your bank account the same day you're approved. This service typically charges a fee that is deducted from your loan proceeds.
What's the Easiest Loan to Get With Bad Credit?
A secured loan is often the easiest loan to qualify for — but these are also the riskiest and most expensive loans to deal with. A secured loan requires collateral for approval, which means that you'll have to place an item of value as security to back your loan against default.
A common form of secured loan is a pawnshop loan. To qualify for this loan, you bring a valuable item you own to a pawnshop and hand it over to the pawnbroker. The pawnbroker lend you a portion of the item's value (typically between 25% and 60%) and keep the item until you repay the loan.
If you satisfy the debt on time, you'll receive your collateral back. If you don't, the pawnbroker will keep your item. Pawnshop loans are easy ways to lose valuable items without much compensation. Since a pawnbroker may only lend you as little as 25% of the item's value, you could essentially sell the item for far less than it is worth.
A payday loan — or cash advance — is another form of secured loan that's relatively easy to qualify for. Like a pawnshop, a payday lender likely won't require a credit check for approval. You will need to show proof of enough income to repay the loan in full.
Instead of risking an item of value as collateral, your payday lender will require proof of your next paycheck to guarantee repayment. If you don't repay the loan on time, the lender will likely roll your loan into a new one with a higher origination fee and interest rate.
And since the average payday loan starts with a whopping 400% interest rate, you could end up paying thousands of dollars in interest for a small loan of $500 or less.
Convenient loans are great — but they're also expensive. Instead of risking your valuables for a small emergency loan, consider submitting a loan request to one of the online lending networks listed above.
A loan request won't harm your credit score, and you may be surprised by what you qualify for. Since the lenders that partner with these networks specialize in bad credit loans, you can often find approval with an online lender — even if other lenders reject your loan application.
What Credit Score Do I Need to Get a Loan?
Lenders seldom advertise their minimum credit score requirements for loans. This isn't to be deceptive but rather to invite all consumers to apply for their loans.
That's because your credit score is but one factor that determines whether you qualify for a loan. Your credit score will affect the interest rate of your personal loan, though, as portrayed in the following chart: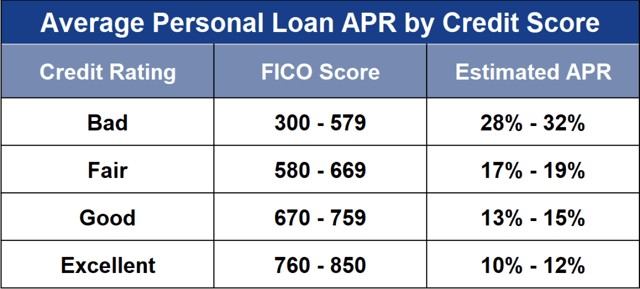 In addition to your credit score, lenders look at your recent payment history, your income, and how much debt you have.
Your credit score may come into play if you're looking for a larger loan. For example, a mortgage will be more dependent on your credit score than will a small personal loan. A credit builder loan or payday loan may not even look at your credit score during the application process.
In short, don't focus solely on your credit score when you're applying for a loan. Make sure all of your bills are current and that you don't have any recent delinquencies on your credit profile. Get all of your income and financial documents in order and be prepared to explain any recent negative items on your credit report to a lender.
Be honest and forthright with any information you can provide. This approach can help you gain trust with someone you're hoping to borrow money from.
Can I Get A Loan With No Credit Check?
Some lenders may offer you a loan without conducting a hard credit check. No-credit-check loans are generally payday loans and other short-term or secured loans. These types of loans generally include:
Pawnshop loans
Vehicle title loans
Cash advance loans
Secured loans require you to risk collateral to back your loan against default. If you cannot repay your debt, you could lose your collateral and any money you've invested in payments toward satisfying the debt.
Lenders look at several personal details related to the applicant, including their credit history, income, and recent payment history when considering a loan application. If lenders cannot access these details, they may choose to walk away from the deal or charge higher fees or interest rates to offset their risk.
These loans aren't impossible to find, but they're risky and often quite expensive.
How Can I Get a Loan If I'm Unemployed?
Most of the lenders that partner with the online lending networks listed above don't require a borrower to be employed or have a traditional job or income. Instead, the lender simply wants to know you have sufficient income to pay your debt obligations on time each month.
Your income doesn't have to come from employment. It can come from several sources, including but not limited to:
retirement benefits
Social Security
Alimony
child support payments
government benefits
Annuity payments
investment dividends
rental property profits
a structured settlement
Student financial aid
other regularly recurring payments
Even if you are employed and earn a steady paycheck, you can include any of the income sources listed above that you receive. This will pad your income and show the lender you make enough money to responsibly manage any loan you apply for.
Is a Cash Advance a Good Idea?
A cash advance loan — or payday loan — is seldom a good idea. These loans are intended to bridge paydays and often appeal to consumers who have bad credit and no other option for borrowing money during an emergency.
These loans can become predatory — with very high interest rates, an oppressive origination fee, and stringent rules for how and when you'll repay your debt.
Most cash advance loans require repayment whenever you receive your next paycheck, typically seven to 30 days from the date you receive your loan. You'll have to repay your loan in one lump sum, including interest.
Your interest rate can climb as high as 400% and get even higher if you don't repay your debt on time. A general rule of thumb is that you should expect to repay at least $15 for every $100 you borrow. The following map shows the average payday loan interest rate in each state: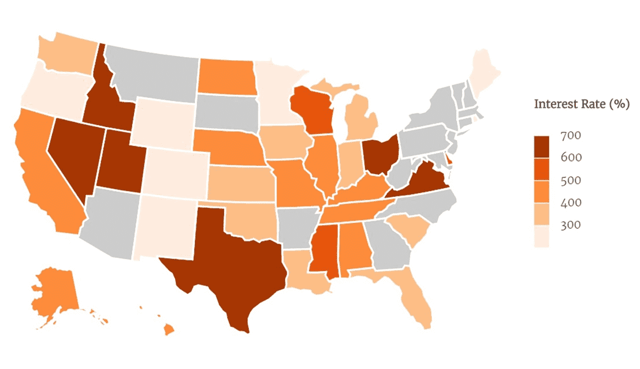 If you can't repay your loan on time, the lender will roll the debt into a new loan with penalties and a higher interest rate. This will continue to happen every two weeks until you repay the loan in full or until you've reached the maximum allowable number of loan rollovers in your state.
The amount you must repay can increase rapidly. For instance, one borrower ended up with more than $50,000 in interest fees on a $2,500 loan.
Only accept a payday loan or cash advance if you have no other option and desperately need the money. Also, make sure that you have a rock-solid plan in place to repay the loan on time and in full.
Can I Get a Small Business Loan With Bad Credit?
Banks and other lenders often require borrowers to use their personal credit history to apply for a small business loan. This is because it usually takes many years to build business credit — and very few small businesses have a long enough track record to qualify on their own.
But even if you have bad credit, you can still find small loans for your business through the online lending networks we rank above. Whether you accept a small personal loan in your name or apply for an SBA loan, you can find options for:
Small loans to build business credit
Small SBA loans
Invoice financing loans
Secured business loans
Not only will a bad credit business loan likely come with a higher interest rate, but you may have to accept a secured business loan that requires collateral — such as a piece of equipment or inventory — to secure your loan.
Can I Get a Loan at a Bank or Credit Union With Bad Credit?
Most traditional banks or credit unions will not consider an application from a borrower who has bad credit. This is because banks are publicly traded and have investors to answer to if they don't make money. As a result, they take on as little risk as possible.
The lone exception may be a credit union Payday Alternative Loan (or PAL). The National Credit Union Association designed these loans to help consumers avoid taking out a costly payday loan.
While you must have an account with the credit union to qualify, some institutions will allow you to open an account at the time of application. These are small loans with short repayment terms. Other details include:
Loan amounts between $200 and $1,000
Your loan repayment term will range between one and six months
You may have to pay an application fee of up to $20
Your maximum interest rate is 28%
You can only have one PAL every six months
You cannot have more than one PAL at a time
Since the NCUA designed these loans for high-risk consumers, you may qualify even if you have a very low credit score. To get more information on PAL opportunities in your area, contact your local credit union to see which loans they currently offer.
Get Approved for Small Loans For Bad Credit Online
The internet has made it as easy as ever to find small loans for bad credit. Whatever your needs or financial situation, an online lending network will attempt to pair you with a lender willing to work with your budget.
Instead of applying to several lenders and hoping one will accept your application, networks pit lenders against each other, which encourages them to send you their best offers in hopes of recruiting you. That means better rates and terms — and possibly higher loan amounts.
Advertiser Disclosure
CardRates.com is a free online resource that offers valuable content and comparison services to users. To keep this resource 100% free, we receive compensation for referrals for many of the offers listed on the site. Along with key review factors, this compensation may impact how and where products appear across CardRates.com (including, for example, the order in which they appear). CardRates.com does not include the entire universe of available offers. Editorial opinions expressed on the site are strictly our own and are not provided, endorsed, or approved by advertisers.