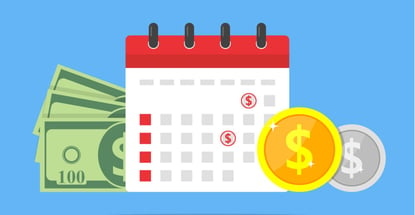 If your credit score is in the dumps and money is tight, you may want to seek out the best payday loans for bad credit. A payday lender can spot you some cash until your next payday, whatever your credit rating. Just be prepared for some hefty fees and interest rates.
Or consider a short-term installment loan instead — it costs far less and is available from most of these lending services. The reviewed loan networks below will prequalify your loan request and find you an appropriate lender, all for free.
Online Payday Loans For Bad Credit
All seven of the online services can connect you to a direct payday lender or a bad credit personal loan provider. They specialize in helping consumers with subprime credit access a small loan for short periods.
To prequalify for a loan, you must be at least 18 years old, live in the United States, and be able to demonstrate reliable income — the minimum amount varies by lender.
Short-term loans up to $5,000
Online marketplace of lenders
Funds available in as few as 24 hours
Simple online form takes less than 5 minutes
Trusted by more than 2 million customers
Not available in NY or CT
Our top-ranked lender-connecting network is MoneyMutual due to its high approval ratings and variety of offerings. Notwithstanding your bad credit score, the company may be able to find you a small bad credit payday loan (as little as $200) if you will be receiving an income check within the next couple of weeks. Prequalification requires that you collect at least $800 a month from a reliable source, such as a job, pension, or Social Security.
Loans from $500 to $10,000
All credit types accepted
Receive a loan decision in minutes
Get funds directly to your bank account
Use the loan for any purpose
Although CashUSA is located in Las Vegas, it can find you a loan throughout the United States, as permitted by your state. Its network is composed of tribal and state-licensed lenders that will work hard to approve your request for a short-term unsecured loan. If you collect at least $1,000 a month after taxes, CashUSA may be able to prequalify your loan request without a hard pull of your credit file.
Quick loans of up to $5,000
Submit one form to receive multiple options without harming your credit score
All credit ratings welcome to apply
Requires a driver's license, bank account, and SSN
Get your funds as soon as tomorrow
BillsHappen can prequalify you for a short-term installment loan with a loan term as short as three months. This kind of loan charges less interest than a payday loan. You may prequalify for a no-credit-check loan despite having poor credit, and if you are approved, the money will arrive in your bank or credit union account as quickly as the next business day.
Loans from $250 to $5,000 available
Cash deposited directly into your account
Get money as soon as tomorrow
Bad Credit OK
More than 750,000 customers since 1998
Headquartered in Tampa, CreditLoan will try to quickly prequalify you for an online personal loan without a hard pull of your credit history. The company connects prequalified customers to a direct lender on its network to complete the loan process. More than 33 million visitors have taken advantage of the various tools, such as the loan calculator, offered on the CreditLoan® website.
Loan amounts range from $500 to $10,000
Compare quotes from a network of lenders
Flexible credit requirements
Easy online application & 5-minute approval
Funding in as few as 24 hours
If your floundering credit score has you singing the blues, reach out to a warm welcome from Bad Credit Loans. Based in Tacoma, the lender-connecting service can prequalify you for a loan if you can demonstrate a regular monthly income as well as a valid email address, phone number, and active bank account. The company's lender network can arrange several types of loans, including a handy revolving credit line.
Loan amounts range from $1,000 to $35,000
All credit types welcome to apply
Lending partners in all 50 states
Loans can be used for any purpose
Fast online approval
Funding in as few as 24 hours
PersonalLoans can arrange a wide range of signature loan amounts and terms, all featuring APRs that beat those charged on payday loans. To receive no-credit-check prequalification, you must submit proof showing $500 or more of reliable monthly income. The PersonalLoans network offers additional services, including credit repair, debt settlement, and credit monitoring services.
Loan amounts range from $100 to $1,000
Short-term loans with flexible credit requirements
Compare quotes from a network of lenders
5-minute approvals and 24-hour funding
Minimum monthly income of $1,000 required
Current employment with 90 days on the job required
CashAdvance, based in Utah, has been arranging payday loans since 1997 through its lender network. You can receive prequalification for a bad credit loan with full repayment due the next time you get paid. You'll have to show the required minimum after-tax income of $1,000 per month and provide your phone number, email address, and bank account number.
What is a Payday Loan?
A payday loan (also known as a paycheck cash advance) is a way for workers with bad credit to borrow a modest amount of money over a short repayment term tied to their next paycheck, usually one or two weeks. It can come in handy as an emergency loan when you need money before your next payday. It is neither a secured personal loan nor a car title loan, but rather a loan based upon proof of your regular income.
You repay a bad credit payday loan all at once, on the due date. Normally, the lender will debit the money directly from your checking account.
If you have insufficient funds in your account, you'll be hit with an NSF penalty from your bank and late fees from the lender. You'll then have to rollover your loan to your next pay cycle, triggering more fees and interest charges.
The main reason to get a payday loan is that your minimum credit score is much less important than your income. Some lenders may even skip a hard credit check as long as you can document enough reliable income to show you'll be able to repay the loan on time. This is important because, unlike a secured loan or car title loan, a paycheck cash advance is an unsecured loan without the backing of collateral.
You may not be in a position to come up with a lump sum repayment of a payday loan due in one or two weeks. If so, consider an installment loan instead. This is a bad credit personal loan with a monthly payment term lasting three to 72 months.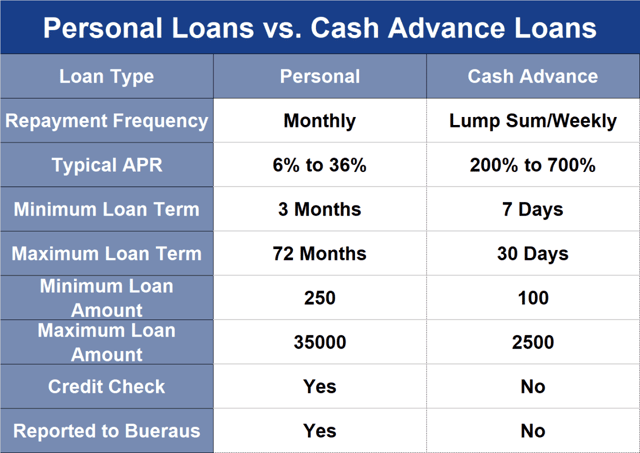 Typically, a personal loan charges a lower interest rate than that associated with payday loans but is more likely to require a credit check. A personal loan takes longer to repay, so the interest can mount up over time. Keep in mind that 85% of payday loans get rolled over at least once, so they too can suffer from swollen interest charges.
Where Can I Get a Payday Loan?
While you could go to a local brick-and-mortar payday advance store to get your money in a few minutes, it may be more convenient to obtain your loan online if you can wait until the next business day.
Naturally, you must live somewhere reasonably close to a payday store to get an in-store paycheck cash advance. Some states outlaw payday loans, so getting one may require you to travel to a neighboring state.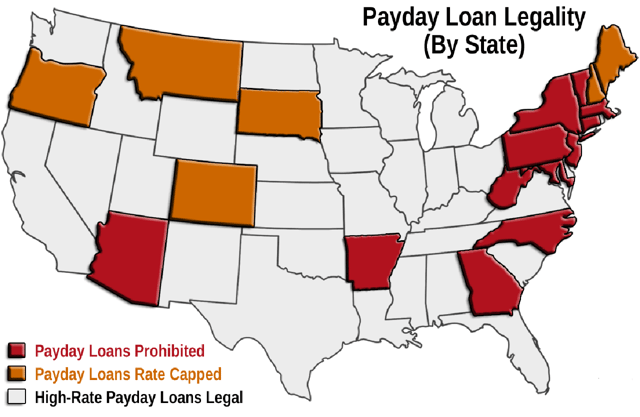 The online lender-connection services reviewed in this article have national networks that allow folks in most states to take a small loan on a short-term basis.
Most of the reviewed lenders provide personal loans instead of, or in addition to, payday loans. Only one, Utah-based CashAdvance, is strictly devoted to payday loans. MoneyMutual offers both types of short-term loans.
Online payday loans are available in most states, but you'll have to check with the lender to see if your state is eligible. The states of Connecticut, Maryland, Massachusetts, Pennsylvania, Vermont, and West Virginia never permitted payday loans, and the District of Columbia repealed its permission.
Can I Get a Payday Loan if I Have Bad Credit?
When you use an online lender-connection service, it's normally assumed that you have bad credit. This article reviews seven online bad credit loan services for consumers with bad credit. They all share a similar two-step application process for a paycheck cash advance or short-term unsecured personal loan — prequalification and application.
You can kick off the prequalification process by completing a loan request form or online questionnaire. This step does not require a hard pull of your credit files, and therefore will not affect your credit rating.
The prequalification step determines whether you meet the minimal requirements, which include:
U.S. citizenship or permanent residency
Being at least 18 years old
Reliably collecting no less than the minimum required monthly income, subject to verification
Having an email address, active checking account, and a telephone number
Optionally, you may also have to provide your Social Security number and records showing your monthly payment for rent/mortgage and current debts
If you pass the prequalification step, the lending-connecting service will check its network for an appropriate direct lender that is the most likely to approve your request. You'll then be transferred to the direct lender's website and the loan application step will begin.
The direct lender's loan application form is more detailed than the prequalifying loan request form. Sometimes, the connection service will prepopulate the application with the information it gathered from the request form. You'll then be asked to fill in any other required information.
Many but not all direct lenders will perform a hard pull of your credit. Hard pulls may cause your FICO score to drop five to 10 points, but the damage lasts no more than one year.
If the lender approves your application, it will give you a loan option list containing the loan term, loan amount, interest rate, fees, and so forth. This is your opportunity to examine the fine print before signing the loan agreement. Within one to two business days, your loan proceeds will be deposited in your account at your bank or credit union.
There is always the possibility that a lender-matching service will be unable to find a direct lender willing to offer you a loan. Nonetheless, you may receive referrals to other debt service companies, such as those offering debt consolidation or debt relief.
Honest lender-connecting services never charge a fee. They instead make their money by collecting finders' fees from direct lenders. Truthfully, it's often said that payday loan interest rates are far too high even for a high-risk borrower, and we couldn't agree more.
How Can I Get a Loan Without a Credit Check?
It is possible to get a loan without a credit check, but the option is not universally available. A credit check involves the collection of payment data and other information. Also, some lenders only require a soft credit check, whereas others require a hard credit check.
A soft credit check doesn't harm your credit rating. When you check out your own credit rating, the inquiry will always be soft. This also pertains to credit checks run by parties other than those attempting, with your permission, to open a new account.
A hard credit check is only used when you authorize a third party to open a credit account — a loan or a new credit card, for example — on your behalf. Most loan applications include fine print stating that your loan request automatically grants authorization to the lender.
Payday loans may not require a hard credit check, but personal loans usually perform a hard check. In both cases, prequalification may require just a soft credit check.
Bear in mind that prequalification doesn't mean you'll get the loan, but it certainly is a hopeful sign. The decision to approve or decline a loan application rests with the direct lender, not the loan-matching service. The lender is ultimately responsible for approving loans and setting terms.
A payday lender is more interested in your ability to repay a loan than your credit record. For bad credit consumers, payday loans may be easier to obtain than personal loans. However, if no credit check is done, you won't have the opportunity to improve your credit score by having your on-time payment transactions posted to a credit bureau.
In other words, if you want the benefits of payment tracking from a credit bureau, you'll have to submit to a hard credit check.
A no-credit-check loan usually carries a higher interest rate than loans that pull your credit. There's nothing mysterious going on — when you ask a lender to ignore your credit history, you are admitting that the history is unfavorable.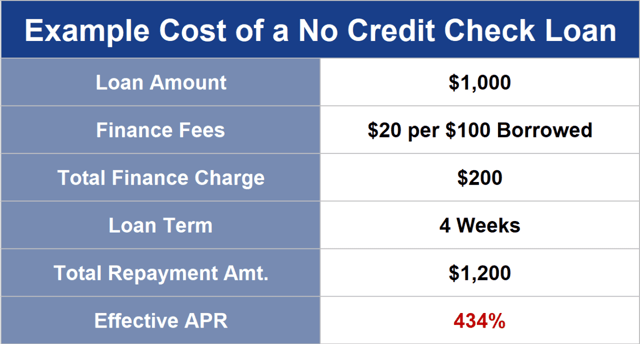 The higher interest rate compensates lenders for the greater risk they undertake by offering you a loan.
Are There Any Legitimate Online Loans For Bad Credit?
Our policy is to review only reputable lender companies that we consider legitimate, and the online loan providers evaluated above fit the bill. That is not to say that online lenders, and indeed many online companies, have had to put up with some bad apples doing damage to the otherwise reputable lender industry.
Due diligence on your part would be to check external reviews and ratings for any payday loan lender you are considering. You can look at the lender's status on the Better Business Bureau website and on rating services like Trustpilot.
What Are the Signs of a Predatory Lender?
A predatory lender, often called a loan shark, uses abusive or unfair practices to dupe and intimidate a borrower. You can recognize predatory loans by the financial penalties they impose for late repayment. These can include astronomical origination fee charges and even higher interest rates.
Also, predatory lenders often hide or misrepresent the loan terms, and frequently approve loans they know you will have trouble repaying. They usually charge a ridiculously high interest rate that only desperate borrowers would consider.
Here is a rundown of the seven worst signs of predatory lending:
Four-digit interest rates: We've seldom seen a payday loan with an APR below 200%, and rates of 400% to 800% are common. Once rates exceed 1,000%, it becomes difficult to treat the loan as anything other than predatory. The highest APR we've seen so far was 2,200%. Make sure you read and understand a loan agreement before signing it. Don't be confused by monthly interest rates masquerading as annual rates — APRs are the only way to compare different loans with each other. Astronomical interest rates can lead to a cycle of debt that is hard to escape. Often, the exit off this crazy train is bankruptcy.
Additional costly services: Be on the lookout for items you don't need, like credit insurance. Some lenders will push these added items, even making the loan contingent upon accepting the extras.
Extra fees for bad credit borrowers: Your low credit score may affect your ability to get a loan, but it should not trigger extra fees. Watch out for the old bait-and-switch, where the payday loan lender claims at the last minute that you don't qualify for the loan you wanted, instead steering you to a costlier product with higher fees. To combat this type of abuse, know your credit score and credit report contents before applying for a loan.
Asking for collateral: Payday loans are predicated on your ability to repay the loan in full when you next get paid. Asking for collateral, a practice that the Federal Trade Commission calls equity stripping, should not be part of the equation, and can simply be a way for the lender to strip you of your home or car. If you want to use collateral, you'd be better off seeking a home equity loan or cash-out vehicle refinancing loan, both of which will charge much less interest. Whenever you post property for a secured personal loan or payday loan, you run the devastating risk of losing a vital asset.
The bum's rush: Your spidey sense should tingle whenever a lender tries to rush you through the paperwork. It's your right to read through the loan agreement and any associated documents before affixing your signature. Doing so helps you understand whether you can afford the loan and to uncover any terms in conflict with the lender's verbal representations. When lenders hurry you to sign, they may be trying to cover up unfair terms and undisclosed fees. Also, be careful when the lender asks you to sign a second set of documents because they may have terms that differ from the original. Don't allow critical fields to be left blank, as the lender may go back afterward and fill them in to modify the agreement.
Foul rollovers: Many payday loan borrowers roll over their loans because they can't repay them on time. Typically, payday lenders charge a fee for rollovers. But be on the lookout for higher interest rates when you renew the loan. Sure, a 400% APR is bad enough, but 1,200% or 2,400% are ridiculous. They can become a one-way ticket to destitution and a rendezvous with a bankruptcy judge.
The big lie: Outright lying is the absolute proof of a loan scam. This may be accompanied by pressure to sign a loan agreement without being shown the legally mandated loan disclosures. It's equally crooked for a lender to ask you to lie on your loan application form to help win loan approval. For example, the lender may ask you to invent income you don't really have. You are aiding and abetting fraud if you go along with these purposeful misrepresentations, and that may land you in a world of trouble.
The Consumer Financial Protection Bureau (CFPB) has taken action against lenders for bullying payday borrowers into a "cycle of debt." According to CFPB Director Richard Cordray:
"This culture of coercion drained millions of dollars from cash-strapped consumers who had few options to fight back. The CFPB was created to stand up for consumers and today we are taking action to put an end to this illegal, predatory behavior."
However, in July 2020, the CFPB removed a rule that had forced lenders to verify that borrowers can repay their loans on time. We are confident that the CFPB has been able to retighten its oversight following the change of administration in 2021.
If you feel you've been victimized by a predatory lender, you can file a complaint with one or more state and federal agencies.
What Are the Disadvantages of Payday Loans?
Payday loans charge high APRs and fees. They do nothing to solve long-term financial problems and drain you of resources you could use to improve your economic situation. Loan rollovers are common and result in expenses that rival the original amount borrowed.
You must also spend time documenting your income and any other information requested by the lender. Some of this information may be sensitive — you don't want it to be hacked and distributed online.
Compare the Best Payday Loans For Bad Credit
Our survey of the best payday loans for bad credit shows that you have options despite a less-than-stellar credit rating. The seven reviewed lender-matching companies provide you the opportunity to quickly obtain cash when you need it.
If possible, consider a short-term personal bad credit loan instead of a payday loan — the terms are friendlier, and they are easier to repay.
Final Notes on "7 Best Payday Loans For Bad Credit (Sep. 2023)"
We hope this guide "7 Best Payday Loans For Bad Credit (Sep. 2023)" has been a helpful resource for you in learning more about your financial options. In this guide, we've covered:
Online Payday Loans For Bad Credit
What is a Payday Loan?
Where Can I Get a Payday Loan?
Can I Get a Payday Loan if I Have Bad Credit?
How Can I Get a Loan Without a Credit Check?
Are There Any Legitimate Online Loans For Bad Credit?
What Are the Signs of a Predatory Lender?
What Are the Disadvantages of Payday Loans?
Compare the Best Payday Loans For Bad Credit
To learn more about options not mentioned here, be sure to check out other popular reviews from our team of experts:
We also encourage you to check back at this URL regularly, as we update the offers listed in "7 Best Payday Loans For Bad Credit (Sep. 2023)" and other guides on a daily basis.
Advertiser Disclosure
CardRates.com is a free online resource that offers valuable content and comparison services to users. To keep this resource 100% free, we receive compensation for referrals for many of the offers listed on the site. Along with key review factors, this compensation may impact how and where products appear across CardRates.com (including, for example, the order in which they appear). CardRates.com does not include the entire universe of available offers. Editorial opinions expressed on the site are strictly our own and are not provided, endorsed, or approved by advertisers.