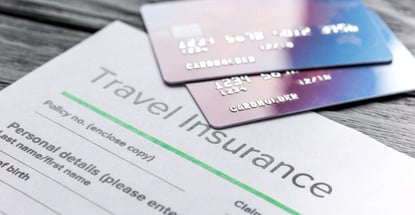 You may be surprised to learn how few credit cards provide comprehensive travel insurance. That's why we have identified the best of the bunch and reviewed them below. You generally need a good to excellent credit score to obtain any of these cards.
And a critical reminder: The insurance details differ for each card, so please read the benefits statement to understand coverages and limitations.
Top Credit Cards With Travel Insurance Coverage
Issuers had travelers in mind when they designed these credit cards. All offer various travel-related benefits, including some form of insurance. Cards with higher annual fees typically provide more extensive insurance, but even some relatively inexpensive travel cards can offer valuable coverage.
Chase Sapphire Reserve® is our pick as the best credit card for travel insurance. True, it charges a hefty annual fee, but its welcome bonus, benefits, credits, and rewards repay you handsomely. You also receive a reimbursement for TSA Precheck and Global Entry fees.
This card delivers the complete package of travel insurance coverage. By familiarizing yourself with each benefit, you can avoid wasting money on unnecessary policies. Add in the card's other travel and non-travel benefits, and you've got the gold standard of credit card value. The card targets consumers with an excellent credit score.
The Chase Sapphire Preferred® Card provides trip cancellation insurance that also covers interruptions and delays. Its reasonable annual fee includes a handsome welcome bonus and many other perks.
If your trip is canceled or cut short due to sickness, severe weather, or other covered situations, the card can reimburse you up to $10,000 per person and $20,000 per trip for your pre-paid nonrefundable travel expenses. Coverage includes passenger fares, tours, and hotels.
The Platinum Card® from American Express may be the best credit card for travelers who prefer no preset spending limits. It also provides many travel-related benefits, including car rental insurance and reimbursement of TSA PreCheck and Global Entry fees.
When you use the card to reserve and pay for the entire rental and decline the collision damage waiver at the rental company counter, the card covers your rental vehicle for damage or theft. This insurance is secondary and does not include liability coverage. You may also unlock extra value when you book your trips through American Express Travel.
The Ink Business Preferred® Credit Card from Chase has the same moderate annual fee as the Chase Sapphire Preferred® Card. It provides business owners and their employees with many travel protections, including a rental car collision damage waiver, trip cancellation insurance, and roadside dispatch.
The card also offers purchase protection, cellphone insurance, and extended warranties. And business owners can get additional employee cards at no extra cost. The card rewards eligible purchases with Chase Ultimate Rewards points worth 25% more when you redeem them for travel.
The Capital One Venture X Rewards Credit Card is the issue's premier travel card. Its annual fee is in between those of the Sapphire siblings. The card delivers primary car rental loss and damage insurance, trip price drop protection, lost luggage reimbursement, and trip delay coverage. 
If something goes wrong on your trip, including an accident, illness, or death that causes you to cancel or terminate it, you, your spouse, and dependent children are covered for up to $2,000 per person in expenses. Booking through Capital One Travel ensures you'll get the issuer's best prices on thousands of options.
U.S. Bank Altitude® Reserve Visa Infinite® Card offers several types of travel coverage, including auto rental collision damage waiver, trip cancellation/interruption insurance, trip delay reimbursement, and travel accident insurance. This Visa Infinite card covers your transport to the nearest medical facility for treatment if you are sick or injured.
You also get luggage reimbursement for checked or carry-on luggage up to $3,000 if lost or stolen. Additionally, you can get help with medical, legal, and travel services while you're away from home. 
The Delta SkyMiles® Platinum Business Card from American Express provides insurance covering trip delays, lost, stolen, or damaged baggage, and car rental loss and damage.
The card also offers several travel benefits, including priority boarding, free baggage check, 20% back on in-flight purchases, and no foreign transaction fees. When you renew your card each year, you receive a domestic, main cabin, round-trip companion certificate. You can book your trips through Delta or American Express Travel.
What Are the Different Types of Travel Insurance?
Travel insurance is a broad term denoting any credit card coverage that reimburses you when something goes wrong on your trip. You must use the card to book and pay for the trip. 
Here, we describe the primary forms of travel insurance available from the reviewed credit cards. Not all travel credit cards provide every type of insurance.
Travel Accident Insurance
Travel accident insurance covers you for up to a set limit in cases of accidental death or dismemberment. The insurance covers any public mode of transportation, including travel by air carrier, train, ferry, bus, courtesy ground transportation, and other conveyances. 

Coverage for accidents involving courtesy ground transportation applies to and from an airport and between terminals. The coverage is active while you are at the airport immediately before departure or after arrival on any scheduled covered trip.
The policy typically covers you regardless of other coverage you may have.
Trip Cancellation/Interruption Insurance
This benefit reimburses you and your family for the nonrefundable cost of your passenger fare. Coverage may apply to more than air travel — it also can cover other forms of eligible transportation, including a ferry, train, bus, or cruise ship. 
A set maximum coverage per trip applies. Coverage usually excludes trips canceled as a result of a pre-existing condition, accidental injuries arising from participation in some sporting events, racing or speed contests, or uncertified scuba diving.
Additionally, the ill or injured person cannot have been under the influence of drugs (except those prescribed and used as directed by a physician) or alcohol.
Trip Delay Insurance
You can receive a cash reimbursement or statement credit of up to a maximum amount when a carrier delays your flight by more than a set number of hours or when you need to stay overnight. Trip delay insurance covers reasonable expenses that you would not have had to purchase if you had been on your flight, such as food, a hotel stay, or transportation to the hotel and back to the airport.

This coverage typically is in place, even if the delay is due to bad weather or mechanical problems. This benefit works in addition to airline vouchers for food or hotel stays. Coverage includes the time you spend on the tarmac waiting to take off.
Remember to save your receipts — you'll need them when filing your claim. Coverage usually includes you, your spouse, and your dependent children.
Luggage Insurance
You receive reimbursement for your checked or carry-on luggage and its contents, up to a maximum per trip or bag, if lost due to theft or misdirection by the airline.
You typically must file a report with the common carrier before leaving the premises. You'll eventually receive a claim form you must submit by a set date. Certain items are not covered, so read the card's terms and conditions carefully.
Rental Car Insurance
Rental car collision damage waiver (CDW) provides reimbursement for damage due to collision or theft for most rental vehicles when you travel within the US and abroad. Coverage requires you to decline the rental car's CDW.
Primary CDW kicks in before your auto insurance, but most travel credit cards offer secondary CDW that fills the gaps in your primary policy. Coverage extends to the renting cardowner and any additional drivers the rental company permits.
Coverage may be for a limited amount or the actual cash value of the vehicle and usually includes towing charges and valid loss-of-use charges that the rental agency incurs. Rental periods qualifying for this coverage cannot exceed a set number of consecutive days.
The insurance usually lists several exclusions, so read the fine print to know what's covered and what's not.
How Should I Choose a Credit Card For Travel Insurance?
Here's a checklist to help you decide which travel credit card suits you best.
Types of Coverage
Ask yourself which types of coverage you need. Inevitably, more coverage means higher annual fees, so limit your choice to one that doesn't saddle you with unnecessary credit card insurance.
For example, if you prefer to drive your own car rather than fly, you may not be interested in baggage or rental insurance. Travel delay, cancellation, and interruption coverage may be of little value.
A collision damage waiver is unnecessary unless you plan to drive a rental car — in which case, you may also want travel accident insurance and emergency medical/dental coverage.

On the other hand, air travelers may want the full suite of credit card insurance policies, especially when traveling abroad. Visa Infinite cards and World Elite Mastercards offer a broad range of coverages, as do some American Express cards.
The safest bet is to review the benefits summary from each card on your list. You can usually view these summary documents online.
Limits and Restrictions
Some coverages sound great at first, only to disappoint when you discover their low coverage limits. Check the maximum amount you can claim for each type of coverage and any eligibility requirements (including age, types of travel, pre-existing conditions, etc.).
Some cards offer travel insurance that's valid worldwide, but others may have country-specific exclusions. You should also check if you must pay for the entire trip with the card to be eligible for coverage.
Costs
A card's most obvious cost is its annual fee. Expect to pay more for the most extensive coverage, but weigh the yearly fee against the card's benefits.
We prefer travel cards that do not charge foreign transaction fees on purchases abroad. This fee is typically 3% for the cards that impose it. Better cards waive the fee.

Also, check the card's APR if you plan to finance your travel over multiple billing cycles. It's always cheaper to pay your entire balance monthly and avoid interest charges altogether.
Other Perks and Benefits
Features beyond travel insurance can influence which card you choose. For example, check whether the card offers cash back, points, or miles. If it provides miles, you'll get more versatility from generic miles than those in an airline's frequent flyer program. But if you always fly the same carrier, you may want a cobranded air miles card.
Many travelers will pay a higher annual fee for cards that provide extensive access to airport lounges. Not all lounges are equal, so research the ones each card supports. You also want to find out any limitations on the number of uses per year and whether guests must pay a fee.
Concierge service may be a lifesaver when you need to make last-minute plans or reservations. Many travel cards offer this service, but its usefulness varies from card to card.
Usability and Reviews
A fundamental question is whether foreign merchants will accept your card at your destination. Check whether the card offers 24/7 customer service worldwide (most in this bracket do).
Many financial websites provide in-depth reviews and comparisons of credit cards. You also want to look for reviews from other users who have had experience with a card's handling of travel insurance claims.
What Are the Pros and Cons of Credit Card Travel Insurance?
Credit card travel insurance can offer various benefits, but it also has limitations. Here are some pros and cons to consider:
Pros
Convenience: You don't need a separate policy If you use a credit card with good travel insurance. Managing travel insurance through your credit card is less of a hassle.
Cost savings: Separate travel insurance, especially for frequent travelers, can be expensive. You'll save money when your credit card provides the insurance. 
Automatic coverage: You automatically receive coverage when you pay for trips with your card. Automatic coverage simplifies insurance processing.
Comprehensive packages: The best travel cards offer extensive travel insurance packages that cover a broad range of events, including trip cancellations, lost luggage, and medical emergencies.
Bonus rewards: Many cards that provide travel insurance offer travel rewards in the form of points or miles you can redeem for future travel.
Additional perks: Top-shelf credit cards offer travel-related benefits, such as airport lounge access, car rental insurance, and concierge services. These extras add value to the card.
Ease of claims: The best-known credit card companies usually streamline their claims processing. You want customer service to assist with your needs around the clock and anywhere in the world.
Consider whether a travel credit card with good benefits belongs in your wallet. But before you do, check out some of the potential downsides they present.
Cons
Travel cards are not perfect. Here are some concerns to consider regarding their travel insurance policies:
Limited coverage: Credit card travel insurance is often more limited than standalone policies. For example, credit cards might not cover high-risk activities or pre-existing medical conditions.
Lower payouts: The maximum coverage amounts from travel cards may be lower than those from standalone travel insurance policies.
Conditional eligibility: Typically, you must pay for the entire trip using your credit card to qualify for coverage. This rule can be inconvenient if you use another method, such as vouchers, to pay for part of the cost.
High Annual Fees: Cards with the best travel insurance benefits often charge high annual fees. This expense might not be worth the benefits you receive if you don't travel frequently.
Foreign transaction fees: Some cards that offer excellent travel benefits may charge foreign transaction fees, which can add up when you're abroad. We prefer credit cards that waive this fee.
Complicated terms and conditions: Credit card travel insurance often imposes many exclusions, conditions, and limitations that can make it confusing to understand the coverage.
Potential denial: The insurer may deny claims that don't meet the card's specific terms and conditions.
Weighing these pros and cons can help you make an informed decision.
Do Visa Cards Have Travel Insurance?
The three Visa card tiers are Traditional, Signature, and Infinite. Visa card issuers usually provide the benefits associated with each tier, but this isn't always the case. That's why you must read a card's fine print to know what benefits you can rely upon.
Visa Traditional
The Visa Traditional tier offers modest benefits. Regarding travel insurance, these cards provide roadside dispatch coverage that includes tire changing, jump-starting, lockout service, fuel delivery, and standard winching and towing.
Emergency cash and card replacement are valuable benefits during foreign travel. The issuer will replace your card in one to three days after you report it lost. Alternatively, Visa can arrange for cash to be available at a location near you, usually within hours of your bank's approval.
Visa Signature
Visa Signature adds travel and emergency assistance to the benefits from the Visa Traditional tier. Covered Visa cardholders can call anytime for help worldwide.
Your Visa Signature Card gives you access to a multilingual call center — 24 hours a day, 365 days a year. Cardholders, their spouses, and dependent children under 22 years of age can call a dedicated toll-free number in the United States or call collect when traveling abroad.
The types of assistance include medical referrals, emergency transportation, emergency message delivery, prescriptions, and legal referrals. You also get emergency ticket replacement, a lost luggage locator, and emergency translation services.
Visa Infinite
Visa Infinite supplements the travel insurance benefits of Visa Signature with several additional coverages, which we described earlier. They include the following:
Travel accident insurance
Trip cancellation/interruption insurance
Trip delay reimbursement
Lost luggage reimbursement
Visa Infinite adds several significant types of insurance that help explain why these cards typically charge high annual fees.
Do Mastercards Have Travel Insurance?
Mastercard offers three tiers — Standard, World, and World Elite — analogous to Visa's tier structure.
Standard Mastercard
The Standard Mastercard tier offers global emergency assistance worldwide, in any language at any time. You can get a replacement card, obtain an emergency cash advance, or find the nearest ATM. You also receive rental car insurance with a Standard Mastercard.
World Mastercard
Graduating to a World Mastercard provides several additional benefits, including a hotel stay guarantee. Mastercard will assign you a lifestyle specialist to resolve your issue or find other suitable accommodations. This coverage applies only to hotels with ratings of three or more stars.
You also get worldwide automatic insurance for travel accidents and trip cancellations or interruptions.
World Elite Mastercard
World Elite Mastercard increases the maximum coverage for travel insurance. You also get a flight delay pass that provides access to airport lounges. World Elite Mastercard may include lost/delayed baggage reimbursement and medical emergency assistance.
Travel With Peace of Mind
A credit card with travel insurance can come in handy if something goes wrong on your trip. Our review of travel cards with the best insurance features points you to several worthy candidates to add to your wallet. For those who can afford it, the cards with the best coverage are worth the high annual fees. Because traveling with peace of mind is priceless.
Advertiser Disclosure
CardRates.com is a free online resource that offers valuable content and comparison services to users. To keep this resource 100% free, we receive compensation for referrals for many of the offers listed on the site. Along with key review factors, this compensation may impact how and where products appear across CardRates.com (including, for example, the order in which they appear). CardRates.com does not include the entire universe of available offers. Editorial opinions expressed on the site are strictly our own and are not provided, endorsed, or approved by advertisers.