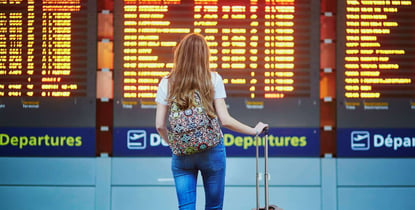 Undergraduates on the move ought to learn about the best travel credit cards for students. These cards offer rewards that save money when flying off to college, back home for the holidays, around the US for spring break, and to foreign lands for summer vacations and semesters abroad. 
Student credit cards are helpful even if your travel involves nothing more than a local commute to school. For example, you can cash in your rewards to help pay for everyday expenses on or off campus. 
Student travel cards are versatile, valuable, and easy to obtain. We review eight of the best, all solid choices for the student on the go.
Best Student Credit Cards With Travel Rewards
Here we review student credit cards that provide rewards for travel-related purchases ranging from gas at the pump to airplane flights. They cost little to own and can help you stretch your payments over multiple months. Best of all, they're available even if you have no credit history.
With bonus rewards on restaurant and gas purchases, the Discover it® Student Chrome can save you money on trips to and from home — or on your everyday purchases. This option can help students who spend a decent portion of their money on dining and gas. It is the best travel credit card for students, and perhaps the best credit card in the group.
In addition to your regular rewards, new cardmembers get a Cashback Match on all cash back earned during the first 12 months of account ownership. You also can earn rewards for referring friends who become cardmembers.
The Bank of America® Travel Rewards credit card for Students is a flexible credit card with no rewards caps. You can also earn a modest points bonus if you are a Bank of America customer with a checking or savings account.
The card doesn't charge an annual or foreign transaction fee, which is perfect for students who like to travel. You earn points for each eligible purchase, and the points never expire. There are no blackout dates for travel rewards, which you can use to pay for travel and dining purchases.
The Bank of America® Customized Cash Rewards credit card for Students provides cardmembers cash back rewards in a purchase category of their choosing, including travel purchases. It frequently offers a 0% intro APR promotion and a signup bonus.
The downside is that the card limits the earnings available for the bonus rate each quarter.
The Discover it® Student Cash Back card has quarterly rotating categories that frequently include travel-related expenses like dining and gas. Plan your road trip to coincide with one of these bonus travel categories and maximize your savings.
Cardowners receive essential security features, including activity and fraud alerts, instant account freeze and unfreeze, and $0 liability if your card gets stolen, lost, or used fraudulently. Late payments won't raise your APR, and there's no penalty for your first late payment.
The Capital One Quicksilver Student Cash Rewards Credit Card provides cash back on every purchase with no rewards caps. Travel benefits begin with a $0 foreign transaction fee. 
You can also earn bonus cash back when you book hotels, rental cars, and select entertainment via Capital One Travel. 
Best Travel Credit Cards Students Can Apply For
Attending college doesn't limit you to student credit cards. These credit cards offer travel benefits without charging an annual fee. Upperclassmen who've used a student card to build credit may want to consider moving up to one of these travel cards.
The Discover it® Miles card provides rewards that let you fly any airline, anytime, without restricting you to a particular carrier or certain times of the year. New cardmembers get a Miles-for-Miles Match for all rewards posted during the first 12 months following account opening.
You can cash in your miles at any time and in any amount. Alternatively, you can use them to pay for travel purchases, including flights and hotels. As with all Discover cards, this one doesn't charge an annual or foreign transaction fee.
The Capital One VentureOne Rewards Credit Card is a popular travel credit card due to its generous rewards and flexible redemption options. You can use your miles for cash back, a trip booked through Capital One Travel, or for reimbursement of any eligible travel expense.
Alternatively, you can transfer your points to more than a dozen travel loyalty programs. You earn bonus miles when you use Capital One Travel to book hotels and rental cars.
The Delta SkyMiles® Blue American Express Card offers a simple way to earn Delta SkyMiles®, plus travel benefits including free checked bags and priority boarding. The card pays bonus miles for dining expenses and direct purchases from Delta.
You can redeem your miles for discounts through the Pay with Miles program when you book travel on delta.com. You also get $0 foreign transaction fees, a discount on in-flight purchases, and car rental loss insurance. 
What Is a Student Credit Card?
A student credit card allows cardholders to make purchases and shop online. Most college students have little income or credit history, let alone a good credit score. Issuers design student credit cards with these facts in mind.
Student cards typically have low credit limits because their owners usually have modest incomes and can't afford a lot of credit card debt. The cards give students a way to build credit by making on-time payments and keeping unpaid balances well below their credit limits. 
Over time, card issuers may raise the credit limits of cardmembers who practice good financial habits.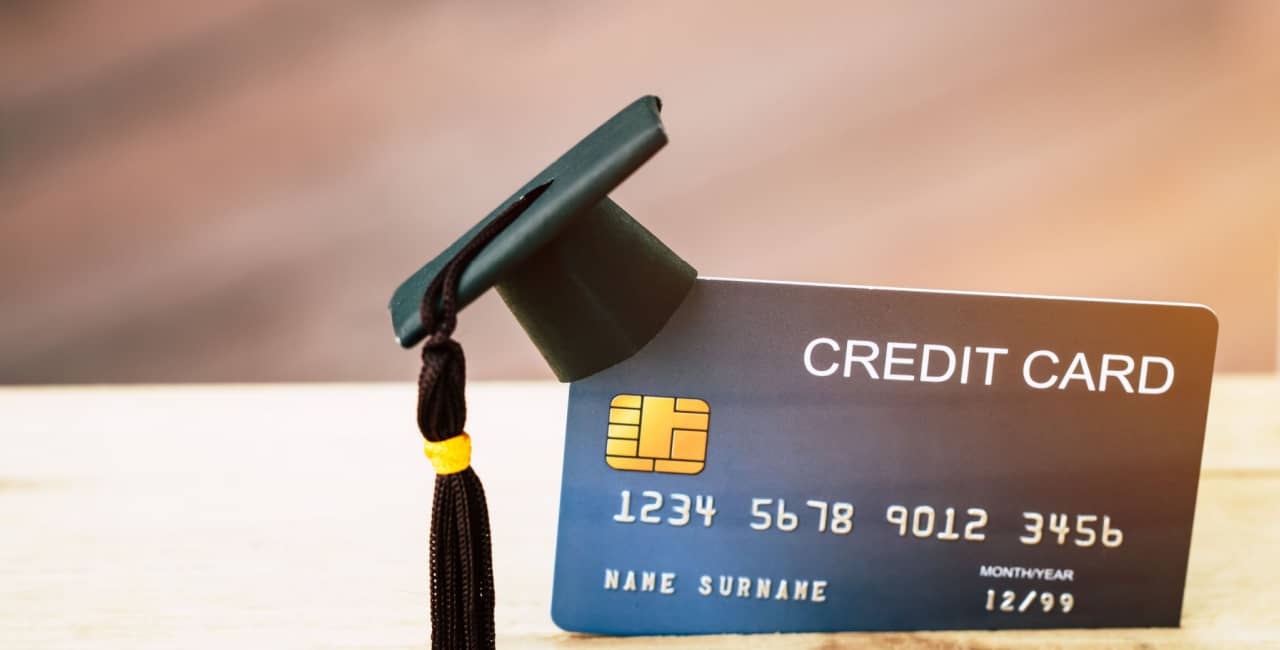 Student card benefits vary. Some cards provide a statement credit for each approved referral. Many have perks that are not available from traditional cards for limited credit, such as free Amazon Prime student services, cellphone insurance, and a statement credit for certain streaming services.
Some common benefits include $0 fraud liability, rewards for eligible purchases, ATM withdrawals (cash advances), no foreign transaction fee, no annual fee, balance transfer promotions, and special deals for card membership.
How Do I Get a Student Credit Card?
Credit card issuers invest heavily in student credit cards, hoping to build brand loyalty that will outlast the college years. This is why they don't demand that applicants have good credit. Student cards offer perks well beyond those of traditional cards for limited credit.
Applying for a student credit card online takes only a few minutes. You will probably have to provide information about your enrollment status, income, and housing costs. You should receive quick approval if you meet the card's eligibility standards.
What Makes a Credit Card Good For Travel?
The typical travel rewards credit card makes travel cheaper, more convenient, and more secure. Credit cards offer several benefits such as travel insurance and rewards that help save you some money.
Travel-Related Benefits
The best travel cards offer a wide variety of benefits that may include:
Access to exclusive dining and entertainment venues
Accident and emergency insurance
Airport lounge access
Around-the-clock concierge service
Free baggage check
Lost luggage reimbursement
Reimbursement for TSA Precheck and Global Entry fees
Rental car insurance and roadside protection
Travel credits
If you plan to travel, spend some time comparing student credit card features and select the travel rewards credit card that best matches your needs. 
Rewards
Travel credit cards provide rewards (usually in the form of miles or points) that reduce the costs of your trips. These include:
A signup bonus: Travel cards may attract new card membership by providing a large sum of rewards worth $100 or more when owners spend a set amount on purchases during the first three months after account opening. Some premium travel cards offer bonuses of 100,000 or more miles.
Intro 0% APRs: Your card may offer six months or more in which you don't have to pay interest on purchases and/or balance transfers (debt transferred from another card to a new card). This allows you to spread your payments over multiple billing cycles without interest charges.
High reward rates for travel purchases: While some travel cards offer a single flat rate on all purchases, others provide multiple reward tiers with 2X to 5X (or higher) rates. The highest rates usually apply for travel, entertainment, and dining expenses. You may also earn bonus miles for purchases of groceries and gasoline.
General-purpose travel cards offer points or miles you can redeem for flights and seat upgrades on any carrier. You may also redeem your rewards for cash back, gift card offers, and merchandise. Several card issuers enhance the value of rewards when you book travel through their travel agencies. 
For example, the Chase Sapphire Preferred® Card issues Chase Ultimate Rewards points that gain 25% in value when you use them to pay for the travel you book through Chase Travel. If you own the Chase Sapphire Preferred® Card and Chase Freedom Flex℠, you can transfer your Flex Ultimate Rewards to your Sapphire card and receive the same value boost.
American Express and Capital One provide similar perks when you use their travel portals. 
Co-branded cards offer the frequent flyer miles of the sponsoring airline and its travel partners. In most cases, you can't get cash for your miles, but you may be able to use them to buy the carrier's gift card offerings or transfer them to partnering loyalty programs.
The number of points or miles you need for a free flight varies by credit card, carrier, and flight details. For general-purpose travel cards, the monetary cost of a flight determines the required points or miles, usually worth one cent each. If a flight costs $500, you would need 50,000 points to fly free.
The value of carrier-specific frequent flyer miles is even more variable because airlines set (and often change) the number of miles you need for a free flight. 
Can Students Qualify For Travel Credit Cards?
Normally, you must be enrolled at least half-time in an undergraduate college or trade school to get a student credit card. Card issuers may require proof of enrollment, such as a copy of your college student identification card, recent transcripts, or current semester schedule. 
Each credit card company sets its own eligibility requirements for its student credit cards. For example, Journey Student Rewards from Capital One doesn't require proof of college enrollment, but applicants must meet its credit and income standards. (Information for this card not reviewed by or provided by Capital One.)
Other requirements for student cards may include:
US citizenship or permanent residency
Minimum age of 18
If under 21, an income source such as a part-time job, scholarship, or grant
A Social Security number (although the Deserve® EDU Mastercard doesn't require this from international student applicants)
The 2009 CARD Act requires you to have an adult cosigner if you're under 21 and can't provide verifiable proof of independent income.
Which Travel Credit Card Is Easiest For Students to Get?
Almost all college student credit cards are easy to obtain. The student card issuers may skip credit checks or ignore the results. They don't expect students to have any prior experience with credit cards or any history of using credit. 
However, issuers may reject applicants who've had significant credit problems, a scenario more likely for folks who delayed the start of college. 
Alternatively, students with poor credit may prefer to apply for a secured credit card. For example, the Capital One Quicksilver Secured Cash Rewards Credit Card and the Discover it® Secured Credit Card are similar to their student card siblings. 
These cards require a cash deposit, typically $200 or more, to establish a credit limit of equal size. Security deposits almost always remove the approval barriers that poor credit erects. 
While student credit cards usually offer the best perks, secured cards can often match or beat student card rewards. 
Student cards boast unique features, such as cash rewards for academic achievement. But secured cards may offer benefits not typically available from student cards. For example, the Secured Sable ONE Credit Card provides cellphone protection and car rental insurance without a credit check.
Does a Student Need More Than One Credit Card?
Students undoubtedly benefit from having at least one credit card because it helps them build the credit they'll need after graduation. Good credit reduces the cost of car loans and makes renting an apartment or obtaining a mortgage easier. 
The case for additional cards hinges on how responsibly you use the first one. Your lifestyle may not require a second credit card, even if you are entirely creditworthy. Nonetheless, additional credit cards can be helpful for several reasons:
More available credit: A second card provides another credit line, increasing your ability to finance purchases. The additional line can also reduce your credit utilization ratio (i.e., credit spent divided by total credit available) below the critical 30% level. A low CUR helps to improve your credit score.
More positive information: Assuming you can successfully juggle multiple credit cards, the increased volume of payment reporting can accelerate credit building. 
More rewards: Different cards have different reward schemes. You may be able to increase your harvest by using the credit card with the highest rewards for each category of spending.
More emergency funds: If you suddenly need money, an additional card may source a second cash advance to help get you through.
A balanced view demands you also consider the possible downsides of multiple credit cards:
Overspending: If you charge too much on multiple credit cards, you may be unable to make your monthly payments. Even if you can afford the minimum monthly payments, your interest expenses could eat into your income and hamper your lifestyle. You also may inflate your CUR above 30% and harm your credit score.
Credit card applications reduce credit scores: Most card issuers check your credit when you apply for a new credit card. Each credit check can reduce your score by a few points and remains on your credit report for two years. It's best to wait at least six months between new credit applications. 
Greater risk of theft and fraud: Each card is the potential target of a thief or fraudster. Or one may simply fall out of your wallet. Having extra cards means more work tracking your spending and looking out for misuse.
For students who frequently travel on a favorite airline, it may be a good idea to have one co-branded airline card and another general-purpose rewards card for flights on a less-favored carrier.
If you are more likely to take a road trip than a flight, consider getting one or more gas credit cards to supplement your student card. Co-branded gasoline cards usually offer the best rewards at the pump but provide few other perks. 
Ultimately, you must balance your need for extra credit cards with their cost. Happily, you can always close a credit card account if you're in too deep. 
Students Can Travel in Style With the Right Credit Card
Our review of the best travel credit cards for students should assure you that the right card is out there, waiting for you to apply. These cards have low costs, good rewards, and the ability to build credit. They also provide a way to learn about managing personal credit so you can develop financial skills by the time you graduate. 
Many young people underestimate the potential risks of travel. Owning a credit card that provides critical protective features such as accident insurance and roadside assistance should reassure student cardholders, or at least their parents.
Advertiser Disclosure
CardRates.com is a free online resource that offers valuable content and comparison services to users. To keep this resource 100% free, we receive compensation for referrals for many of the offers listed on the site. Along with key review factors, this compensation may impact how and where products appear across CardRates.com (including, for example, the order in which they appear). CardRates.com does not include the entire universe of available offers. Editorial opinions expressed on the site are strictly our own and are not provided, endorsed, or approved by advertisers.