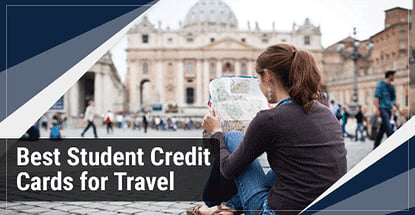 Finding the best travel credit cards for students may seem like a daunting task with all the cards out there these days, but we've narrowed it down to some of our favorites.
No matter who you talk to, it seems that just about everyone simply loves to travel (though few of us seem to have the time for it). In fact, according to one study, we don't just love traveling, we like it — social media "likes," that is. And not only do we love to like travel-inspired social media posts, but a desire for similar social media fanfare can drive our decisions on where we travel.
From semesters abroad and summer exchanges to gap-year gallivanting and spring break road trips, travel has long been part and parcel of the student experience — whether you travel for your major or just the props from your major followers. In today's digital era, the easiest and safest way to pay for travel is often your trusty credit card, and student cards are no exception.
Travel Rewards | Cash Back | Travel Tips
Best Student Credit Cards with Travel Rewards
In many cases, the best cards for travel are ones that reward you for that travel. While the top tier of travel rewards credit cards will require you to have a well-established credit history and good to excellent credit, you can still find decent travel rewards as a student who may still be working on building credit.
Our favorite picks for student travel rewards credit cards include options for earning rewards directly for travel expenses, like airfare or hotels, as well as cards that reward travel-related expenses, including gas and dining. Even better, these cards won't eat into your rewards with a costly annual fee.
1. Discover it® Student chrome
This card is currently not available.
Offering bonus cash back on gas and restaurant purchases, the Discover it® Student chrome may save you a bundle on your summer road trip — or just your everyday necessities.
2. Deserve Pro Mastercard®
The Deserve Pro Mastercard® is intended for students who have already started establishing their credit histories. The card provides bonus cash back on travel, entertainment, and dining, and charges no foreign transaction fees.

Earn 3% cash back on eligible travel and entertainment purchases made with your card
Earn 2% cash back on eligible restaurant purchases
Pay no annual fee
Keep in mind that Deserve Pro Mastercard® bonus category rewards are limited to the first $500 combined net purchases per billing cycle. All other eligible card purchases will receive an unlimited 1% cash back.
3. Bank of America® Travel Rewards for Students
The Bank of America® Travel Rewards for Students is a flexible travel rewards card that provides an unlimited 1.5 points per $1. Bank of America customers with an active checking or savings account can earn a 10% customer points bonus, as well.

Earn an unlimited 1.5X points per $1 in eligible purchases made with your card
Pay no foreign transaction fees on purchases in other currencies
Pay no annual fee
Adding to the travel appeal of the Bank of America® Travel Rewards for Students is the fact that the card doesn't charge any foreign transaction fees, saving you money abroad. Plus, enjoy a one-time signup bonus for meeting the minimum spending requirement within the first 90 days of account opening.
+See More Travel Rewards Cards
Best Student Credit Cards with Cash Back
Although the broader consumer credit card world has dozens of travel rewards credit cards, the number of travel-focused student credit cards is limited — but you still have other rewards options. In particular, a general cash back credit card can be a great tool while you travel, both domestically and abroad, providing a little extra boost to your bottom line no matter where you use your card.
When looking for an all-purpose card you intend to take overseas, one of the biggest concerns should be whether the card charges foreign transaction fees. These fees are charged on purchases in foreign currencies, and they can be costly over the course of a trip to another country. Some of our top-rated student credit cards with cash back rewards are free from foreign transaction fees and won't charge annual fees, either.
4. Discover it® Student Cash Back
This card is currently not available.
The Discover it® Student Cash Back has quarterly rotating categories that often include travel-related expenses like gas and dining. Plan your getaway in sync with one of these bonus travel categories and you'll be set to maximize your travel savings.
Earn 1% cash back on all your purchases. Pay on time to boost your cash back to a total of 1.25% for that month
Earn $5 per month for 12 months on Select Streaming Subscriptions when you pay on time. *Exclusions Apply
Enjoy no annual fee and no foreign transaction fees
You can help build your credit with responsible use of a card like this
Pick the monthly due date that works best for you
Be automatically considered for a higher credit line in as little as 6 months
On top of its unlimited 1% cash back rewards, the Journey Student Rewards from Capital One card provides a pay-on-time cash back bonus to help encourage positive credit-building behaviors. On-time payments can also increase your credit line, potentially giving your credit score a boost. This card also charges no foreign transaction fees, making it a good choice for taking abroad.
6. Deserve Edu Mastercard®
The Deserve Edu Mastercard® is specifically designed for students who need to build their credit. The card offers 1% cash back on all purchases, and a limit up to $5,000, depending on your credit.

Earn unlimited 1% cash back on all eligible net purchases made with your card
Deserve will pay for Amazon Prime Student, up to $49 lifetime total
Pay no annual fee
You can take the Deserve Edu Mastercard® on the road and abroad, all without worrying about paying foreign transaction fees on your purchases. The card also comes with fraud protection for extra peace of mind.
Tips for Traveling on Credit
In many ways, the biggest draw of traveling abroad is also one of its biggest hurdles, namely exploring a whole new culture. Beyond the basic challenges of language barriers and societal idiosyncrasies, every new culture you explore also comes with its own currencies and financial systems. While traveling with your credit cards generally won't require anything special if you're not leaving the US, once you start crossing country borders things tend to get more interesting.
To start, each credit card network has a different level of acceptance worldwide. Visa dominates by pure transaction volume, and Visa and Mastercard are accepted in the largest number of countries. At the same time, Discover is accepted by a larger number of total merchants globally. So, the first thing to do before traveling with a credit card is to check with your credit card network to verify that you can use your card when you arrive at your intended destination.
Once you know which card you'll be using, you'll need to let your issuer know you intend to travel outside the country. Many issuers have fraud alerts in place that will automatically freeze a card used outside its home country without notice.
Another security concern when using credit overseas is the nature of your card. While the EMV chip card has become as ubiquitous in the US as it is abroad, the US version uses a signature to verify purchases, while many other countries, including most of the UK, uses a four-digit PIN rather than a signature.
Depending on where you are traveling, many merchants will still have the ability to accept your chip-and-signature credit card, but others won't — including many automated kiosks, like those found in train stations. Some card options available in the US will allow you to add a PIN to your credit card to facilitate purchases in chip-and-PIN dominated locations. Contact your issuer to see if this is an option.
One of the best reasons to use a credit card for purchases abroad is that you won't need to worry about buying in other currencies when you use a credit card. That's because credit card networks will automatically make any necessary currency conversions while it completes the purchase transaction.
That said, some credit cards will charge the cardholder a foreign transaction fee for the currency conversion process, which typically ranges from 2% to 4% of the total transaction amount. Thankfully, you can easily avoid costly foreign transaction fees simply by choosing a credit card that doesn't charge them.
Make Travel Easier with the Right Card
Traveling can be a great experience for a student — and for many more reasons than the boost to their social media presence. Exploring a new culture can inspire us to new heights, generate new ideas, and even add a little perspective on the bigger picture.
And while all that culture and perspective aren't always cheap, especially on a student budget, you can make it a little more affordable (not to mention simpler and safer) by using a great student rewards credit card. Of course, all the rewards in the world won't pay for high interest fees, so always remember to pay your bill in full each month to avoid interest charges and never charge more than you can afford to repay in a timely manner.
Advertiser Disclosure
CardRates.com is a free online resource that offers valuable content and comparison services to users. To keep this resource 100% free, we receive compensation from many of the offers listed on the site. Along with key review factors, this compensation may impact how and where products appear across the site (including, for example, the order in which they appear). CardRates.com does not include the entire universe of available offers. Editorial opinions expressed on the site are strictly our own and are not provided, endorsed, or approved by advertisers.