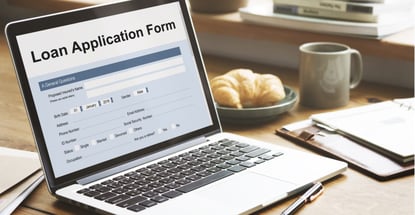 We've researched the best same-day loans online for quite some time. And although the market continues to evolve as new competitors enter and old ones exit, one thing remains the same.
There's always strength in numbers. That's why we continue to favor online lending networks over individual lender websites. With a lending network, you can submit one loan request — which doesn't harm your credit score — and have several lenders potentially bid for your business.
These networks essentially allow you to apply to many lenders with one soft credit pull. And since each lender competes for your business, you can expect to get the best possible interest rate, monthly payment, and loan term.
Keep reading to see our recommended lender networks or you can skip ahead to the FAQs.
Best Same Day Personal Loans Online
Online lending networks allow you to submit a loan request at any time of the day or night. Thanks to automated underwriting software, lenders can make a credit decision in a matter of seconds. If you qualify, you could receive an email moments later with multiple loan offers to choose from.
The loan paperwork typically takes an hour or less to complete, and you can have your funds deposited into a linked checking account within one business day.
Short-term loans up to $5,000
Online marketplace of lenders
Funds available in as few as 24 hours
Simple online form takes less than 5 minutes
Trusted by more than 2 million customers
Not available in NY or CT
MoneyMutual is our favorite lending network because it boasts one of the largest groups of partner lenders that specialize in quick loans for consumers with poor credit to excellent credit. The application process is fast and easy, and you can receive loan decisions in a matter of minutes.
All applicants must be 18 years old, have a checking account in their name, and provide proof of employment with a minimum income of $800 a month.
Quick loans of up to $5,000
Submit one form to receive multiple options without harming your credit score
All credit ratings welcome to apply
Requires a driver's license, bank account, and SSN
Get your funds as soon as tomorrow
BillsHappen partners with lenders that specialize in short term loan products in various loan amounts. Unlike a traditional bank or credit union, these lenders have flexible acceptance standards and work quickly to put money in your bank account in one business day or less.
You must provide a valid driver's license number, Social Security number, home or cellphone number, bank account information, home address, and employment or benefits income information to apply. Applicants must also be at least 18 years old and a U.S. citizen or permanent resident.
Loans from $500 to $10,000
All credit types accepted
Receive a loan decision in minutes
Get funds directly to your bank account
Use the loan for any purpose
If you need a larger loan, CashUSA.com offers flexible signature loan products that allow you to extend your repayment term to as many as 72 months. This network accepts applications from consumers with any credit history and has dedicated partner lenders for just about any credit level.
Not every borrower will qualify for a 72-month loan. Your repayment term and loan amounts will vary by lender and will depend on your credit history and several other factors.
Loans from $250 to $5,000 available
Cash deposited directly into your account
Get money as soon as tomorrow
Bad Credit OK
More than 750,000 customers since 1998
CreditLoan offers quick decisions on every loan application — and even considers requests for loan amounts as small as $250. This tried-and-tested network has helped hundreds of thousands of consumers find fast loans and has more than two decades of experience in the business.
Whether you're looking for a small loan or a large loan, CreditLoan's partners can process your application quickly and get you back to your day with the peace of mind that money is on the way.
Loan amounts range from $500 to $10,000
Compare quotes from a network of lenders
Flexible credit requirements
Easy online application & 5-minute approval
Funding in as few as 24 hours
If you need a bad credit loan, why not go straight to the source? BadCreditLoans.com partners with lenders that claim that they can often accept applications from consumers who can't find loans elsewhere. And despite being subprime lenders, you can often find loans with a very competitive interest rate, monthly payment, and loan term.
Each loan offer you receive from this network will differ. You may qualify for a large loan amount through some lenders or be offered a lower interest rate with others. Study each offer carefully before you accept the terms.
Loan amounts range from $1,000 to $35,000
All credit types welcome to apply
Lending partners in all 50 states
Loans can be used for any purpose
Fast online approval
Funding in as few as 24 hours
PersonalLoans.com has two distinct groups of reputable lenders. One only works on bad credit loans and another curates personal loan packages for consumers who have good and excellent credit. Bad credit borrowers can qualify for up to $5,000 in fast loans, while those who have good credit can apply for up to $35,000 in signature loan funds.
The amount of time it takes to process your loan will vary based on the lender. You can speed up the process by making sure you have all of your financial documentation prepared before you submit your application.
Loan amounts range from $100 to $1,000
Short-term loans with flexible credit requirements
Compare quotes from a network of lenders
5-minute approvals and 24-hour funding
Minimum monthly income of $1,000 required
Current employment with 90 days on the job required
An online payday loan can put money in your account quickly — but the loans from CashAdvance.com aren't for everyone. You have to repay all of the money in one lump sum, including interest, usually within 14 to 30 days. And these loans come with a very high interest rate that often climbs to around 400%.
Your payday lender will also apply more fees and an even higher interest rate if you cannot repay your debt on time. While this is a fairly simple option to qualify for — one that may not even require a credit check — you should still approach an online payday loan with caution.
How Can I Get a Loan the Same Day?
Many types of loans offer same-day approvals with quick funding for qualified applicants. While online lenders allow you to submit a loan request at any time of the day or night, you'll need to apply at the right time if you want same-day approval.
Although each lender that partners with our top online loan networks can process loan requests in a matter of seconds — even in the middle of the night — you'll need to formally apply during standard business hours to get truly fast approval.
Once you receive your loan decision, you can begin filling out the standard loan paperwork. Your timing on this doesn't really matter. But keep in mind that a loan officer will have to approve your paperwork before you can officially close your loan and get your money, which only happens during business hours.
If you complete your loan paperwork at midnight after a long evening of work, you may have to wait until midday to get the final approval. Loan officers review paperwork on a first-come, first-served basis, so it could take a few hours after the lending company opens until it's your turn.
The same goes for applications submitted late on a Friday, during the weekend, or on a holiday. If the lending office isn't open, your loan will wait in a queue to close. That means you won't get your money until one business day after closing.
So a loan application submitted late on a Friday may not be funded until Tuesday. But a loan application submitted early on a Tuesday could be deposited into your account no later than Wednesday.
How Do I Apply For a Loan Online?
The online lending networks listed above can prequalify you for a loan in a matter of seconds. For most networks, you can fill out your loan request on the network's website and get direct lender decisions to your email box all in a matter of minutes.
In many cases, you can receive several loan offers to choose from. The time it takes to complete your loan after that depends on you.
Once you choose an offer that suits your needs, the lending network will forward you to the lender's website, where you'll complete a formal loan application that may require a full credit check. As long as there's nothing present on your full credit report that wasn't obvious during the initial soft credit pull, you'll qualify for the loan and can proceed.
The standard loan paperwork takes less than one hour to complete. Most lenders make it easy to complete this step at any time — even after hours. Once you submit your required forms, a loan officer will have to review the paperwork before officially signing off on your loan. That can only happen during normal business hours.
After you get the final approval, the online lender will make a direct deposit of your funds to a linked checking account or bank account. You should receive your money within one business day.
As long as you prepare in advance for what's needed on your loan application — and you choose to apply during business hours and not on a weekend or holiday — you should have no problem closing your loan the same day that you apply.
Things you should have on hand during the application process include your:
Name
Address (physical and email)
Phone number (home, cellphone, and work)
Social Security number
Employment information
Income information (including potential scans or photos of a recent paycheck stub)
Loan amount requested
Reason for needing a loan
Different lenders will require different information on your loan application, but this data is standard procedure.
While you may be in a hurry to complete your loan, you shouldn't rush certain steps. If you receive several loan offers to choose from, make sure you study each option before deciding which is best.
Every loan offer will have a unique annual percentage rate (APR), repayment term, and monthly payment. Don't simply jump at the loan offer that has the lowest recurring payment. That loan may also have a longer loan term, which means you'll pay more interest to satisfy the debt.
In most cases, your credit history will determine your interest rate and other key details, but some lenders may also tack on other charges or an origination fee without you noticing. A little investigative work before agreeing to a loan can save you a lot of money over the long haul.
What's the Easiest Loan to Get With Bad Credit?
The easiest loan to get — in terms of qualifying and funding — is a secured loan. But just because it's easy doesn't mean it's the right loan product for you.
Every loan comes with a level of risk for the direct lender. If the borrower stops making payments, the lender can lose a lot of money.
A secured loan takes much of the risk out of the lending process. With this loan type, the borrower has to provide some form of collateral to serve as security against loan default.
A common type of secured loan is an auto loan. This uses the newly purchased vehicle as collateral. If you stop making payments, the lender can repossess your vehicle and sell it to recoup some of the lost money.
Other secured loan types include a pawnshop loan, a title loan, and a home equity loan. These loans lessen much of the lender's risk and places it in the borrower's hands. You will lose all of the money you've paid into the loan, as well as your collateral if you can't make your payments.
Although these loans are easy to obtain — some don't even require a credit check — you may want to consider an unsecured loan for your borrowing needs. These loans won't require collateral and aren't as hard to qualify for as you may think.
Short-term loans up to $5,000
Online marketplace of lenders
Funds available in as few as 24 hours
Simple online form takes less than 5 minutes
Trusted by more than 2 million customers
Not available in NY or CT
The lending networks listed above all offer unsecured personal loan options that won't place restrictions on how you use your borrowed money. These lenders consider applications from consumers with any credit history. Many applicants with very bad credit still find loan offers in their email box after submitting a loan request.
And since these are installment loan products, you can repay your debt over time with a series of monthly payments that the online lender structures to fit your needs and budget. These networks will consider requests for a personal loan, an emergency loan, and even a business loan, which makes them flexible and easy to deal with.
While the word "easy" isn't typically thrown around in the financial world, these same day loan products are about as easy as they come.
How Can I Get a Loan ASAP?
If you have good or excellent credit, you may qualify for a quick cash loan from your local bank or credit union. Depending on the amount you need to borrow, you may be able to get in and out of a branch with money deposited into your account in a matter of an hour.
If you don't have a spotless credit history, you may still qualify for a quick loan. Just be aware that fast doesn't always equal best. Your options may include:
Pawnshop loan: This is typically a fast loan that doesn't require a credit check. Instead, you must provide valuable collateral that the pawnbroker will keep if you fail to repay your debt. These loans can typically close in less than one hour.
Title loan: With a title loan, you use the title to your vehicle as collateral against default. If you miss payments, you could lose your vehicle. You can usually obtain a title loan without a credit check in less than two hours.
Payday loan: Perhaps the most expensive of them all, a payday loan lender may charge more than 400% interest and require repayment in full within 15 to 30 days. If you can't meet that deadline, the loans get even more expensive. You can qualify for a payday loan without a credit check in less than one hour.
Borrow from a friend or family member: Although this fast loan may not risk your valuables if you default, there's still plenty at stake with this form of personal loan. One mistake could end a friendship or fracture a family relationship. Proceed with caution.
Credit card cash advance: If you have credit available on a credit card, you can take the card to an ATM and withdraw cash, up to the allowable limit. Credit card cash advances begin to accrue interest the day you withdraw the funds, so be sure to pay the amount back as soon as possible. No credit check or approval from the card issuer is required and the money is available to you immediately.
As you may see from above, the fastest short term loans often come with the greatest borrower risk. Instead of looking for the fastest loan, consider a loan that can still get you quick cash, but may take a day to complete.
With the online lending networks above, you can qualify for a personal loan that won't require collateral, allows you to repay your debt through a series of monthly payments, and won't break the bank (or your family bonds).
Best of all, you can apply for one of these loans and get final approval in as little as one hour. Once you complete your loan, you will receive your funds into a linked checking account or savings account within one business day.
Which Banks Do Same Day Loans?
Most bank or credit union establishments can complete same day loans, depending on how much money you need to borrow. A personal loan, for example, may provide access to as much as $15,000 — and sometimes more. Many banks can approve qualified applicants for this type of loan in a matter of hours and have the money in your account before you leave your bank branch.
In some scenarios, you can even apply for this type of loan online and without ever needing to set foot in a bank branch.
A large loan — such as a 30-year mortgage — will take longer to complete. Many mortgages take up to one month before funding. You can either shorten or extend this time frame depending on your credit history and how prepared you are with the paperwork needed to qualify for such a loan.
To get through your loan application process quickly and painlessly, consider the following:
Your relationship with the bank or credit union: If you've maintained an account for a long time without any issues, a financial institution is more likely to consider you for a fast loan. New applicants who come fresh off the street with no relationship history come with more risk.
Your credit history: If your credit report has red flags, such as late payments or high balances, a bank's loan officer may want to take more time to investigate your potential risk.
Your paperwork: A loan officer may want to view your W-2 or pay stubs or need other information to prove that the information on your application is accurate. If you need to go home to dig up that paperwork, it will extend the time it takes to receive a loan decision.
Your overall needs: A bank's loan officer will ask you what you intend to do with the money you're borrowing. Your answer could factor into how fast you get approved. Is the amount you're seeking reasonable, too much, or just plain weird? For example, requesting $80,000 to finance a riding lawn mower may cause a bit of a slowdown in processing time.
Preparation is the key to getting in and out of a bank loan appointment quickly — and with a positive result. Bring along any paperwork you may need. Be prepared to answer any question a loan officer may ask. Even provide proof of the cost of whatever you want to finance.
Being prepared also shows your responsibility, which lenders like to see from prospective borrowers.
Can I Get a Loan With No Income?
Lenders want to know that you have enough incoming money to repay any debt you incur. Most people think this has to include income from regular, full-time employment. That's not always the case.
Lenders that partner with the online loan networks listed above will accept income from a variety of nontraditional sources. By adding these regularly occurring payments to your application, you could qualify for a quick loan — even without a conventional job.
These sources can include:
government benefits
disability benefits
retirement income
Social Security income
alimony
child support
a structured settlement
investment income
rental property income
an annuity
student aid
And you aren't limited to just one source of income on your loan application. Even if you're employed, you can add any other income you receive to your standard paychecks to boost your income numbers and increase your odds of loan approval.
Just be prepared to provide any supporting documentation to show how much money you receive from these sources, as well as how often the payments arrive.
What is a Payday Loan?
A payday loan — also known as a cash advance loan — is a short term loan product that requires repayment in one lump sum, including interest, in either 15 or 30 days. These loans got their name because they are designed to act as a bridge to your next payday. This is why you have such a short time frame to repay your debt.
Besides the quick turnaround, a cash advance loan also has an extraordinarily high interest rate. You should expect to pay up to 400% in interest charges — or approximately $15 for every $100 you borrow. The map below shows the average payday loan interest rate in each state: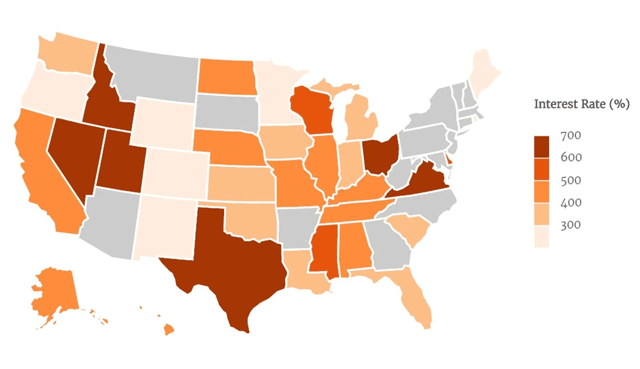 If you default on your payday loan, the lender will renew your loan, which will add more fees and a higher interest rate. Can't repay that loan within a month? Expect another renewal (or rollover) with even more fees.
This gets very expensive, very quickly. One borrower racked up more than $50,000 in interest charges after a short term loan of $2,500.
These loans aren't only risky — some are illegal. Many state governments have created laws in the last decade to limit the steadily increasing charges added onto these loans that create a cycle of debt that many cannot escape from.
These loans often target low-income earners who may have past credit troubles that make it difficult to qualify for a standard loan. Most payday lenders don't require a credit check for approval. Instead, you can qualify quickly for a loan by showing proof of income.
Before you consider a cash advance loan, try to prequalify for a loan through an online lending network such as those listed above. Your loan request will trigger a soft credit pull that will not affect your credit score.
Even more importantly, you may surprise yourself with how much of a loan you'll qualify for — and how much more affordable that loan will be.
How Can I Get a Loan With No Credit Check?
The only loans that can guarantee approval without a credit check are costly secured loans that include cash advance loans, title loans, and pawnshop loans. Since online lending networks partner with many different lenders, you may find a lender that will consider your loan application without requiring a credit check.
The only way to know for sure is by attempting to prequalify for a loan through a network's website. This process only takes a few minutes to complete and will not impact your credit score.
You may receive an email that contains one or more loan offers to choose from. Those offers should specify the requirements to qualify for the loan — which may include same-day loan options with no credit check.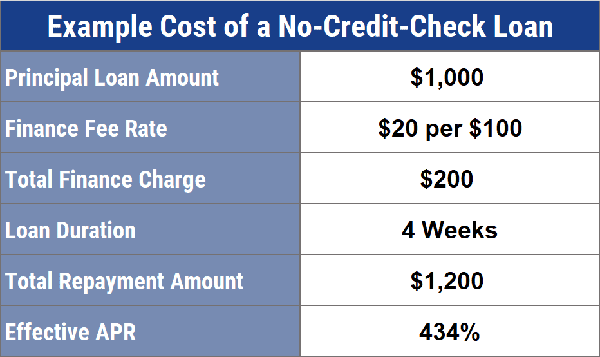 Just be prepared to pay more for a no-credit-check loan. When you add risk onto a lender's plate, you may pay added fees and charges to make it worth their while.
How Do Loan Companies Verify Income?
Any lender will require you to provide your income when you apply for a loan. The loan company will use this number to decide whether you make enough money to afford the debt you're attempting to take on.
In some cases, the lender will accept your submitted income numbers and not require verification. But if you're applying for a high-risk loan or a large loan amount, you may have to prove your stated income.
You can do this by providing a recent W-2 form from your employer or by showing your last two or three pay stubs that display your year-to-date earnings and how frequently you receive paychecks.
This is usually enough to satisfy a lender's requirements. It's rare that a lender will call your employer to verify employment. When this happens, it's usually for large loans, such as a mortgage.
Why Was I Declined For a Loan?
A lender can decline your application for many reasons. You may not qualify for a loan if you don't have enough income to repay the loan or have a history of late or missed payments. Other reasons may include:
Have too much current debt
Have a recent bankruptcy
Have discrepancies on your application, such as an incorrect address or Social Security number
Have a poor credit score
Can't provide the supporting documents requested by the lender
Remember that banks aren't required to accept your loan application. If a bank or credit union denies your loan application, you can contact the institution for more details as to why you didn't qualify.
Use this information as a guide toward your financial improvement. Once you've made some important changes, you can attempt to apply again.
Compare the Best Same Day Loans Online
The best same day loans online won't overcharge you for interest, force you into uncomfortable repayment plans, or tack on hidden fees that raise your cost of credit. These personal loans also don't place restrictions on how you use your borrowed money or require collateral that you could lose if an emergency makes it hard to keep up with payments.
These loans typically come from online lending networks, where you can apply online in a matter of minutes. Depending on when you apply, you could receive final approval in less than one hour and have money in your checking or savings account by the next business day.
That not only makes these the best same day loans online — but it makes them a no-brainer for someone who needs quick cash and doesn't want to jump over hurdles to get it.
Advertiser Disclosure
CardRates.com is a free online resource that offers valuable content and comparison services to users. To keep this resource 100% free, we receive compensation for referrals for many of the offers listed on the site. Along with key review factors, this compensation may impact how and where products appear across CardRates.com (including, for example, the order in which they appear). CardRates.com does not include the entire universe of available offers. Editorial opinions expressed on the site are strictly our own and are not provided, endorsed, or approved by advertisers.