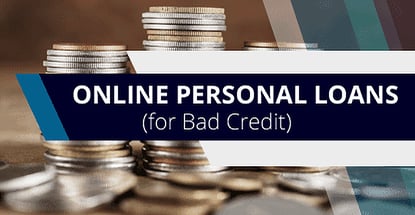 One of the great inequities of the personal finance world is that those who tend to need the most help are often the least likely to receive it.
Personal loans are a prime example of this reality. Often used to consolidate debt or pay for sudden financial emergencies, personal loans are often hard to obtain for those with bad credit and high debt levels.
But while challenging to find, options do exist for bad-credit personal loans, although they may not be as affordable as those offered to consumers with better credit. Let's take a look at some of our choices for personal loans for bad credit, including installment loans and short-term loans, as well as a rundown of how loans work in general.
Installment | Short-Term | How Loans Work
Best Online Installment Loans for Bad Credit
Designed for long-term borrowing, personal installment loans tend to have term lengths of three months up to six years. As the name suggests, installment loans are repaid via regular installments, typically monthly payments.
While installment loans usually have lower APRs than other credit products, borrowers with bad credit may still see relatively high rates. That's why it's important to compare your options, perhaps through an online lending network like our expert-rated picks below.
Loan amounts range from $1,000 to $35,000
All credit types welcome to apply
Lending partners in all 50 states
Loans can be used for any purpose
Fast online approval
Funding in as few as 24 hours
Loan amounts range from $500 to $10,000
Compare quotes from a network of lenders
Flexible credit requirements
Easy online application & 5-minute approval
Funding in as few as 24 hours
Loan amounts range from $1,000 to $35,000
Flexible credit requirements
Loans can be used for anything
Five minute application
Funding possible in as few as 24 hours
Large lending network with multiple partners
Unlike direct lenders, online lending networks allow borrowers to connect with multiple lenders with a single application. Many online lending networks have from dozens to hundreds of lender partners, making it easier to find a lender with flexible credit requirements and affordable rates.
Keep in mind that the lending network merely connects you with the lenders, it doesn't handle the loan itself. Once you've found a loan offer you like from a partner lender, you'll be redirected to the lender's website to finish the loan process.
After connecting you with a lender, the lending network will have no further role in the loan process. The individual lender will be the party to disperse your funds, and it's the lender to whom you'll make your loan payments.
Best Online Short-Term Loans for Bad Credit
Short-term loans, also called cash advance or payday loans, are often used by those with poor credit for quick funds when installment loans or credit cards are not an option. Because of their extremely high rates, short-term loans should always be the last resort.
If you do decide to go with a short-term loan, be sure to compare rates and fees across lenders to ensure you get the most affordable possible loan. Online lending networks, like those below, can be an easy way to compare multiple loan offers from a single application.
Loan amounts range from $100 to $1,000
Short-term loans with flexible credit requirements
Compare quotes from a network of lenders
5-minute approvals and 24-hour funding
Minimum monthly income of $1,000 required
Current employment with 90 days on the job required
Short-term loans up to $5,000
Online marketplace of lenders
Funds available in as few as 24 hours
Simple online form takes less than 5 minutes
Trusted by more than 2 million customers
Not available in NY or CT
In contrast to installment loans, short-term loans don't typically advertise their fees via the APR. Instead, short-term loans charge finance fees based on the amount borrowed.
For example, a common finance charge would be $20 for every $100 borrowed, meaning a $500 loan would come with a $100 finance fee. If you borrow that $500 over the course of four weeks, you're looking at an APR of around 464%.
Worse still, short-term loans are not repaid in multiple payments. You'll be required to repay your loan as a single lump sum on the due date, including the full principal amount and all finance charges.
While you can roll over your loan if you can't make the full repayment on the due date, this comes with additional finance charges and is not recommended. If you'll need longer than a few months to repay your loan, consider taking out an installment loan if possible.
How Personal Loans Work
The consumer lending world is chock-full of a variety of loan types, all of which have their own specific purposes. Mortgage loans, for instance, are used to purchase real estate, while auto loans are used solely to purchase a vehicle.
However, while most of the loans out there are designed with a specific purpose, personal loans are the exception to the rule. Indeed, you can use a personal loan to pay for just about anything, from debt consolidation to medical emergencies to home renovations.
But just because you can use a personal loan for something, doesn't mean you should. This is doubly true for short-term loans with super high fees. Carefully consider the real cost of the loan before taking it on.
For example, installment loans may generally have lower APRs than other products, but they do still charge interest fees. Plus, most installment loans will come with a 3% to 8% origination fee that comes off the top of your loan.
If you've crunched the numbers and know that you can afford to repay your loan — and that it's the best option to finance whatever you need to finance — then it's time to find a loan.

This process can be made easier with an online lending network that can help you compare multiple offers from a single application. Even if you choose not to use a lending network, be sure to compare rates from several banks or credit unions to avoid paying more than you need to on your new loan.
Once approved, you'll be presented with the full lending agreement, which should lay out the exact terms, rates, and fees you'll be charged. Carefully read through the lending agreement — before signing it — to ensure you know exactly how, when, and where you'll need to make your payments.
After the agreement has been signed, your funds will be dispersed to the bank account you specify during the application process. Dispersal times will vary by loan type and lender, but funds can often be obtained as soon as one business day.
If you've chosen to go with an installment loan, your first loan payment will typically be due within 30 days of dispersal, though it may be as many as 60 days depending on the lender. You'll then make monthly payments for the length of the loan term until the loan is paid off.
With short-term loans, you'll be required to repay the full principal and all finance charges on the due date specified in your loan agreement. Since all funds will be due at the same time, make sure you are fully aware of the due date to avoid being charged additional fees.
Borrow Responsibly for Better Credit
Although those with bad credit and large debt loads are often the most in need of supplemental funding, they tend to have the most difficult time finding that funding. But it's not impossible to obtain a personal loan, even with a low credit score.
Once you obtain a loan, be sure to make all of your payments on time and as agreed. Most lenders will report your payment behavior to the credit bureaus, meaning your new loan can be used to boost your credit score if used responsibly.
Advertiser Disclosure
CardRates.com is a free online resource that offers valuable content and comparison services to users. To keep this resource 100% free, we receive compensation for referrals for many of the offers listed on the site. Along with key review factors, this compensation may impact how and where products appear across CardRates.com (including, for example, the order in which they appear). CardRates.com does not include the entire universe of available offers. Editorial opinions expressed on the site are strictly our own and are not provided, endorsed, or approved by advertisers.