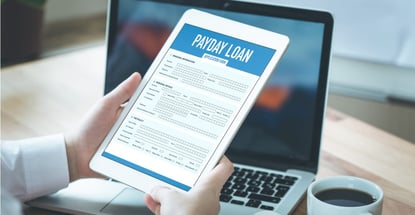 When consumers with bad credit need money fast, they often turn to payday loans online with same-day approval. This type of online loan promises quick loan approval but can be quite expensive.
We'll look closely at seven lender-matching networks that offer payday loans or less expensive short-term personal loans. One of these bad credit lenders may be able to arrange a short-term loan for you.
Payday Loan Networks With Same-Day Approval, Next-Day Funding
All seven of these companies are lender-matching services that prequalify bad credit consumers for a loan and then transfer them to a direct participating lender.
Their services are free and share similar requirements: You must be a U.S. citizen or resident, 18 or older, with sufficient income, an active bank account in your name, a phone number, and a valid email address.
Short-term loans up to $5,000
Online marketplace of lenders
Funds available in as few as 24 hours
Simple online form takes less than 5 minutes
Trusted by more than 2 million customers
Not available in NY or CT
Our top-ranked payday lender network is MoneyMutual, based on its good approval ratings and the range of its offerings. Your bad credit score won't stop the company from finding you a small bad credit payday loan if you will be receiving an income check within the next couple of weeks. To prequalify, you must collect at least $800 per month from a reliable source, such as a job or benefits.
Loans from $500 to $10,000
All credit types accepted
Receive a loan decision in minutes
Get funds directly to your bank account
Use the loan for any purpose
CashUSA can find you a participating lender in most states across the country. Its network of state-licensed and Tribal lenders can arrange an unsecured personal loan with a short loan term. If you earn at least $1,000 a month after taxes, an online lender from CashUSA can prequalify your loan request immediately without pulling your credit file.
Quick loans of up to $5,000
Submit one form to receive multiple options without harming your credit score
All credit ratings welcome to apply
Requires a driver's license, bank account, and SSN
Get your funds as soon as tomorrow
BillsHappen can prequalify you for a personal installment loan that you repay in as few as three months. You'll find that this type of loan has a lower interest rate than the rate offered by a payday loan. You can instantly prequalify for a loan without a credit check, be approved the same day by a direct lender, and receive a deposit to your bank or credit union account in as little as one day.
Loans from $250 to $5,000 available
Cash deposited directly into your account
Get money as soon as tomorrow
Bad Credit OK
More than 750,000 customers since 1998
CreditLoan can rapidly prequalify you for an online personal loan without checking your credit history. The company then connects you to a direct lender on its network, where you can complete the quick loan process and receive instant loan approval. More than 33 million consumers have visited the CreditLoan® website since its inception.
Loan amounts range from $500 to $10,000
Compare quotes from a network of lenders
Flexible credit requirements
Easy online application & 5-minute approval
Funding in as few as 24 hours
Bad Credit Loans invites consumers with bad credit to prequalify for a short-term loan. This lender-matching service can prequalify you immediately if you have sufficient monthly income and meet the other standard requirements. The company's lender network accommodates more than one type of loan offer, including a convenient revolving credit line.
Loan amounts range from $1,000 to $35,000
All credit types welcome to apply
Lending partners in all 50 states
Loans can be used for any purpose
Fast online approval
Funding in as few as 24 hours
PersonalLoans can arrange payday alternative loans with a range of small to large loan amounts. You can receive an instant no-credit-check prequalification if you reliably earn $500 or more of monthly income. The company's personal loan provider network offers additional credit-related services, including credit monitoring, credit repair, and debt settlement.
Loan amounts range from $100 to $1,000
Short-term loans with flexible credit requirements
Compare quotes from a network of lenders
5-minute approvals and 24-hour funding
Minimum monthly income of $1,000 required
Current employment with 90 days on the job required
CashAdvance has been arranging short-term, high annual percentage rate payday loans since 1997. You can quickly prequalify for a bad credit cash advance that you repay the next time you get paid. You must demonstrate an after-tax income of $1,000 per month to receive instant preapproval before being referred to a direct payday lender for a same day loan.
Can I Get a Payday Loan the Same Day I Apply?
You can certainly receive same-day approval from an online loan provider for an emergency payday loan or alternative. If you apply early in the morning, you may even receive your loan the same day, although next-day funding is normally the case.
You are more likely to get same-day funding of your payday advance by visiting a brick-and-mortar payday lender storefront. If it's your first time there, you'll be asked to fill out a loan application, produce various documents, and sign a loan agreement.
If your payday loan is approved at the lender storefront, you'll have to write a post-dated check or approve the lender's online access to your checking account. You'll have to revisit the store every time you want to rollover your loan or take a new one.
The problem with storefront payday lenders is security. You are out in public where your identity and movements can be spotted by people who may mean you harm. Unfortunately, you risk the chance of being followed and mugged after leaving the lending storefront.
Compare that scenario with an online payday loan. You apply from the comfort of home or work, receive approval online, and have the money sent to your bank account the next day. It's safe, secure, and private.
How Do Payday Loans Work?
You must have a verifiable income to get a payday loan. Typically, a pay stub or W-2 will suffice. You can also qualify if you receive sufficient government benefits every month that meet the lender's requirements.
With an online payday loan from a lender matching service, you can begin by clicking on the START NOW link in one or more of the review boxes that appear above. You'll be immediately transferred to the loan service's website, where you can read the terms and conditions before filling out a short loan request form.
Typically, the lending service will use the information submitted to decide whether to preapprove your loan application. If you're preapproved, you'll be immediately transferred to the direct lender's website, where you'll be asked to submit any additional information the lender requires.
Payday lenders seldom do a hard check of your credit. However, you can expect a hard inquiry at one or more of the major credit bureaus — Experian, Equifax, or TransUnion — when you apply for a personal loan as an alternative to a payday loan.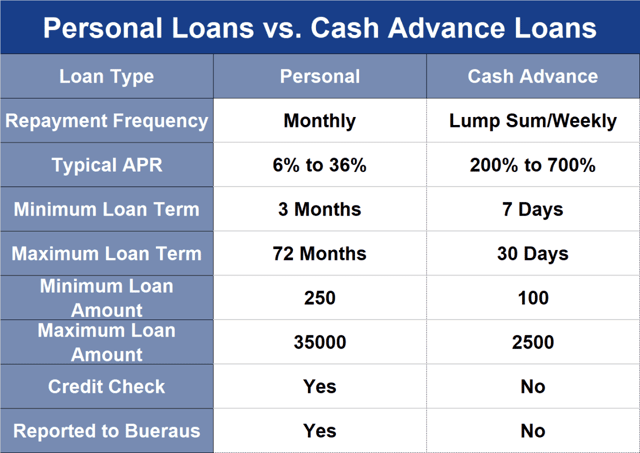 A bad credit score will not necessarily disqualify you because other factors, including income and debt, play an important role when you apply for a personal loan.
If there aren't any complications, the lender will approve your small loan right away and schedule a direct deposit to the account at your financial institution for the next business day. The typical loan term for a payday advance is one to two weeks when the repayment and fees come due.
As is the case with a traditional loan, a lender will attempt to debit your bank account on the due date and recover its loan plus fees. If the money is there, the transaction ends.
However, if there are insufficient funds, your lender will automatically roll over the loan and tack on extra fees, such as a new origination fee. You can also ask for a rollover on or before the pay date, which will allow you to avoid penalty late fees but not additional interest.
The problem with rollovers is that your debt can mount up quickly. With an interest rate of 400% or more not uncommon, you may find yourself drowning in debt with nowhere to go but bankruptcy court. A traditional loan is more affordable but harder to get.
Several of the reviewed lending sites offer payday alternative loans. These are personal loans that you repay in fixed installments ranging from three months to six years or more.
Personal loans charge a lower interest rate, but their total cost can exceed that of a payday loan because they can have long terms.
How Much Do Payday Loans Cost?
Payday loans have very high APRs. Don't be surprised by interest rates of 200% to 700% or higher, depending on the state where you live. Each state can set its own usury laws, with some featuring lax regulations or none at all.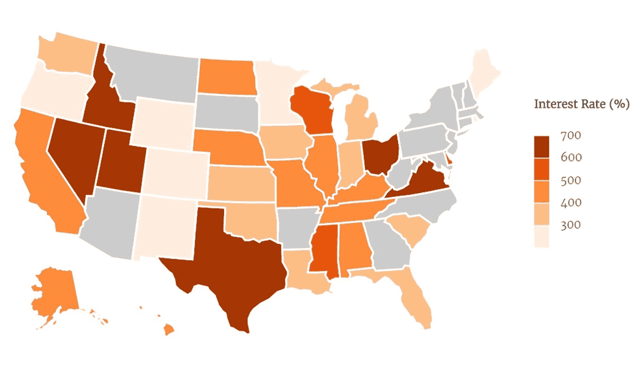 The impact of the high APRs depends upon how long it takes you to repay the loan. For example, a same-day payday loan of $500 with an annual percentage rate of 391% will require a repayment of $600 in two weeks. We leave it to you whether you consider this reasonable or predatory.
Is a Credit Check Required to Get a Loan?
Payday loans are made based on your income rather than your credit score, so no credit check is needed, and your payments are not reported to the credit bureaus.
Most personal loans require a hard credit check before a personal loan provider will give instant loan approval. However, you can be pre-approved for many personal loans (and credit card applications) without a credit check, as is the case for the lending services reviewed in this article that offer personal loans.
Hard credit checks are recorded on your credit reports for two years, where they may slightly lower your credit score. The thinking is that asking for a loan or for more credit may be a sign of financial distress, especially if you frequently apply for new credit.
However, the hit to your credit score is only five to 10 points, and if you limit your requests for new credit to one every six months or so, you may not see any impact at all.
What Can I Use the Money For?
The proceeds from most unsecured loans, including payday loans, can be used as you see fit. The lender may ask the purpose of the loan on its application form, but you are not bound by your answer on the loan agreement.
A secured loan may have restricted uses. For example, a mortgage is a secured loan used to buy a home, and a new auto loan is used to purchase a vehicle.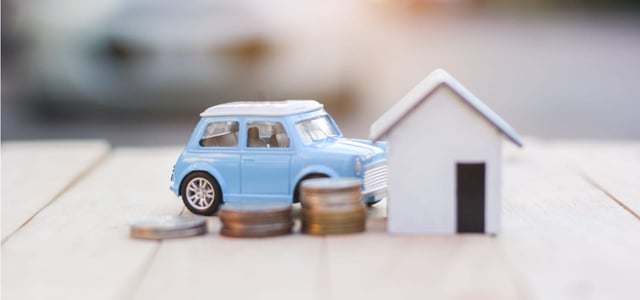 However, you can use the proceeds of a home equity loan, title loan (i.e., a title loan on a car, boat, airplane, etc.), or automobile cash-out refinancing for any purpose. The same is true for a cash advance loan from a secured credit card.
How Do I Choose the Best Loan?
All the loan services reviewed in this article are good choices. As their ratings indicate, they all score fairly close to each other.
You can find out more about each lending service by reading the material on their websites. If you prequalify for a loan, you'll then have to repeat the exercise on the direct lender's website.
Loan information you should look for includes the APR of the loan, the loan amounts they are willing to lend you, and the fees charged. Be sure you are clear on how and when you are expected to repay the loan and the consequences of missing a payment.
Carefully Consider Applying For Payday Loans
Our review of payday loans online with same day approval shows that you can get this type of loan without visiting a payday lender storefront. Before taking a payday loan, we recommend borrowers first consider other, less expensive loans, such as a short-term personal loan or credit card cash advance loan.
If an emergency payday loan is your only recourse, try to avoid rollovers. The extra fees tacked on every time you roll over a payday loan will soon mushroom your debt well beyond the amount you originally borrowed.
Of the reviewed lending services, all but CashAdvance offer personal loans in addition to or as an alternative to a payday emergency loan. Whichever loan offer you choose, repaying on time will protect the bad credit rating of the borrower from further harm and minimize the extra fees and interest you'll have to shell out for an emergency loan.
Advertiser Disclosure
CardRates.com is a free online resource that offers valuable content and comparison services to users. To keep this resource 100% free, we receive compensation for referrals for many of the offers listed on the site. Along with key review factors, this compensation may impact how and where products appear across CardRates.com (including, for example, the order in which they appear). CardRates.com does not include the entire universe of available offers. Editorial opinions expressed on the site are strictly our own and are not provided, endorsed, or approved by advertisers.