Easy cash advance loans, which are also known as payday loans, can provide you with the funds you need to cover an unexpected expense like a car repair or medical bill. These are small, short term loans that can be real lifesavers when you're in a financial crunch.
You can apply for easy cash advance loans online from the comfort of your own home and receive the money in your bank account fairly quickly. A cash advance loan is a great alternative to a traditional loan, which typically comes with a longer application and approval process. Let's dive deeper into where you can find these loans and how they work.
Loans | Alternatives | FAQs
Easy Cash Advance Loans Available Online
Fortunately, several places offer a variety of cash advance loans online. You can apply for most of these loans within minutes from your desktop or mobile device so you can get quick cash without going anywhere.
If you're interested in a cash advance loan, the following companies are our top recommendations:
Short-term loans up to $5,000
Online marketplace of lenders
Funds available in as few as 24 hours
Simple online form takes less than 5 minutes
Trusted by more than 2 million customers
Not available in NY or CT
MoneyMutual is an online marketplace that may match you to lenders who offer payday loans. Fill out the short online form and you'll receive offers from lenders that are willing to lend you fast cash. You can take advantage of MoneyMutual if you're at least 18 years old, bring home at least $800 per month, and have an active checking account.
Don't worry if you don't have good credit because MoneyMutual lends to consumers with bad credit scores as well. Once you receive an offer, you can review its terms and conditions and only accept it if you agree to them. In addition to helping you find a payday loan, MoneyMutual offers a number of educational resources on its website to help you make an informed loan decision.
Loans from $500 to $10,000
All credit types accepted
Receive a loan decision in minutes
Get funds directly to your bank account
Use the loan for any purpose
CashUSA offers easy cash advance loans from both tribal and state-licensed lenders. You can find out which loans you qualify without hurting your credit. All you have to do is fill out the brief online application. Just make sure you're at least 18 years of age,  earn a minimum of $1,000 per month after taxes, and hold a valid email address.
Rest assured you can become a borrower through CashUSA even if you don't have the best credit. If you accept a payday advance, you may be able to receive your funds as soon as the next business day. While you're on the site, check out the Education Center loaded with articles on credit, debt, banking, and financing.
Loans from $250 to $5,000 available
Cash deposited directly into your account
Get money as soon as tomorrow
Bad Credit OK
More than 750,000 customers since 1998
CreditLoan is not a direct lender. Instead, it's an online marketplace that can pair you with a payday lender for a short term loan. CreditLoan will consider your loan request, even if your credit score is below 630. It's one and only requirement is that you have an active bank account in your name.
If a lender decides to make you an offer, you'll get transferred directly to its website where you can read and review the loan term and conditions. You won't have to accept the offer unless they work for you. CreditLoan also offers resources like a smart-finance blog and banking reviews to help you improve your finances.
Loan amounts range from $500 to $10,000
Compare quotes from a network of lenders
Flexible credit requirements
Easy online application & 5-minute approval
Funding in as few as 24 hours
BadCreditLoans has relationships with lenders who offer easy cash advance loans. If you have bad credit, don't worry because the site was founded for borrowers with poor credit scores. After you fill out a short online form, you may get matched to a payday loan right away.
While good credit isn't necessary, BadCreditLoans does require that you be at least 18 years old, receive a consistent income, and show proof of citizenship or legal residency. You'll also need a valid email address, checking account, and phone number.
Loan amounts range from $1,000 to $35,000
All credit types welcome to apply
Lending partners in all 50 states
Loans can be used for any purpose
Fast online approval
Funding in as few as 24 hours
PersonaLoans is a matching service that can connect you to the right cash advance loan for your unique situation. You can use it as long as you have a regular monthly income and a valid Social Security number. It also requires a valid bank account and proof of a responsible borrowing pattern.
Once you're approved for a payday loan, you'll get redirected to a loan agreement so you can review its terms and conditions. PersonalLoans is full of useful resources. Its website also features a blog with updated articles on loans, financial management, and personal finance.
Loan amounts range from $100 to $1,000
Short-term loans with flexible credit requirements
Compare quotes from a network of lenders
5-minute approvals and 24-hour funding
Minimum monthly income of $1,000 required
Current employment with 90 days on the job required
CashAdvance has been around since 1997 and serves as an online marketplace for those who would like a short term loan. You can use it to get matched to a payday loan that will likely be between $100 and $999, regardless of your credit. You may accept or decline any offer you receive after you read its agreement.
While CashAdvance will not check your credit, some of the lenders it partners with may. You can use it for free and as often as you'd like.
CashAdvance is affiliated with the Online Lenders Alliance, a national organization that strives to promote the best practices in online payday lending. It also employs in-house customer service reps to assist you with any questions you may have.
Other Ways to Get a Cash Advance Loan
The online marketplaces we mentioned above are great places to get payday loans. However, you can also get a cash advance loan through the following outlets:
Credit Cards: Some credit cards allow you to withdraw a cash advance. The maximum amount of money you can take out will be set by your available credit limit. Oftentimes, a credit card cash advance features a higher annual percentage rate (APR) than a credit card purchase APR. So if you go this route, make sure you read the fine print and feel confident that you'll be able to repay your loan.
Cash Advance Apps: Recently, many cash advance apps have entered the market. With an app like Earnin, you'll be able to borrow money against your paycheck without any payday loan fees or interest rate charges. The money you borrow will be deducted from your checking account the next time you get paid. To use cash advance apps like Earnin and Dave, you'll need to get paid consistently and have direct deposit set up through your employer.
Pawn Shop Loans: If you have an item of value, like a diamond ring or a tool, you may be able to get a short term loan through a pawn shop. Here's how a pawnshop loan works: You take your item to a pawn shop so that a pawnbroker can determine its value. Then, the pawnbroker may present you with an offer of between 25% and 60% of your item's resale value. If you agree to it, you'll receive cash on the spot and be required to pay back the loan based on your state's repayment terms. In the event you default on your pawnshop loan, your item may be sold to someone else.
Merchant Cash Advance: A merchant cash advance may be an option if you own a business. You'll receive the money upfront from a lender that offers merchant cash advances. Then, you'll use a percentage of your business sales to repay it. You don't need good credit or collateral to enjoy fast access to cash as well as flexible repayment terms.
Payroll Advance: If you work, your employer may agree to a payroll advance, where you'll receive a portion of your pay before your next typical payday. Keep in mind that not all employers offer payroll advances, so don't be alarmed if yours isn't open to the idea, but it's certainly worth asking.
Friends and Family: Your loved ones may help you out when you're in need of quick cash. If you do borrow money from friends and family, write down a set repayment schedule and make sure you and your friend or family member sign it. This way everyone will be on the same page, and there won't be any confusion as to how the loan will be repaid. Do not take out a loan from a loved one unless you know you'll be able to pay them back. Failure to repay it can damage your relationship with them.
No matter which method you choose, be sure to pay your loan back as agreed to avoid possible credit score damage, additional fees, loss of collateral, and/or ruined personal relationships.
What is a Cash Advance Loan?
Unlike a personal installment loan, a cash advance loan is a short term loan designed for people who need fast cash. Also known as a payday loan, guaranteed loan, or no credit check loan, you can find them online and at various storefronts.
Since a cash advance loan usually comes with more lenient requirements than a traditional installment loan, it may charge high fees, and can become very expensive. That's why it's a good idea to shop around, compare the options at your disposal, and choose the best loan product for your particular budget and needs. You should avoid a cash advance loan if you're worried you won't be able to repay it because it can quickly trap you in a cycle of debt.
Additionally, refrain from this loan product if you'd like to cover a large expense like a wedding or kitchen remodel. If this is the case, you'd be better off with a personal loan. Don't forget that a cash advance is a cash loan for short term financing needs.
How Can I Get a Cash Advance Loan?
You can get a cash advance loan quickly and easily. First, fill out an online application with one of the lending networks above. The application will ask you for basic personal and financial details, including your name, employment history, income, and Social Security number.
The lending network will then forward your request to its partner lenders who will prequalify you for a loan. After you're matched with a lender, you'll be redirected to its website to complete the loan application.
If approved, you'll receive a loan amount and terms that you can accept. Keep in mind that the state you live in will dictate the maximum amount for which you may be approved.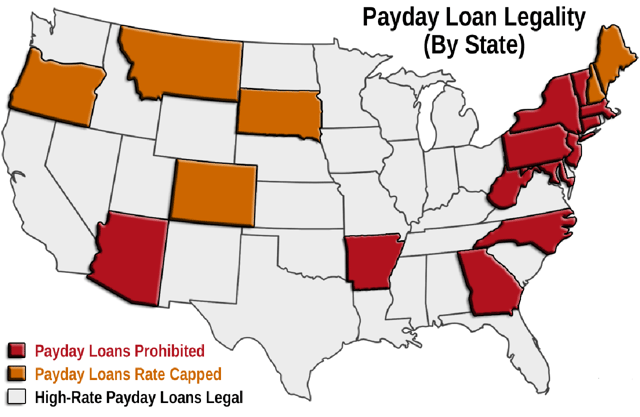 In the event you accept the payday advance loan, you may receive the funds via direct deposit or a loaded debit card. The lender will then likely debit your checking account for the amount you borrowed plus any additional fees. The lender may also allow you to repay them via a check that you write and mail to them.
Can a Cash Advance Loan Help Build My Credit?
A cash advance loan is not the best way to help you build your credit. A payday loan won't affect your credit because it won't register as a separate entity on your credit report.
A credit card cash advance, however, will increase your credit utilization ratio (how much of your available credit you're using) and could lower your credit score. While a cash advance loan can help you out when you need quick cash, it's not a long term financing solution. Therefore, you shouldn't rely on it to build your credit.
If your goal is to build your credit, get a credit builder loan or a secured loan, become an authorized user on a family member's card, and practice good credit habits. Make your payments on time, avoid applying for multiple credit accounts within the same time frame, and keep your credit utilization ratio low.
Will I Need a Bank Account to Be Approved?
While every payday loan lender has its own requirements, most do require a bank account for approval. If you don't have a bank account, you may still get a short term loan. The only caveat is that it may cost you more money. You can potentially get approved for a title loan, pawnshop loan, or a signature loan.
If you'd like to open the doors to more short term loan options, you may want to take the plunge and open a bank account. By doing so, you'll be more likely to qualify for more competitive interest rates and lower fees. To open a bank account, visit a bank, credit union, or another lending institution online or in person.
You'll likely have to provide your government ID like a driver's license or passport, your Social Security number, physical mailing address, and an initial deposit. Fortunately, the process is relatively fast and easy.
Can I Get a Cash Advance Loan without a Credit Check?
You can get a good cash advance loan without a credit check. Several trustworthy lenders consider more than your credit reports from the credit bureaus before deciding whether to approve your loan application. This is great news if you have bad credit.
If you do opt for a cash advance loan without a credit check, you may have to show proof of employment, a steady income, and a history of responsible financial behaviors.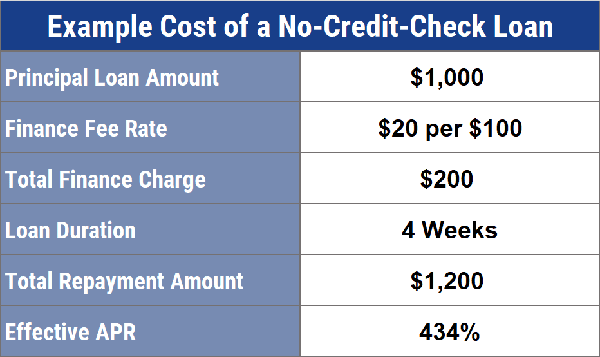 Lenders want to feel confident that you'll be able to repay the loan. If they don't, they'll be less likely to approve your loan.
To find a no credit check payday loan, visit the MoneyMutual, CashUSA.com, and the other online marketplaces we outlined above. They work with many lenders that will look beyond your credit and may approve your loan application without pulling your credit history.
Can I Get a Small Loan from a Credit Union?
You can get a small loan from a credit union. The National Credit Union Administration (NCUA) grants federal credit unions the right to offer small dollar loans known as Payday Alternative Loans or PALs.
With a PAL I, you can expect to pay an application fee of up to $20. PAL I loan amounts range from $200 to $1,000 with loan terms of anywhere between one to six months.
As long as a PAL doesn't overlap or rollover, you can receive up to three PAL 1s within six months. You must be a credit union member for a minimum of one month to qualify for this type of loan.
For a higher loan amount, you may choose a PAL II, which distributes funds of up to $2,000. PAL II loan terms range from one month to 12 months, and there are no minimum membership requirements.
A PAL is a smart alternative to a cash advance loan, as long as you're a member of a credit union or willing to join one.
Apply for Easy Cash Advance Loans from Home
Easy cash advance loans may save the day when life throws an unexpected financial curveball your way. Just make sure you don't rely on them too often, as they're meant to be short term financing solutions.
If you find that you need a payday loan on a regular basis, it's time to make some changes. Cut your expenses, get out of debt, increase your cash flow, and do whatever you can to live within (or below) your means.
Final Notes on "6 Easy Approval Cash Advance Loans (Sep. 2023)"
We hope this guide "6 Easy Approval Cash Advance Loans (Sep. 2023)" has been a helpful resource for you in learning more about your financial options. In this guide, we've covered:
Easy Cash Advance Loans Available Online
Other Ways to Get a Cash Advance Loan
What is a Cash Advance Loan?
How Can I Get a Cash Advance Loan?
Can a Cash Advance Loan Help Build My Credit?
Will I Need a Bank Account to Be Approved?
Can I Get a Cash Advance Loan without a Credit Check?
Can I Get a Small Loan from a Credit Union?
Apply for Easy Cash Advance Loans from Home
To learn more about options not mentioned here, be sure to check out other popular reviews from our team of experts:
We also encourage you to check back at this URL regularly, as we update the offers listed in "6 Easy Approval Cash Advance Loans (Sep. 2023)" and other guides on a daily basis.
Advertiser Disclosure
CardRates.com is a free online resource that offers valuable content and comparison services to users. To keep this resource 100% free, we receive compensation for referrals for many of the offers listed on the site. Along with key review factors, this compensation may impact how and where products appear across CardRates.com (including, for example, the order in which they appear). CardRates.com does not include the entire universe of available offers. Editorial opinions expressed on the site are strictly our own and are not provided, endorsed, or approved by advertisers.