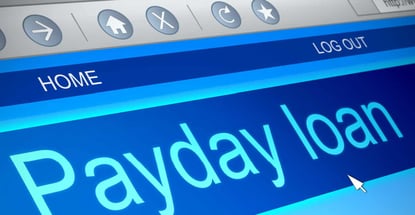 It used to be that you had to visit a brick-and-mortar storefront to get a payday loan. Then, the internet happened, and folks quickly learned they could save time by getting short-term loans online. 
Consumers took to online alternatives because they didn't fancy walking out of the loan store with a wallet full of cash. We review a safer option: The best instant payday loans online, available from the comfort and safety of your favorite armchair. 
In most cases, online lenders can arrange a loan in minutes and wire money to your bank account by the next business day.
Short-Term Loans With Instant Online Approval
The following loan-matching networks work with direct short-term payday and personal loan providers. You'll receive an instant prequalification decision when you submit an online loan request. A single request can get you quick offers for the best payday loans without fees or credit checks. 
Short-term loans up to $5,000
Online marketplace of lenders
Funds available in as few as 24 hours
Simple online form takes less than 5 minutes
Trusted by more than 2 million customers
Not available in NY or CT
We consider MoneyMutual the best online payday loan service because it works with one of the largest lending networks specializing in loans for consumers of every credit stripe. The process of getting instant prequalification couldn't be faster or easier.
Applicants for an instant payday loan must be US citizens or permanent residents, at least 18 years old, and have a checking account and a minimum monthly income of $800 from a job or government benefits.
Personal loans from $500 to $35,000
All credit types are considered and welcome
Simple, no credit impact form
Helping consumers since 2001
4.7 out of 5 Trustpilot rating with 2,000+ reviews!
24/7 Lending Group is always ready to accept your online request for a fast personal loan. By submitting a short loan request form, you may prequalify instantly and receive multiple offers within minutes.
24/7 Lending Group works only with lenders that comply with the Fair Debt Collection Practices Act, a debt protection law. The company's commitment to ethical standards may be one of the reasons for its Excellent rating from Trustpilot. 
Loans from $500 to $10,000
All credit types accepted
Receive a loan decision in minutes
Get funds directly to your bank account
Use the loan for any purpose
Whether you require a small or large loan, CashUSA.com can find you a personal loan with flexible repayment terms. This loan-matching network accepts requests from borrowers with any type of credit. It can prequalify your loan in seconds and link you to one or more lending partners who can complete the transaction.
Not every borrower will qualify for the long-term loans. The size of your loan and the repayment term will vary by lender and depend on several factors, including your credit history, debts, and income.
Personal loans from $100 to $20,000
Receive an approval decision in as little as 2 minutes
Funds can be deposited into your account in one business day and used for any purpose
No hidden fees
SmartAdvances.com is an intelligent alternative when you want multiple personal loan offers from a network of direct lenders. You can instantly prequalify online for a loan if you collect at least $1,000 a month in wages or government benefits.
The website's personal loan calculator helps you determine the best repayment term. The SmartAdvances.com loan-matching service is a member of the Online Lenders Alliance, an advocate for a fair credit policy that strictly complies with federal law.
Loan amounts range from $500 to $10,000
Compare quotes from a network of lenders
Flexible credit requirements
Easy online application & 5-minute approval
Funding in as few as 24 hours
Its name tells its story: BadCreditLoans.com connects you to lending partners that routinely approve applications from subprime consumers who can't find loans elsewhere. Despite your FICO score credit, you can find bad credit loans with competitive interest rates and affordable monthly payments.
You may prequalify for a small or large loan through a single online request. Study each offer carefully before you accept, as different lenders offer a variety of terms. 
Loans from $250 to $5,000 available
Cash deposited directly into your account
Get money as soon as tomorrow
Bad Credit OK
More than 750,000 customers since 1998
CreditLoan® promises instant prequalification decisions on all loan requests, with amounts starting as low as $250. This time-tested network has more than two decades of loan-matching experience and has helped hundreds of thousands of consumers find quick loans.
Whether you're looking for a small, medium, or large loan, CreditLoan's partners can approve your application in minutes, giving you the peace of mind of knowing that money will arrive as soon as the next business day.
Quick loans of up to $5,000
Submit one form to receive multiple options without harming your credit score
All credit ratings welcome to apply
Requires a driver's license, bank account, and SSN
Get your funds as soon as tomorrow
BillsHappen® can find instant approval payday loans online from multiple lenders that specialize in bad credit loans. Unlike a traditional bank or credit union, these direct lenders have flexible approval standards and work swiftly to put money in your bank account by the next business day.
You must be at least 18 and a US citizen or permanent resident to prequalify for an instant payday loan. You also must provide a valid government ID, Social Security number, phone number, bank account information, email address, and have a minimum income from a job or government benefits.
What Are Online Payday Loans?
An online payday loan — also called a cash advance — is a short-term loan that acts as a financial stopgap until your next pay date. You apply online for an amount you repay in a single payment, typically within seven to 30 days.
Payday loans differ from traditional installment loans, which you repay in a series of monthly payments. Online payday loans are far more expensive than personal loans but remain popular in North America because they do not require credit checks.
Even the best online payday loan will impose a finance charge of at least $15 for every $100 you borrow, which translates to an APR above 400%. Some states allow even higher interest rates, as shown in the following illustration (payday loans are illegal in the states pictured in gray):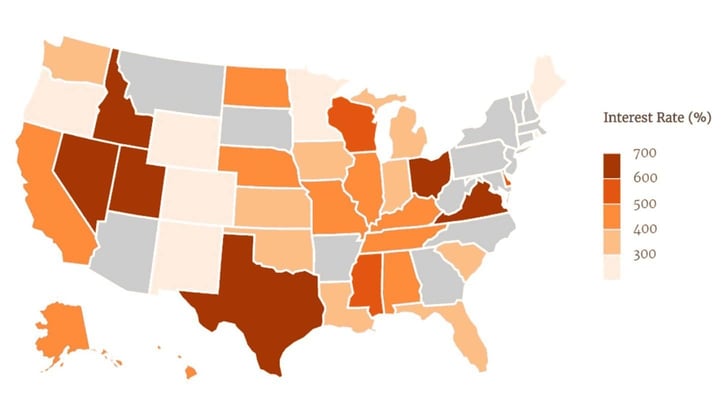 If you cannot repay on time, the lender will roll your debt into a new loan by adding the interest charges to the loan principal, extending the loan to your next pay date, and tacking on a new set of finance fees.
Serial rollovers can result in thousands of dollars of finance charges for a small loan of only a few hundred dollars. This is why some states forbid loan rollovers (or ban payday loans altogether).
We only recommend a payday loan service as a last resort. These loans do not require a credit check for approval if you meet the lender's income requirements, but this convenience comes at a high price.
Even if you have bad credit, you may prefer a less expensive personal installment loan through the online lending networks listed above.
How Do I Get an Online Payday Loan?
To get an online payday loan from a lender-matching service, visit the loan service's website, where you can read about the offered products before submitting a short loan request form.
The typical request form collects the following information:
The amount you want to borrow
Your name and address
Your age
Your citizenship
Your Social Security Number or equivalent
Your income
Your debts
Your housing costs
Your monthly income and its source
You must have a verifiable income to qualify for a payday loan. You can also qualify if you receive enough government benefits every month to satisfy the network's income requirements.
A lending service instantly uses your information to decide whether you prequalify for a loan. If you do, you'll either receive a list of links to competing direct lenders, or the service will immediately transfer you to a direct lender's website. 
In either case, the direct payday lender may have you submit additional information and documentation, such as proof of income. Typically, a W-2, 1099, or pay stub will suffice.
Payday lenders don't do a hard check of your credit. But you can expect a hard pull from one or more major credit bureaus — Experian, Equifax, or TransUnion — if you apply for an installment loan instead of a payday loan.
Assuming no hiccups, the lender will provide you with a loan agreement containing all the terms and conditions. Please read before e-signing! You should understand how much you'll pay for the loan and the consequences of missing the payment date. 
You can e-sign or reject the agreement — the decision is yours, and you're not obligated to accept the lender's offer. If you do accept the small loan, the payday lender will schedule a direct deposit to an account at your financial institution for the next business day. 
The loan term for a payday advance ends on the date you next get paid, typically in one to four weeks. You repay the loan on that date, along with the finance fees (which is what payday lenders call the interest charges on the loan).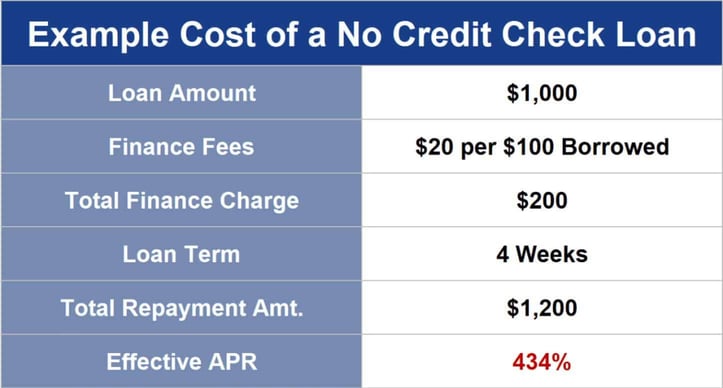 The lender will attempt to debit your bank or credit union account on the due date for the money you owe. The transaction ends if you have sufficient funds in the account. Otherwise, your lender will automatically roll over the loan and tack on extra fees. 
You can request a rollover on or before the pay date, which allows you to avoid penalty late fees, but you will still be charged additional interest.
The problem with rollovers is that your debt can escalate quickly. You should understand that when a lender rolls over your payday loan, it capitalizes the existing finance fee, meaning it adds the fee to your principal loan amount. The amount you owe can rapidly mushroom out of control, sending you into a debt spiral that's hard to escape.
A payday loan with an interest rate of 400% or more may leave you drowning in debt with nowhere to go but bankruptcy court. A traditional loan is more affordable, but you'll have to submit to a credit check.
Several of the reviewed lending sites offer alternatives to payday loans. These are personal loans you repay in fixed installments of three months to six years or more.
Personal loans charge a lower interest rate (typically topping out at an APR of 36%), but their total cost can exceed that of a payday loan service because they can have long terms.
Is Instant Approval Guaranteed?
In a word, no. The online loan-matching services guarantee an instant decision as to whether you prequalify for a loan based on the information you submit in your loan request form. Always remember that prequalification does not guarantee final loan approval. 
The loan-matching services only do a rudimentary verification of the data on your loan request form. They do so without a hard credit pull, but they may make a soft inquiry that provides limited information without impacting your poor credit score.
Even when you do prequalify for a payday loan, the lender can decline your application for many reasons, including:
Too much current debt
Insufficient income
High housing costs relative to your income
Discrepancies on your application, such as an incorrect address or Social Security number
Inability to provide the supporting documents that the lender requires 
Notice that credit score is not on the list. Payday lenders assume you have poor credit — otherwise, why else would you pay 400% for a loan?
How Do Online Payday Loans Differ From Storefront Loans?
Payday loans are generally short-term, high-interest loans that help people bridge the gap between paychecks. Online and storefront payday loans aim to provide quick solutions to immediate financial needs. But there are several key differences between the two, as the following chart explains:
| | Online Payday Loans | Storefront Payday Loans |
| --- | --- | --- |
| Accessibility | Available 24/7 from the comfort of your home. All you need is an internet connection. | Require you to visit a physical location during business hours, which may be inconvenient. |
| Speed | Approval may be fast, sometimes within minutes, but transferring the funds may take one business day. | Often provide instant cash upon approval. |
| Documentation | Typically, you need digital copies of documents, which you can upload. | You must show physical documentation in person. |
| Application Process | It is entirely digital, often requiring no human interaction unless there is an issue. | Generally requires in-person interaction, which could include a face-to-face interview. |
| Security | You must ensure you are dealing with a secure and reputable lender because you share sensitive personal information online. | The lender reviews physical documents and IDs and is often less concerned about data breaches. |
| Safety | Physical safety is not an issue. | The storefront's neighborhood may be a high-crime area. |
| Geographical Constraints | Accessible from almost anywhere, but make sure the lender has authorization to operate in your state. | Storefront loans limit you to physical locations near you. |
| Comparison and Research | Easier to compare terms, fees, and interest rates since you can browse multiple options online. | Comparing multiple options may be more challenging unless the physical locations are nearby. |
| Customer Service | Websites may offer chat support or customer service via email or phone, but this may lack the personalized touch. | Often provide face-to-face customer service, which you may prefer. |
Both online and storefront payday loans must conform to state and federal laws. But online lenders sometimes operate from locales with less stringent regulations, making it essential for you to verify that the lender has registered in your state and complies with its laws and regulations.
What Other Loans Offer Instant Approval?
The following loan types may offer instant approval and are generally easy to qualify for:
Pawnshop Loans
You can pawn your personal belongings (e.g., jewelry, guns, cameras, electronics, collectibles, etc.) for an immediate short-term loan from a pawnshop. The pawnbroker will appraise your property and quote you a loan amount that's 25% to 60% of its resale value. 
All you have to do is show your ID, complete some paperwork, and collect your money. Pawnbrokers don't pull your credit when you apply for a loan.
Your pawn ticket identifies the date by which you can redeem your property by repaying the loan. The pawnbroker puts your item up for sale if you don't redeem your ticket before it expires.
Pawnshop loans charge APRs that can top 240%. Despite their prohibitive costs, pawn loans offer easy cash when you need money immediately. They provide a fast way to get a loan regardless of your credit score.
Car Title Loans
Your vehicle serves as collateral for a car title loan. These loans do not require a credit check. After completing the paperwork, you'll hand the car's title to a lender in exchange for a loan amount far less than the vehicle's actual value. 
If you don't repay your loan on time, the lender will repossess and auction your car. Considering the risks, it's best to reserve title loans for emergencies only.
Title loans are costly (typically charging at least 300%) but easy to get if you have a paid-up vehicle. A $1,000, one-month title loan would cost $250, so you'd have to hand over $1,250 to reclaim your vehicle.
Some title loan lenders allow you to roll over the loan for another term, in which case they will add another fee to the debt.
Car title loans make the most sense when you need a short-term loan, and you're sure you can repay it on time.
Credit Card Cash Advances
Most credit cards allow you to take cash advances, which are loans against your credit line. Cards that target consumers with the worst credit do not offer cash advances.
Getting a credit card cash advance is a snap for most cardmembers. We think most consumers don't select their credit cards based on cash advance policies, but you might if you often find it necessary to borrow small amounts for short periods.
You can obtain a credit card cash advance in a few ways. Simply visit an ATM (preferably in your issuer's network to avoid fees) to get your advance. You can also obtain cash advances at a bank or credit union branch or online, and many issuers will wire the money directly to your bank account.

The APR won't exceed 36%, but you accrue daily interest from the date you withdraw the funds until you repay the loan.
Credit card cash advances don't require any paperwork, approval, or credit checks. The amount you can borrow depends on your card's credit limit and outstanding balance. Some issuers, such as Chase, limit advances to a small percentage of your overall credit line.
Cash Advance Apps
A cash advance app provides small loans tied to your employment and/or credit profile. You load one of these apps on your phone or other mobile device and connect it to your bank account. 
The app qualifies your advance by examining your direct deposits and outgoing bills to ensure you have enough money to repay the cash advance. In some cases, you link the app to your employer so it can access a time sheet of the wages you have already earned for the pay period.
You can get an advance, typically $100 to $500, for little or no cost. Most apps can deposit the money into your account in a matter of minutes. The app will withdraw the borrowed amount from your linked bank account when your next paycheck arrives.
Cash advance apps perform a beneficial service by providing affordable access to your earnings before payday without the outrageous costs that payday loans assess.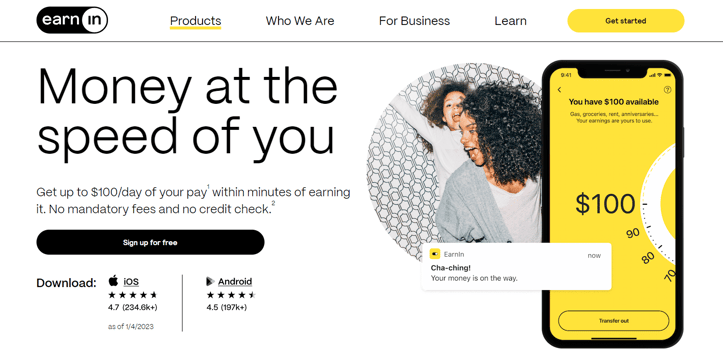 Some apps also function as an online bank account which provides a way to receive direct deposits, obtain a debit card, conduct your banking transactions, and access free payday advances without visiting a bank branch. Essentially, the apps treat the advances as a loss leader to help them market profitable services.
Get Fast Cash With an Online Payday Loan
Payday loans are problematic because of their high interest rates. But their lack of credit checking makes them popular among workers who have poor or no credit. 
Our review describes the differences between online and storefront payday loans. Although they charge the same APRs, the reviewed loan-matching services offer the best payday loans due to their superior convenience, flexibility, security, and safety. 
Whichever way to take a payday loan, please be sure to repay it on time. Rolling over these loans can lead to serious financial problems that leave you with a mountain of debt.
Advertiser Disclosure
CardRates.com is a free online resource that offers valuable content and comparison services to users. To keep this resource 100% free, we receive compensation for referrals for many of the offers listed on the site. Along with key review factors, this compensation may impact how and where products appear across CardRates.com (including, for example, the order in which they appear). CardRates.com does not include the entire universe of available offers. Editorial opinions expressed on the site are strictly our own and are not provided, endorsed, or approved by advertisers.