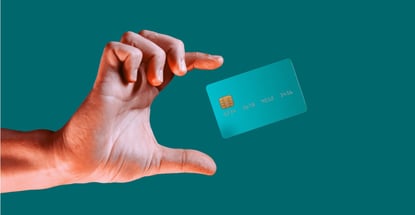 The Mission Lane Credit Card preapproval process quickly prequalifies you for this relatively new Visa credit card. The card targets consumers with fair credit looking for an inexpensive, no-frills credit card. 
While it offers some basic benefits, you may prefer one of the reviewed alternatives that deliver rewards, a higher credit limit, or a lower interest rate.
Mission Lane Offers Know and Go® to Check For Preapproval
The Mission Lane Visa® Credit Card offers a simple, four-step preapproval procedure it calls Know and Go®. You can begin by clicking on our Apply Now link.
If you have a mail offer from Mission Lane, you can start by entering the 12-character code, but you don't need a mail solicitation to apply.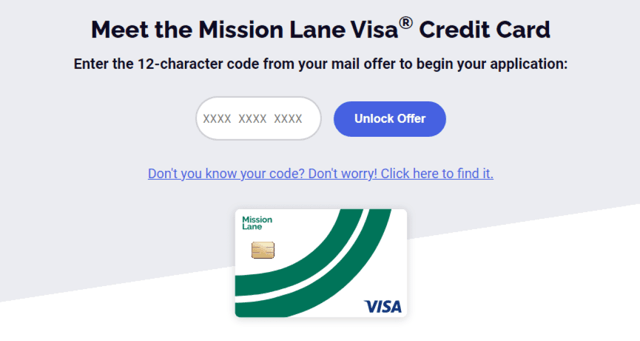 In the initial step, you provide information about yourself, including your Social Security number, annual income, employment status, monthly rent/mortgage, and the types of bank accounts you own. The credit card issuer delivers its decision in just a few seconds without pulling your credit. 
Upon receiving preapproval, you next submit the formal application, which requires no more than indicating whether you'd prefer paper or electronic statements. Also, take this opportunity to read the cardmember agreement and additional disclosures. 
If you're satisfied with the offer, click on the Submit My Application button. The issuer will now do a hard pull of your credit reports to verify your information. If everything checks out, you'll receive a final approval specifying your credit line and annual fee. 
You can accept the card terms by e-signing the credit agreement. Expect card delivery within seven to 10 days after account opening.
Note that Mission Lane does not accept applications from anyone in Maryland, Massachusetts, Nevada, North Dakota, West Virginia, and Maine.
Benefits of the Mission Lane Visa® Credit Card
The above offer table summarizes the benefits Mission Lane provides with its Visa credit card. The credit card issuer does not impose activation or over-limit charges and may waive the annual fee. 
In addition to the initial review for a credit limit increase, the issuer will evaluate you for a credit line increase at least once every 12 months, basing the decision on several factors that include:
Your history of on-time payments 
Whether your account balance has ever exceeded the credit limit.
Whether the issuer has imposed restrictions on the account's charging privileges.
Whether you have closed the account.
Whether you have filed for bankruptcy. 
Whether you can afford a credit limit increase.
Other benefits include free credit scores, access to educational articles, and a mobile app. Another benefit is that your credit card activity will be reported to all three major credit bureaus. Because it is a Visa card, you get $0 fraud liability and secondary insurance on rental cars.
5 Alternatives to the Mission Lane Visa® Credit Card
If you have fair or average credit, you should expect a credit card to deliver more than just the basics. These five alternatives fit the bill.
The strongest argument for getting the Capital One Platinum Credit Card is its $0 annual fee. It supports balance transfers, autopay, account alerts, monthly recurring transactions, and authorized users.
The card never charges an annual or foreign transaction fee. You also receive access to Capital One Eno, where you can request virtual card numbers for added security.
The Capital One QuicksilverOne Cash Rewards Credit Card provides flat, unlimited cash back on your eligible purchases. The card welcomes consumers with average, limited, or fair credit. 
You can redeem your cash back through a gift card, a statement credit, or a transfer to a bank account. Timely payments will build your credit and help you qualify for a higher spending limit.
The Fortiva® Mastercard® Credit Card is an unsecured credit card that provides cash back rewards on all eligible purchases, and select purchases earn bonus rewards. Prequalifying for a moderately high credit limit won't impact your credit score or damage your credit history.
Fortiva Mastercard offers an instant credit decision. It comes with $0 fraud liability and doesn't require an initial deposit or setup fee. The card sets your annual and maintenance charges according to your credit limit.
The Aspire® Cash Back Reward Card offers generous bonus rewards on select purchases. The card also provides transaction alerts and free credit scores. 
The application process is quick, and you can access your account online 24/7. The card carries an annual fee but waives its account maintenance charge for the first year.
The Merrick Bank Double Your Line® Mastercard® comes with Mastercard's standard rewards, including fraud protection and credit reporting. It rewards creditworthy behavior by doubling your credit limit after a set period. 
Unlike some competitors, this Mastercard credit card doesn't impose a penalty APR when you miss a payment. You can pay your bill by check, direct deposit, phone, or online.
What Kind of Card Is the Mission Lane Visa® Credit Card?
The Mission Lane Visa® Credit Card is an unsecured credit card aimed at consumers with fair credit. Unlike a secured credit card, you do not have to deposit collateral to get this card. 
Mission Lane LLC services the Mission Lane Visa® Credit Card. It is a next-generation financial technology company supporting more than 1.5 million credit and debit card customers. The three-year-old company proclaims its commitment to transparency with "no surprise fees, no hidden agendas." 
The Better Business Bureau does not accredit Mission Lane LLC and assigns it a B- rating. Mission Lane's BBB customer review score is 1.16 out of 5. Complaints center around payment processing, availability of funds, customer service, and interest charges. Trustpilot gives Mission Lane an average rating of 2.9 out of 5. 
The Mission Lane credit card offers meager benefits. Once you open your account, there are no rewards, signup bonuses, or introductory 0% APR promotions. The card's fees are reasonable, and there's no penalty APR for late payments, but the interest rate is high.
The card provides a 23-day grace period between the close of each billing cycle and the payment due date. It will not charge you any interest on purchases if you pay your entire balance before the end of the grace period.
You can download the Mission Lane mobile app directly from the Apple App or Google Play Stores. It allows you to receive alerts on purchases and cash advance transactions and manage many card functions. 
Transportation Alliance Bank, Inc. (TAB) issues the Mission Lane Visa® Credit Card under license from Visa U.S.A. TAB is an online bank founded in 1998 and a member of the FDIC. The bank's headquarters are in Ogden, Utah.
What Score Do You Need to Get Approved For a Mission Lane Visa® Credit Card?
Mission Lane requires applicants to have fair credit, as defined by FICO scores that range between 580 and 669.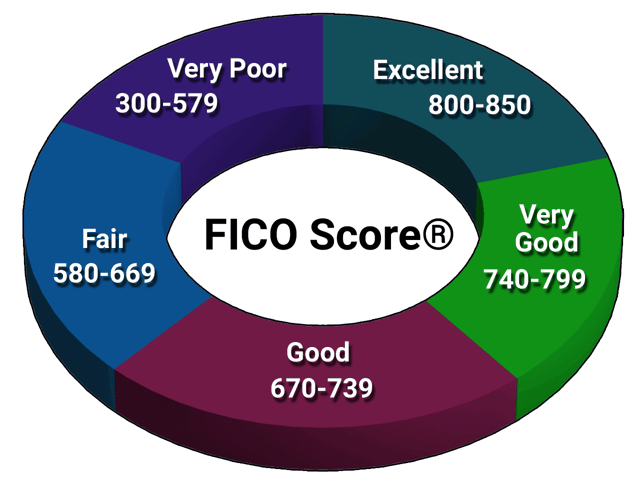 Consumers with fair credit enjoy broad access to credit cards, loans, and other financial products. But you will need good or excellent credit to get the best interest rates and most rewarding credit cards.
We are disappointed that the Mission Lane card demands borrowers have an average credit score yet charges APRs appropriate for those with bad credit.
Instead, you may have a high enough credit score to qualify for some Chase credit cards that charge lower purchase APRs (e.g., Chase Freedom Unlimited® or the Chase Freedom Flex℠) and earn valuable Chase Ultimate Rewards points. You can use these points for cash back or travel purchases on the Chase Ultimate Rewards website, among other options.
On a positive note, the card's credit limit policy, free credit scores, and potential $0 annual fee offer some advantages over credit cards for bad credit. 
Can I Use the Mission Lane Credit Card to Build Credit?
Yes, the Mission Lane Visa® Credit Card can help you build credit, but you'll have to do your part. The card reports your payments to each of the three major credit bureaus (Experian, Equifax, and TransUnion), allowing you to build credit through responsible behavior.
Each credit bureau collects credit-related information from creditors, lenders, and public records. They append new information to your credit history and use it to recalculate your credit score. FICO is the dominant credit report provider for consumers, followed by VantageScore. 
The FICO credit score range is 300 (worst score) to 850 (perfect score). The major bureaus publish FICO scores that are usually close to each other but seldom match exactly. FICO credit score discrepancies arise because the credit bureaus do not necessarily share the same information, and each bureau's scoring algorithm may differ slightly. 
Credit cards like Mission Lane that report to all three credit bureaus are the most efficient at disseminating information that can impact your credit score. To maintain a strong credit score, you need to make your payments on time and keep your debt in check.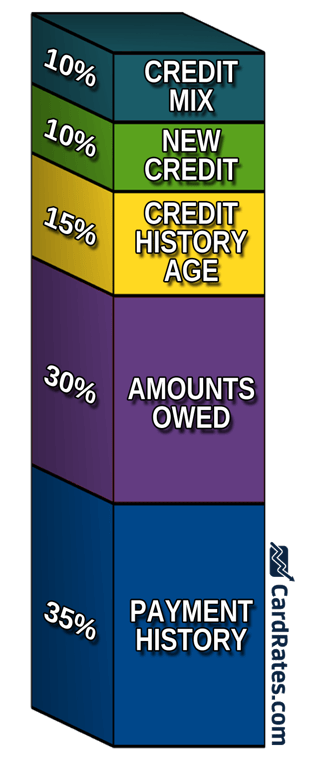 Timely payments account for 35% of your FICO Score. Over the long run, consistently paying your bills on time will cause your credit score to rise. But even one late payment can quickly damage your score. 
Creditors must wait 30 days before reporting late payments to the bureaus, which should give you plenty of time to avoid trouble. Once reported, late payments remain on your credit report for seven years, although the damage to your credit score dissipates after a few years. Multiple late payments cause additional damage, as do subsequent consequences such as collections, repossessions, write-offs, and bankruptcies.
Timely payments help lift your credit score and may also get you a higher credit limit. Many credit cards, including Mission Lane's, review payment history when considering a credit line increase. 
Another 30% of your FICO score stems from your credit utilization ratio which is the amount of credit you are currently using divided by the total amount of credit you have available. FICO rewards you for CURs below 30% but punishes you for higher percentages. 
Reducing your CUR below 30% can give your credit score a quick lift. You can engineer a lower CUR by repaying existing credit card balances and paying your total balance each month. Debt consolidation, whether through a personal loan or balance transfer transactions, is a helpful tactic. 
You can take other actions to make minor improvements to your credit score. These include avoiding applying for new credit and keeping old credit accounts open.
See If You're Preapproved For the Mission Lane Visa® Credit Card Online
It takes only a minute to go through the Mission Lane Credit Card preapproval procedure. The results appear instantly, and your credit score will not suffer. If you are successful, you can quickly follow up by submitting an application, although this will trigger a hard credit inquiry that may slightly affect your credit score. 
Please read all the card terms in the cardmember agreement before applying. You'll learn critical information about fees and limitations that you should evaluate before proceeding. 
The standard Schumer Box format all credit cards are required to provide allows you to compare products quickly. You may discover that the Mission Lane Visa® Credit Card is not the best credit card for your needs, or that maybe it is.
Advertiser Disclosure
CardRates.com is a free online resource that offers valuable content and comparison services to users. To keep this resource 100% free, we receive compensation for referrals for many of the offers listed on the site. Along with key review factors, this compensation may impact how and where products appear across CardRates.com (including, for example, the order in which they appear). CardRates.com does not include the entire universe of available offers. Editorial opinions expressed on the site are strictly our own and are not provided, endorsed, or approved by advertisers.