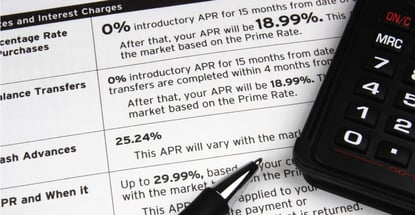 Credit card agreements contain a lot of information that can be challenging for the average person to digest. In fact, did you even read all of that fine print when you applied for and opened your last credit card account? 
The same may be true about the details in your monthly credit card statements. Most consumers don't take the time to read through pages upon pages of fine print. And even those who do may not fully understand what it is they are reading. 
One such section of your credit card statements is the Schumer Box. The Schumer Box is a simple and valuable tool that aims to help cardholders understand their credit card terms — especially the costs associated with the account.
The Schumer Box Outlines Your Card's Rates and Fees
The Schumer Box breaks down the key information about a credit card account and presents it in a way that is easy to comprehend. The Schumer Box has existed in the credit card industry for a few decades. But the easy-to-read credit card disclosure table wasn't always part of credit card advertisements or your monthly statements. 
As with many changes that take place in the credit card industry, the Schumer Box came about as an act of Congress, meaning it is a component of a piece of legislation. 
Today, credit card issuers create Schumer Box disclosure tables for all their credit card products because federal regulations dictate that they must do so. The table is referred to as a form disclosure because it must contain the same information regardless of which credit card company is presenting the information. All issuers use the same form.
In 1988, Congress passed the Fair Credit and Charge Disclosure Act. That federal law amended the Truth in Lending Act (TILA) and required credit card issuers to make the cost of using a credit card easier for consumers to understand.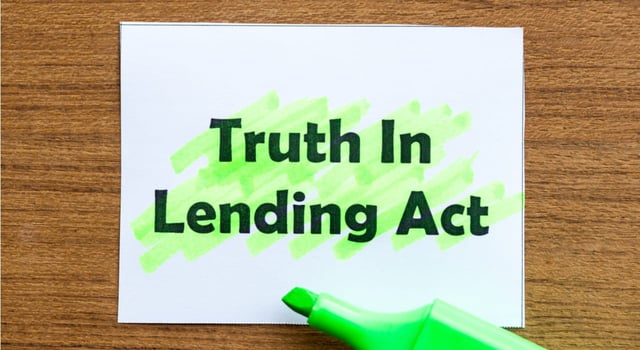 Of course, the cost of using a credit card derives from the fees associated with revolving a balance. Those fees are easily avoided by paying your balance in full each month. And, of course, you can avoid paying an annual fee by choosing a credit card that does not have an annual fee, of which there are many. 
The Schumer Box got its name from Sen. Chuck Schumer, who was one of the sponsors of the new legislation. At the time, he was Rep. Schumer, serving the 9th Congressional District of New York in the House of Representatives.
Schumer Box Requirements
According to the Fair Credit and Charge Disclosure Act of 1988, all US credit card issuers are required to disclose the following details in a Schumer Box: 
Annual Percentage Rates: Credit card issuers must include a card's annual percentage rates (APRs) in the Schumer Box, including the purchase APR, balance transfer APR, cash advance APR, penalty APR, and any other APRs charged. APR is commonly referred to as the card's interest rate. And again, interest only applies if you do not pay your balance in full each month. This makes interest charges on credit card accounts optional, a statement that cannot be made for almost every single other form of credit, including mortgages, student loans, and most auto loans.
Fees: If a credit card charges an annual fee, a balance transfer fee, a foreign transaction fee, a cash advance fee, or other fees, the card issuer must include these details in the Schumer Box. Given the prevalence of credit card options available, many of these fees are avoidable.
Grace Period: The length of a credit card's grace period must also appear in the Schumer Box. In 2009, the Credit Card Accountability Responsibility and Disclosure Act (aka, the CARD Act) mandated that all consumer credit card accounts that offer a grace period must be at least 21 days long. Your grace period begins the day your statement is generated.
In addition to the details above, card issuers have to create the table in a font that is at least 18 points or larger. In other words, the credit card disclosure can't be buried in the fine print. 
It's also worth noting the Schumer Box requirements apply to both advertisements (aka solicitations) and credit card statements. Thanks to the requirement, you can understand the key terms a card issuer offers before you apply for a new credit card account. And, you can stay on top of the terms of any credit card account you have already opened. 
Schumer Box Example
Below is an example of what the Schumer Box looks like on your credit card statement. This example is based on the Chase Freedom Cardmember Agreement as of publishing: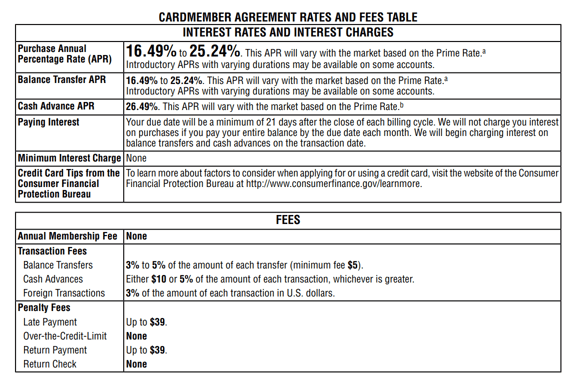 You can also visit the Federal Reserve's website for an example of a Schumer Box a card issuer may use with its applications or solicitation materials. 
How to Pay Down Credit Card Debt
Credit cards are all about making life more convenient. The plastic (or metal) payment methods offer iron-clad fraud protections, credit-building benefits, and in some cases, rewards like cash back on the purchases you make. 
Some cards even give you the ability to save a ton of money by transferring balances and paying zero interest for a period of time. 
Yes, it is true that credit card interest rates tend to be higher than other forms of credit, even for consumers with good credit scores. This is because credit cards offer no security for card issuers. 
For example, if you opened a new card today, ran up a large balance, and then defaulted on the account, the card issuer cannot come to take back the things you purchased, whereas an auto lender or mortgage lender could. 
Credit cards have higher interest rates because they have to subsidize the cost of issuing a higher-risk credit product. 
The best approach is to always pay off your credit card balance in full every month. That way things like the APR become irrelevant. But if you have more credit card debt than you can afford to pay off right away, you may need to make a plan to pay down your balances a little at a time, unless you can qualify for the aforementioned balance transfer credit cards. 
Here are two debt elimination strategies that may help you. 
The Snowball Method. With the snowball debt elimination strategy, you make a list of your credit card balances from lowest to highest. Continue making at least the minimum payment on all your accounts. This protects your credit scores from the impact of late payments and helps you avoid late fees and other problems.

Next, pay every extra dollar that you can toward the credit card with the lowest balance you owe. Once you pay off the account, move up your list to the credit card with the next-smallest balance and repeat.
Consolidate. If you have a lot of credit card debt, but your credit scores are in decent (or better) shape, you may want to consider consolidating your credit card debt. You can use a balance transfer credit card or a debt consolidation loan to pay off your existing credit card balances.

Assuming you can get a lower interest rate on your new balance transfer credit card offer or personal loan, you can save money and pay off your debt faster with this approach. Just be careful not to run up more credit card debt after you consolidate your balances or this strategy could backfire.
One of these two debt-payoff strategies can help you overcome high-interest credit card debt. But if you're overwhelmed by your debt, considering reaching out to your card issuer for a hardship accommodation.
Understand the Terms Within the Schumer Box
Thanks to the Schumer Box, you can access a clear and concise list of all the costs involved with your credit card account, almost all of which are optional and easily controlled by clever card users. It's a good idea to review these important card details anytime you're considering a new credit card account and when you're managing your existing credit cards.
But keep in mind that the best way to manage your credit card accounts is to pay your statement balance in full every month. If you make a habit of never revolving an outstanding balance on your credit card account, you can enjoy the benefits credit cards have to offer without having to worry about the cost of interest. 
Advertiser Disclosure
CardRates.com is a free online resource that offers valuable content and comparison services to users. To keep this resource 100% free, we receive compensation for referrals for many of the offers listed on the site. Along with key review factors, this compensation may impact how and where products appear across CardRates.com (including, for example, the order in which they appear). CardRates.com does not include the entire universe of available offers. Editorial opinions expressed on the site are strictly our own and are not provided, endorsed, or approved by advertisers.