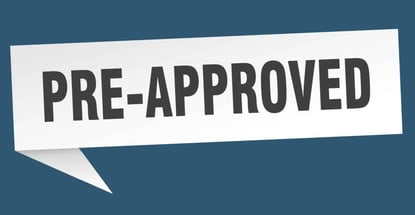 About 18% of Americans have fair credit, which can make qualifying for a credit card tricky. It's a Catch-22: If you apply for a credit card and are denied, your credit score will take a hit, making it harder to be approved. But if you don't apply for a card, then you won't have a chance to build credit and improve your credit score over time.
That's why those with fair credit scores should get pre-approved before applying for a credit card. Read below to see which credit cards are best for fair credit and how to get preapproved for them.
Cards For Fair Credit You Can Prequalify For
The following cards approve applicants with fair credit and let them prequalify before they apply. This helps you gauge your approval chances before submitting an application and undergoing a hard credit check.
The Capital One Platinum Credit Card is our top pick for consumers with fair credit. You can be eligible for the Capital One Platinum Credit Card even if you have average, fair, or limited credit history. This includes consumers who have defaulted on a loan within the past five years or those who have a credit history less than three years old. This card has no annual fee.
The Capital One QuicksilverOne Cash Rewards Credit Card is one of the best options on this list for consumers with fair credit. It offers generous cash back on all purchases, and rewards can be redeemed for a statement credit or check. Make sure you will earn enough in rewards to exceed the $39 annual fee; otherwise, it's not worth opening the card, and the Platinum card above may be the better choice.
The Fortiva® Mastercard® Credit Card only requires a fair credit score for approval. It offers cash back rewards and free access to your VantageScore 4.0 credit score. Fortiva will also review your account regularly to determine your eligibility for a higher credit line. 
The Aspire® Cash Back Reward Card offers some of the best cash back rewards among cards that accept fair credit applicants. You can earn extra cash back on gas, groceries, and utility bills, and 1% cash back on all other purchases. Aspire will preapprove you beforehand so you don't have to potentially hurt your credit score by applying and being denied.
The Mission Lane Visa® Credit Card may give you a lower initial credit limit than some of the other cards on this list. But it will report account activity to all three credit bureaus, which can help you build a good credit history with responsible card use. Be sure to read the fees associated with this card before applying.
The Reflex® Platinum Mastercard® has some of the lowest credit requirements on this list. You can have fair, bad, or no credit and still qualify for this card. Plus, you'll be able to monitor your credit score progress for free in the app. The initial credit limit may be as high as $1,000.
Customers interested in the Surge® Platinum Mastercard® can get pre-qualified without hurting their credit score. Continental Finance, which issues the Surge® Platinum Mastercard®, says it welcomes consumers with all types of credit, including fair credit scores.
What is Fair Credit?
Fair credit refers to consumers with FICO credit scores between 580 and 669. While you are likely to be approved for a credit card with a fair credit score, you may receive a low credit limit, high interest rate, or both. Though many cards for fair credit offer basic rewards, you'll have to earn more rewards than the cost of the annual fee to make it worth it.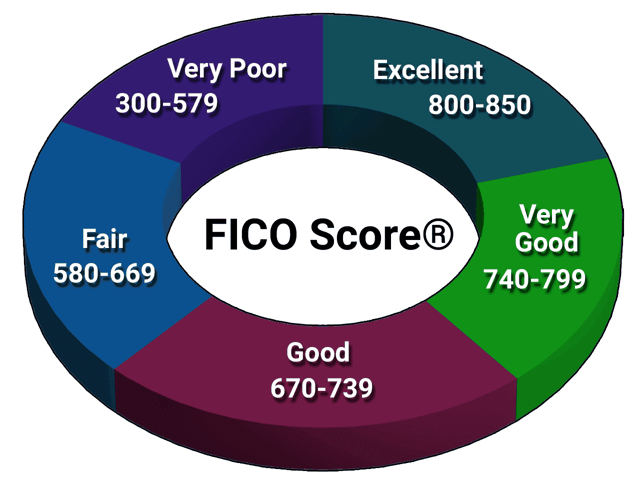 Cards with $0 annual fees, travel rewards, and the highest cash back rewards are generally only available for people with good or excellent credit.
Fair credit is the result of previous credit mismanagement such as a late payment or a years-old bankruptcy on your credit reports (a recent bankruptcy would mean bad credit). Also, those with a relatively new credit history may have fair credit, even if there is no negative event on their credit report.
How Do I Prequalify For a Credit Card?
Sometimes credit card issuers will mail preapproval offers directly to your door. If you receive one of these offers, you can visit their website and input your special code to formally apply. But the easiest way to get preapproved is by filling out the credit card issuer's online prequalification form. 
Credit card issuers may refer to preapproval or prequalification interchangeably. The most important thing to consider is whether the issuer will perform a soft or a hard credit check. 
A soft credit check will not impact your credit score, while a hard credit check will affect your credit score for one year. It will also appear on your credit report and stay there for two years. 
A soft credit check is done for preapproval purposes, whereas a hard credit check is done after you officially apply. Make sure you understand whether the issuer is going to do a soft or hard credit inquiry because it's not always clear. 
What Is a Good Credit Score For Preapproval?
Every card has its own eligibility criteria. While there is no hard-and-fast rule about the credit score needed for preapproval, you usually need a credit score of 580 or higher to be approved for an unsecured card.
If you have a credit score of 700 or higher, you will find it easier to be preapproved for a travel or rewards card with no annual fee.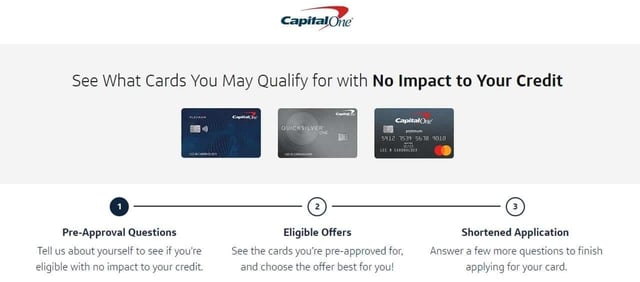 You can check your credit score for free at sites like Credit Karma. Be aware that the credit score you see may be slightly different from the one created by the credit bureau. However, it should be within the same general credit score range.
Can I Still Be Denied a Credit Card If I'm Preapproved?
Preapproval does not mean you are guaranteed to be approved after submitting a full application. This is because a credit card issuer cannot see your full credit history when it preapproves you. After you apply, the card issuer will be able to run a full credit check and may discover that you do not meet the eligibility criteria. 
Sometimes you may not receive a clear answer when you apply. The bank may ask for additional information to determine your eligibility. 
If you are denied, you will usually receive a response within 60 days providing a brief explanation of why you were denied. The letter will also show the credit score that the credit card company saw when it pulled your file.
What Jeopardizes Preapproval?
Many events can cause you to be denied a credit card even if you've already been preapproved. Doing something that hurts your credit can negate preapproval.
For example, your credit score may take a hit if you are more than 30 days late on a payment. This can cause the credit card provider to reject your application, even if it has already preapproved you. 
Running up a huge credit card balance and increasing your credit utilization percentage — the amount of credit you are using as compared with the total amount of revolving credit you have available — can also cause you to be denied. A high credit utilization percentage is one of the most influential factors used to determine your credit score.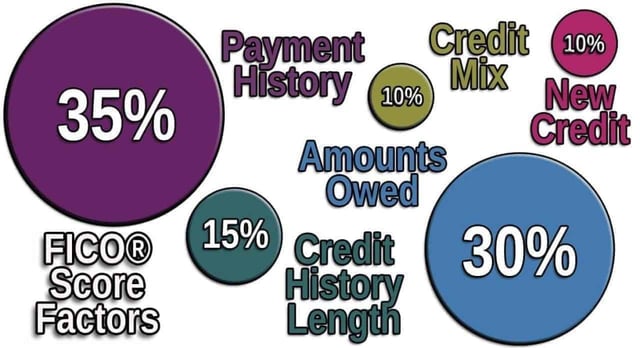 You can calculate your credit utilization percentage by dividing your current balance by your total credit limit. For example, let's say you have a current balance of $5,000 and the current limit is $12,000. 
In this case, your credit utilization percentage is 41.67%. An ideal credit utilization percentage should be 10% or less.
All issuers require you to have a source of income to receive a credit card. You may not qualify for a credit card if you lose your job after preapproval.
You generally need to appear as a stable consumer to be approved for a credit card — especially if you have fair credit. Doing anything that makes you look less reliable could cause problems when it comes to approval.
If you were preapproved and still denied, consider applying for a secured credit card. These usually have lower credit score requirements and are easier to get, especially if you have bad credit. They also cost less than cards for bad credit, and your security deposit is fully refundable with responsible card use.
Preapproval Indicates Your Odds of Approval
Every day, countless consumers roll the dice hoping they'll be approved for a credit card. If it works out, good for them. But if it doesn't, they've just dinged their credit score with nothing to show for it.
Getting preapproved means you are statistically more likely to receive the credit card you're applying for. But if you aren't preapproved, you have no way of knowing what the credit card issuer will decide. And unless you have an excellent credit score, you're taking a gamble when you apply for a credit card. Cards that allow preapproval tilt the odds in your favor.
Advertiser Disclosure
CardRates.com is a free online resource that offers valuable content and comparison services to users. To keep this resource 100% free, we receive compensation for referrals for many of the offers listed on the site. Along with key review factors, this compensation may impact how and where products appear across CardRates.com (including, for example, the order in which they appear). CardRates.com does not include the entire universe of available offers. Editorial opinions expressed on the site are strictly our own and are not provided, endorsed, or approved by advertisers.